Results for Porsche
Porsche 911 RSR No. 912: Bamber, Vanthoor
5th position; 433 laps; fastest lap: 1'17.025
Porsche 911 RSR No. 911: Pilet, Tandy
6th position; 432 laps; fastest lap: 1'17.143
Overall result
1st Risi Competizione, Ferrari 488 GTE no. 62
434 laps; fastest lap: 1'16.673
2nd Ford Chip Ganassi Racing, Ford GT no. 67
434 laps; fastest lap: 1'16.542
3rd BMW Team RLL, BMW M8 GTE no. 25
433 laps; fastest lap: 1'17.217
4th Corvette Racing, Chevrolet Corvette C7.R no. 3
433 laps; fastest lap: 1'17.046
5th Porsche GT Team, Porsche 911 RSR no. 912
433 laps; fastest lap: 1'17.025
6th Porsche GT Team, Porsche 911 RSR no. 911
432 laps; fastest lap: 1'17.143
7th Corvette Racing, Chevrolet Corvette C7.R no. 4
431 laps; fastest lap: 1'17.243
8th Ford Chip Ganassi Racing, Ford GT no. 66
430 laps; fastest lap: 1'16.942
9th BMW Team RLL, BMW M8 GTE no. 24
412 laps; fastest lap: 1'17.159
Race report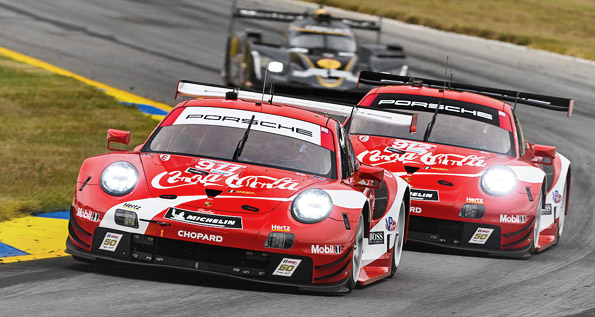 Porsche wins all titles at the Petit Le Mans season finale
Stuttgart. The Porsche GT Team concluded the IMSA WeatherTech SportsCar Championship season by winning the manufacturer, driver and team titles. At the final round of the season at Road Atlanta (USA), the two Porsche 911 RSR flying the Coca-Cola colours finished on positions five and six. This race...
Read more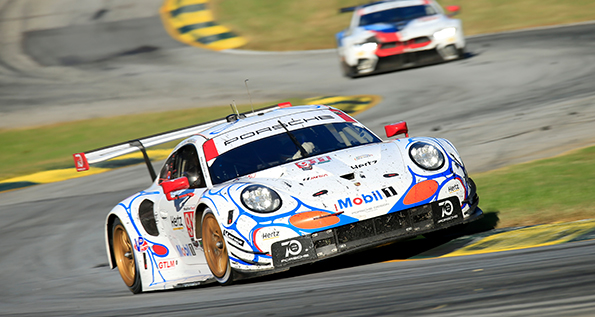 Petit Le Mans: Outstanding season finale: Porsche wins Petit Le Mans
The Porsche GT Team has won the final round of the 2018 IMSA Weathertech SportsCar Championship. Patrick Pilet (France), Nick Tandy (Great Britain) and Frédéric Makowiecki (France) won the Petit Le Mans race at Road Atlanta on Saturday. In the race over ten hours at Braselton, Georgia, Porsche put...
Read more