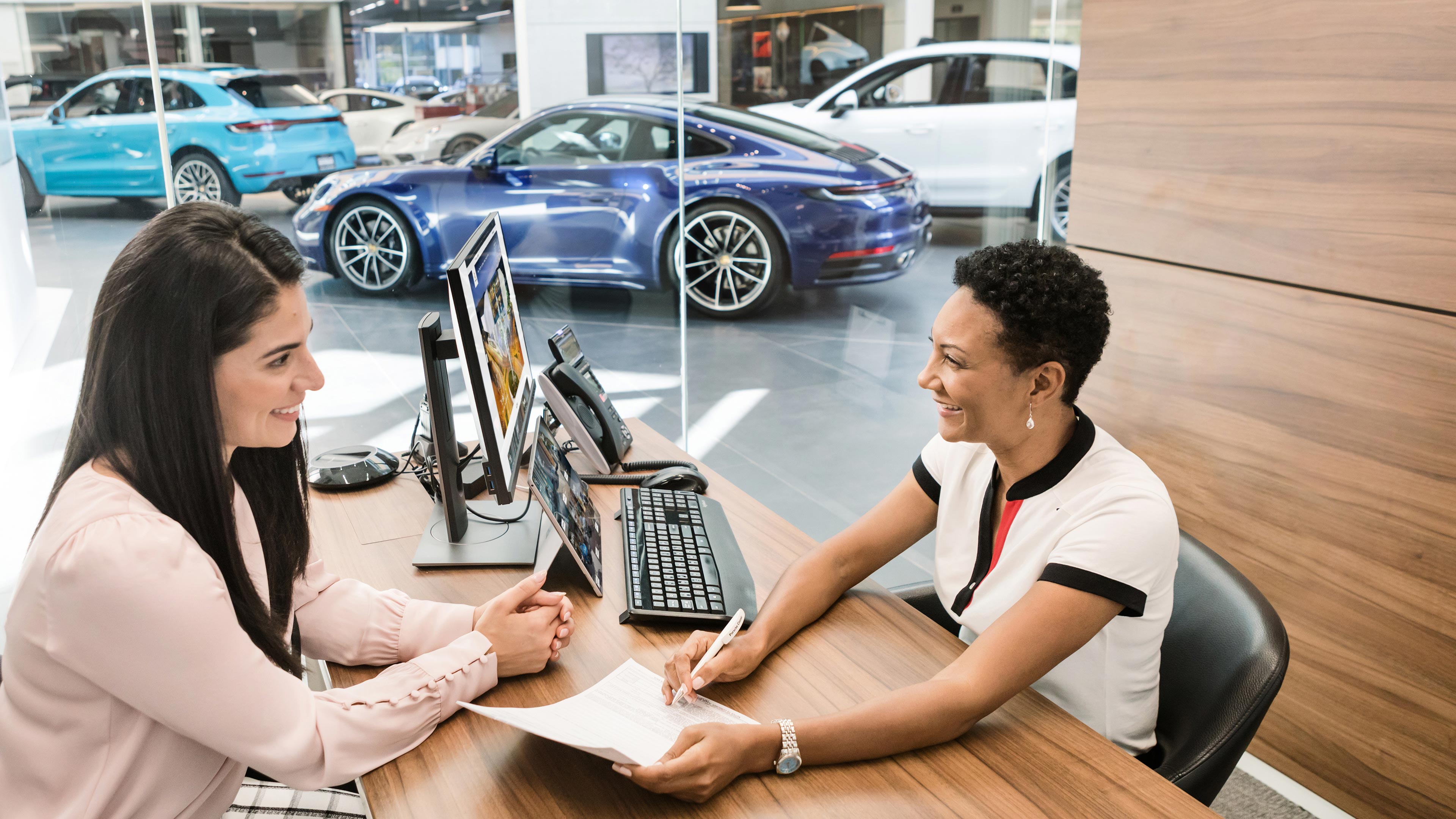 Porsche Scheduled Maintenance Plans
Legendary Porsche control. Available in maintenance form.
The Porsche Scheduled Maintenance Plan delivers convenience, control and factory-certified technicians.
Maintain confidence in your Porsche vehicle from the dealership, to your home and beyond with The Porsche Scheduled Maintenance Plan (PSMP). This prepaid service plan allows you to maintain and manage your factory recommended scheduled services. Under the plan, we provide you with the most detailed services your Porsche needs to maintain its luxury, beauty and superior performance.
Here are some benefits that PSMP brings to you as a Porsche owner: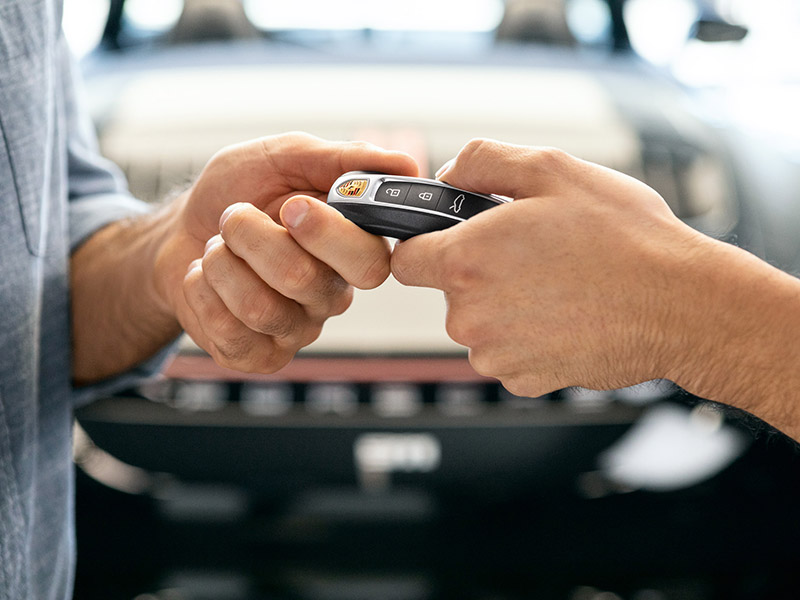 Certainty.
Locks in the price of routine maintenance for the term of your plan. No wondering, "Will the cost of a 30,000 mile checkup on my vehicle go up in a year?" No, it won't. And it will not for the entire term of the plan you selected.
Quality.
All repairs and replacements use Genuine Porsche Parts.
Confidence And Competency.
Knowledge that your authorized Porsche dealership uses highly skilled, factory-trained Porsche technicians.
Flexibility.
Once purchased, have your routine maintenance performed by any participating Porsche dealership with in the United States.
Beginning with Model Year 2018, the first scheduled maintenance is included with the purchase of your new Porsche, excluding battery electric vehicles (BEVs). This included first service on internal combustion engines (ICEs) is generally due at 1 Year/10,000 miles based on when your vehicle is officially registered in the Porsche system. Please note, however, that service due dates/mileage may vary by model. Porsche recommends reviewing your owner's manual for more information on the specific recommended service intervals determined by Porsche's engineers in Weissach.
To supplement the included first scheduled maintenance on ICEs, Porsche offers four Plus Plan options that cover critical maintenance items for 2 Years/20,000 miles, 3 years/30,000 miles, 4 years/40,000 miles to 5 Years/50,000 miles, depending upon which term you choose.
PSMP Plan Options Internal Combustion Engines
Included First Service
Service at 1 year / 10,000 miles
Plus 1
Service at 2 years / 20,000 miles
Plus 2
Service at 2 years / 20,000 miles
Service at 3 years / 30,000 miles
Plus 3
Service at 2 years / 20,000 miles
Service at 3 years / 30,000 miles
Service at 4 years / 40,000 miles
Plus 4
Service at 2 years / 20,000 miles
Service at 3 years / 30,000 miles
Service at 4 years / 40,000 miles
Service at 5 years / 50,000 miles
Although battery electric vehicles do not have the included first service like internal combustion engines, there are still three maintenance plans available: a 2 Year/20,000 miles, 4 year/40,000 miles, or 6 Year/60,000 miles plan.
PSMP Plan Options Battery Electric Vehicles
2 Year / 20,000 Miles
Service at 2 years / 20,000 miles
4 Year / 40,000 Miles
Service at 2 years / 20,000 miles
Service at 4 years / 40,000 miles
6 Year / 60,000 Miles
Service at 2 years / 20,000 miles
Service at 4 years / 40,000 miles
Service at 6 years / 60,000 miles
In establishing scheduled maintenance requirements for the Porsche vehicles, our engineers in Germany determined the checks and service operations necessary to keep your Porsche running in optimal condition. Based on engineer-approved maintenance sheets for each model, all specified maintenance parts and labor are covered for each service depending on your PSMP plan.* All scheduled maintenance covered by the plan will be performed at your authorized Porsche dealer by Factory-trained technicians using Porsche Genuine parts. The list below shows a sample of items generally included, replaced, or inspected depending on which plan you have and which service is performed: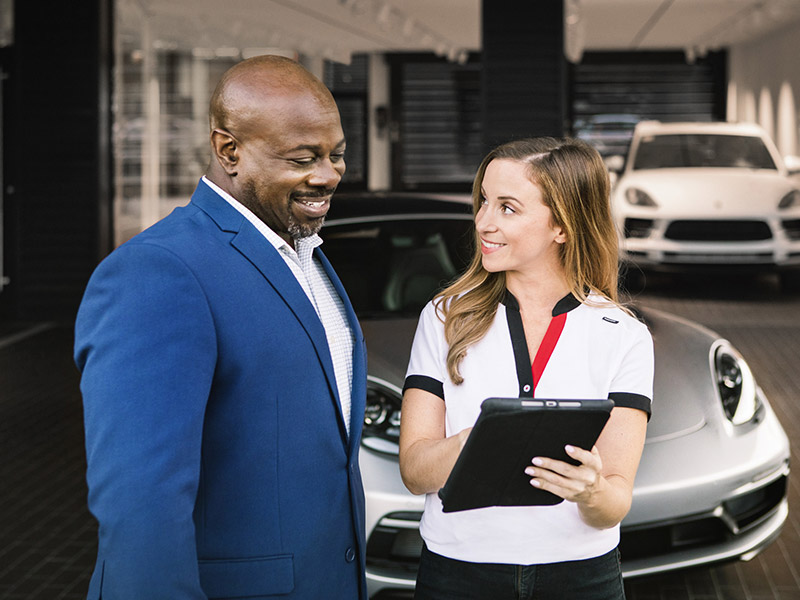 Engine oil and filter change
Engine air filter replacement
Cabin air pollen filter replacement
Spark plug replacement
Brake fluid replacement
Brake pad, disc, and hose inspection
Steering gear and axle inspection
Radiator and air inlet inspection
Body and sunroof drain cleaning and inspection
Coolant and coolant hose inspection
Windshield wiper and washer inspection
Tire condition and pressure inspection
Headlights, horn, and other electrical system inspection
Battery condition inspection
How it works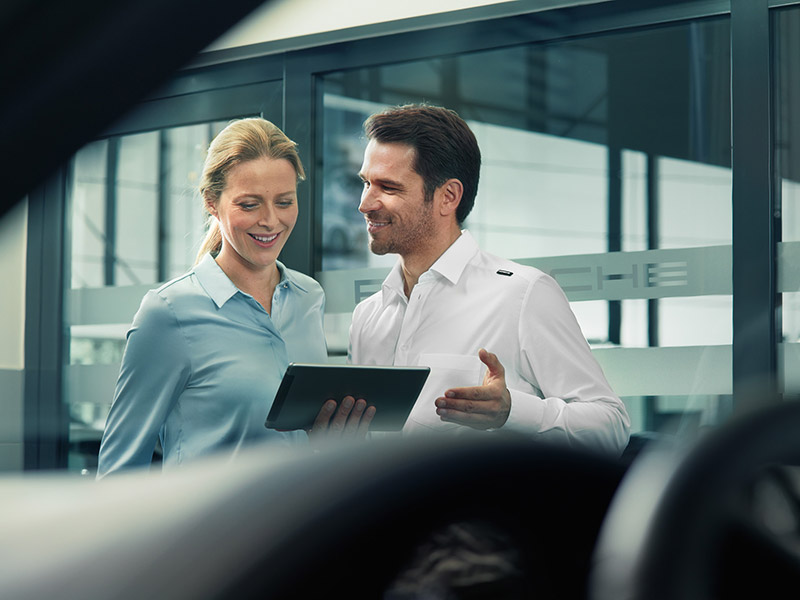 Talk to your Porsche Sales or Service Professional to determine which plan best fits your needs based on your lease term, your average annual mileage, etc. Once you have selected your term, all you need to do is arrange an appointment with your authorized Porsche dealer at the appropriate time or mileage. They will perform the appropriate maintenance based on your vehicle's age and mileage and charge your PSMP plan for the service.*
Additional PSMP Details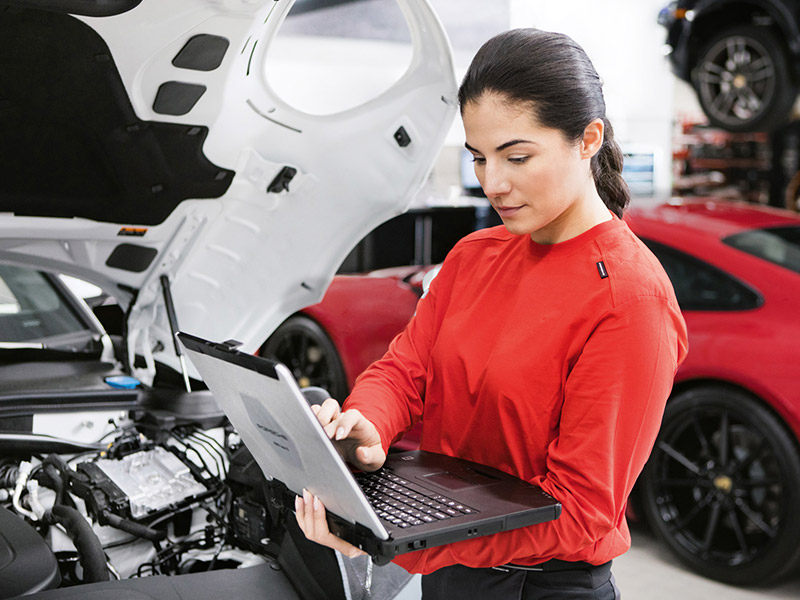 Event due dates are based on the vehicle's in-service date in the Porsche system. Services must be performed within 6 months or 5,000 miles of the scheduled maintenance interval, otherwise they may be forfeited.
Items not specified in the Maintenance booklet, or that result from wear and tear, are not covered. Examples of excluded items include brake pads, rotors, and tires. Please consult your plan agreement or your local authorized Porsche dealer for details.**
The PSMP coverage remains with the vehicle, so even if you trade or sell your Porsche vehicle before the plan expiration, coverage continues for the remainder of the term selected.
PSMP may not be canceled. No refunds will be offered for early termination of a vehicle lease, or for unused portions of the plan, unless specified by state law.
California residents who purchase PSMP in California have specific terms and conditions applied. Please consult the California PSMP Agreement for details.
The PSMP is only valid in the country in which it was purchased and only at authorized Porsche dealers.
*Depending on your location, other fees, such as an oil disposal fee,
may be required for you to cover at the time of vehicle pick up.
**Only battery electric vehicles have brake pads included in the 6 Year/60,000 Mile service.
Protect your investment with PSMP.
Ask your authorized Porsche dealer for more information on ordering PSMP.