With the new 911 Carrera, known internally as Generation 996, Porsche presented the successor to the classic. Apart from the name 911 Carrera and a six-cylinder flat engine at the rear, the newly developed model series had nothing in common with the previous 911.
The bodyshell of the 996 had grown significantly in size. Galvanized sheet steel and higher-strength steels were used to reinforce the body shell on both sides. The side mirrors of the series were now fixed in front of the side windows and no longer on the doors.
The hood, front headlight units with low beam and high beam, indicators and fog lights, front fenders and doors were identical on the 911 Carrera and Boxster as a result of the shared parts concept.
The series featured water-cooled engines.
Model Overview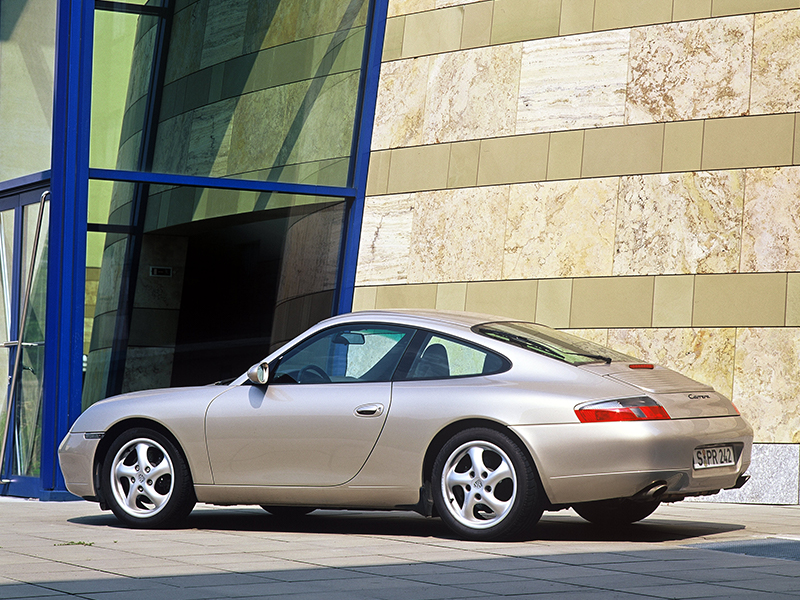 911 Carrera Coupé, Cabriolet (1998-05)
Features
Deformable front and rear plastic fascias // Rear cover with automatically extending rear spoiler
Coupe: Solid welded steel roof
Cabriolet: Fully electric fabric roof with flexible plastic rear window // Opens in 20 seconds when the vehicle is stationary // Two small rear side windows // Rollover bar // Aluminum hardtop with electrically heated rear window
From model year 2000: Automatic air conditioning systems as standard in all 911 Carrera models
From model year 2002: Front headlights rounded at the bottom (same as 911 Turbo) // New 3.6-liter engine // Improved torque curve
From model year 2003: Performance enhancement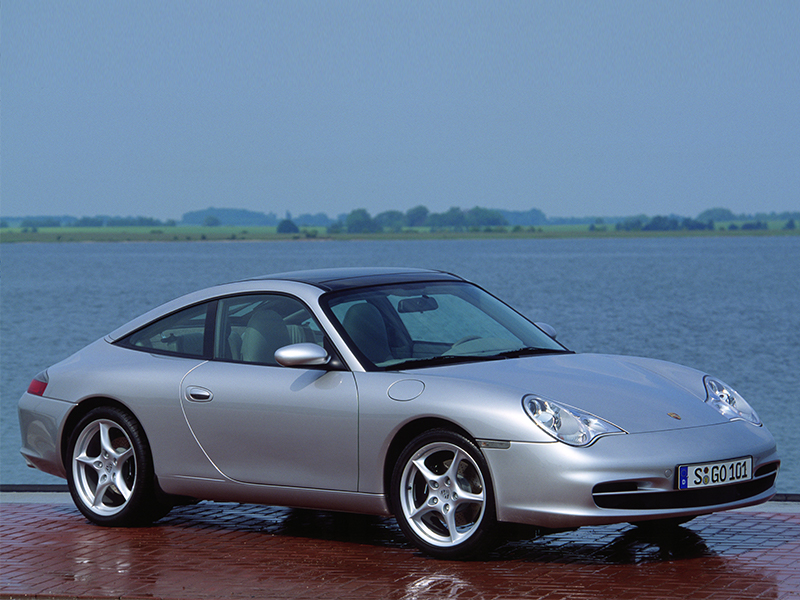 911 Targa (2002-05)
Features
Front headlights rounded at the bottom // Redesigned front section // Glass roof consisting of three green-tinted glass elements // Folding rear window // 320-HP, 3.6-liter naturally aspirated engine // Six-speed manual transmission // Five-speed Tiptronic S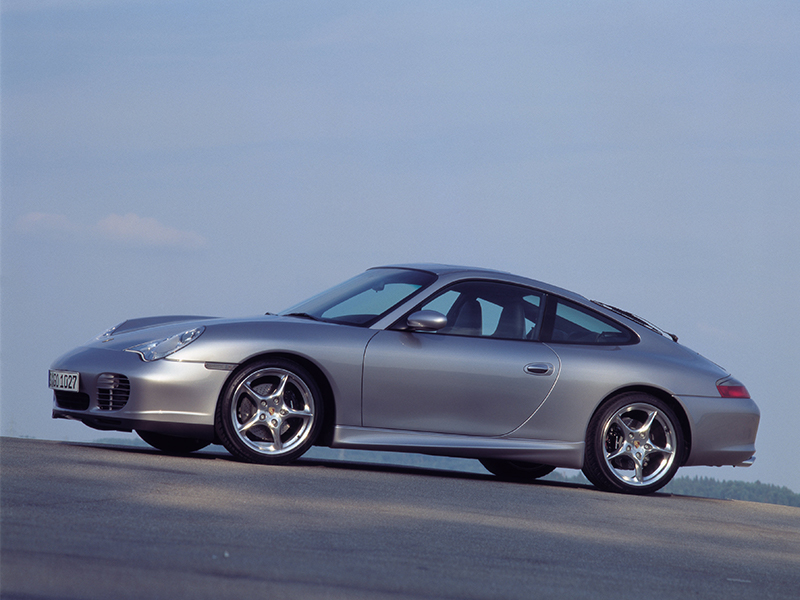 911 Carrera Coupe "911 40th anniversary" edition (2004)
Features
Limited to 1,963 units // Bodyshell painted in GT Silver Metallic // 18-inch Carrera wheels // Front section with enlarged cooling air openings // Side ventilation grilles painted in the vehicle color // Sill covers on the sides // Rear cover with "911" logo made of aluminum // Two polished tailpipes // Bi-Xenon headlights // Leather case in size M and L, key pouch and wallet included // Leather interior featuring dark grey natural leather // Acceleration from 0 to 60 mph (0 to 100 km/h) in 4.9 seconds // Maximum speed of 180 mph (290 km/h)
Porsche Classic Parts Explorer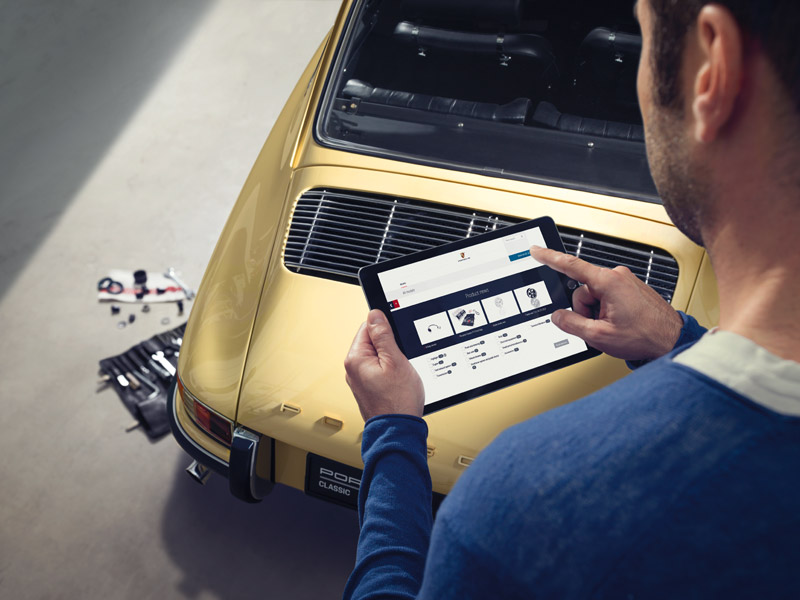 Search. Click. Result.
You can now quickly and easily find selected genuine parts for your classic car using the Porsche Classic Parts Explorer. Regardless of whether you search by model, type or model year, you can discover genuine parts and spare parts for the relevant classic car in just a few clicks. Each year, some 300 reissued parts plus selected products for specific models become available online, along with all of the relevant details, of course. In addition to images and part numbers, you will find a range of useful information regarding the individual products and specific usage scenarios.
As you can imagine, there is a wealth of information available to explore. Why not begin your own tour of the Parts Explorer now and find out which reissued parts are available for your classic car. Incidentally: It is worth checking back regularly. After all, our product range is always expanding. We look forward to your visit.
Learn more
Product Highlights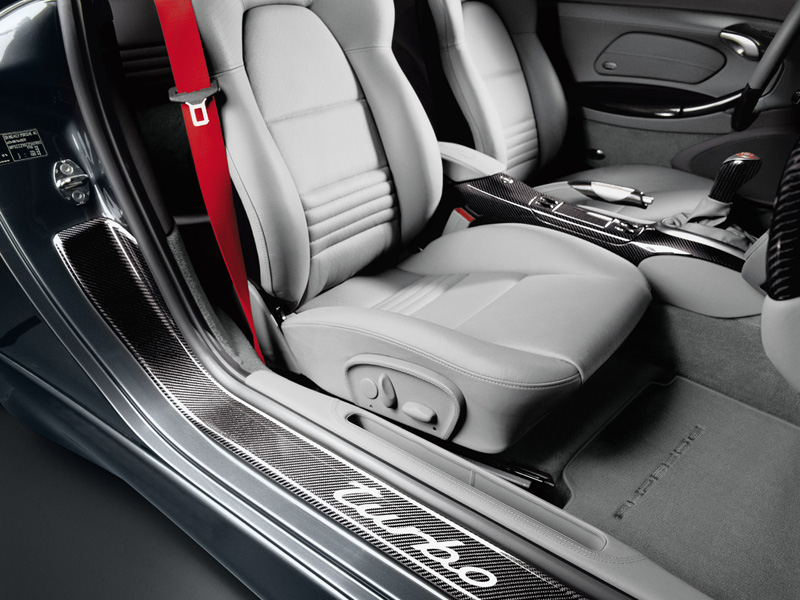 Time changes everything – but not your 996.
In the storied evolution of the 911, the type 996 is still as popular as ever. A genuine success model, whose character was as impressive then as it is now. So there's every reason to maintain its originality after all these years. And it's not a problem if you'd like to change the odd detail – using the matching genuine accessories that were developed for your model at that time. After all, you appreciate the 996 exactly as it is: authentic.
Learn more