Servicing a Porsche sounds like a heavenly cloud for any aspiring mechanic. Porsche Cars North America knows the value of great service, and invests in mandatory advanced training programs, so that dealers' service technicians are as up to date as the cars they work on.
The expectations of life depend on diligence; the mechanic who would perfect his work must first sharpen his tools.
—Confucius, The Analects, compiled approximately 470 B.C.
Chris Gilman, the manager of Porsche Academy Aftersales Training, meets Confucius—in an imaginary Twilight Zone episode. Twilight Zone creator and writer Rod Serling would fill in the dialogue and action; for a Porsche owner, it's enough to know that Gilman's job in real life is implementing Confucius's maxim to benefit Porsche owners and their cars.
Americans, by and large, are not big on looking after what we've created; thus, our country's crumbling bridges and other infrastructure problems. We live down to author Kurt Vonnegut's observation that the "flaw in the human character is that everybody wants to build and nobody wants to do maintenance." Our Canadian neighbors? They're much better on the upkeep front. Whether north or south of the 49th parallel, however, Porsche owners are exceptions to the American aversion to maintenance. For one thing, Porsches generally are not intended to serve as trophy-on-a-shelf cars. All of the Porsche owners I've talked to, even those with serious collections, have emphasized that they drive their cars, including the old and the rare. And all of the owners, without prompting, have mentioned that Porsches are durable and reliable.
Chris Gilman's job is to supervise the creation and continuing performance of a nationwide team of trained technicians who ensure a level of service that measures up to each Porsche owner's driving experience. In many ways, his job is similar to the general manager of a championship professional sports franchise (minus the trades). Gilman makes certain there's a flow of focused, dedicated, service-oriented young people (the vast majority has been and continues to be male) into training programs and, once they graduate, keeps an eye on placing them, according to geographical supply and demand.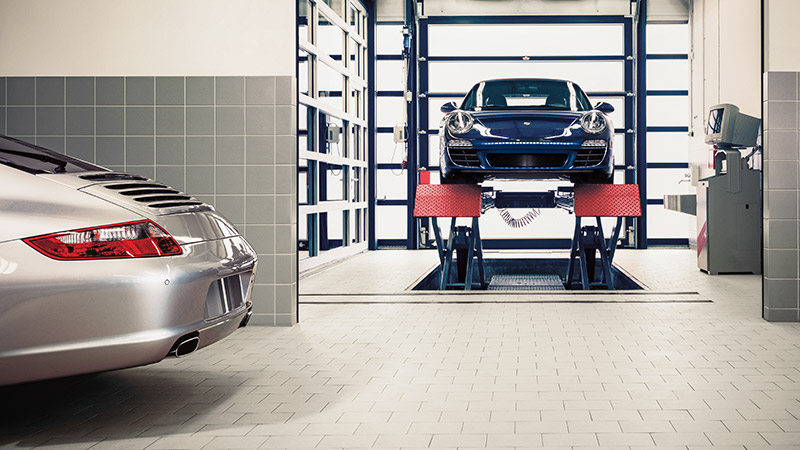 It's a job, but it's also an extension of his life's passions. He talks about having taken a bicycle and a lawnmower apart when he was a kid. His first car was a VW that, as he put it bluntly, had "blown up." Gilman says, cheerfully, "A local mechanic told me what to do." By the time Gilman got to PCNA and service management, social factors that influenced later generations of kids (disposable everything, from toys to electronics: don't fix it, toss it) were resulting in what he saw as "not enough auto technicians to fill positions."
In 1999, Gilman reached into a tried-and-true playbook that stretched back to medieval guilds: apprenticeships. The first twelve graduates of the 18-week Porsche technician apprenticeship program graduated in 2000. Today the program takes 23 weeks. Gilman and PCNA partner with Universal Technical Institute, which has ten campuses spread across the United States. UTI identifies the "best and the brightest," who are then interviewed by Porsche. Those chosen for the Porsche apprenticeship program have their tuition picked up, but not room and board. There are local apartment complexes near the UTI locations where six trainees can divvy up expenses by renting a three-bedroom unit.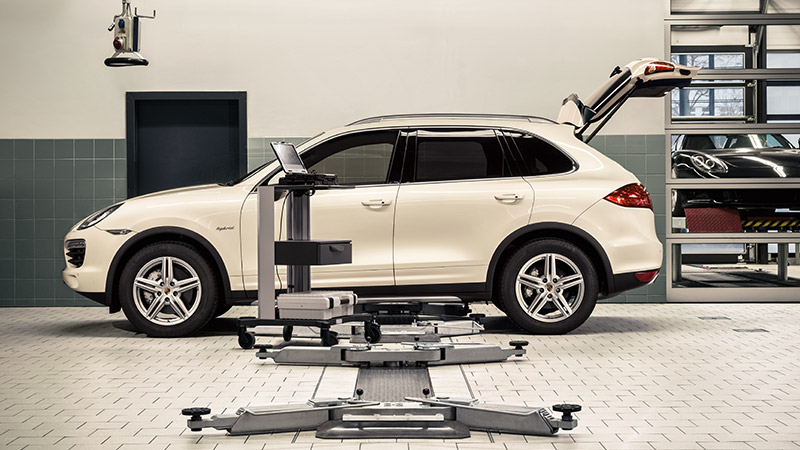 What is it that Gilman and his team look for in an apprentice? "Passion" is Gilman's immediate response. "Show me you really want to be a mechanic," he says. In addition, the picture of a taciturn mechanic who says three words a day is so 1930s. "They need the ability to express themselves," Gilman says, "not only to the service writers, but also to the occasional high-end customer who wants to speak directly with the mechanic."
There's one other, vital form of communication that the technician must excel in: communication with the vehicle. Yes, cars are increasingly complex, and high-end electronic sensors are fundamental to a mechanic's understanding of any issues a car is having. But every Porsche mechanic I've interviewed says that listening to the car—they call it "auto ears," identifying that strange squeak or rattle—and physically touching the engine are critical elements in the work they do. Beyond the Porsche apprentice program, Porsche keeps its eye on other UTI graduates who do well. The first question is, What expectations do they have, especially in terms of geography? But also: How interested do they seem in establishing a long-term relationship with a dealer? Porsche acts as midwife, assisting in the birth of expert technicians and delivering them to their caregivers.
But Porsche service expertise is not a matter of UTI training and then on-the-job experience. PCNA requires every service technician at every dealer to attend at least one four-day class every year—at one of three PCNA Regional Support Centers, located in Atlanta; Easton, Pennsylvania; and Ontario, California. Do the math.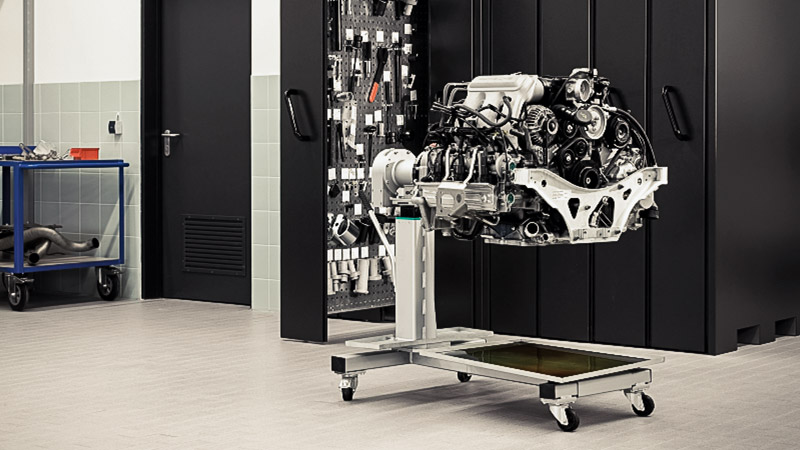 The 214 Porsche dealers in the United States and Canada employ over 1,100 service techs. The dealership bears the expense of the four-day training session. Service techs often attend more than one session a year, because every dealer must have its technicians trained on a new model before it goes on sale. This year, the models include the new 911 Targa, Boxster, Cayman, Macan, the next-generation Cayenne, and the 918.
Point being, dealers invest a considerable sum in equipment and continual training of their technicians. That said, the Internet is chockablock with discussion threads among Porsche owners about oil changes, how much they cost, and the advisability of DIY. I was talking about the cost of service with my independent mechanic. He spoke from an expert's point of view about Porsche and oil changes, stating that, aside from the fact that the dealers aren't buying cheap oil at a discount store, the Porsche technicians he knows describe a methodical, time-consuming sequence to the refill: Add eight of the twelve quarts, then run the engine for a minute. Turn off the engine. Add another quart, run the engine a minute. Repeat until the other three quarts are replaced. "The customer doesn't see that process," the mechanic said, "the same way the people eating in a fine restaurant don't see what goes on in the kitchen. All the diners need to do is enjoy a great dish when it is served to them." High praise, indeed, from an expert who doesn't work for Porsche.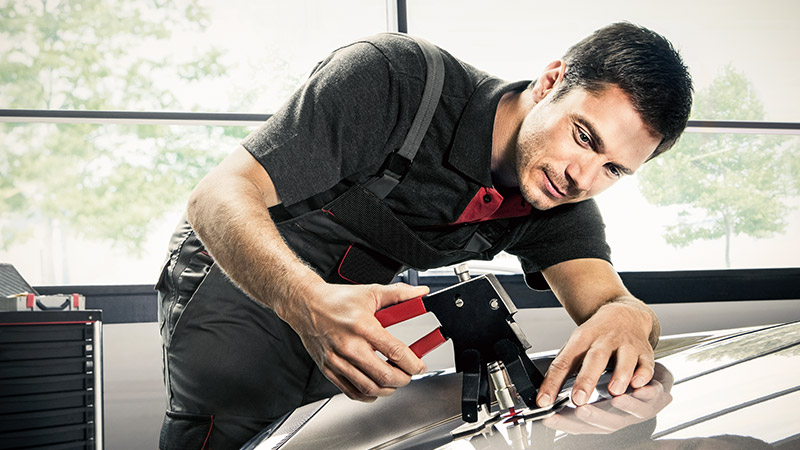 After becoming a master technician at a Porsche dealer, Chris Gilman went on to dedicate the next 29 years of his life ensuring that Porsche service is every bit as remarkable as the cars being worked on. He is supported by a corporation that clearly understands and appreciates in a profound, fundamental way the totality of the driving experience. In the same way that a Porsche is engineered and built to bring out the best of us when we drive one, the continuing emphasis on service training brings out the best of the unglamorous, but no less important, part of the pleasure we get from Porsche.
THE COMBINATION OF PORSCHE AND PASSION
We asked Chris Gilman to suggest two Porsche technicians who are representative of the professionalism and dedication manifested in the service areas of Porsche dealerships. Here's what we learned about them.
RICH MAUGHERMAN
The Collection Porsche, Coral Gables, Florida
Rich grew up in Griffith, a town in northwest Indiana near enough to Hammond and Gary that it's considered to be in the Chicago metropolitan area. His dad was a "Chevy guy," and Rich helped his father work on his prized '55 Chevrolet. When he was in high school, Rich worked at the local gas station for a year and a half, and then on motor­cycles, in part because he started racing bikes professionally.
Maugherman decided he didn't want his working life to be exclusively involved with motorcycles, so he took tech school courses in automotive, and entered state servicing competitions. Although he won Indiana titles, the national finals eluded him, otherwise he might have won a Ford scholarship and lived a "blue oval" life.
Instead, Rich wound up at Universal Technical Institute in Chicago, his tuition paid for. The move from two to four wheels was a smart one and gave new fuel to his career. He was pursued by Volkswagen and the other two German luxury brands, but as a kid he'd always admired Porsche, so he decided to apply to the Porsche Technology Apprenticeship Program.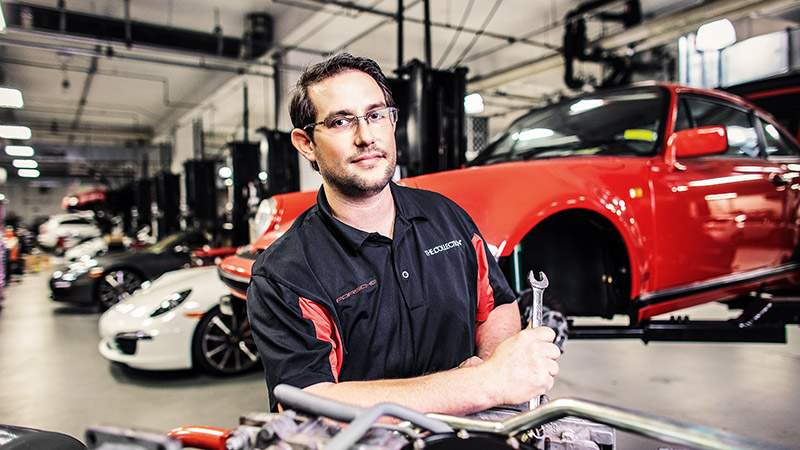 As he prepared to enter the workplace, he interviewed with seventeen Porsche dealers. For someone who endured Indiana winters, The Collection in Coral Gables sounded great, and the dealership in southern Florida then had what he calls a "small company feel."
In fifteen years of working on Porsches, he's seen the "progression of the Porsche brand." Maugherman has made it a practice to attend two Porsche review courses a year, and this year has undergone 918 training, saying calmly, "We took that car apart." Looking at Porsche with a professional's eye, he says, "The advances in technology are an improvement," specifically mentioning stability control and the introduction of hybrid engines. Rich sees computer diagnostic systems only as tools: "It doesn't tell you," he says. "You have to do your own thinking and diagnosing." He's progressed professionally, to shop foreman, where he's more involved with customers. "While I always liked Porsches when I was growing up," he says, citing the 928 and the 911 of his youth, "I never thought they would be my life. Talk about luck." Not to mention talent and perseverance.
DAVID WAY
Porsche of Beachwood, Beachwood, Ohio
When David was in high school, he started working on cars at a local independent repair place in northern Ohio which specialized in VWs. After leaving, he was selected for the first Porsche apprenticeship class, which graduated in 1980. He went to work for Stoddard in Cleveland, where he was mentored by a technician who was working on SCCA cars. "It was a different world back then," he says. "The training has changed dramatically, and it needed to. The computer stuff alone has ramped up what you need to know."
After 34 years of experience and training, Way makes certain that the young technicians who join Beachwood "are not totally dependent on scanners. It's another tool in diagnosis, an additional tool." One or two times a day he has the opportunity to show something to one of the youngsters. Way is a firm believer that "you have to put your hand on the engine, and use your eyes and ears."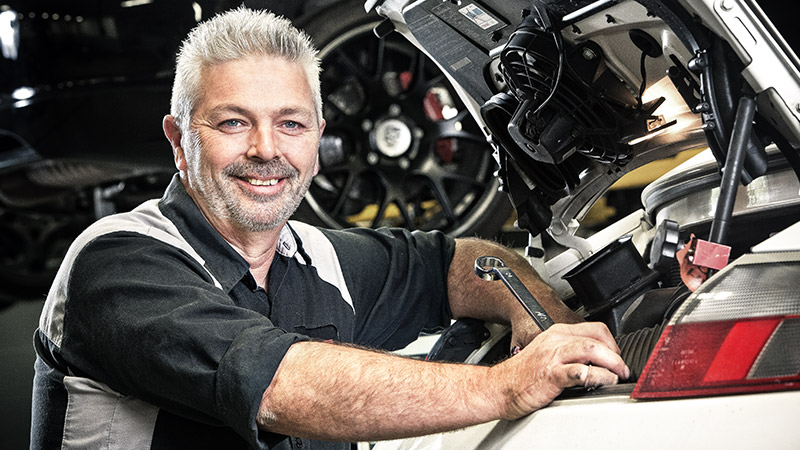 He's also a firm believer in the value of yearly training—he regularly attends at least two of the four-day sessions. I wondered what the atmosphere is like. "Upbeat," he says. "We all want to be there and learn. After all, it's our livelihood."
I asked him if, after all these years, he has a favorite Porsche, much as a master certified watch repair expert might remember with fondness working on an antique, split-second, minute-repeater chronograph pocket watch.
"My favorite Porsche," Way said with a chuckle, "is the one they're going to build tomorrow. Each Porsche in the past was a stepping stone to where they are today. The new models are better in every way: they perform better, they're safer, and they're even more reliable."
By Lawrence Dietz
Photos by Barney Taxel, Matthew Pace