Sitting in his father's lap in the driver's seat in the 1930s sparked a special passion in Grant Wolfkill, which flamed into a life's love of Porsches. Speed and adrenaline have been the fuel of his life, along with courage and patriotism.
Grant Wolfkill, a retired documentary and news cameraman, has taken delivery of a Cayenne GTS. It's his twenty-first Porsche, but as much as he loves driving the Cayenne, it's not the Porsche he spent months obsessing over. In the impressive list of all Stuttgart-born cars he owned, that honor went to his 550 Spyder. He focused on every detail of a race he drove in his 550 in the year 1960 in Macau, recalling every turn, rerunning the race practically second by second: down­shifting, passing a Lotus and a Ferrari, closing in on the leader in a D Jaguar.
Macau, a group of islands west from Hong Kong, then was a colony of Portugal, given back to China some four decades later. The so-called circuit still exists, because it is built once a year for the Grand Prix—pure street racing for tin-top-cars, open wheelers, and motorcycles. Even just to race there was and is a test of courage. The corners and the uphill road were dangerous territory for one vehicle alone, much less thirty of them. So it is no coincidence that Grant Wolfkill raced and survived there. The story of his life—and his passion for sports cars—is the story of an adventurous and extremely brave American…
I. A SPIRIT TESTED
Reliving that race in his imagination was the best way for him to escape, if only for a few hours, his excruciating reality: it was the summer of 1961, and he was the prisoner of Communist-backed Pathet Lao forces. Wolfkill, in Laos to get footage for NBC News on the war between competing Laotian factions, was in a helicopter with two other civilian Americans when it crashed north of the Laotian capital of Vientiane. Because a provisional peace treaty had been signed the day before the crash, the three assumed they would quickly be released. They were very wrong.
The Pathet Lao moved Wolfkill and his fellow captives from camp to camp over the next year. The prisoners suffered painful abuse; for months their legs were locked in wooden stocks at night to prevent their escape, although, half-starved on a meager diet of rice, salt, and weeds, suffering malnutrition, dysentery, and recurring infections, they couldn't have gotten very far through the heavy jungle even if they had escaped.
Finally, in August 1962, a month after peace accords were signed in Geneva, the prisoners were put on a Russian helicopter and flown to Vientiane. By then, Wolfkill, 6' 3" and 184 pounds when captured, weighed 130 pounds. Recuperating in the United States, Wolfkill was informed that President John F. Kennedy awarded him the Medal of Freedom. It was recognition that Wolfkill, at 38 the oldest of the captives, served as their leader and kept their spirits up. Once back in Hong Kong, Wolfkill wrote about his captivity. The book, Reported To Be Alive, has an introduction by Robert F. Kennedy, who wrote, "Wolfkill has told us much about the spirit and courage of our country."
II. RACING IS HIS STATE OF MIND
Some people might have let the horrific captivity define their lives. Not Grant Wolfkill. He went back to work, to racing, and to his love of Porsches. What to do about his 550 Spyder, which had placed second in a Targa Florio? Was he up for an upcoming race? Regrettably, no. Would he allow someone else to drive it? Yes, a friend, Herbert Linge. Even more regrettably, Linge lost control of the car on a practice run. Linge walked away but the car was totaled. Wolfkill used the $5,800 insurance check from the Spyder to buy a 356 Carrera 2. He was well enough to race it in the November 1962 Macau Grand Prix. Pure Grant Wolfkill: a man who takes care of business and who always had an abiding love of driving—fast. His love of driving started in Seattle, where his father worked in shipyards. Wolfkill's first automotive memory is of sitting in his father's lap in the driver's seat, steering the family 1931 Buick. He says with a gentle smile that his father undoubtedly made small corrections to his son's course.
III. FROM WAR TO FILM TO THE FAST LANE
During World War II, Wolfkill enlisted in the U.S. Marines. Trained as a combat photographer, he was attached to the First Marine Division on Peleliu, where he was wounded. Patched up in time to join the Sixth Marine Division assaulting Okinawa, he was again wounded. When he was released from the hospital he was sent with the first Marine troops occupying Nagasaki, where he filmed the devastation resulting from the second atom bomb dropped on Japan.
After his discharge from the Marines, he moved to Asia, filming documentaries and travel pieces. He also started racing, driving whatever car was available. After racing in an MG, he says, "I knew I had to get something competitive," and that meant Porsche. In 1952 he bought his first new Porsche, a 356 which cost $3,012, an amount he remembers to the exact dollar even today. It was a deep red (erdbeerrot) 1500 Super, with all of the accessories then offered: a sport exhaust and chrome wheels. The BBC sent him all over the Far East to make films, and he raced wherever he went. He entered the 1960 Macau Grand Prix, an amateur street race of sixty laps around the city. Although Wolfkill placed second, he broke the lap record five times in a car he had just bought, the Porsche 550 Spyder; and that was the race he replayed in his imagination while imprisoned in Laos.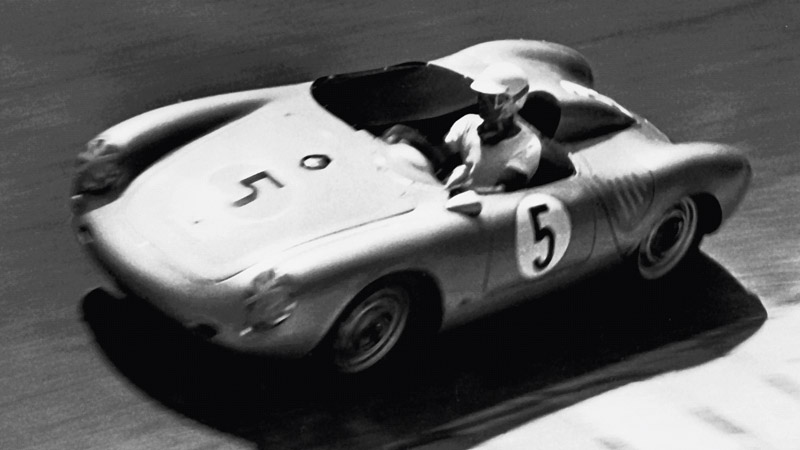 IV. "BEST MAN" STEVE MCQUEEN
In 1965, a friend of movie star Steve McQueen, on his way to Hong Kong to shoot Sand Pebbles, told McQueen to look up Wolfkill. On the day of their scheduled introductory dinner, Grant was hospitalized from a motorcycle accident. "I wasn't about to pass up meeting a movie star," he recalls. His girlfriend, Barbara, helped patch him up. He got to dinner and the beginning of a great friendship. Grant arranged for McQueen to participate in the Singapore Grand Prix, but lawyers for 20th Century Fox and its insurance company gave an emphatic "No."
After finishing shooting, McQueen returned to California. A few months later, Wolfkill returned to the United States with Barbara. They visited McQueen, who asked them about their plans. Grant said they would go to Mexico and probably get married. McQueen took charge: his secretary arranged for a California marriage license. McQueen looked at the casual clothing Grant packed and took him out to buy a dark suit and tie. The wedding ceremony was held in McQueen's house; the movie star served as the best man.
V. FAMILY LIFE IN A PORSCHE
When Barbara became pregnant, Wolfkill relocated his career to the United States. Their son Kim was born in Hawaii. The family moved to New Hope, Pennsylvania, an hour north of Philadelphia, near Trenton. Daughter Kiki was born four years after Kim. It was the beginning of what Grant describes as a "long run of Porsches." Wolfkill found the U.S. racing circuit just as rewarding as Hong Kong and Macau. But now he was a family man. Kim and Kiki both remember being "stuffed" into the back of Grant's 911 on the way to a weekend of racing. Kiki says she has in her mind's eye the white perforated leather in Grant's 911, and how her knees finally wore two holes in the back of the driver's seat. With a smile Grant remembers the kids stuffed in the back of his Porsche, sometimes "on the way to the courthouse to pay a speeding ticket," what Kiki fondly describes as her father's "long relationship with local police."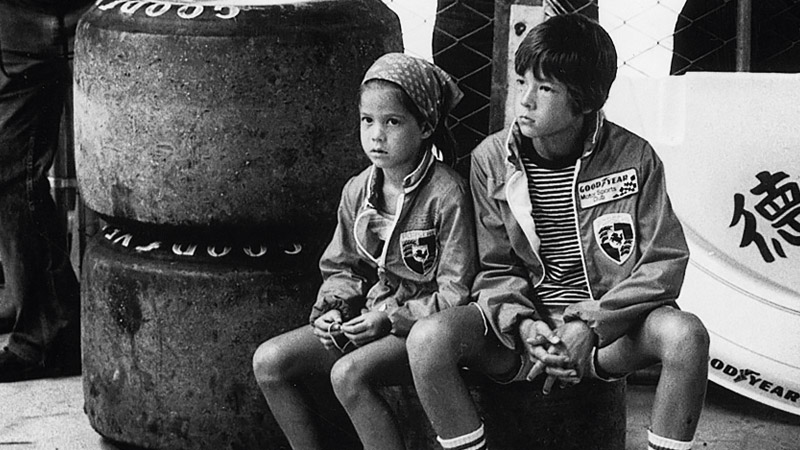 Grant may have gone over the speed limit, but he and his wife were, in Kim and Kiki's understated estimation, "both good drivers." The children learned how to drive almost by osmosis: watching Grant and Barbara, although Grant formally taught Kiki and took both Kiki and Kim to an empty church parking lot near New Hope on a snowy day to pull up the handbrake without warning, so each would learn how to control an unexpected skid.
Kim raced bicycles as a teenager. At one event, a considerable distance from home, his father imparted an important lesson when Grant saw Kim not giving his best effort. Grant told his son he hadn't driven all that way to watch Kim dog it. Winning was not the only goal: performing to the limit of one's capabilities was just as important.
No surprise: both of Grant's children took advanced driving courses and then started racing, individually and as a team. Kiki remembers competing against people who had put "buckets of money" into their cars. "We didn't do that," she says. "We drove our street car, a 924 S." Kim went to work as an editor at Road & Track. After he left the magazine, he moved back to the state of Washington, where Grant had settled in a house in the woods that his father had bought in 1946, in Shelton, a logging town two hours south of Seattle. These days Kim races bicycles and manages Microsoft's motor program. Kiki also settled in Seattle, participated in the One Lap of America (successor to the coast-to-coast Cannonball), and raced her Cayman until work pressures made her decide she didn't have time to race. "Work pressures" is an understatement. She is the Executive Producer for the company that released the wildly successful Xbox 360 video game Halo 4 (more than four million sold).
VI. STILL A CAR GUY
Looking back on a lifetime of Porsches, Grant says he has always loved them because they were race cars that were also dependable enough to be used as everyday transportation. He says, "I enjoy driving, and you can have fun in a lot of cars, but Porsches are special. There's a thrill in driving down a road and knowing you're in complete control in your Porsche. They are and always have been special machines." Driving a Porsche, he says, "just feels right. I'm so much more at one with the car in a Porsche. They're responsive and comfortable." He adds, with a laugh, "Plus, they're reliable, reliable, reliable."
He doesn't wallow in nostalgia: he is all for the technical improvements that Porsche has introduced over the years. Complainers about PDK and stability control? "Baloney," he laughs. "Some people just take longer to appreciate progress than others."
Wolfkill says he'd love to compete in a "super-senior" race—for drivers over 75. Although the country roads around Shelton are usually empty, the rural forests have become a haven for meth labs, whose proprietors and customers often drive on the wrong side of the road. So, to feed his hunger for speed in safety, Grant is thinking he should just rent the Ridge Motorsports Park in Shelton and speed to his heart's content.
(For starters, some of the photos accompanying this story were taken at Ridge Motorsports Park.)
Porsches owned by Grant Wolfkill:
1952 356-1500
1954 356-1500
1959 550 Spyder
1960 356
1962 356
1972 914-6
1972 914
1974 911 Carrera
1979 928
1983 944
1987 944 T
1989 944 T
1992 RS America
1995 911 C2 (993)
1997 911 (996)
1997 911 4S (996)
1999 Boxster
2001 Boxster S
2003 911 (996)
2005 911 (997)
2014 Cayenne GTS
By Lawrence Dietz
Photos by Patrick Bennett