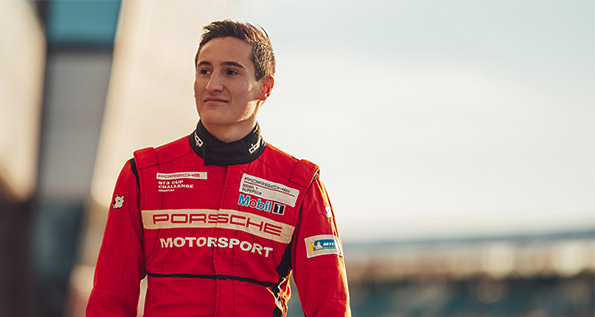 Preview
Porsche Carrera Cup Great Britain, Porsche Motorsport GB: 2020 Test Day, Preview
Porsche Motorsport GB ready for biggest ever season
In light of current global events, Porsche Motorsport GB restructured the annual Media Day, traditionally the first official event of the new season, instead conducting a test day open only to core personnel. A streamlined contingent of Porsche staff, team members and drivers marked the start of Porsche Motorsport GB's biggest season to date at the impressive Silverstone Wing facility – as used by Formula One. Taking to Silverstone's International circuit was a packed field of 25 Porsche Carrera Cup GB cars and 12 entrants from the ever-growing Porsche Sprint Challenge GB grid. Respecting social distancing, Porsche catered for guests throughout the day, championship filming and photography was undertaken, and six qualifying teams each received a Porsche Cayenne for their use throughout the season.
Porsche Carrera Cup GB:
The fastest single marque GT racing championship in the UK, Porsche Carrera Cup GB, has completed 317 races and enters its 18th season with a consistent format and enjoying its traditional high-profile position alongside the British Touring Car Championship (BTCC). 26 drivers have already registered for the 2020 season, run by a mix of returning and new teams. Brookspeed, IN2 Racing, JTR, Redline Racing, Team Parker Racing and Valluga Racing are joined for 2020 by three newcomers: Fox Motorsport, Richardson Racing and Simon Green Motorsport. Alongside a roster of familiar drivers comes an intriguing mix of talented newcomers, and leading the charge is Porsche GB 2020 / 2021 Junior Harry King. King enters his maiden Porsche season with the highly experienced Team Parker Racing, who will prepare cars for six drivers in total. Fielding five drivers will be the most successful team in the history of the championship, Redline Racing. Amongst the newcomers to the team and championship in the Pro category are Matthew Graham, Dorian Mansilla and Scott McKenna. All three have a strong GT track records. Reigning Team champions, JTR, will put forward four contenders. In the Pro category, 2020 / 2021 Junior Shootout finalist Lorcan Hanafin will tackle his first campaign with the team, as will single-seater ace Sam McLeod. Rising star Sebastian Melrose – godson of four-time IndyCar champion Dario Franchitti – will join IN2 Racing in the Pro-Am category.
Porsche Sprint Challenge GB:
Adding to Porsche Motorsport's global tally of one-make championships, Porsche Sprint Challenge GB adopts an important position in the Porsche Motorsport Pyramid. Establishing a new level for competitors underneath Porsche Carrera Cup GB, Porsche Sprint Challenge GB utilises the 718 Cayman GT4 Clubsport and accommodates both amateur and professional drivers alike with a two-category structure: Pro and Am. Interest in the latest Porsche one-make championship has gathered pace organically since its announcement in the later stages of the 2019 season. Headlining this interest is a title sponsor, newly announced for the test day – the Cayman Islands Department of Tourism. Contributing significantly to the package on offer to competitors, the championship will be known as the Cayman Islands Porsche Sprint Challenge GB. A number of teams, some expanding their Carrera Cup GB portfolio and others new to Porsche, have also committed to the championship. These include: Forelle Estates Racing, IN2 Racing, Jordan Racing Team, Motus One, Redline Racing, Rob Boston Racing, TCR, and Valluga Racing. Amongst the exciting Pro category prospects taking to the grid for the first time is 15-year-old Theo Edgerton (TCR) who has spent two seasons racing on the TOCA package in the Ginetta Junior Championship. Ethan Hawkey (Redline Racing) is the brother of Carrera Cup GB and W Series star Esmee Hawkey and is following in his sister's footsteps in furthering his GT career with the Cayman GT4 Clubsport. Nigel Rice (Redline Racing) is the most successful driver in Carrera Cup GB Pro-Am history, and will tackle 2020 in the Am category of Porsche Sprint Challenge GB. Peter Chambers (Jordan Racing Team) has Porsche racing experience, Ambrogio Perfetti (IN2 Racing), is part of the same family as Porsche Le Mans winner Egidio Perfetti. Chris Car (Redline Racing) has gained experience racing a 718 Cayman GT4 Clubsport during British GT's 2019 season.
Both Porsche Carrera Cup GB and Cayman Islands Porsche Sprint Challenge GB remain poised and ready for what could be the most exciting season of competition to date.


The reports of previous seasons can be found in our news archive.