Porsche Tequipment for your Cayenne
Made for adventure. A trailblazer for everyone who likes to go off the beaten track. Together you and the Cayenne can expand the limits of the everyday. And the accessories from Porsche Tequipment are here to help you.
The Porsche Tequipment Cayenne offer
Retrofit options for your Cayenne













As if made for an intense lifestyle.
Your Porsche has a lot of room for the important things in life: personal space for example. How that looks is, of course, up to you. Whether you need the right luggage set for your next trip or want to use the opportunity to transport a bit more, accessories from Porsche Tequipment can offer you the best solution.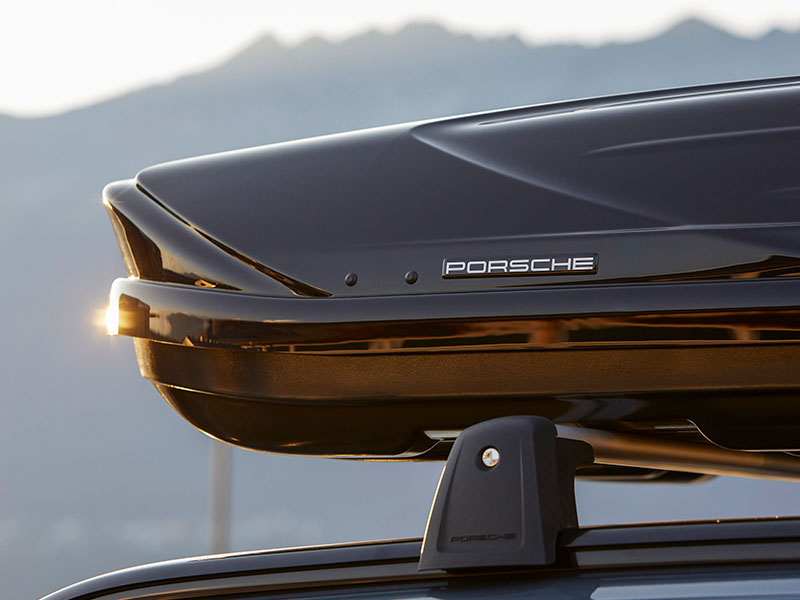 Porsche Design
In either glossy black or platinum, with the Porsche logo on both sides, our roof boxes are unmistakably Porsche Design. All roof boxes have longitudinal air channels which minimize air resistance and driving noise.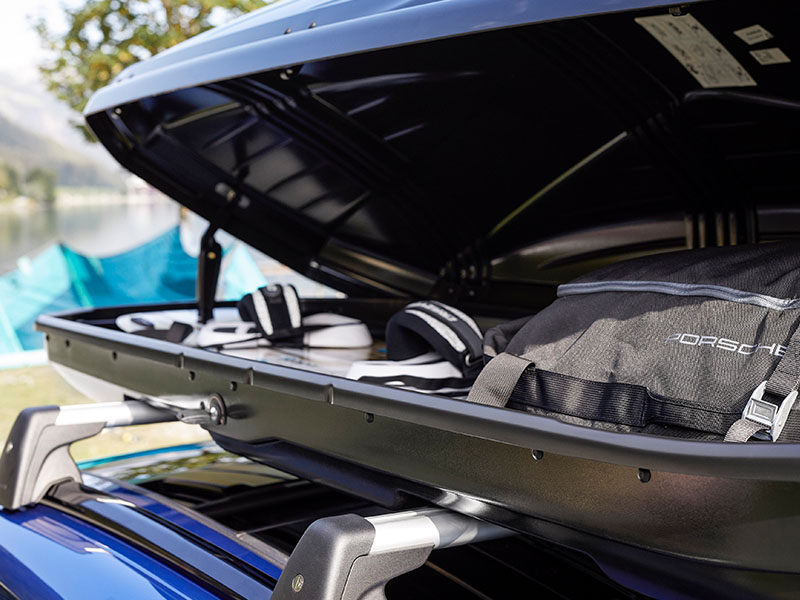 Loading
A roof box increases luggage compartment capacity by approximately 320 litres or 520 litres. All roof boxes are mounted on the roof transport system. Attention should always be paid to the permissible roof load of the vehicle when loading. This can be found in the car Owner's Manual (Chapter "Weight").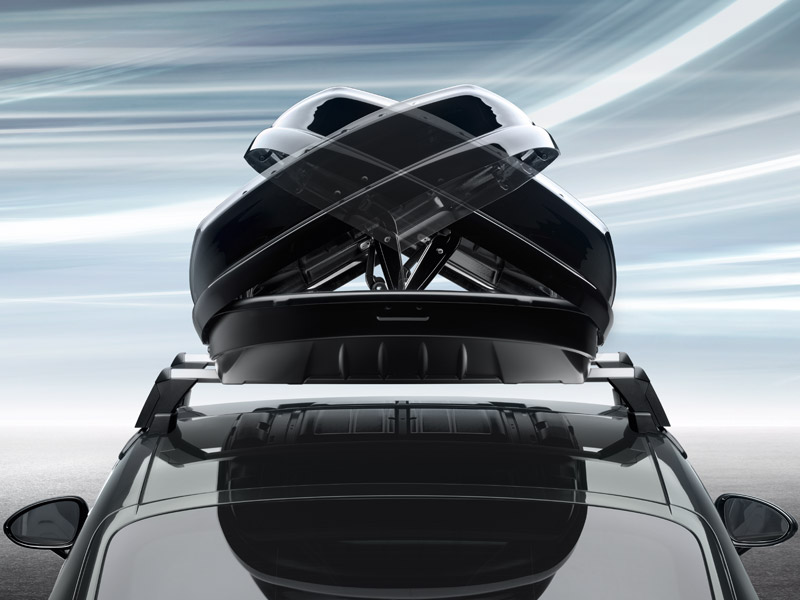 Opening and closing
To simplify loading and unloading, the roof boxes can be opened and closed from both sides. The intelligent safety locking system ensures maximum transport safety, as the key can only be removed when the lid is fully closed. The lockable roof transport system means roof boxes are protected from theft.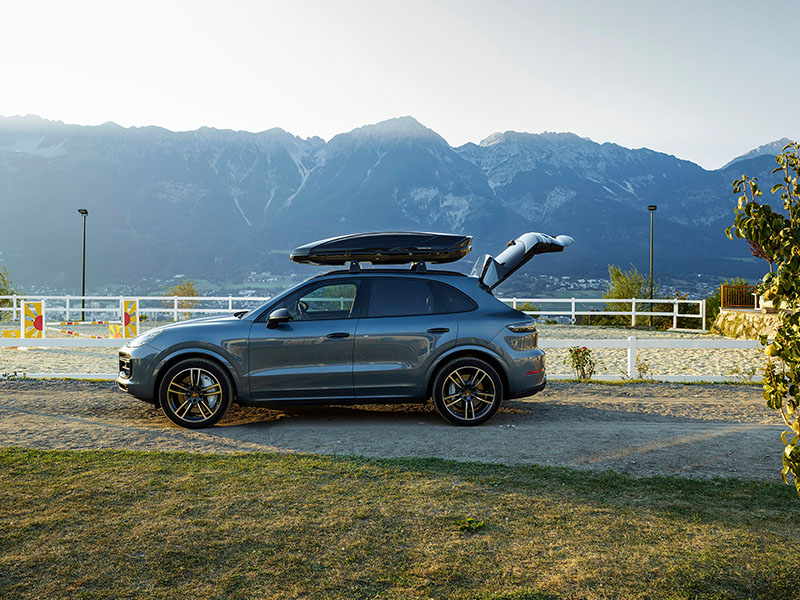 Access to luggage compartment
All Porsche Tequipment roof boxes can be pushed forwards or backwards on the roof transport system to perfectly position the roof box and allow unrestricted access to the luggage compartment.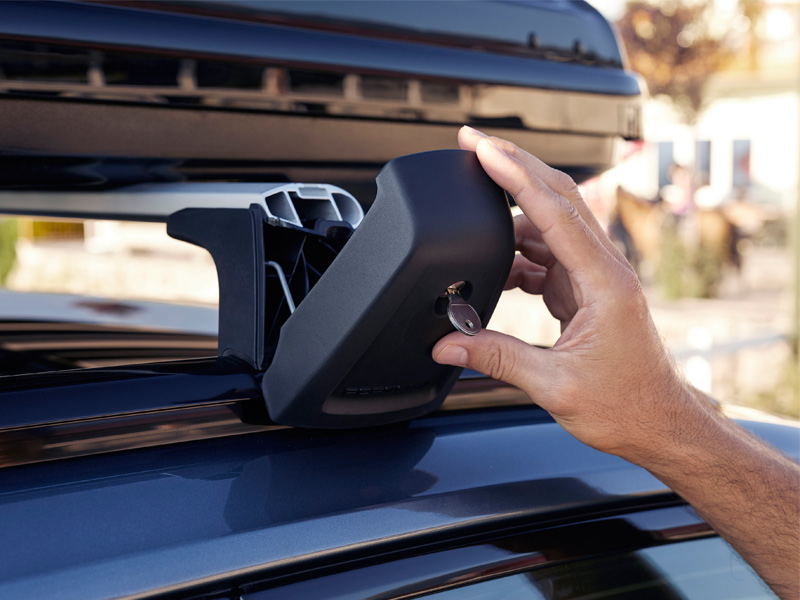 Installation
The roof boxes can be installed in a few simple steps. Due to the sizes of the roof boxes, we recommend using two people to install them. To secure a roof box on the vehicle roof you must have a roof transport system.
Porsche Tequipment for your Cayenne
Porsche Tequipment for your Cayenne
Porsche Tequipment for your Cayenne
Porsche Tequipment for your Cayenne
Porsche Tequipment for your Cayenne
Porsche Tequipment for your Cayenne
Porsche Tequipment for your Cayenne
Porsche Tequipment for your Cayenne
Porsche Tequipment for your Cayenne
Porsche Tequipment for your Cayenne
Porsche Tequipment for your Cayenne
Porsche Tequipment for your Cayenne
Porsche Tequipment for your Cayenne
Porsche Tequipment for your Cayenne
Porsche Tequipment for your Cayenne