Porsche Mobility. Extended.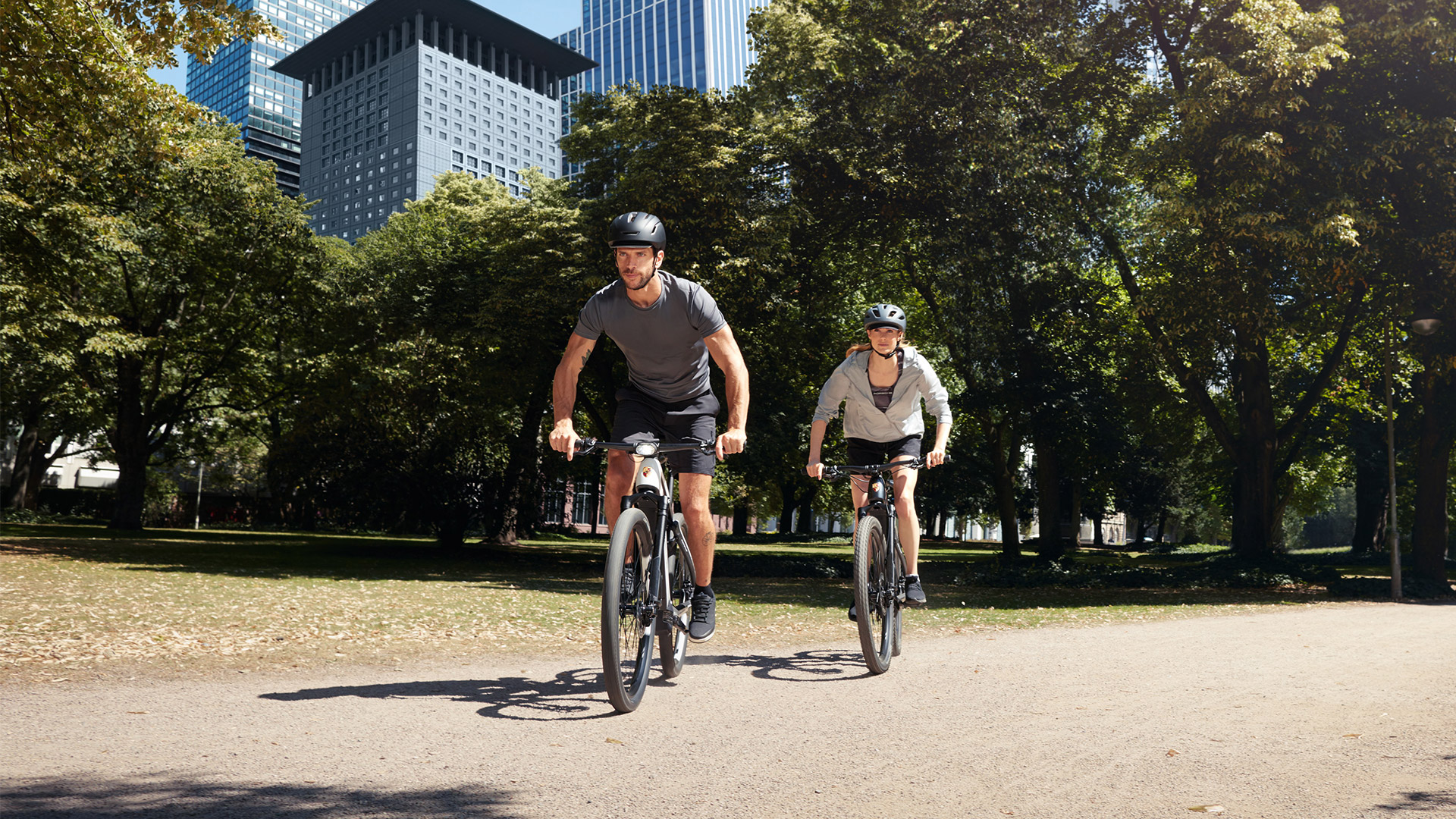 Porsche eBike Sport
With the Porsche eBike Sport, you can ride a genuine design object every day. It's the perfect companion for the adventure of everyday life – through cities, around the countryside, for business and pleasure. This is guaranteed by high-quality technical components, such as the full-suspension carbon frame and the new, powerful SHIMANO motor with Pedelec assist up to 15 mph. The smooth-running CONTINENTAL tyres convey a familiar yet completely new driving experience: that of a true Porsche. Reinterpreted on two wheels.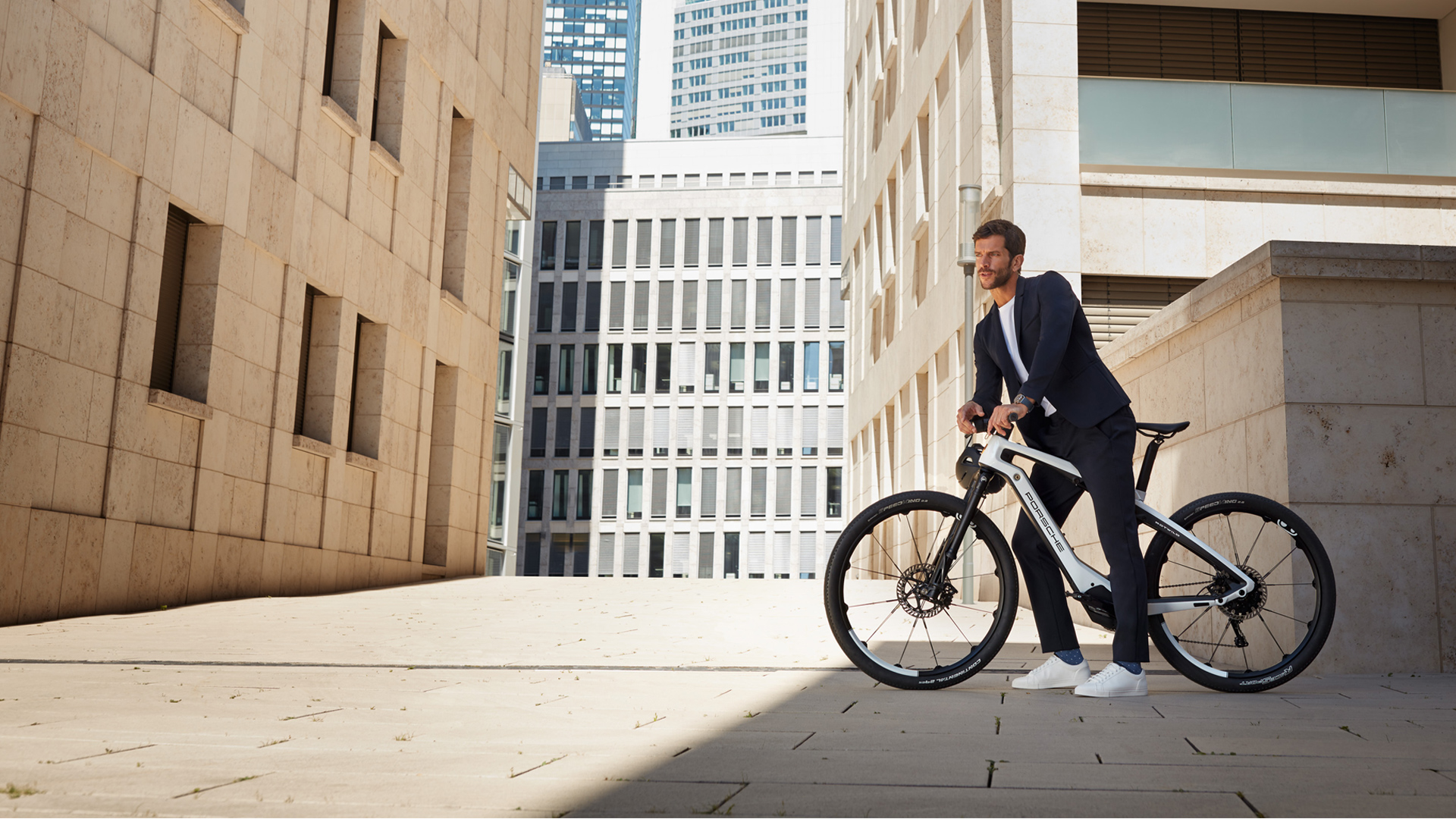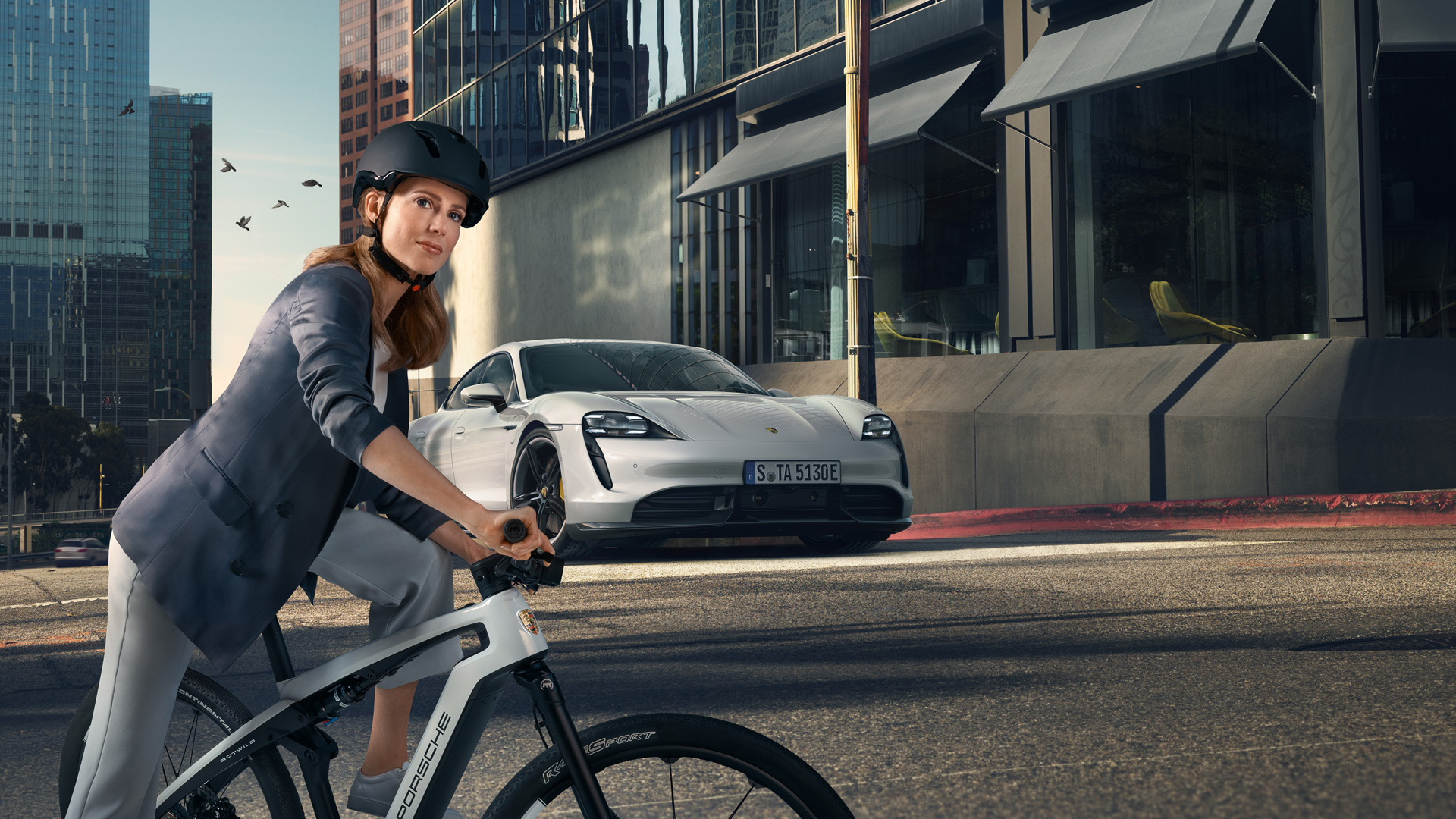 Highly and emotionally charged.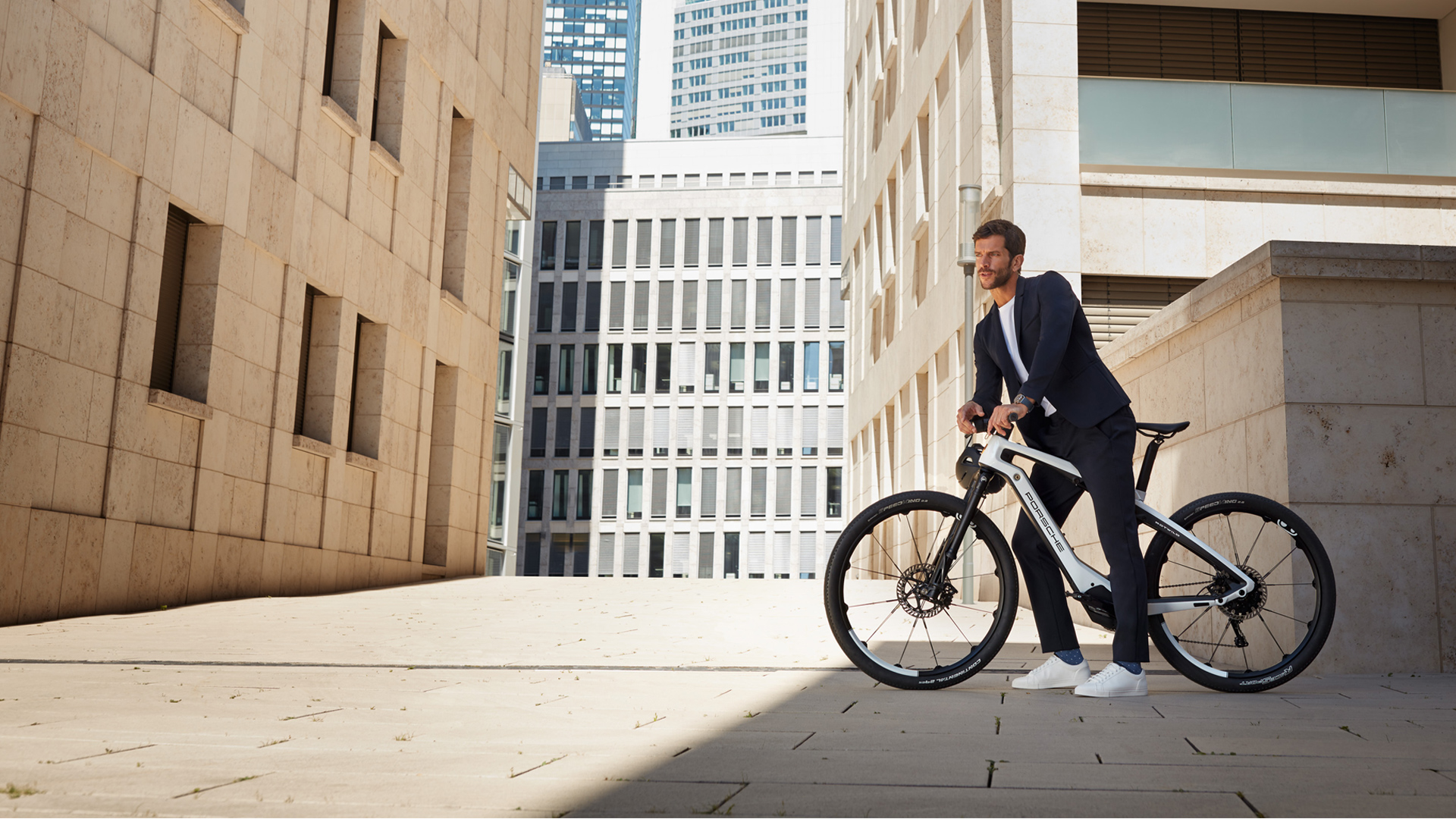 Full speed ahead. Thanks to MAGURA Cockpit Integration (MCi) with the brake and shift cable routing integrated into the handlebars, you have a reduced cockpit on the Porsche eBike Sport. In conjunction with the SHIMANO colour display, which shows speed, distance and range, among other things, in real time, you can concentrate on what's important: the road. The Supernova LED front light with high beam function elegantly incorporated into the handlebars provides you with constant illumination. Day and night.
Electrifying. Down to the very last detail.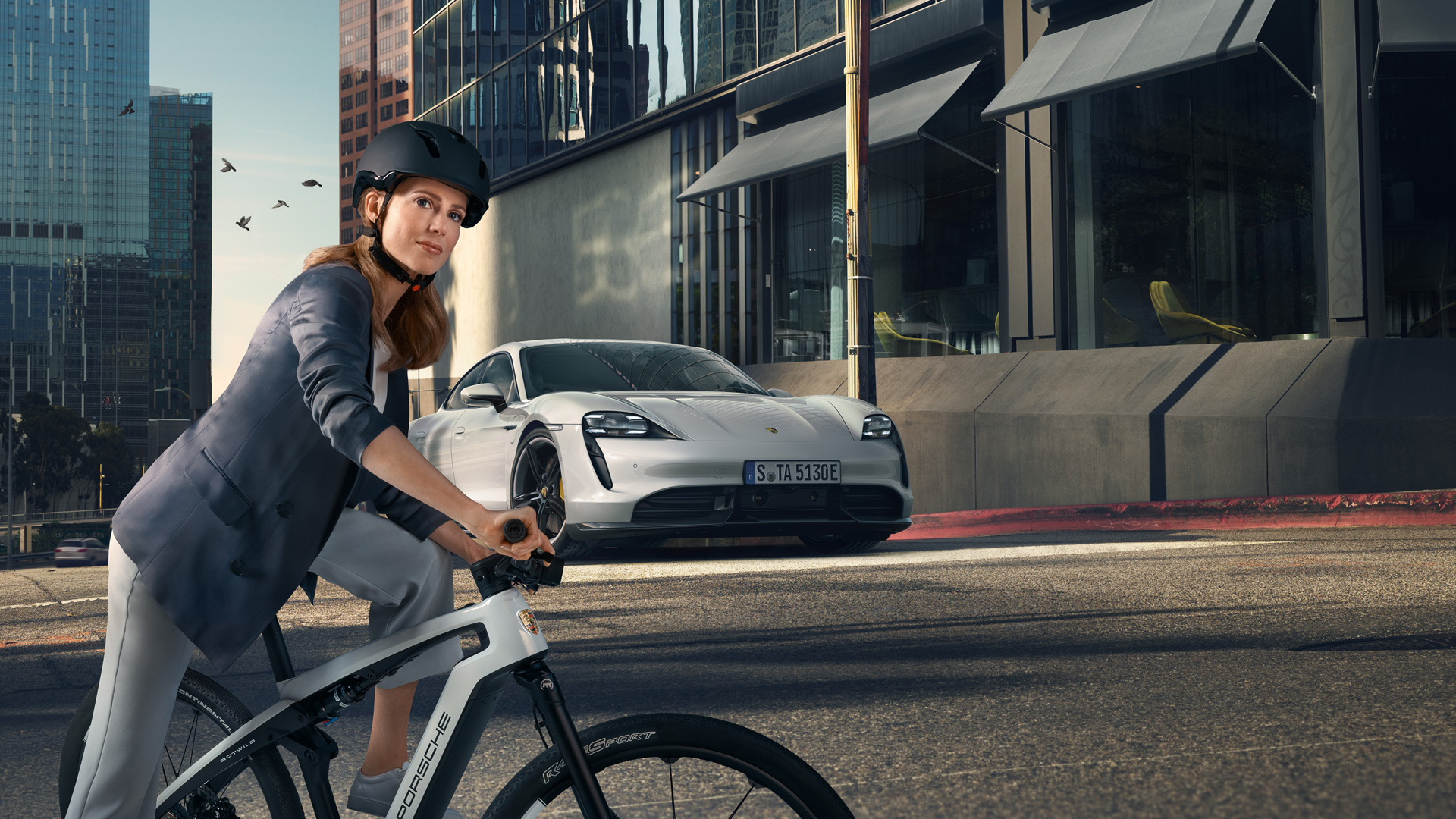 The Porsche eBike Sport also cuts quite a dash from the rear. The rear light is fitted to the Aero seat post, ensuring that you can be optimally seen at all times. The powerful SHIMANO motor with low pedal resistance and SHIMANO 630Wh battery are integrated into the sporty and elegant carbon frame. The electronic 11-speed gearset from SHIMANO, upside-down suspension fork from MAGURA and shock absorbers from FOX also ensure a sporty yet comfortable ride.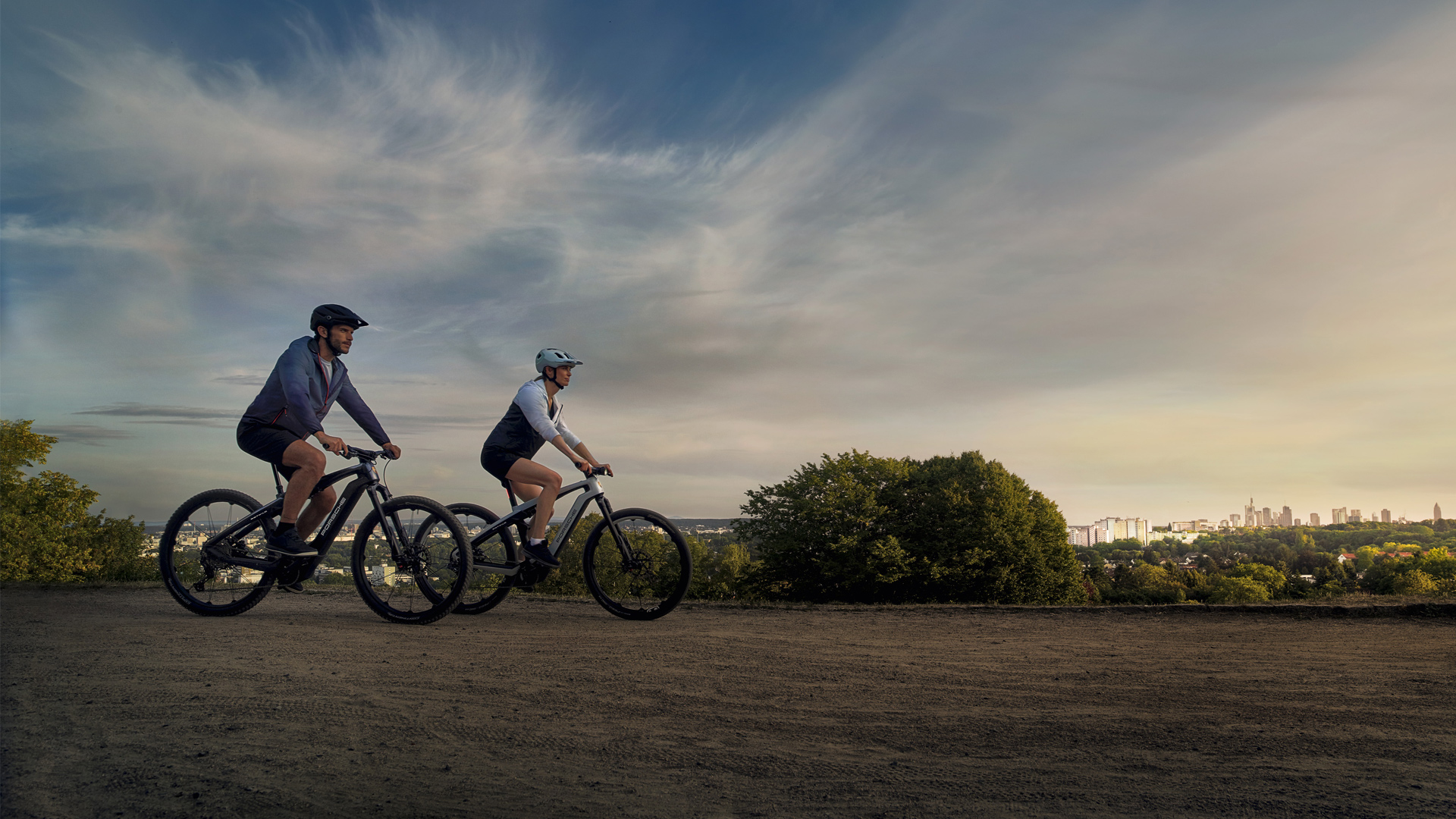 Porsche eBike Cross
Want even more adventure? Then you'll love the eBike Cross. Especially if you like leaving the beaten track. Combine style with a thirst for adventure – in the Porsche eBike Cross, the lightweight carbon frame is matched with carefully selected mountain bike components. Stay on track even off-road with the ergonomically shaped handlebars and SHIMANO colour display. Feel the wind in your hair again. And swap the beat of everyday life for the beat of your heart.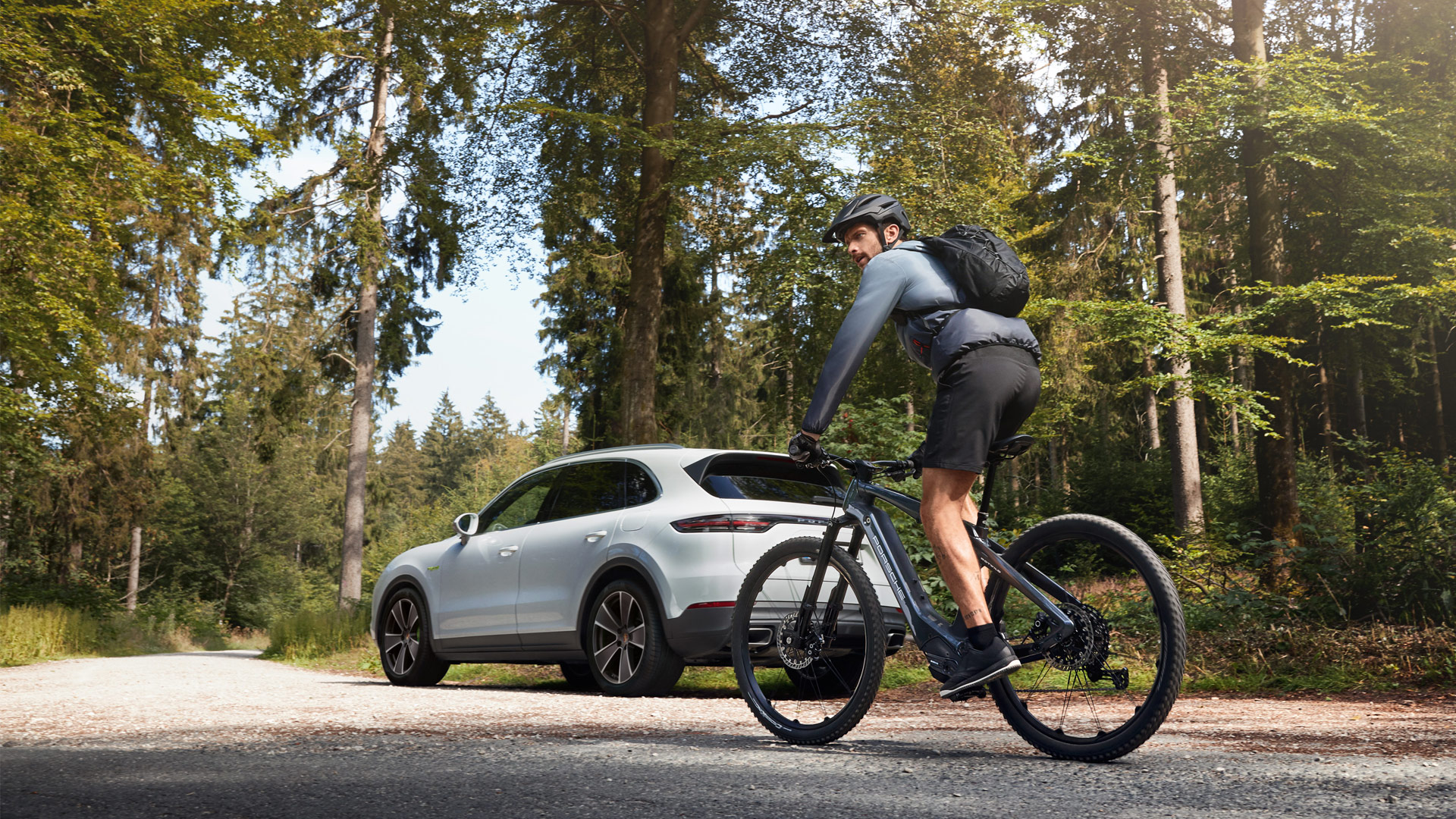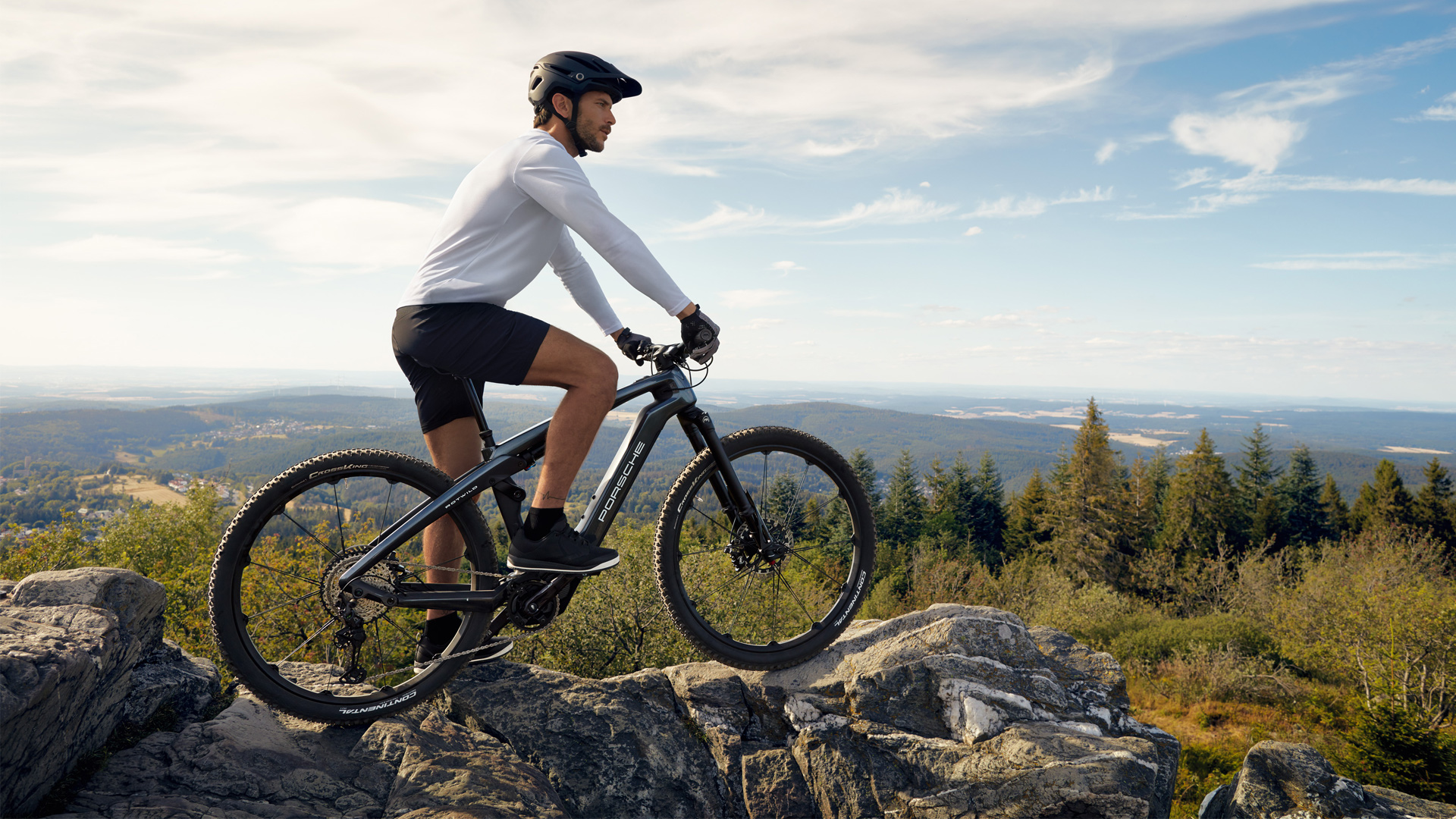 High-voltage performance aids relaxation.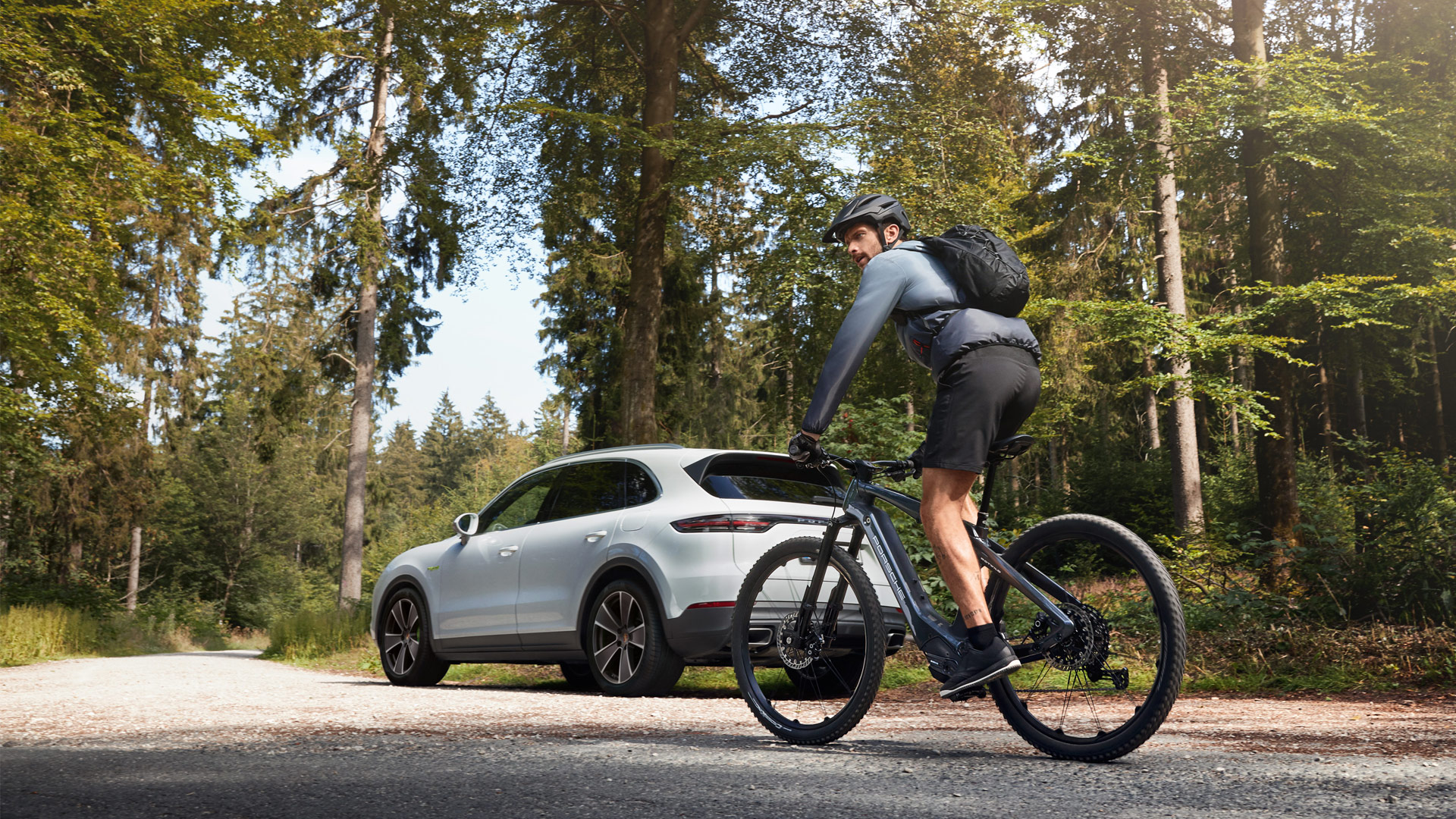 Sport and recreation can be balanced in an instant with the eBike Cross and its high-end suspension components such as the MAGURA upside-down suspension fork and the FOX shock absorbers, each with 100mm suspension travel. If you want, you can easily cycle through lush, green forests or along previously undiscovered trails thanks to the powerful SHIMANO motor and the removable 504Wh battery from the same manufacturer.
Energy as if connected to the grid.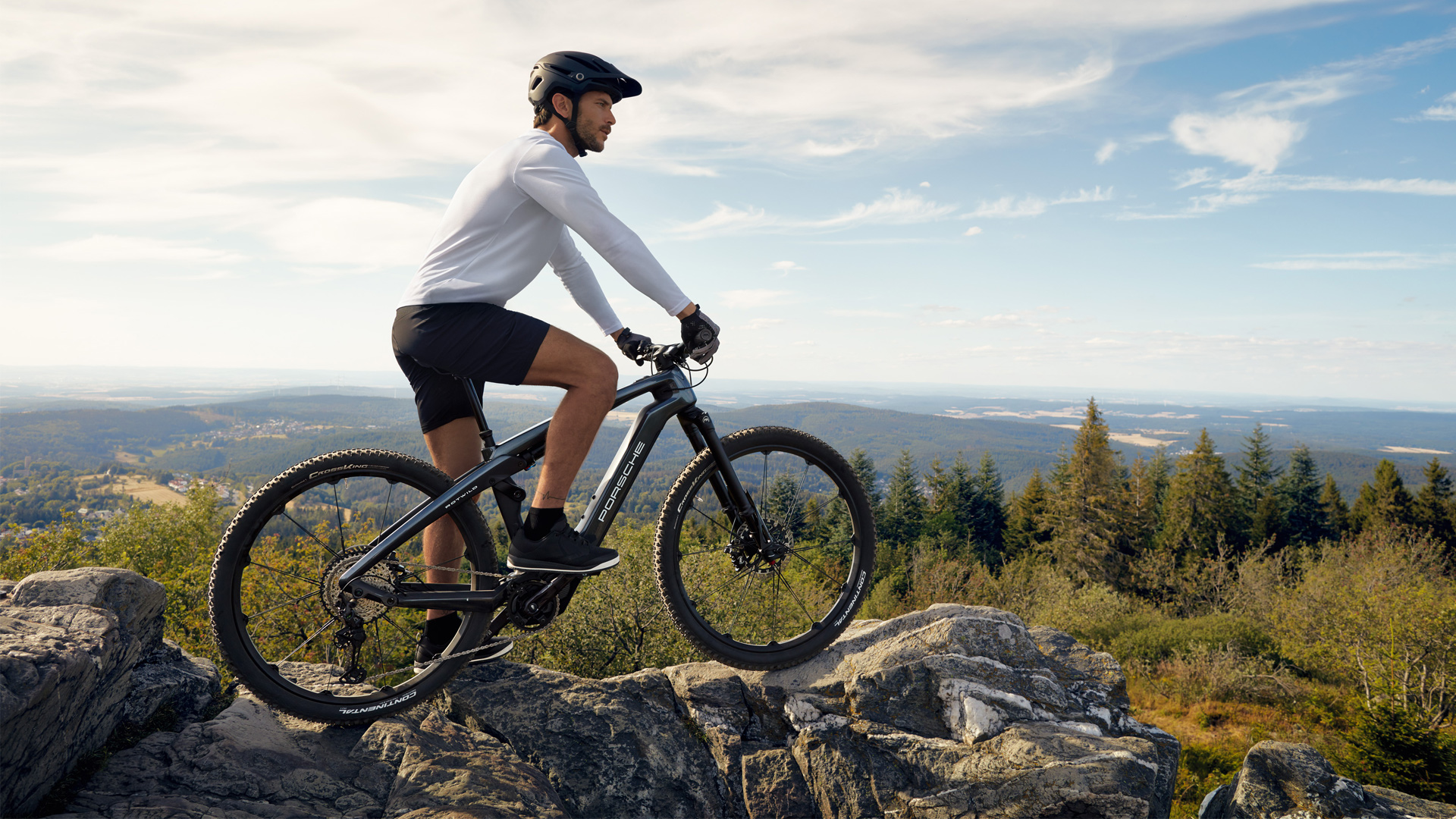 Simply shift up or down a gear with the mechanical SHIMANO 12-speed gear change, depending on what you and the terrain require. Discover a completely new posture with the hydraulically adjustable seat post. Or simply take a break to enjoy the view - the powerful MAGURA high-performance brakes with extra-large brake discs ensure optimum deceleration and bring you to a halt in just a few seconds.
Gallery