Porsche Boxster (type 986)
From model year 1997 onwards, the Porsche Boxster set new standards for performance and safety in the open-top sports car market. The roadster combined the dynamic driving qualities of a sports car with unlimited day-to-day practicality. A new type of convertible top kinematics enabled the electrically operated top to be opened and closed in just twelve seconds – an unrivalled speed. The Boxster stood out from its toughest competitors thanks to its mid-engine concept with the six-cylinder flat engine typical of Porsche. The Boxster series featured water-cooled engines.
The bonnet, front headlight units with low beam and high beam, indicators and fog lights, front wings and doors were identical on the 911 Carrera and Boxster as a result of the shared parts concept.
Model overview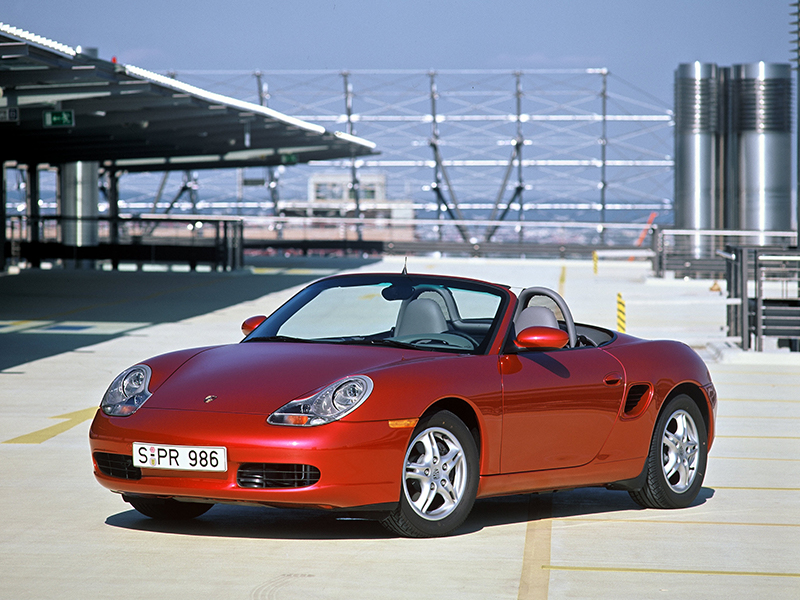 Boxster (1997-99)
Features
16-inch wheels in Boxster design as standard // Availability of various equipment packages: "SportDesign" (model year 1998), "Trend" (model year 1998) and "Classic" (model year 1999) // Automatically extending tear-off edge between large tail lights from a speed of 120 km/h // Air intakes on the rear side panels // Exterior mirrors in front of the side windows // Brake callipers painted in Black // Unlined, electric fabric roof with flexible rear window made of plastic // Fixed roll-over bar // Five-speed manual transmission with newly developed cable-controlled shifting concept // Alternatively: newly developed five-speed Tiptronic S // McPherson strut with aluminium axle guide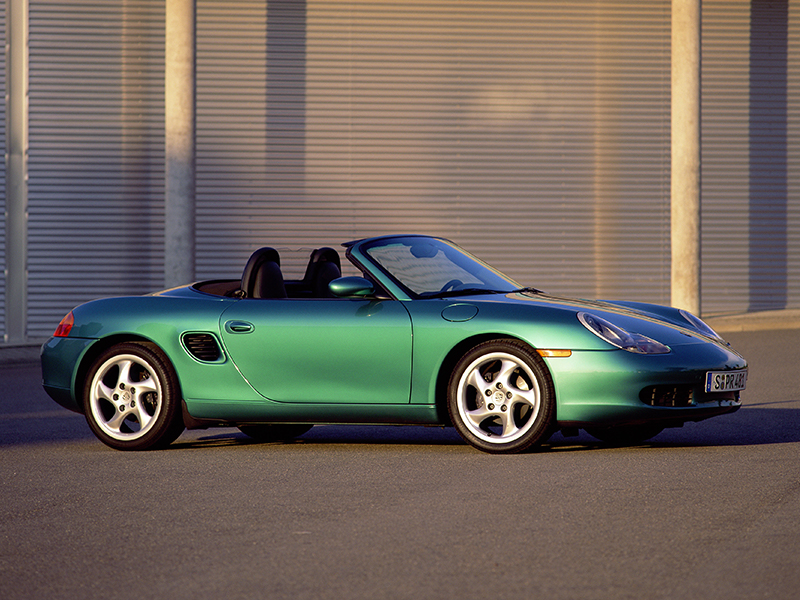 Boxster (2000-02)
Features
Plastic parts in the interior finished with black soft-touch paint // 2.7-litre engine // Porsche Side Impact Protection System (POSIP) // Engine power improved by 16 HP // Bosch M7.2 digital engine management system
Boxster (2003-04)
Features
Re-designed front and rear sections // Indicators behind quartz-coloured diffusers // Re-designed side air intakes with grille covers painted in the vehicle colour // New tailpipe design // Revised convertible top with more of a rounded contour // Heated rear window made of safety glass
Porsche Classic Parts Explorer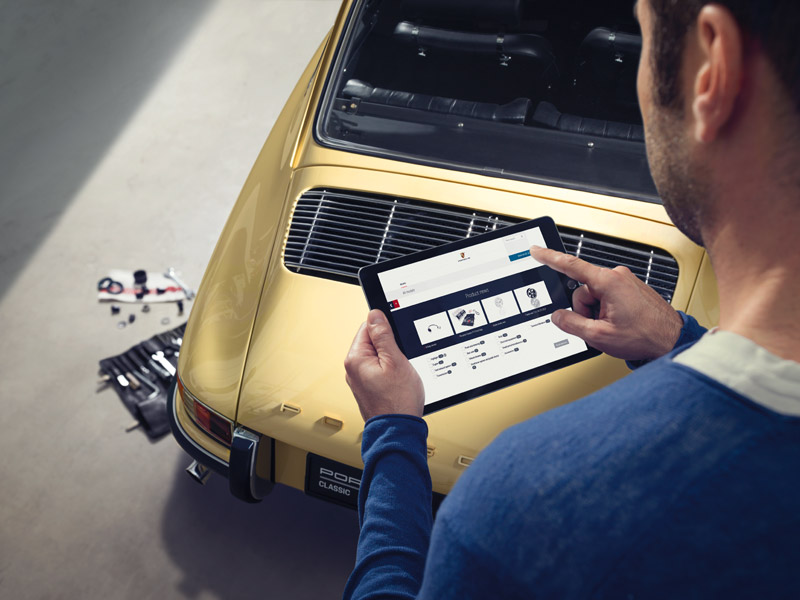 Search. Click. Result.
You can now quickly and easily find selected genuine parts for your classic car using the Porsche Classic Parts Explorer. Each year, some 300 reissued parts plus selected products for specific models become available online, along with all of the relevant details, of course. In addition to images and part numbers, you will find a range of useful information regarding the individual products and specific usage scenarios.
As you can imagine, there is a wealth of information available to explore. Why not begin your own tour of the Parts Explorer now and find out which reissued parts are available for your classic car. Incidentally: It is worth checking back regularly. After all, our product range is always expanding. We look forward to your visit.
Read more
Product Highlights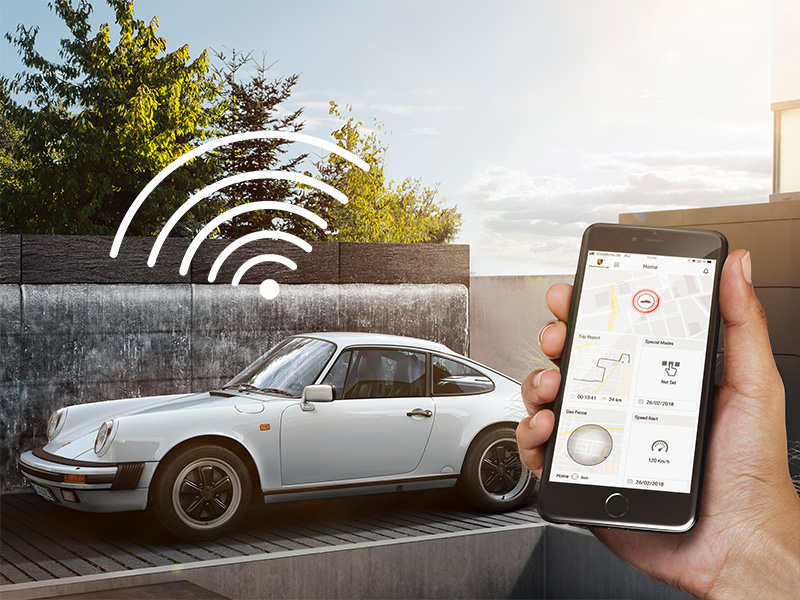 Porsche Classic Vehicle Tracking System
Rare species deserve special protection: We are now offering the Porsche Classic Vehicle Tracking System so that the reliable protection system that our new vehicles already benefit from is also available for Porsche classic models. Thanks to intelligent, GPS-based monitoring and the associated app–with a wide range of additional functions–you can know exactly where your classic car is at any time.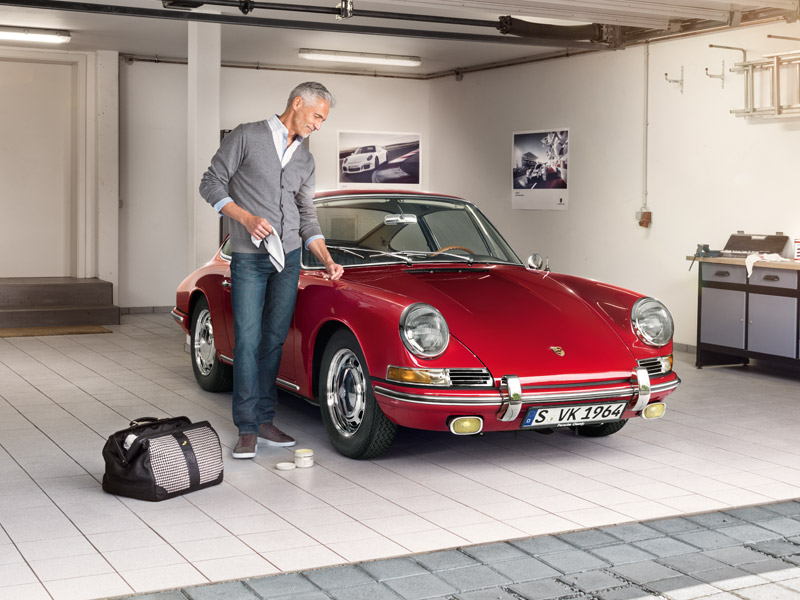 Balm for the soul of your classic car.
The relationship you have with your Porsche is something very special – and long-term relationships need special care and attention. The 17-piece Porsche Classic Car Care Set is the best way to do this. It can be used on all exterior surfaces and on all Porsche paint generations. Particularly authentic: the high-quality, classic-style storage bag with houndstooth pattern.
Read more