Porsche Cars GB - 924 GTP Restoration
In 1980 Porsche entered Le Mans with three examples of the new race car which were piloted by teams from Germany, USA and Great Britain. Titled the 924 GTP, each car raced under their national colours in the highly competitive 'Prototype' class. 924 GTP 002 remains the only Porsche factory owned race car ever to compete under a British flag. Having been used for further testing the car was officially retired in 1982.
35 since its launch and to celebrate the 40th anniversary of the Porsche 924, Porsche Cars Great Britain and our network of Classic Partner Centres will return the car to its former glory. Porsche Centre Glasgow will handle the suspension and brakes, Porsche Centre Swindon will restore the engine, Hatfield the gearbox and finally all plumbing and electrics will be the job of Porsche Centre Leeds.
Full restoration of the body work and trim will be the responsibility of Road & Race Restorations, one of the Porsche Recommended Body Repairers with extensive experience in the restoration of specialist race cars.
All the latest updates on the restoration process can be found below and in the gallery.

Bodywork: Lightened production body with fender extensions and front spoiler as well as doors and engine lid of plastic, plexiglass windows
Chassis: Independent wheel suspensions, whisbones and McPherson shock legs in front, steel semi-trailing arms in back
Progressive coil springs, Bilstein gas pressure shock absorbers
Brakes: Inner-vented, dual circuit disc brake system from 917 with center-lock wheels
Adjustable brake balance
Wheels: BBS rims front and rear: 11.75 x 16
Dunlop Racing, front: 275/600 x16
Dunlop Racing, rear: 300/825 x 16
Gearbox: Fully-synchronized, 5-speed Porsche gearbox, 924 reinforced, slod drive, ratios to suit the course
Clutch: Single-plate, dry clutch (Fichtel & Sachs) with sintered lining
Engine: Four cylinder, in-line engine, water-cooled with turbocharging and charge-air intercooler, mechanical Bosch/Kugelfischer fuel injection and dry sump lubrication
Bore: 86.5 mm/3.41"
Stroke: 84.4 mm/3.33"
Capacity: 1983.9 cc/121.02 in³
Compression: approx. 6.8 : 1
Output: 320 hp (235 kW) at 7000 rpm
Max. torque: 39 mkp/282 lb.-ft. at 4500 rpm
Dimensions:
Wheelbase: 2400 mm/94.6"
Track, front/rear: 2534/1504 mm - 60.4/59.3"
Length: 4200 mm/165.6"
Width: 1850 mm/72.9"
Height: 1200 mm/47.3"
Fuel capacitiy: 120 litres/31.7 gal.
Weight: 930 kg/2050 lb.
Top Speed: approx. 290 km/h - 180 mph
Latest Updates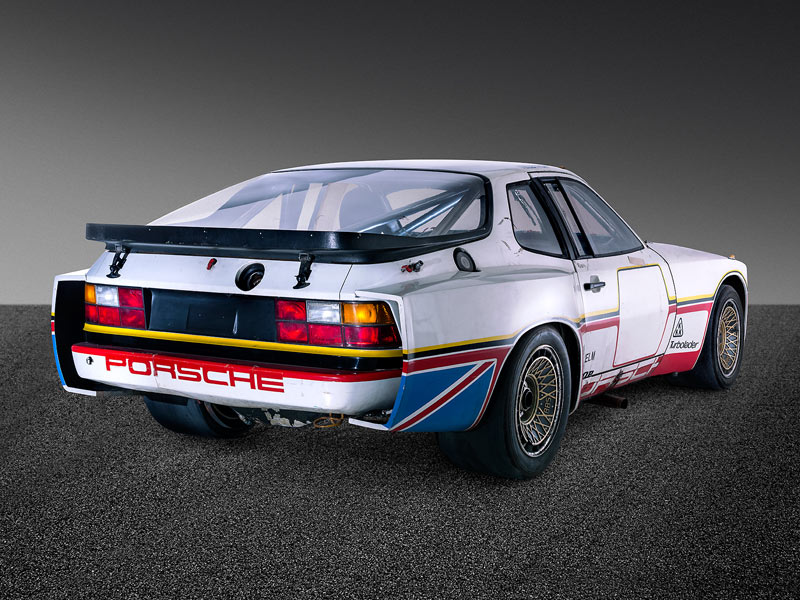 Waking Sleeping Beauty
The 924 GTP 002 has now safely arrived in the UK and is undergoing a thorough inspection. As you can see from the photos it certainly needs some work.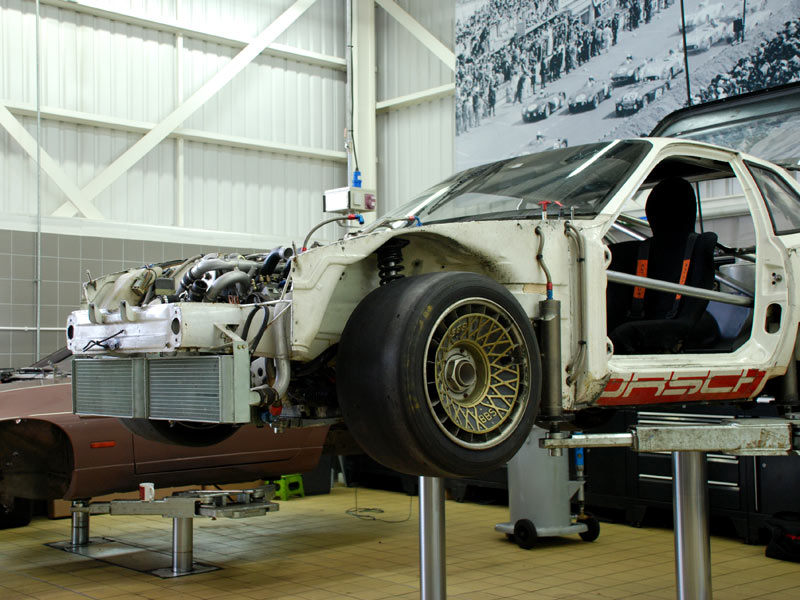 The restoration begins
The restoration teams from each Centre have met at Porsche Centre Leeds to begin the strip down of the 924 GTP. The car has now been split into its key sections and each Porsche Centre will now take these away to begin the in depth restoration.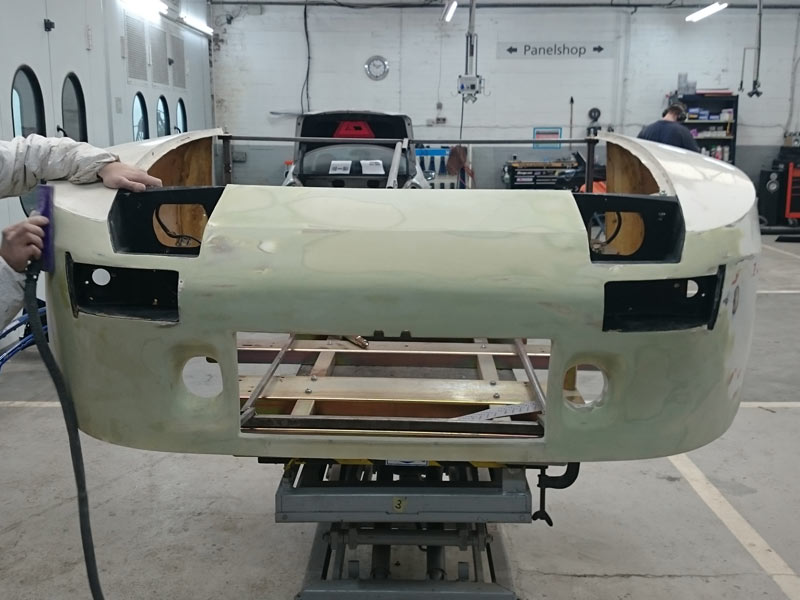 Reunited
The 924 GTP has now been reunited with its original 1980 engine. This development returns 924 GTP 002 to its 'true' pre-development testing condition as it would have been for the 1980 Le Mans race. In addition a new mould for the front end has been made to replicate the original nose. Damage to the floor pan has also been repaired and the shell has been stripped and cleaned in preparation for painting.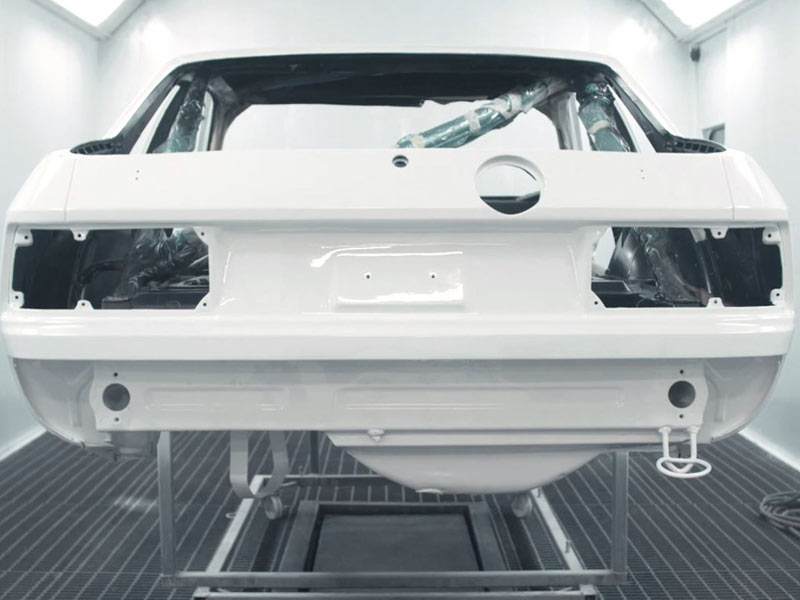 Work continues
The body shell of the 924 GTP has now been completely restored and has been returned to Porsche Centre Leeds. The restoration team will start work on the wiring and plumbing components now the shell has been painted. The team will then begin the process of re-assembling the car.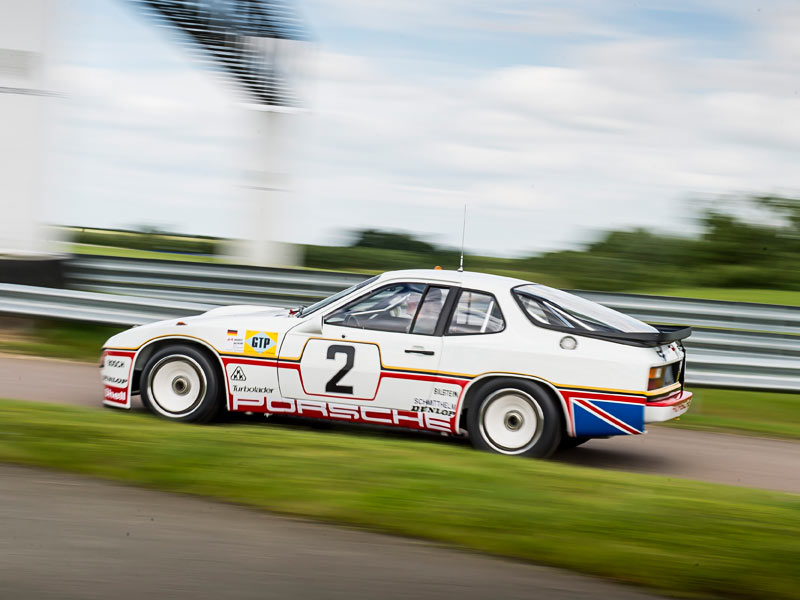 A legend re-born.
After a gruelling six months of hard work, 924 GTP 002 is back to its former lustre as it would have arrived at Le Mans in 1980. The car was revealed at the Porsche Experience Centre under the watchful eyes of the original drivers with Tony Dron taking to the wheel for the first time in over 35 years. The car has since been displayed at the Silverstone Classic and the Oldtimer Grand Prix in Germany.