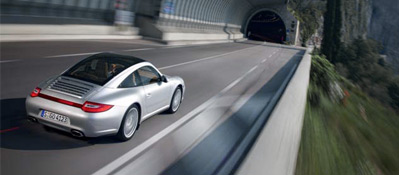 If you're curious and would like to know more about our Porsche magazine, you'll find selected articles here for you to read as a sample.
We hope you enjoy reading them – and if you want to read more, you can apply for subscription to 'Christophorus' online now.
Debut with a View
Lake Garda lures the traveler hungry for breathtaking sights. And that's why it's the right place for the world premiere of the new 911 Targa models. The 1.54-square-meter glass roof gives you a total view – inside and out.
Download PDF/ 500 KB
A Car for All Seasons
The Porsche engineers reveal the secret of the ball ramp. In the 911 Carrera 4 and 4S, it has an important job to do for the new electronic all-wheel drive––Porsche Traction Management.
Download PDF/ 372 KB
Time Travel
Do you have four walls at home? Then you can use three calendars. And in 2009, Porsche is once again providing its three classics – with the themes Products, Design, and History.
Download PDF/ 166 KB
An Adventure Right out of a Book
Through five time zones on two continents––in just fourteen days: the Transsyberia Rally was an adventure for both drivers and cars. It wound up with a sixfold Porsche triumph.
Download PDF/ 635 KB
Flying on Water
What Porsche is on the road, Frauscher is on the high seas. "Our dream is to create something that others will want to own," says yacht-builder Stefan Frauscher.
Download PDF/ 802 KB