Porsche Racing Experience – Level 1 Events.
Porsche Racing Experience – Level 1 Events.
The Porsche Racing Experience starts each year with an intense 6 day Level 1 training event on one of Europe's exclusive race tracks. The dates vary from year to year depending on the schedules of the major international motorsport events. Want to learn more? Then complete the registration form and you will be notified as soon as the dates are announced. What to expect in Level 1 is listed below:
Training vehicle: Porsche 911 GT3 Cup based on the current generation 992
Full technical support (incl. fuel, tires, consumables)
Car-Control sessions with Porsche 911 GT3 Cup on a safety training course
Four active days driving on the GP race track
Individual support provided by DMSB- and Porsche-certified instructors with motorsport experience
Theory-based and licence lessons
Video- and data-analysis (via V-Box and Cosworth®-systems)
Sport psychology training, fitness and medical assessment, physiotherapy
Driver's full equipment, incl. helmet, HANS®, racing suit, Nomex clothing etc.
Maximum of 16 course participants
Professional follow-up: individual evaluation of the driver's profile
Course culminates in the awarding of the international D licence*
Daily meals and dinner
Price per participant: EUR 59.911,- net
All prices plus local VAT.
*subject to the verification of the local ASN from the respective home country of the individual driver.​
Dates 2021:
Le Castellet - Circuit Paul Ricard
France, July 24th to 29th, 2021

Alcañiz - Ciudad del Motor de Aragón
Spain, December 3rd to 8th, 2021
Contact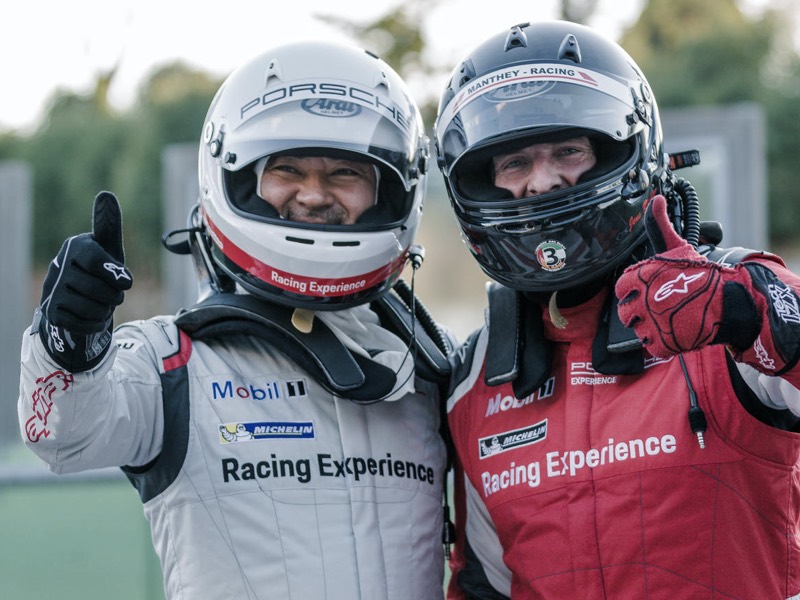 Your contact
For an in-depth consultation, please refer to:
Porsche Racing Experience is operated by

Manthey-Racing GmbH
Rudolf-Diesel-Strasse 11-13
53520 Meuspath
Germany
Telephone: +49 2691 9338 911
Telefax: +49 2691 9338 -50
Email: info@porsche-racing-experience.com
Internet: https://www.manthey-racing.de/en/home
Court of registration: Amtsgericht Koblenz HRB 14640
Managing director: Nicolas Raeder & Martin Raeder