Intense preparation for your first racing season.
The comprehensive and intensive training course will give you all the theory and practice you need to master the basic principles required for your first racing season. The programme is made up of a wide range of modules – taught both on- and off-track – to give you the best possible preparation for all the demands associated with being a racing driver. Supported by data and video analysis to prepare you at best for a diverse range of racing situations and the obtaining of your international D licence to start in one of the Level 2 series.
Register for one of the limited Level 1 spots on the course to start your own mission with the Porsche Racing Experience. Build up the solid groundwork for your Porsche racing career during our six-day Level 1 training and face a simulation of a race weekend. Those prepared to step up to this challenge should possess advanced driving skills, along with increased mental and physical fitness.
The first item on the roll-out agenda is getting to know the car & the track. Start out with the track walk and receiving the first instructions behind the wheel. Additionally, you'll receive an introductory course and car control practice in the Porsche 911 GT3 Cup Simulator. All under the supervision of a Porsche DMSB certified instructor for each participant group of two. Ask for helpful advice from Porsche representatives like Mark Webber and Porsche Junior Coach Sascha Maassen. Throughout the entire course, a sport psychologist, a sports physician and physical therapist are available.
During the practice phase, you'll be faced with the challenge of free driving with or without instructor, depending on your preferences and abilities. As you proceed, you'll undergo a stress ECG, along with a fitness check. These are followed up by more training simulator rounds to prepare you for real driving situations. You will also receive an introduction to the vehicle's technology, chassis details and wheels. It all cumulates in your first free training session on the track. Together with your personal instructor and the Porsche junior coach, you'll set your goals for the coming course days.
Step-by-step we will emulate a genuine racing weekend. The qualification phase reproduces a realistic qualifying including free training and advanced data analysis. Always supervised and optimally supported by your instructor. Mental training and licencing preparation intensify the phase, in which we guide you toward genuine racing situations through heightened realism.
The practical sessions culminate in an authentic racing simulation with free training, qualifying and training challenging racing situations, such as Safety Car, behaviour and reaction during a yellow or blue flag, termination of the race etc. Elements of endurance and sprint races, along with various starting situations will be trained.
Achieving personal goals on the way to a racing career has top priority during the Porsche Racing Experience, making everybody a winner. The intense feedback offers a review of your athletic development and together, we will define the following steps. Nothing can stop you from acquiring the race license for the participation in Level 2 after successfully passing the final tests. The awarding of the Porsche Racing Experience certificates adds the finishing touches, bringing the day to a close with a befitting festive award ceremony for all participants.
Racing Experience – Level 1 Events.
The Porsche Racing Experience starts each year with an intense 6 day Level 1 training event on one of Europe's exclusive race tracks. The dates vary from year to year depending on the schedules of the major international motorsport events. Want to learn more? Then complete the registration form and you will be notified as soon as the dates are announced. What to expect in Level 1 is listed below:
Training vehicle: Porsche 911 GT3 Cup based on the current generation 992
Full technical support (incl. fuel, tires, consumables)
Car-Control sessions with Porsche 911 GT3 Cup
Four active days driving on the race track
Individual support provided by DMSB- and Porsche-certified instructors with motorsport experience
Theory-based and licence lessons
Video- and data-analysis (via V-Box and Cosworth®-systems)
Sport psychology training, fitness and medical assessment, physiotherapy
Driver's full equipment, incl. helmet, HANS®, racing suit, Nomex clothing etc.
Maximum of 16 course participants
Professional follow-up: individual evaluation of the driver's profile
Course culminates in the awarding of the race license to compete the series in Level 2
Daily meals and dinner
Price per participant: EUR 59.911,- net
All prices plus local VAT.
Date 2022:
Spielberg - Red Bull Ring
Austria – October 13th - 18th, 2022
Contact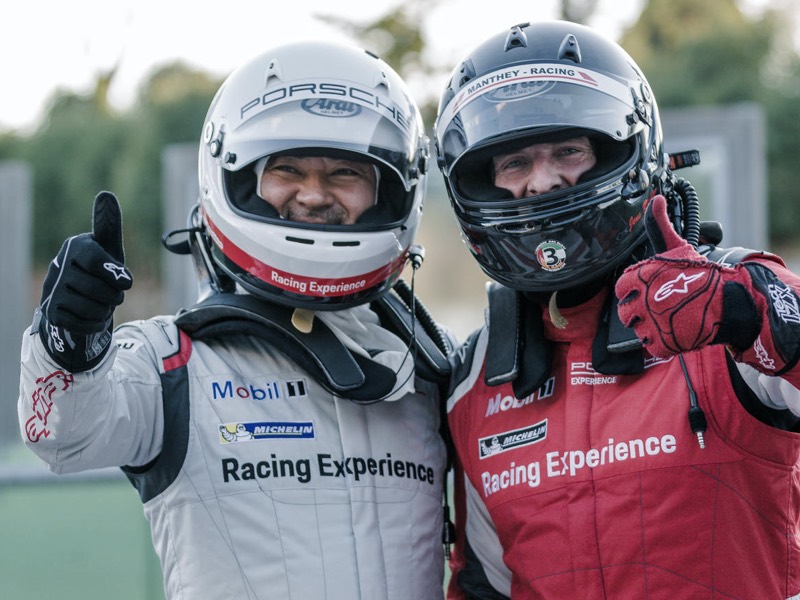 Your contact
For an in-depth consultation, please refer to:
Porsche Racing Experience is operated by

Manthey-Racing GmbH
Rudolf-Diesel-Strasse 11-13
53520 Meuspath
Germany
Telephone: +49 2691 9338 911
Telefax: +49 2691 9338 -50
Email: info@porsche-racing-experience.com
Internet: https://www.manthey-racing.de/en/home
Court of registration: Amtsgericht Koblenz HRB 14640
Managing director: Nicolas Raeder & Martin Raeder