Experience 2 days of pure driving pleasure on the racetrack with the basic package >>DRIVE<<. Feel the asphalt below heated tyres. Enjoy the curves of Europe's top GT tracks and put your driving ability to the test.
Schedule:
Welcome Dinner on day of arrival
Mandatory driver briefing at the start of the first day
Driving slots on the racetrack, est. 3.5h of driving per day (GT road vehicles alternating with race cars)
Included services:
Contribution to track rental
Securing the track
Drivers briefing (also possible digitally/virtually)
Track walk
Porsche Hospitality incl. F&B
Lunch
Welcome Dinner
Track Dinner on 1st day of driving
Drinks
Snacks & coffee breaks
Technical service
Tyre service
Photo service
Simulators GT Cup/935
Prices for 2 days
(One-day participation upon request only)
Porsche GT road vehicles
EUR 2,911
A test drive with a GT4 Clubsport is included for participants with a Porsche GT road vehicle (depending to available spots). Please indicate your interest upon booking.
Porsche racecars
EUR 3,356
The time has come. Now or never.
Contact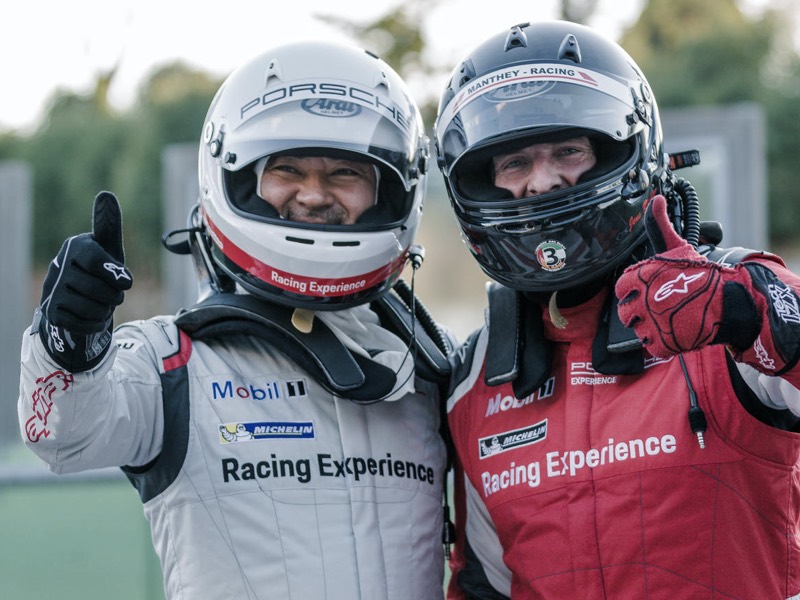 Your contact
For an in-depth consultation, please refer to:
Porsche Racing Experience is operated by

Manthey-Racing GmbH
Rudolf-Diesel-Strasse 11-13
53520 Meuspath
Germany
Telephone: +49 2691 9338 911
Telefax: +49 2691 9338 -50
Email: info@porsche-racing-experience.com
Internet: http://www.manthey-racing.de
Court of registration: Amtsgericht Koblenz HRB 14640
Managing director: Nicolas Raeder & Martin Raeder