You and your passion have the right to an individual offer tailored to your needs and driving skills. With our add-ons, we make sure that your Porsche GT Trackday becomes an unforgettable experience. Book your personal additional offer now.
Porsche instructor
An instructor will coach you on the racetrack by radio and with a separate instructor car for guide & follow sessions in order to give your driving abilities the last touch. Additionally, a follow up data analysis is possible. In case you do not have the technology for data analysis integrated in your vehicle, we will gladly offer recommendations and provide you with the suitable equipment. Please note: When booking, please inform us whether you drive a road vehicle or race car, what vehicle type it is and what your experience level is. This information will allow us to book the best suitable instructor for you. Alternatively, on-site booking is possible depending on availability.
Porsche instructor – GT road vehicle
EUR 749,- | half day
EUR 1.499,- | full day
Porsche instructor – GT race car
EUR 999,- | half day
EUR 1.999,- | full day
Box
EUR 249,- | Double allocation, whole day
EUR 499,- | Single allocation, whole day
Only exception is the event at Circuit Paul Ricard as only double allocation is possible.
EUR 399,- | double allocation​
Technical support for your vehicle
In order for you to feel good and be taken care of professionally during our Trackdays, we have put together support packages, which are customized to the technical complexity and supervision intensity of our GT models.
All service packages include the technical support of at least one of our mechanics as well as a tire technician. In general, the assistance is based on a 2:1 support. For our race cars, such as the 911 GT3 Cup or 911 GT3 R, the support team includes an additional engineer.
Use this exclusive opportunity and profit from our expertise. What are you waiting for?
Support Porsche GT street cars
Mechanic and tire support
EUR 999,- | full day
Support 718 Cayman GT4 Clubsport or 718 GT4 RS Clubsport
Mechanic and tire support
EUR 1.799,- | full day
Support 911 GT3 Cup
Personal mechanic, engineer and tire support
EUR 2.299,- | full day
Support 911 GT2 RS Clubsport
Mechanic and tire support
EUR 1.799,- | full day
Support 911 GT3 R
Personal mechanic and engineer, tire support
EUR 5.499,- | full day
Of course, for all customers who decide not to use this technical service, our general technical support is available on site for questions and problems in our service box.
All prices incl. local VAT. Excluded from this is the deductible.
Contact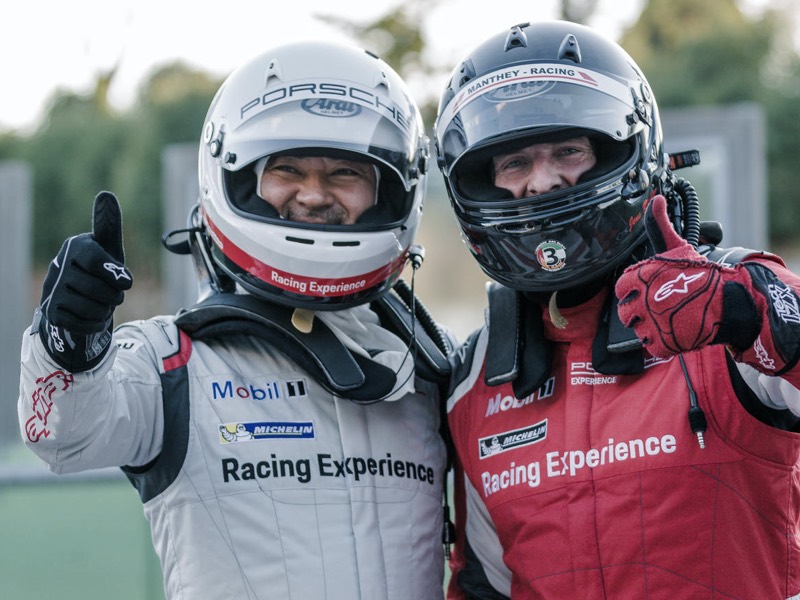 Your contact
For an in-depth consultation, please refer to:
Porsche Racing Experience is operated by

Manthey-Racing GmbH
Rudolf-Diesel-Strasse 11-13
53520 Meuspath
Germany
Telephone: +49 2691 9338 911
Telefax: +49 2691 9338 -50
Email: info@porsche-racing-experience.com
Internet: https://www.manthey-racing.de/en/home
Court of registration: Amtsgericht Koblenz HRB 14640
Managing director: Nicolas Raeder & Martin Raeder