You own an extremely high-performance Porsche race car? And want to take it to its limits? We'll help you do just that. You focus on driving. We do the rest. Enjoy exceptional, end-to-end advice and assistance. Benefit from the GT experienced Manthey-Racing Team.
The basic package includes all services for the first sessions. Further exclusive services are optionally reservable.
Basic services
Drivers get-together // exclusive training each day // personalized driving program // open pit lane // end-to-end support from Manthey-Racing** // 2:1 instructor support // physiotherapist // hospitality and catering // 200 liter fuel per day // 1 set of tires // tire service from Michelin // support with spare parts // limited number of participants and rental car seats.
Owner Packages*
We offer you a comprehensive package of services tailored to you and your car. This includes end-to-end technical and motorsport support, with a pre-safety check through our GT experienced mechanics and racing engineers of Manthey-Racing**. As well as guide-follow sessions with appropriate leading cars. Our Porsche certified instructors will take care of you and your race car at all time. Allowing you to concentrate on just two things: driving and the improvement of your skills.
Daily price per participant per car:
911 GT3 Cup MR, 935, 911 GT2 RS Clubsport
EUR 10,911*
911 GT3 R
EUR 19,911*
911 RSR
Price upon request
*Prices excl. vehicle transport, race insurance, hotel, travel expenses and accompanying persons. Additional fuel and tires charged according to usage. Prices plus applicable local VAT.
**Price for own engineering, service and technician staff on request.
Optional services
Intensive vehicle technical check in advance at Manthey-Racing // transport of your race car // seat fitting at Manthey-Racing before the event // additional tires, rims, etc. // Spare parts // support from Porsche works driver
Dates for 2021 will follow as soon as possible.
Contact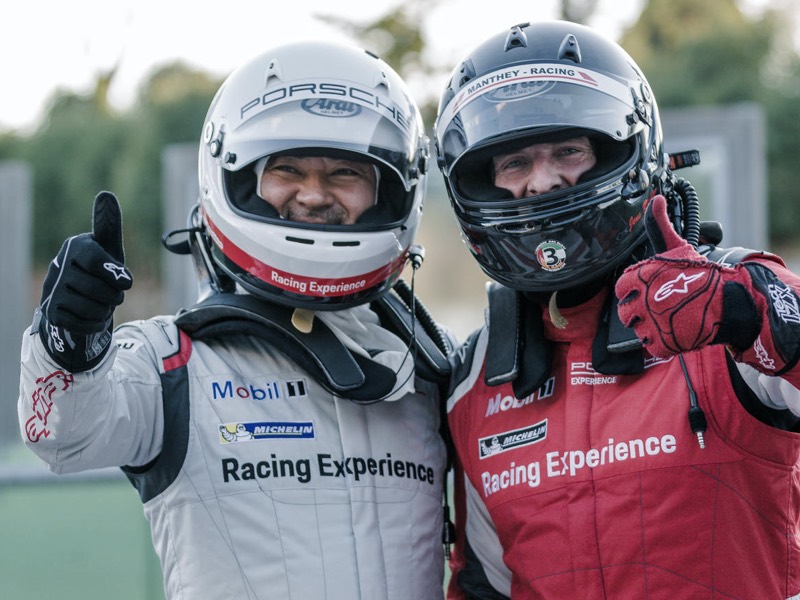 Your contact
For an in-depth consultation, please refer to:
Porsche Racing Experience is operated by

Manthey-Racing GmbH
Rudolf-Diesel-Strasse 11-13
53520 Meuspath
Germany
Telephone: +49 2691 9338 911
Telefax: +49 2691 9338 -50
Email: info@porsche-racing-experience.com
Internet: http://www.manthey-racing.de
Court of registration: Amtsgericht Koblenz HRB 14640
Managing director: Nicolas Raeder & Martin Raeder