The intelligent technologies of the new 911 GTS models analyse, anticipate and keep you on course at all times. And all with one goal in mind: maximum driving pleasure.

Bi-Xenon headlights including Porsche Dynamic Light System (PDLS).
The standard Bi-Xenon headlights have dynamic headlight levelling, a headlight cleaning system and dynamic cornering light, which pivots into the bend, depending on the steering angle and vehicle speed.
LED headlights, black, including Porsche Dynamic Light System Plus (PDLS Plus).
High level of safety in conjunction with sporty design. Black LED headlights featuring PDLS Plus are available as an option. Efficient and with a long service life, the LED technology also makes for less tiring driving thanks to its daylight-like light colour. A special feature of PDLS Plus is the dynamic high beam.
A camera detects the light from oncoming vehicles and vehicles travelling in front. The dynamic high beam accordingly provides continuous, infinite adjustment of the headlight range control. This allows you to detect the course of the road, pedestrians or any dangers at an early stage without dazzling other road users.
Driving analysis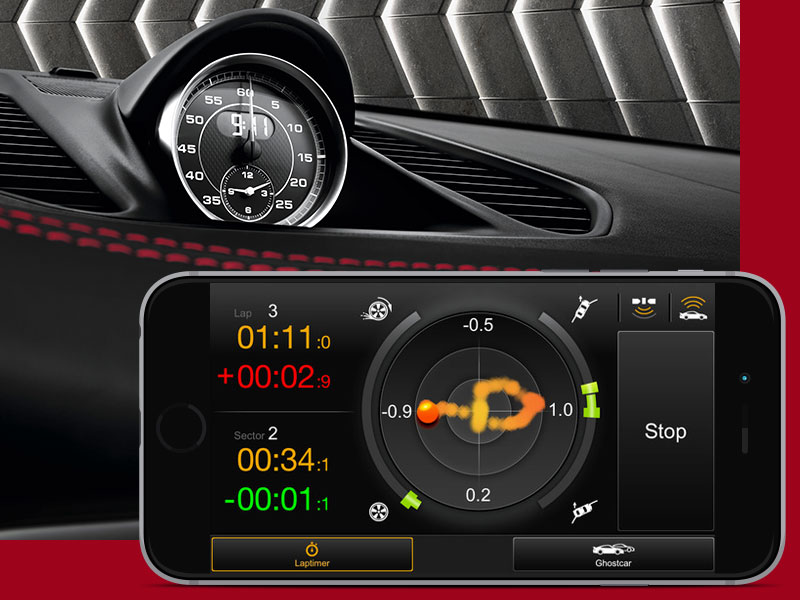 Porsche Track Precision app.
With the Porsche Track Precision app you can measure lap times and vehicle data and record the results on your smartphone so that you can then share and compare them with other drivers. The app uses GPS and highly precise data from the on-board computer and thus helps you to improve your driving performance.
Graphic analyses as well as a video analysis show you every millisecond of improvement potential. Lap after lap.
The optional Lane Change Assist monitors the area behind the vehicle and the blind spot via radar sensors. At speeds of 30 km/h (19 mph) or more, the system alerts the driver if a vehicle is in the blind spot or is approaching from behind via a visual signal in the mirror attachment point finisher. Lane Change Assist therefore increases both comfort and safety on motorways. However, LCA does not actively intervene in the controlling of the vehicle and can be deactivated at any time.