Porsche's Weissach Development Centre is where they are created – the racing and sports cars of the future. The success story of the 919 Hybrid also began here. The return to top-level international motorsport in 2014 demanded everything from our engineers, mechanics, drivers and strategists. We invested a great deal. Time. Money. Energy. Manpower. But above all: passion. It was all worth it though. A legend was born. And motorsport history was written. Once again.
Two intense, busy years formed part of one of the most complex development programs in Porsche's history, this was the cradle for creating the very essence of over 60 years of Porsche motorsport and more than 30,000 race victories: the three-time Le Mans champion, the 919 Hybrid.
The art of engineering perfected
The Weissach Development Centre is situated around 25 kilometers from the main factory in Zuffenhausen and it offers the perfect facilities to support great visions. A test area, laboratories, simulator, workshop, test track – all directly on site. This is where new ideas are tested. Where things evolve. Where experimentation and testing take place. Again and again until the whole package is just right. 100 per cent. And even then further improvements are still made. Based on the motto: Only the best is good enough. This is the place where visions are developed, ground-breaking solutions are sought – and found. And rigorous testing is carried out here as well: On the 2.5 km test track nothing remains hidden.
Porsche's Weissach Development Centre is home to the international crème de la crème of vehicle development. Around 6,500 specialists work together every single day to fulfil the motorsport dreams of the future. What links and drives them all is the desire to deliver ultimate performance coupled with maximum efficiency. This is where every hundredth of a second and every gram counts. The perfect cocktail of materials, engineers, racing drivers, mechanics and strategists is mixed together here. Long before the great victories are achieved on the world's racing circuits, hard, uncompromising work is done here to achieve the optimum result. For motorsport successes that have set the benchmark. For decades. Time and again.
Mission Report Newsletter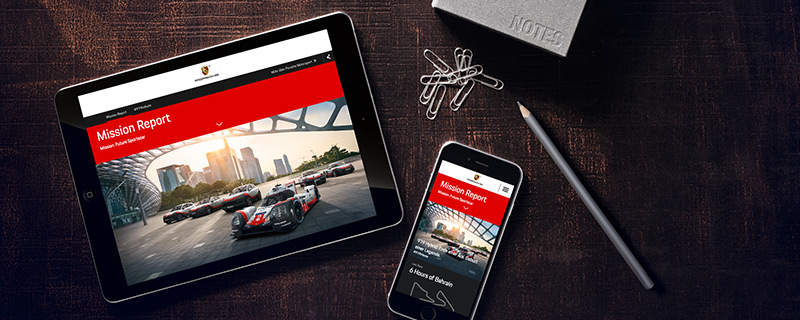 Don't miss out: you can choose to receive notifications about all the latest and interesting articles by e-mail, and be informed directly of any new publications.