Experience and trust. Strong partners.
Porsche and Mobil 1. Seamless, shared success.
Porsche and Motorsport: a success story full of emotions, full of victories. How have we achieved this? With a lot of hard work, which is only possible through technical perfection alongside the interaction of all component parts. In short: every single cog has to function effectively to enable us to ride the wave of success. And this is only possible with partners who are on the same wavelength as us. Just like Mobil 1.
So it's hardly surprising that Porsche and ExxonMobil have been joining forces for over 20 years to achieve motorsport success. As well as optimum performance on the road in our standard-production vehicles. Because the same high-performance Mobil 1 engine oil that is used in Porsche motorsport, also provides Porsche drivers with crucial benefits: reliable engine performance under any temperature and operating conditions, reduced emissions and extended oil change intervals. More than one million Porsche cars have already been filled up with Mobil 1 0W-40 engine oil before leaving the factory, with many more to go.
Porsche and Mobil 1 – more than 20 years of exceptional cooperation.
Porsche and Michelin. Strong partners with excellent staying power.
2014 was a great year for Porsche. It saw us return to the top-flight endurance racing of the FIA WEC. And in the years that followed, namely 2015 and 2016, we were able to achieve stunning success: two overall victories at Le Mans, two drivers' and two manufacturers' world championship titles. This was also due to the support of our strong partner: Michelin. Because it's the tyres that create a firm connection between us and the tarmac. In rain, wet and blazing heat. In every corner. And in every chicane. They keep us on track, have excellent tread and provide stability. During our international motorsport appearances. And on every road. Years of development, decades of experience and cutting-edge technology are behind every millimetre. With the highest performance standards and ever-new goals, they have been by our side since day one.
Porsche and Michelin – over 50 years of successful cooperation.
Mission Report Newsletter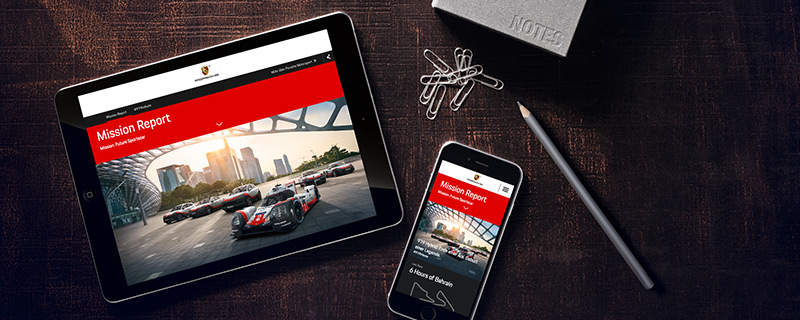 Don't miss out: you can choose to receive notifications about all the latest and interesting articles by e-mail, and be informed directly of any new publications.