The most important thing for us? Your passion for Porsche.
As with everything at Porsche, Porsche Service is driven by the principles of Intelligent Performance. Having your Porsche maintenance and repairs carried out at a Porsche Service Centre guarantees not only a complete service history, but also the systematic and exclusive use of Porsche Genuine Parts. This is the only way for you to ensure that your Porsche is properly cared for. The fascinating appeal of owning one of the world's finest sports cars does not stop when you purchase a Porsche. In fact, it is only the beginning of a thrilling journey filled with breathtaking adventures behind the wheel. Our Porsche Service Centre is here to support you every step of the way so that the only thing left for you to do is to enjoy the journey.
We look forward to serving you soon.
How you benefit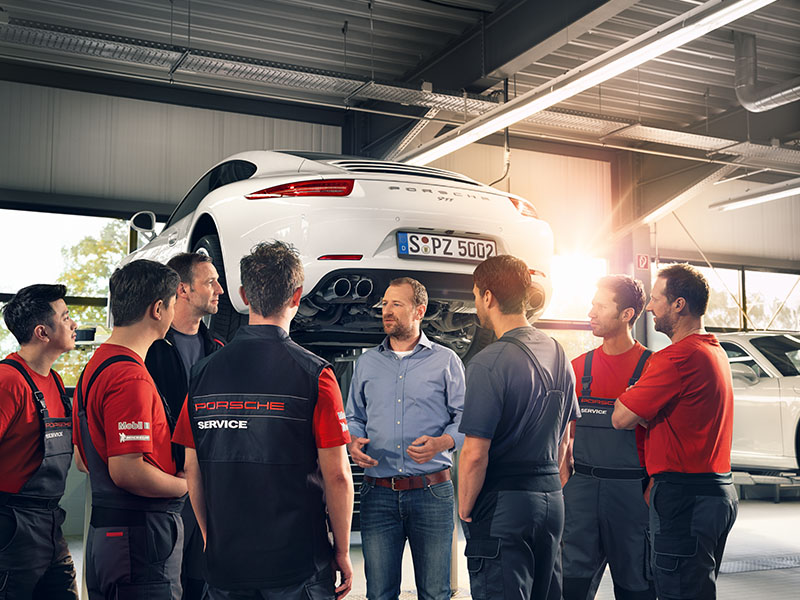 Qualified staff.
Every day, highly qualified trainers deliver technical and non-technical content in our global training centres. Using qualification programmes specially developed by Porsche for workshop and service staff. And using the experience and knowledge gained from over 70 years of sports car development.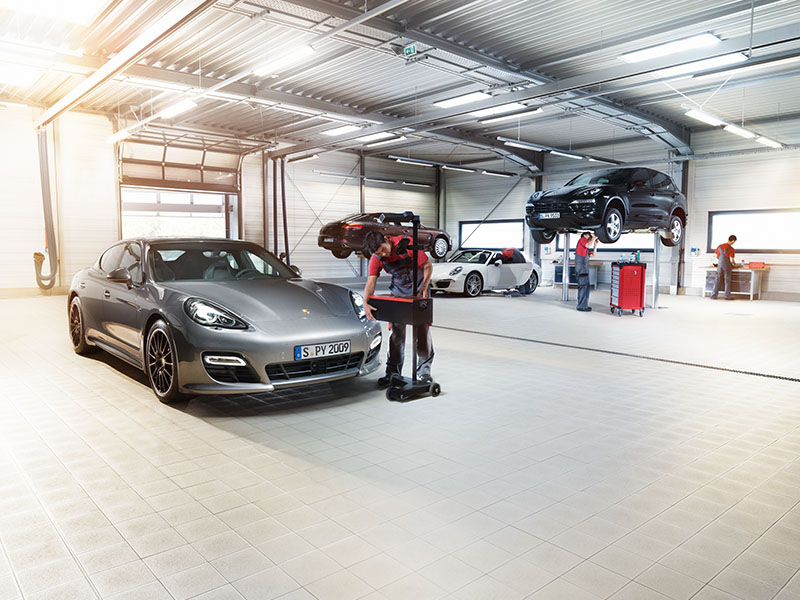 Special tools.
Any technician is only as good as their tools. That's why Porsche Centres use highly specialised technology. Such as the diagnostics tester for reading and deleting the error memory, the PCCB brake disc tester for detecting the degree of wear and tear on the ceramic brake discs, or the high-voltage test adapter for manually checking that no voltage is present on high-voltage vehicles.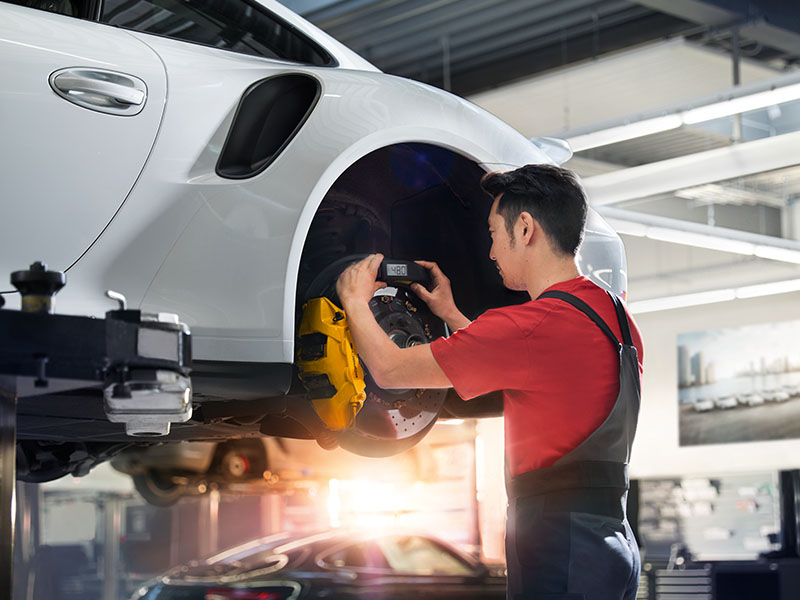 Porsche Genuine Parts.
Porsche Genuine Parts ensure that your original remains just that. Even after repair or maintenance. The spare and replacement parts are optimally tailored to your vehicle and meet the high Porsche quality standards. This applies to both safety-related spare parts, such as brake discs, and to body panels. For maximum safety, reliability and value retention.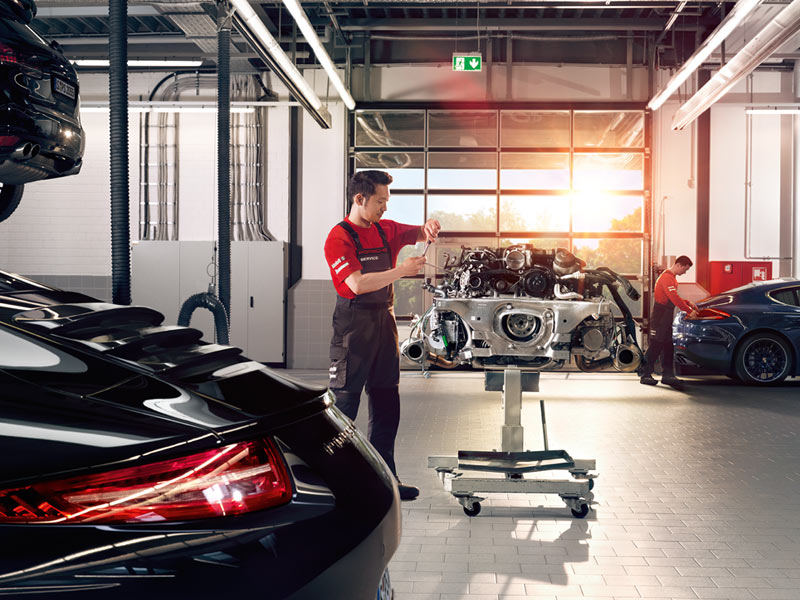 Value retention.
How much is a dream worth? And for how long is it of value? That depends. On the quality and regularity of its upkeep. Your Porsche will only retain its value in the long-term if it's consistently maintained by Porsche Service. So that you can continue to enjoy your Porsche.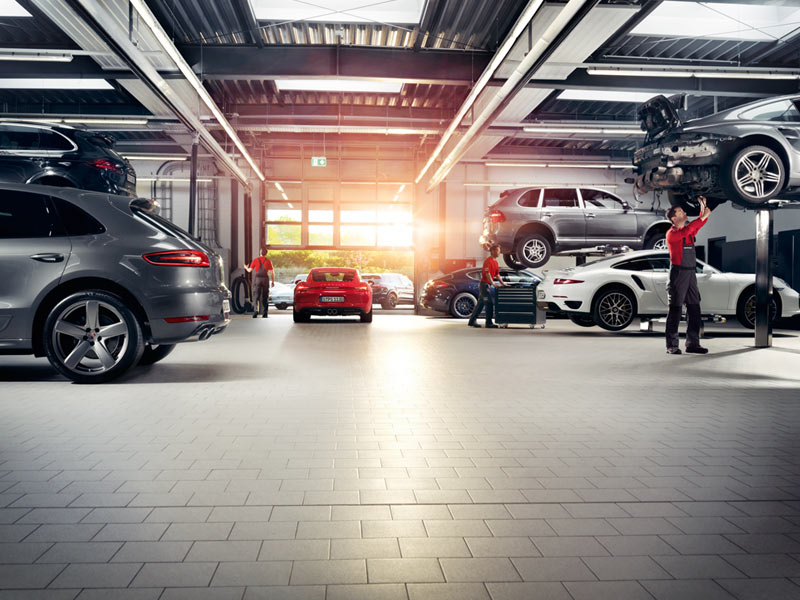 Five-year free maintenance and warranty program.
With this programme we have laid the foundation stone for a truly worry-free Porsche ownership experience. It covers all servicing needs, as well as maintenance and repair costs, including regular wear and tear for five years. This package automatically comes with all purchased Porsche models. The reason? We truly believe in the dependability of our cars.
Direct dialogue bay and service process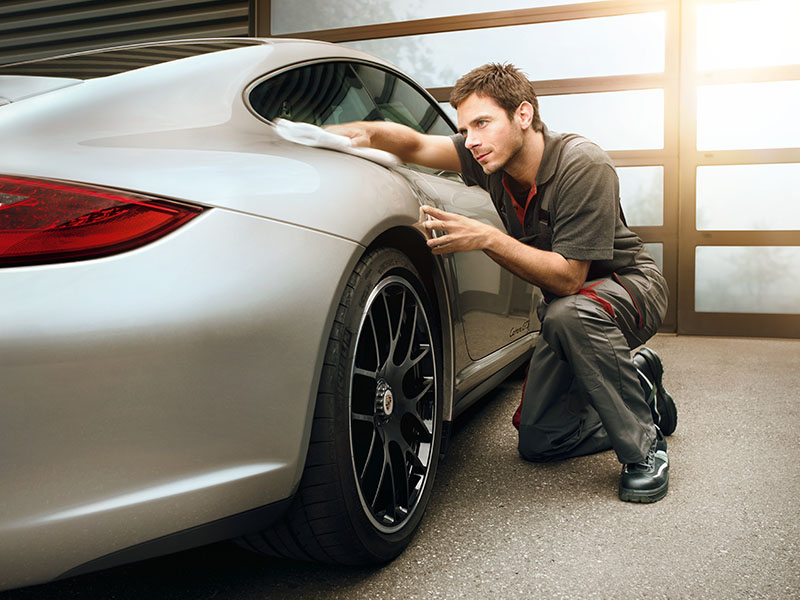 Exactly according to plan: your workshop visit.
Leaving nothing to chance. That's also typically Porsche. That's why every visit to your Porsche Centre´s workshop follows a standard process. From arranging the appointment, through the reception process, to the repair, quality inspection and vehicle return. So that we ensure consistent service.
You'll find out what work needs to be carried out on your vehicle and why, right at the outset: using our direct reception system. You're actively involved and carry out a visual inspection of your vehicle, together with our Porsche Service Consultant. Using a check list, they explain the work required and write it down. This gives you the opportunity to discuss the nature and extent of the work directly on site with the Porsche Service Consultant, along with the price, possible repair alternatives – e.g. dynamic repair - repair times and recommendations. And of course, they're also available to deal with any other issues and options regarding your Porsche. Because we don't want to leave anything to chance, especially as regards your wishes.
Customer testimonials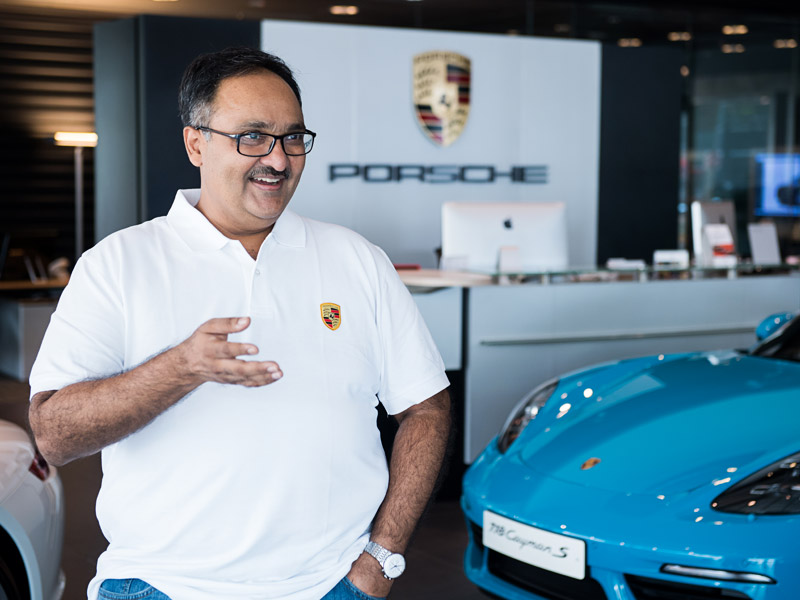 "The experience of buying a Porsche was better than I had expected. The handover of the car was done in a very ceremonial fashion and it gives a very nice feeling and made me a proud owner. I hope that the Porsche Centre Singapore team keeps up this good work and continues to be as friendly and proactive as they are today. They anticipate my needs and that of my Cayenne even before I ask for any assistance, making my ownership experience a very pleasant one."
– Mr Darshan Mehta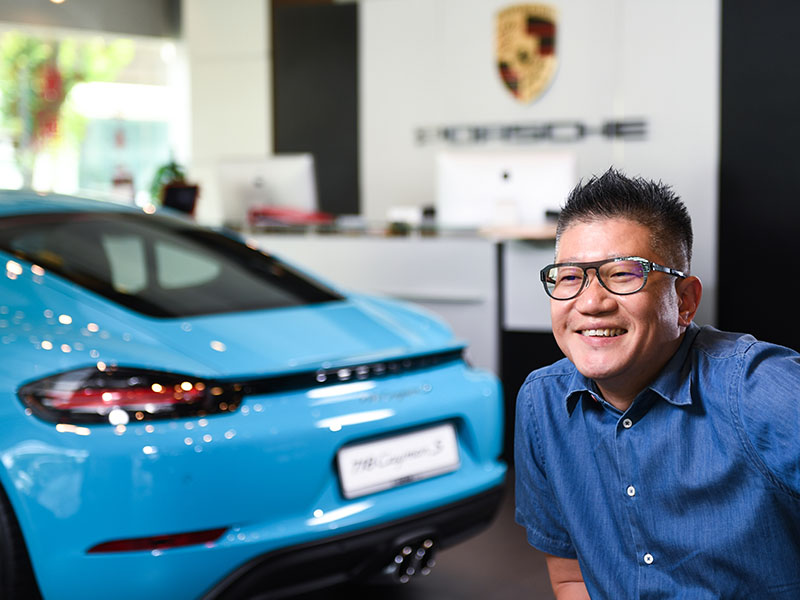 "Every time I get the same superb service or better. And I guess this is why I own 3 Porsches, including my latest 991.2. The service crews will always smile and greet me when I'm there, including the service manager who always provides me with clear and easy to understand terms for my Porsches when I send them in. Porsche is a good brand but the people who run it, like the service and sales teams, are the ones who uphold the service and create a special experience for me."
– Mr Alvin Chua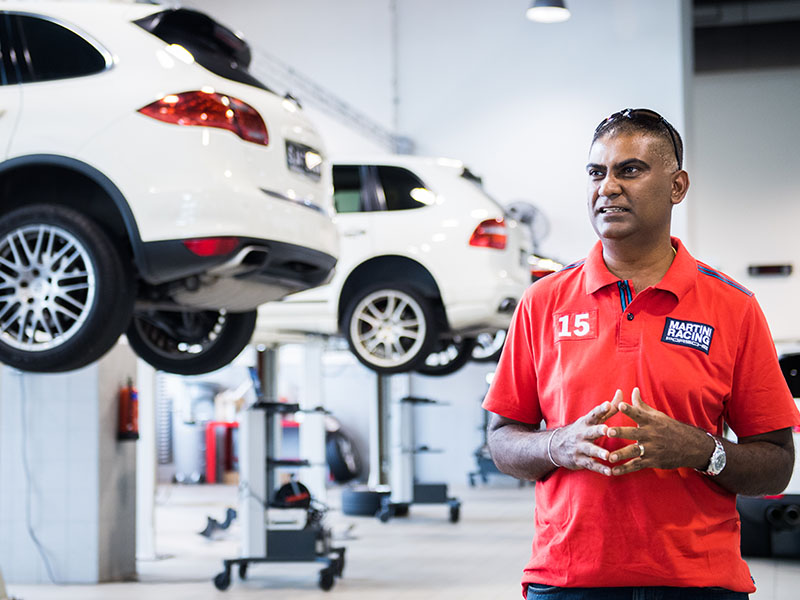 "It was very nice working with Porsche Centre Singapore. The staff, from the Sales team to the After-Sales Service team and the Marketing department, is very knowledgeable about the product and very helpful, constantly ready to assist with anything I need and answer any questions I may have about my Macan GTS or other things such as their driving events."
– Mr Laks Ekanayake
Porsche Service Centre – Leng Kee
29 Leng Kee Road
Singapore 159099
Phone: +65 6474 3252
Whatsapp: +65 8282 7911
Porsche Service Centre – Tanjong Penjuru
27A Tanjong Penjuru
Singapore 609042
Phone: +65 6331 0700
Whatsapp: +65 8282 7911
24h Porsche Assistance: 1800 899 9911 or +65 6323 0911
Operating hours:
Monday – Thursday: 8.30 am – 6.00 pm
Friday: 8.30 am – 5.30 pm
Saturday: 8.30 am – 12.30 pm
Sunday & Public Holiday: Closed