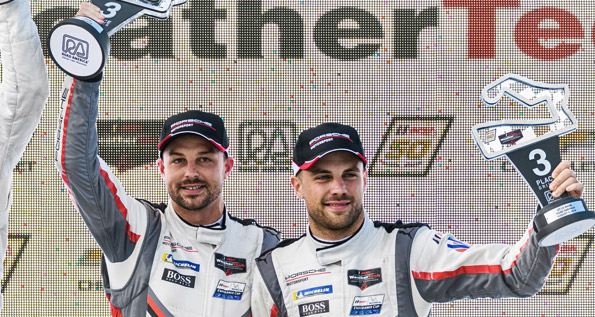 Race report
Porsche GT Team: Earl Bamber, Laurens Vanthoor
Porsche 911 RSR (912), Porsche GT Team
IMSA WeatherTech SportsCar Championship, round 8, Elkhart Lake/USA, Race report
Porsche GT Team defends championship lead with podium result
Stuttgart. The Porsche GT Team continues its series of podium results at round eight of the IMSA WeatherTech SportsCar Championship: Laurens Vanthoor (Belgium) and Earl Bamber (New Zealand) achieved third place after an immaculate drive in their Porsche 911 RSR at the Road America racetrack and thus have extended their lead in the drivers' championship even further. In the race over two hours and 40 minutes, Patrick Pilet (France) and Nick Tandy (Great Britain) scored seventh place in the No. 911 sister car. In the manufacturers' classification, Porsche still holds a convincing lead. In the GTD class, Porsche Young Professional Matt Campbell (Australia) and his teammate Zacharie Robichon (Canada) brought home victory in the Porsche 911 GT3 R fielded by Pfaff Motorsports.

The race took off at midday in temperatures of around 25 degrees Celsius and sunshine. As the start drivers, Vanthoor headed into the race from fourth on the grid with Pilet starting from sixth. The event on the 6.515-kilometre circuit in the US state of Wisconsin turned into a strategic gamble. Both vehicles pitted at different times to be prepared for eventual caution phases. Uncharacteristically, there were no yellow phases and the race ended without incident.

The Porsche GT Team managed to continue its impressive streak of podium results: so far this season, at least one of the two Porsche crews has climbed the podium at every round. Scoring third and seventh place at Elkhart Lake as well as with five victories under its belt, the Porsche GT Team has defended its lead in the manufacturers' classification. In the drivers' category, Bamber and Vanthoor have extended their lead by 14 points, with Tandy and Pilet maintaining second.

Pfaff Motorsports claimed victory in the GTD class, in which customer teams field the Porsche 911 GT3 R. Porsche Young Professional Campbell and Robichon put in flawless drives to beat their 14 rivals. Porsche Young Professional Dennis Olsen (Norway), who shared a cockpit with Anthony Imperato (USA), achieved eighth place for Wright Motorsports. Park Place Motorsports got caught up in an accident and subsequently, the Porsche works driver Patrick Long (USA) and Patrick Lindsey took the flag in 15th.

The next round of the IMSA WeatherTech SportsCar Championship will be held from 23 to 25 August on the Virginia International Raceway.


Comments on the race
Steffen Höllwarth (Programme Manager IMSA SportsCar Championship): "We knew that Road America would be one of the most difficult races of the year for us. So we're very pleased with this podium result. Porsche has managed to defend its lead and Laurens and Earl have extended the gap to their pursuers even further in the drivers' championship. The team now has two weeks off. Then we'll be back in full force in Virginia."

Earl Bamber (Porsche 911 RSR #912): "Third place on this racetrack is a great result for us. We haven't been particularly successful here in recent years. Still, we managed to further expand our lead in the drivers' classification. That was a tremendous effort from the whole team. Pitting as late as possible proved to be the key to success today."

Laurens Vanthoor (Porsche 911 RSR #912): "Road America is not our strongest circuit. We didn't have the pace to win. In this regard, we've achieved the maximum here. We came third on what is allegedly our weakest racetrack and finished in front of our toughest rivals. What's more, we have further extended our lead. That almost feels like a victory."

Patrick Pilet (Porsche 911 RSR #911): "Over the last six years, we've encountered on average four caution phases at this race in Elkhart Lake. For this reason, we had to split the timing of the pit stops to be ready for all eventualities. Unfortunately, our strategy didn't work out. Seventh place is disappointing. We lost several points in the drivers' standings to our teammates at the top, but we're still in second. Now it's time to take a vacation. We'll strike back in Virginia."

Nick Tandy (Porsche 911 RSR #911): "Both of our cars were on different strategies. Unlike our teammates, we pitted early in anticipation of a safety car phase, which never eventuated. I think that must have been the first time we've competed here without a single caution phase."

Matt Campbell (Porsche 911 GT3 R #9): "I'm thrilled about my first win in the IMSA WeatherTech SportsCar Championship. That was a really tough win. Zach did a fantastic job and put us in second place during his first stint. After I overtook the Lamborghini and moved into the lead, I had to conserve fuel yet still maintain my advantage. We did it. Our Porsche 911 GT3 R was perfectly setup for the track. Now it's time to celebrate."


Race result
GTLM class
1. Briscoe/Westbrook (AUS/GB), Ford GT, 77 laps
2. Hand/Müller (USA/D), Ford GT, 77 laps
3. Bamber/Vanthoor (NZ/B), Porsche 911 RSR, 77 laps
7. Pilet/Tandy (F/GB), Porsche 911 RSR, 76 laps

GTD class
1. Campbell/Robichon (AUS/CDN), Porsche 911 GT3 R, 75 laps
2. Sellers/Lewis (USA/USA), Lamborghini Huracan GT3, 74 laps
3. Foley/Auberlen (USA/USA), BMW M6 GT3, 74 laps
8. Olsen/Imperato (N/USA), Porsche 911 GT3 R, 74 laps
15. Long/Lindsey (USA/USA), Porsche 911 GT3 R, 52 laps

Full results: http://imsa.alkamelsystems.com


All reports on the previous season can be found in our archive.