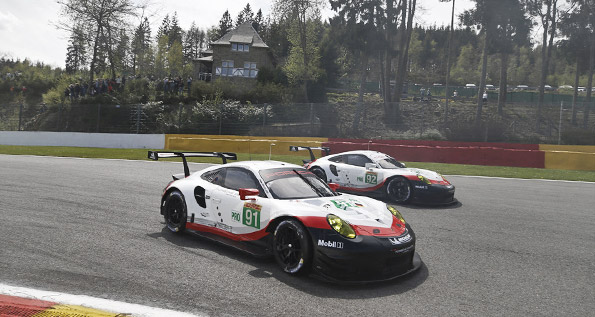 Race report
Porsche 911 RSR, Porsche GT Team
FIA World Endurance Championship, round 2 in Spa-Francorchamps, Belgium - GT, Race report
Porsche 911 RSR finish on fifth and sixth
Stuttgart. Round two of the Sports Car World Endurance Championship WEC concluded with positions five and six in the GTE-Pro class for the Porsche GT Team after Saturday's trouble-free race with swift pit stops. On Belgium's racetrack in Spa-Francorchamps, Richard Lietz (Austria) and Frédéric Makowiecki (France) narrowly pipped their teammates to the post with the new Porsche 911 RSR (#91). Less than a minute later, Kévin Estre (France) and Michael Christensen (Denmark) followed them over the line in the #92 sister car.

Fans witnessed a spectacular sight shortly after the start as the 30-strong field squeezed through the legendary Eau Rouge passage. Right from the start, the famously cutthroat GTE-Pro category, with four automobile manufacturers competing, treated spectators to gripping fights for positions. As the race progressed, the GT field sorted itself into respective brands: This weekend, the two 510 hp Porsche 911 RSR became the third force behind Ferrari and Ford.

In the GTE-Am class, the Dempsey Proton Racing customer team celebrated a podium finish with the Porsche 911 RSR (model year 2015): Porsche Young Professional Matteo Cairoli (Italy) as well as the two Germans Christian Ried and Marvin Dienst drove a spirited race to finish second. The Gulf Racing squad with Englishmen Michael Wainwright and Ben Barker as well as Australian Nick Foster had to retire from the race after a collision.

Next up after the event in the Ardennes which attracted 61,000 spectators over three days is round three on the demanding WEC calendar: On 17/18 June, the 85th running of the Le Mans long-distance classic. Prior to the legendary race, there will be a test day on the 13.6-kilometre circuit on 4 June.
Comments on the race
Dr Frank-Steffen Walliser, Head of Porsche Motorsport: "This result is very disappointing. We definitely couldn't match the pace of Ferrari and Ford. Everyone in our team did an absolutely flawless job today, but the gap to the front is simply too big. In the GTE-Am class, Dempsey Proton Racing maintained its very good qualifying position in second place. With every race, Porsche Young Professional Matteo Cairoli is gaining experience and professionalism. I'm very pleased with how he is developing."

Richard Lietz (911 RSR #91): "We've just endured six tough hours. We did everything we could, we fought well and didn't make any mistakes. Now we have to analyse the results and come back stronger at Le Mans."

Frédéric Makowiecki (911 RSR #91): "We gave our best in the race, but Ford and Ferrari were in a different world today. We now need to see precisely why this is so."

Kévin Estre (911 RSR #92): "That was a difficult race for us; we simply lacked the speed compared to the competition. One thing is certain: Our 911 RSR ran like clockwork, our strategy was super and our mechanics didn't make the slightest mistake with the fast pit stops."

Michael Christensen (911 RSR #92): "This was not an easy day for the Porsche GT Team. Tyre management proved to be particularly tricky today, and the caution phases also came at inopportune times for us.

Matteo Cairoli (911 RSR #77): "It's just my second WEC race with Chris and Marvin and we land on the second podium step – that feels really good. Third at Silverstone, second at Spa – I think our goal for Le Mans should be fairly obvious..."
Race result
GTE-Pro class
1. Rigon/Bird (I/GB), Ferrari 488 GTE, 151 laps
2. Calado/Pier Guidi (I/I), Ferrari 488 GTE, 150
3. Mücke/Pla/Johnson (D/F/USA), Ford GT, 150
4. Priaulx/Tincknell/Derani (GB/GB/BRA), Ford GT, 150
5. Lietz/Makowiecki (A/F), Porsche 911 RSR, 149
6. Christensen/Estre (DK/F), Porsche 911 RSR, 149
7. Turner/Adam/Serra (GB/GB/BRA), Aston Martin, 148
8. Thiim/Soerensen/Stanaway (DK/DK/NZ), Aston Martin, 148

GTE-Am class
1. Dalla Lana/Lamy/Lauda (CAN/P/A), Aston Martin, 146 laps
2. Ried/Cairoli/Dienst (D/I/D), Porsche 911 RSR, 146
3. Mok/Sawa/Griffin (MYS/J/IRL), Ferrari 488 GTE, 145
4. Flohr/Castellacci/Molina (CZE/I/E), Ferrari 488 GTE, 144
Wainwright/Barker/Foster (GB/GB/GB), Porsche 911 RSR, DNQ


All reports on the previous season can be found in our archive.