Porsche Wows the Crowd at the First Wine Fest in Saigon.
An evening to remember.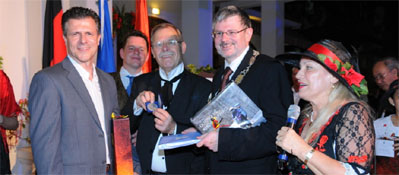 On the evening of 2 March 2010, Porsche Centre Saigon held a combined fashion show with German clothing company Olymp in celebration of the 35th year of the German Diplomatic Relationship in Vietnam. The prominent display of the new Panamera S was another highlight of the night's events.

Held in conjunction with the first traditional German Wine Fest in Saigon, the event took place at the Consul General of Germany, Mr. Conrad Cappell's residence. With the presence of nine well-known German brands from the famous wine region in Germany, the event attracted an impressive turn-out of over 200 guests including VIPs, members of the media, top-ranking diplomats, Vietnam authority officers and businessmen.

As evening approached, the official party began. A white Panamera S, displayed as an embodiment of Germany's advanced automobile technology, was the first stopping point for every guest entering the venue. Situated prominently on a Porsche platform and illuminated by a state-of-the-art lighting system, the Panamera did nothing less than impress with its sports rear spoiler, 20 inch Turbo II wheels and its uniquely sporty yet elegant silhouette.

Of course, information on the Panamera was also displayed, with well-trained Porsche Centre Saigon sales executives on hand throughout the event to answer any questions guests and journalists might have. A professional cameraman was also present, to capture photos and memories of the night's events.

Next, Porsche and the other partners were formally introduced to the media and guests. Brief welcoming speeches were delivered by Mr. Andreas Klingler, General Director of Porsche Centre Saigon and Mr. Eberhard Bezner, President and owner of Olymp as messages from key partners.

Then came the most exhilarating moment of the night - the Porsche-Olymp fashion show. As guests turned their attention toward the stage, models appeared on stage through a dramatic wall of smoke to great applause from the audience, with classical music playing in the background.

In total, the lively, energetic fashion show saw 22 items from the latest Porsche Design Driver's Selection collection presented in great detail to guests by top Vietnamese models. As momentum built up towards the grand finale, Miss Vietnam Photogenic, Pham Thanh Hang came parading down the runway holding a Porsche flag in her hand, once again emphasizing Porsche's prominent participation in this event.

The party continued with a Vietnamese choir singing traditional German and Vietnamese songs, and an accordion player from Germany playing German folksongs. Throughout the whole evening, guests were treated to delicious food prepared specially by Michelin Star Chef, Mr. Joerg Mink from Castle Solitude, Stuttgart, Germany and eight different premium wines from Baden, Germany.

As the night drew to a close, guests were personally sent off by Mr. and Mrs. Cappell. Additionally, the Panamera catalogue was handed over to all who expressed interest in this model.

For more information on this or other events, please contact the Porsche Centre Saigon at (+84.8) 54141 911 or visit our showroom for a consultation.

Porsche Centre Saigon
802 Nguyen Van Linh
Tan Phu Ward, District 7,
HCM City, Vietnam
Email: info@porsche-vietnam.com.
Website: www.porsche-vietnam.com.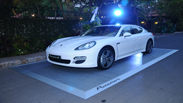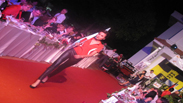 3/2/2010