Launch Event of the new Porsche Boxster and Cayman Model Year 2009Porsche's Mid-Engine Sports Cars, the Boxster and Cayman, with new, even more Fuel-Efficient Engines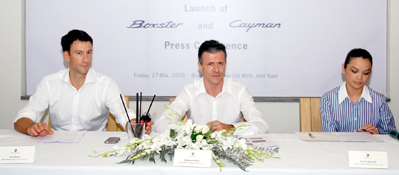 Ho Chi Minh City, 27th of March 2009 - Prestige Sports Cars Co. Ltd, the official importer of Porsche in Vietnam, presented today the second generation of the mid-engine Boxster and Cayman sports cars for the first time at the Boat House in District 2 at the Saigon River.
Speaking at a press conference to the media of Vietnam, Mr. Andreas Klingler, General Director of Prestige Sports Cars said: "The highlight of the new generation is the new flat-six boxer engines providing not only more power, but also significantly greater fuel efficiency. A further improvement of both fuel economy and performance is guaranteed by the new Porsche-Double-Clutch gearbox or PDK".
The "basic" engine,  2.9 liters develops 255 hp in the Boxster and 265 hp in the Cayman, an increase by 10 and, respectively, 20 horsepower over the preceding models. The 3.4-litre power unit in the S-versions, benefiting from Direct Fuel Injection, now delivers 310 hp in the Boxster S and 320 hp in the Cayman S, up by 15 and, respectively, 25 hp.
An outstanding power-to-weight ratio offers the driver maximum driving dynamics on minimum fuel. As a result, the Cayman S with PDK and Launch Control accelerates to 100 km/h in 4.9 seconds, setting the benchmark in the range.
The Boxster and Cayman are clearly distinguishable from outside through their newly designed front and rear ends. The new halogen headlights with their integrated direction indicators, the new LED rear lights tapering out to the outside and integrated elegantly in the modified rear end of the car. From the front the Boxster and Cayman differ clearly from one another through the distinctive design of their air intakes, from the rear through the new rear panels with diffuser inserts on the Boxster and a wind deflector plate on the Cayman.
The base price of the Boxster and Cayman starts at US$139,000 and US$148,400 including Vietnam options and Import Tax, Special Consumption Tax and VAT.
For further information please contact:
Prestige Sports Cars Co Ltd.
(Porsche Importer Vietnam)
Phone: (+84.8) 5.4141.911
E-mail: info@porsche-vietnam.com
Website: www.porsche-vietnam.com
-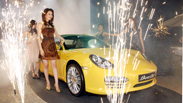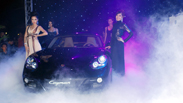 3/27/2009