Porsche 911 GT3 (type 997)
The model improvements of the 911 GT3 of the 997 generation appeared in 2006. Compared to its predecessors, many pieces of equipment were included as standard, such as the Porsche Active Suspension Management (PASM) sports chassis. The GT3 was also available with a Clubsport Package for use in motorsport.

From MY 2009, the revised high-performance naturally aspirated engine delivered 320 kW (435 PS) instead of the previous 305 kW (415 PS).

Those who wanted even more than the GT3 had to offer could also order the 911 GT3 RS with 305 kW (415 PS) from 2006. This version was even more resolutely equipped for racing. In its final stage of evolution, as the 911 GT3 RS 4.0, it delivered a total of 368 kW (500 PS).
Model overview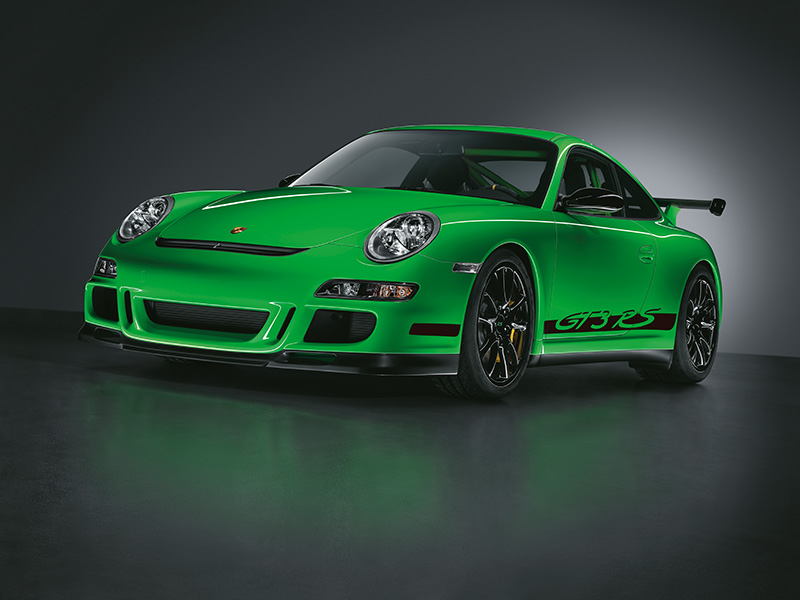 911 GT3 RS (2007-2009)
Based on the normal GT3, but with more motorsport details // Weight-reduced equipment, 20 kg lighter than the GT3 // 6-speed manual transmission // Differentiation from the GT3: wide and narrow additional opening in the Black front spoiler lip // GT3 RS decor in contrasting colour // Body 44 mm wider at the rear, wider track // 19-inch GT3 wheels with 5-hole rims // Carbon rear wing and several body components made of carbon fibre // Plastic rear window // Lightweight bucket seats as in the Carrera GT // Clubsport Package as standard: roll cage, fire extinguisher, main battery switch and six-point seatbelt // Yellow centre-marking position on the steering wheel // RS logo on the door sill trims and floor mats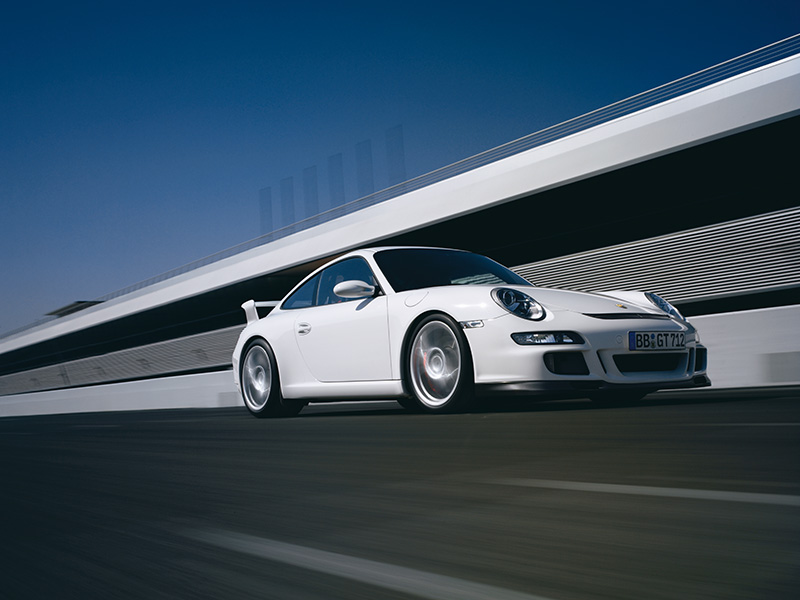 911 GT3 (2006-2008)
Distinctive front end with five air intakes and a Black spoiler lip with small side air intakes // Two-stage double rear wing // Aluminium bonnet visually extended by Black air outlet opening // Heated rear window made of thin glass // Black GT3 logo // Two central round exhaust tailpipes // High-performance engine delivering 305 kW (415 PS) // 6-speed manual transmission adapted to the extended speed range of the GT3 engine through shorter gradations // Specially developed sports tyres (lightweight aluminium wheels) with wheel hub covers featuring the GT3 emblem // Clubsport Package as standard // Interior fittings taken from the 911 Carrera/additional use of Alcantara // Sports seats installed ex works // 0–100 km/h in 4.3 seconds // Top speed: 310 km/h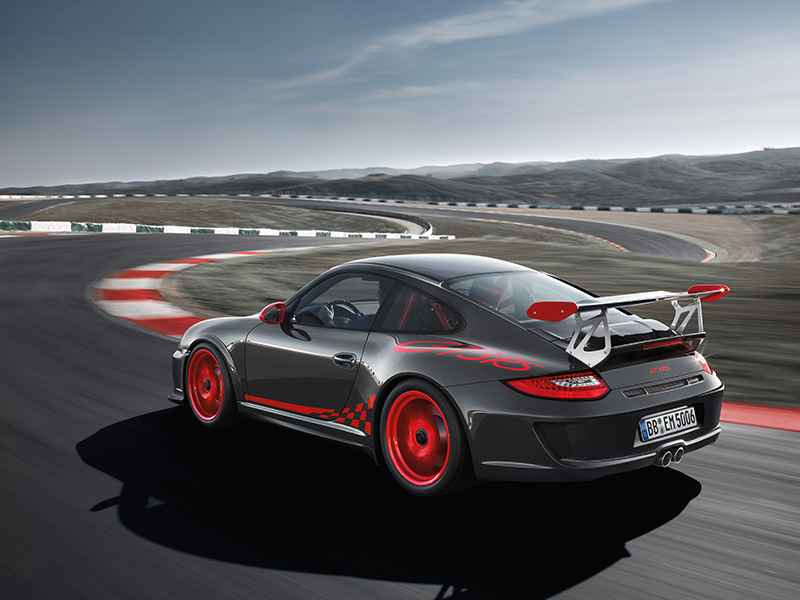 911 GT3 RS (2010-2011)
Power increased from 415 PS to 450 PS // GT3 RS decor in contrasting colour // Body 44 mm wider in the rear area, wider track // 19-inch GT3 wheels with central lock and RS logo // 6-speed manual transmission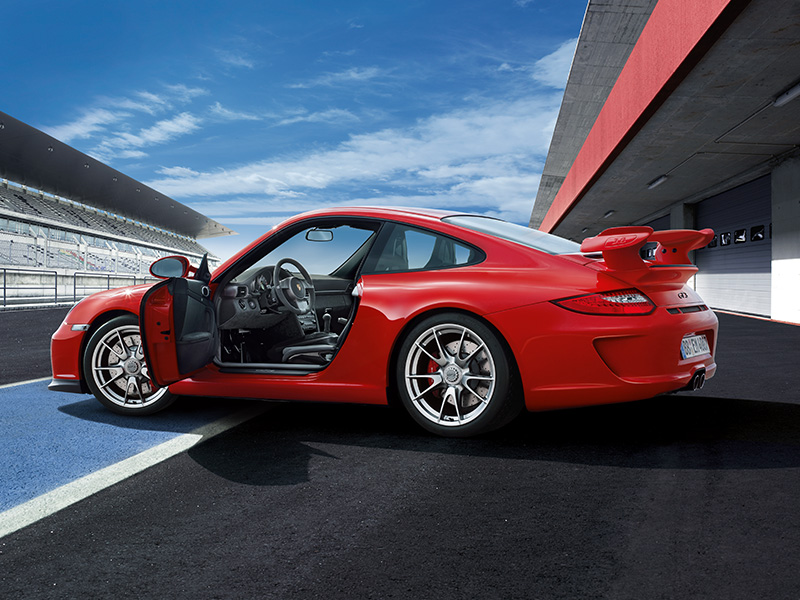 911 GT3 (2009-2012)
Displacement increased from 3,600 to 3,797 ccm // Intake manifold instead of direct injection as in the other models // Single-stage rear wing instead of two-stage // Wheels with central lock system // Optional: dynamic engine mount PADM (Porsche Active Drivetrain Mount) decouples vibrations from the body // 6-speed manual transmission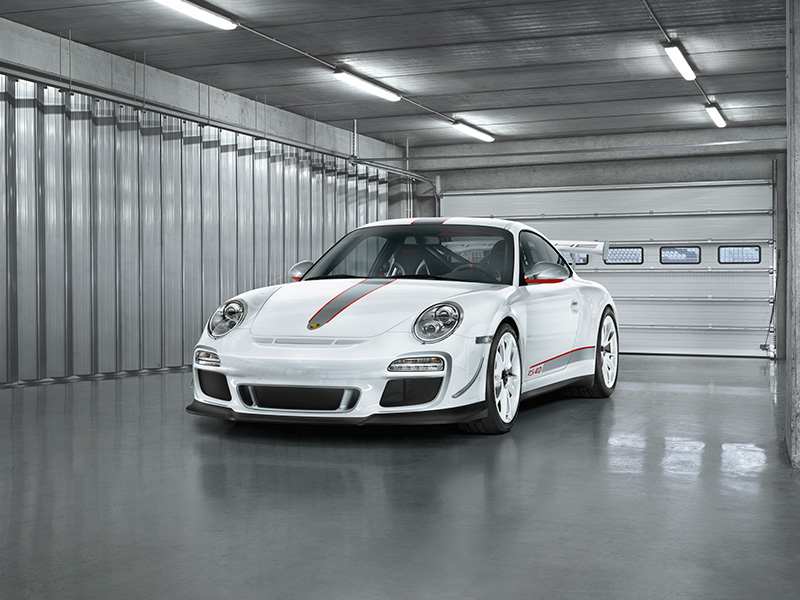 911 GT3 RS 4.0 (2012)
Special series limited to 600 units // 368 kW (500 PS) and displacement of almost 4 litres, making it the largest engine fitted in a 911 GT3 to date // 6-speed manual transmission // 10 kg lighter than the GT3 RS // Flics (air guide vanes) on the side of the front apron to reduce lift on the front axle at high speeds // Rims painted in body colour