Porsche 911 Carrera 4 (type 996)
In model year 1999, the 911 Carrera 4 with permanent all-wheel drive was added to the model series. It was offered as a Coupé and as a Cabriolet. Externally, the body was identical to that of the rear-wheel drive Carrera.
Based on the 911 Carrera 4 Coupé, a special model was introduced in model year 2000 to mark the coming millennium. The Millennium model was limited to 911 units and was only available in the special colour Violet Chroma Flair.
Model overview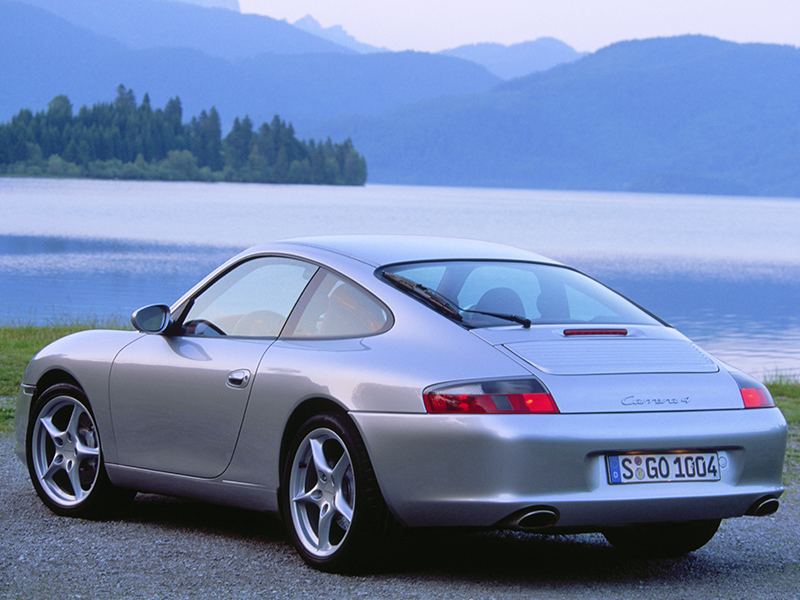 911 Carrera 4 Coupé, Cabriolet (1999–05)
Features
Permanent all-wheel drive // Front and side indicators in white // White-grey rear indicators // 17-inch wheels // Titanium-coloured "Carrera 4" logo at the rear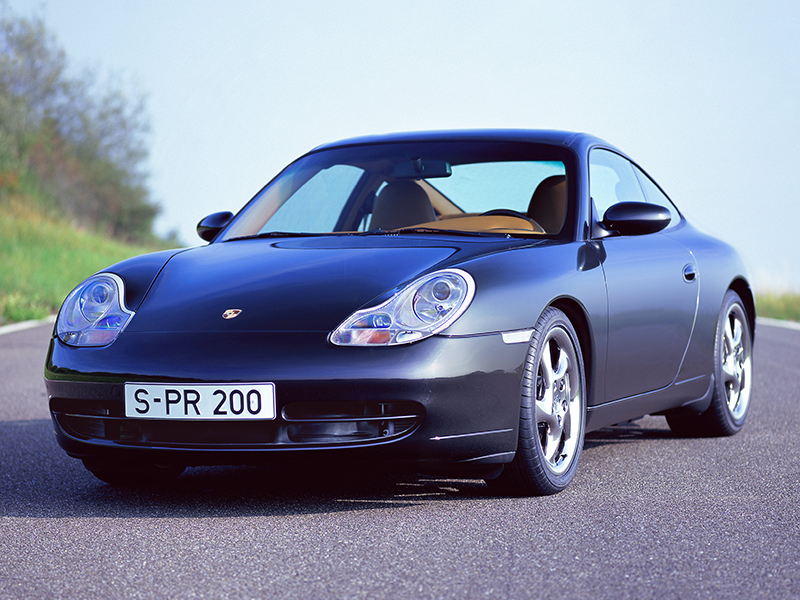 911 Carrera 4 Coupé – Millennium (2000)
Features
Limited to 911 units // Special colour: Violet Chroma Flair // Sports chassis lowered by 10 mm // 18-inch monobloc alloy wheels // "911" logo with high-gloss finish on the rear cover // Rear window wiper // Sliding roof // Exhaust screens made of chrome-plated stainless steel // Windscreen with green band // Litronic headlight with headlight washer system // Interior made of brown natural leather and dark maple wood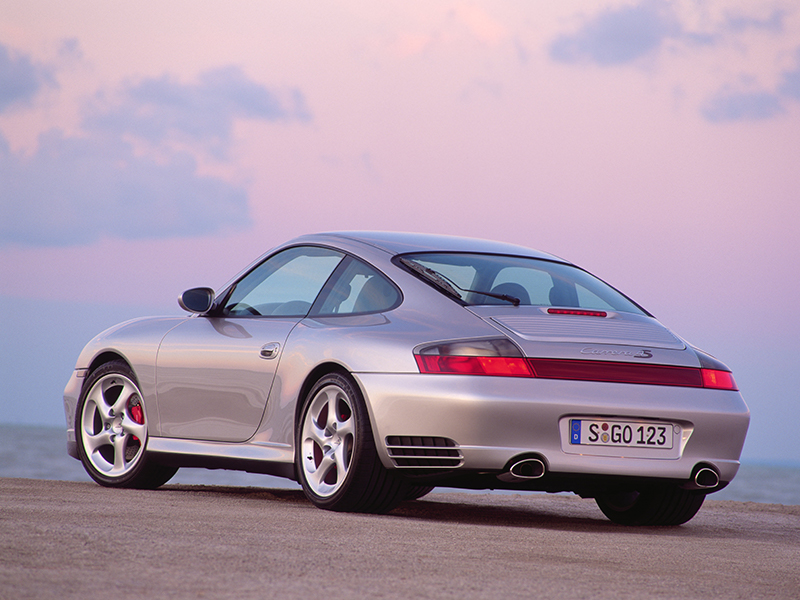 911 Carrera 4S Coupé (2002-05), 911 Carrera 4S Cabriolet (2003-05)
Features
Front headlights rounded at the bottom // Redesigned front section // Body width similar to the 911 Turbo // Wider rear wings // Rear cover with extending rear spoiler // 320-HP, 3.6-litre naturally aspirated engine // All-wheel drive // Six-speed manual transmission // On request: five-speed Tiptronic
Also available as a Cabriolet from model year 2003 onwards: Turbo-style wide body with features of the Carrera 4S Coupé // Windscreen with green band // Brake callipers painted Red // Acceleration from 0 to 100 km/h in 5.3 seconds // Maximum speed of 280 km/h // Electrically operated convertible top; functional even while driving up to a speed of 50 km/h
Porsche Classic Parts Explorer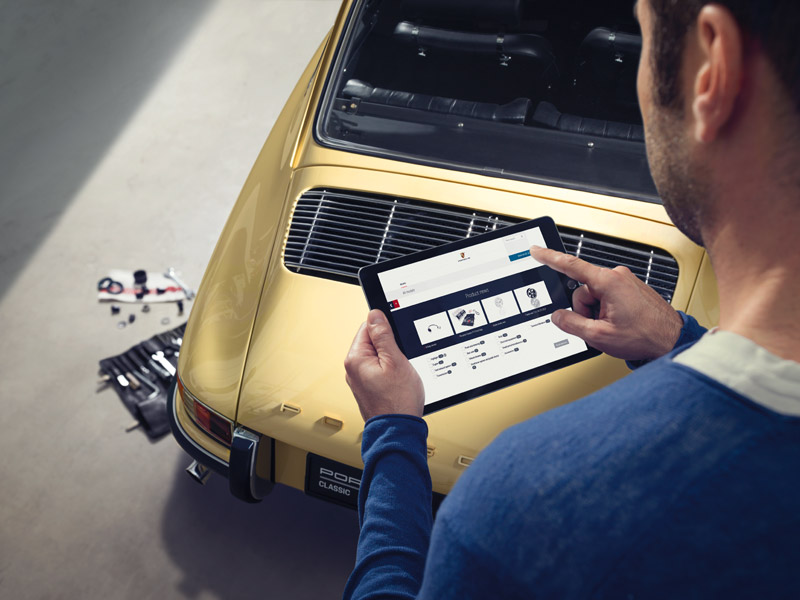 Search. Click. Result.
You can now quickly and easily find selected genuine parts for your classic car using the Porsche Classic Parts Explorer. Each year, some 300 reissued parts plus selected products for specific models become available online, along with all of the relevant details, of course. In addition to images and part numbers, you will find a range of useful information regarding the individual products and specific usage scenarios.
As you can imagine, there is a wealth of information available to explore. Why not begin your own tour of the Parts Explorer now and find out which reissued parts are available for your classic car. Incidentally: It is worth checking back regularly. After all, our product range is always expanding. We look forward to your visit.
Read more
Product Highlights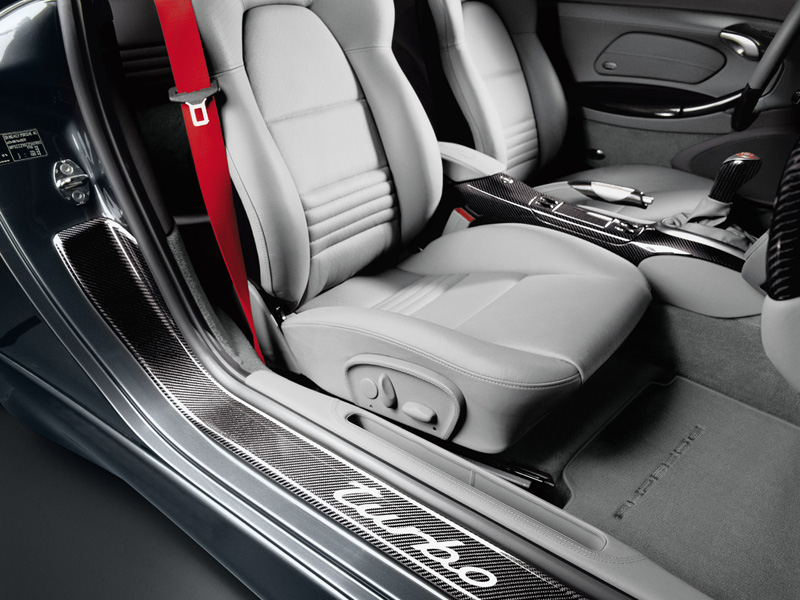 Time changes everything – but not your 996.
It's hardly surprising that the 996 is still as popular as ever. A genuine success model, whose character was as impressive then as it is now. So there's every reason to maintain its originality after all these years. And it's not a problem if you'd like to change the odd detail – using the matching genuine accessories that were developed for your model at that time. After all, you appreciate the 996 exactly as it is: authentic.
Read more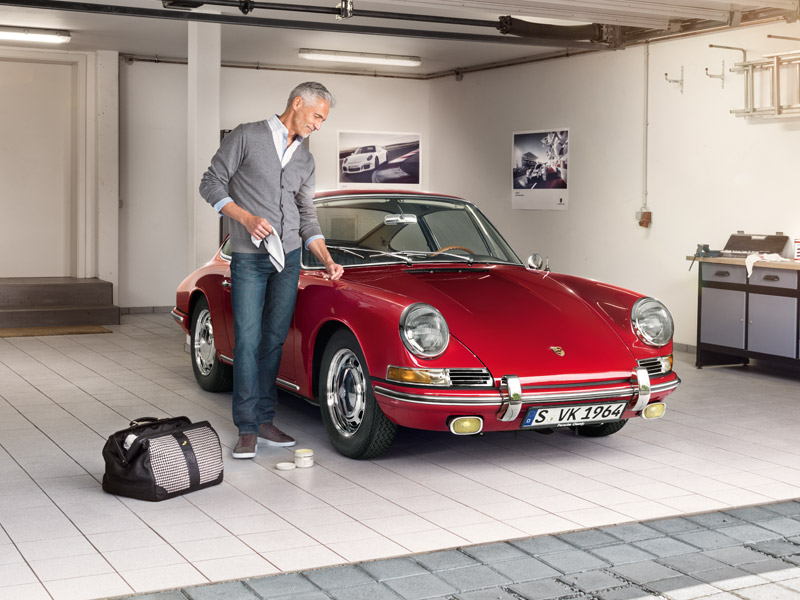 Balm for the soul of your classic car.
The relationship you have with your Porsche is something very special – and long-term relationships need special care and attention. The 17-piece Porsche Classic Car Care Set is the best way to do this. It can be used on all exterior surfaces and on all Porsche paint generations. Particularly authentic: the high-quality, classic-style storage bag with houndstooth pattern.
Read more