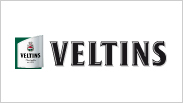 VELTINS with many years of experience in motor sports
Tradition and quality – two characteristics shared by Porsche and the brewery C. & A. VELTINS. Premium pilsener has been brewed in Meschede-Grevenstein in strict accordance with the German beer purity law since 1824. Sponsorship of Porsche motor sports is a well-known territory for the long-established brewery, as the company has been involved in sponsoring motor sports since 1997.
The brewery C. & A. VELTINS is the team sponsor of the "VELTINS-Lechner-Racing" team and is therefore represented by two vehicles in the Porsche Mobil 1 Supercup. With the reigning champion René Rast and the last season's third placed Norbert Siedler, two podium drivers have been contracted for the Top team. Both Porsche GT3 Cup cars can be easily differentiated: Rene Rast will be driving the GT3 with the new "Bayao" Design and Norbert Siedler fights for victories in the "VELTINS-Porsche".
Besides the extensive team commitment in the Porsche Mobil 1 Supercup, the premium brand is also the hospitality and series partner of the Porsche Carrera Cup. Furthermore, VELTINS supports the Porsche Sports Cup as well as the Porsche Club Support as Official Partner and supplies events in Germany and the neighboring countries with its extensive portfolio.
In addition to motor sports, the brewery from the Sauerland also supports other professional and amateur sports activities. For example, VELTINS has been an active partner of FC Schalke 04 for more than ten years and the company is the naming right sponsor of the VELTINS Arena in Gelsenkirchen.
The brewery C. & A. VELTINS has an impressive and comprehensive product range. The fresh premium pilsener is accompanied by VELTINS shandy, VELTINS non-alcoholic beer, VELTINS malt and VELTINS light beer. The historical brewery from the Sauerland also works continually on creating innovative taste experiences. "V+ Grapefruit " rounds off the successful "V+" product family. It is the perfect addition to the sextette of mixed beer drinks – "V+ Lemon", "V+ Cola", "V+ Energy", "V+ Curuba" and "V+ Apple".
Since the beginning of this year, the brewery C. & A. VELTINS is the exclusive licensed marketing and distribution partner of the new product "Bayão". With the spirited slogan "Feel Brazil", the refreshing Ready-to-Drink-Mix – consisting of 53 % wine and a soft drink with Caipirinha-Flavour – brings Brazilian feeling to Germany.