December 2008 / January 2009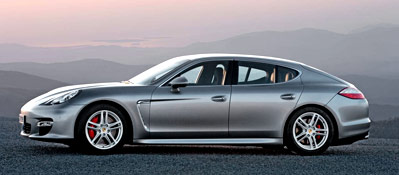 If you're curious and would like to know more about our Porsche magazine, you'll find selected articles here for you to read as a sample.
We hope you enjoy reading them – and if you want to read more, you can apply for subscription to 'Christophorus' online now.
Discovering the Fourth Dimension
Four doors, four seats — is it a Porsche? It is a Porsche, and what a Porsche it is! The Stuttgart sports-car maker's fourth model series is an exploration of the fourth dimension. With the Panamera, Porsche has demonstrated that even in a four-seater, luxury and sportiness are not mutually exclusive. The Panamera is truly in a class of its own.
Download PDF/ 887 KB
Light on the Horizon
The newcomers: the Cayman and the Boxster promise even more pleasure and lower consumption thanks to their six-cylinder boxer engines with direct fuel injection and double-clutch transmission.
Download PDF/ 329 KB
Make Way for Clay
A new era begins at the Porsche Tennis Grand Prix: from April 25 to May 3, 2009, Stuttgart will host the world's first indoor clay court tournament.
Download PDF/ 380 KB
Direct from the Original Owner
Old-time Porsche tractors have attained cult status. That passion was on full display in Germany's Tauber Valley, where 76 of the classic tractors showed their stuff to the public.
Download PDF/ 612 KB
A Porsche Pictorial: The Christophorus Poster
Due to popular demand, Christophorus is now offering its readers a special poster featuring all Porsche sports cars from 1948 to 2008 — including the new 911s.
Download PDF/ 121 KB
The Ultimate Tour de France
The fortunate members of the Porsche Travel Club don't just get to drive beautiful cars down sublime stretches of road. Their tour of Southern France had plenty to offer to all the senses.
Download PDF/ 716 KB