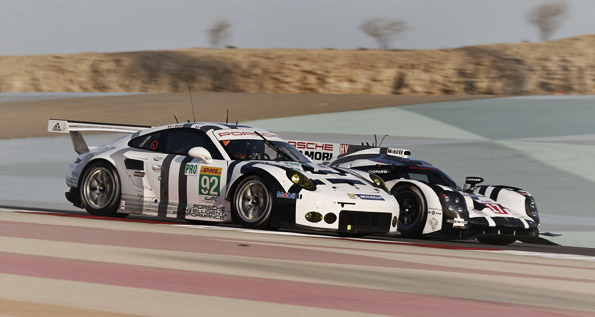 Race report
Porsche 911 RSR (92), Porsche Team Manthey
FIA World Endurance Championship, Round 8 in Sakhir/Bahrain – GT, Race report
Brilliant season finale for Porsche – fourth win and three championship titles
Stuttgart. What an end to the season for Porsche in the Sports Car World Championship WEC (World Endurance Championship): On Saturday at the six-hour race in Bahrain, the Porsche 911 RSR driven by Frenchmen Frédéric Makowiecki and Patrick Pilet not only scored the fourth GTE-Pro class win of the season – Porsche also netted three championship titles with the 470 hp winning racer from Weissach, which is based on the iconic 911 sports car.

With this victory at the Bahrain International Circuit, Porsche overtook Ferarri in the manufacturers' classification. The Porsche Manthey squad secured the team championship, and Porsche works driver Richard Lietz convincingly defended his title in the FIA World Endurance Cup for Drivers. Fifth place at today's race with his teammate Michael Christensen from Denmark was enough for the Austrian to secure this honour. With this, Porsche continues on its winning path after also scoring three GT titles at this season's North American Tudor United SportsCar Championship.

The success on the Grand Prix circuit in the desert, a racetrack known to put extreme stresses on the tyres, was also a race for strategists. The tactic of not going all-out in qualifying to clinch pole position but instead to concentrate on preparing for the race and save a fresh set of tyres also worked perfectly at this season finale. Patrick Pilet took up the race from the fifth grid spot and immediately put the GT-class frontrunners under pressure. Third place after one lap, second after two – and after eleven laps he had taken the lead. Putting in a strong drive and clocking consistently fast lap times, the champion of the Tudor United SportsCar Championship and his teammate Frédéric Makowiecki fended off repeated attacks from their rivals over the rest of the race. At the flag, the duo held a comfortable lead of almost 40 seconds.

In the sister 911 RSR fielded by the Porsche Manthey team, start driver Michael Christensen and his teammate Richard Lietz, who have notched up victories this season at the Nürburgring, in Austin and Shanghai, initially took things a little cautiously. In the first half of the race they kept out of any trouble, with the plan of catching the leading group at nightfall. But right to the end they held back from taking unnecessary risks, and were satisfied with fifth place, which secured Porsche all three GT championship titles.

With two podium spots in the GTE-Am class, Porsche customer teams also celebrated a successful season finale. Klaus Bachler (Austria), Khaled Al Qubaisi (Abu Dhabi) and Marco Mapelli (Italy) saw the flag in second place with their 911 RSR campaigned by Abu Dhabi Proton Racing. For Dempsey Proton Racing, Patrick Long (USA), Christian Ried (Germany) and Marco Seefried (Germany) finished third. This season, the squad with US actor and racing driver Patrick Dempsey in the cockpit, won the race at Fuji and finished second at the Le Mans 24-hour race. Due to filming commitments in Great Britain, Patrick Dempsey was unable to compete in Bahrain.
Comments on the race
Dr. Frank-Steffen Walliser, Head of Porsche Motorsport: "We fought hard and gave our utmost. And we were rewarded for this with three titles. Richard Lietz is a worthy champion, and the team definitely deserves the title, too. Ultimately, our strong catch-up campaign after Le Mans with four victories tipped the scales for us. We never gave up and we deserved to win. Right to the end, we benefitted from our consistency. Our pit stops were perfect, the drivers didn't make any mistakes. The WEC is a fantastic arena for an automobile manufacturer. The fight against Ferrari was incredibly gripping – for fans it couldn't have been better."

Richard Lietz (911 RSR #91): "It wasn't just a thrilling race, the whole week was full-on. Many thought, because of my points' lead, I could just coast along and bring home the title. But today was six hours of pressure; a nonstop fight against cars in all classes. After all, championship titles were at stake for many and therefore they didn't hold back. Our strategy worked. Patrick and Fred went for victory in their 911 RSR, we erred on the side of caution. Porsche did everything right today. I'm proud to be part of this team."

Michael Christensen (911 RSR #91): "To claim three titles is certainly more than we'd expected at the start of the season. But we gave our utmost as a team at every race, never stopped fighting and we coped with all the setbacks. And that's why we're standing here today as champions. Of course, we didn't tackle the race too aggressively; there was simply too much at stake. That was the right tactic. We have achieved what we set out to do at the season finale."

Patrick Pilet (911 RSR #92): "A perfect day for Porsche. Our strategy to save a fresh set of tyres in qualifying is a complete success. That was the key to our victory today. Congratulations to Richard on becoming champion. He definitely deserves it. I would like to thank the drivers from Aston Martin and Ferrari for the great season. We fought really hard at every race, but it was always fair. That's how motor racing should be."

Frédéric Makowiecki (911 RSR #92): "We had to wait for our first win of the season until the very last race. But it was worth it. Before the start, I said to Patrick that on no account did I want to go home without a victory. The year was not easy for us. We took a while to get where we wanted to be. But we fought at all times and therefore deserve this success."
Race result
GTE-Pro class
1. Pilet/Makowiecki (F/F), Porsche 911 RSR, 173 laps
2. Bruni/Vilander (I/SF), Ferrari, 173
3. Turner/Adam (GB/GB), Aston Martin, 173
4. Nygaard/Sörensen/Thiim (DK/DK/DK), Aston Martin, 173
5. Lietz/Christensen (A/DK), Porsche 911 RSR, 172
6. Rigon/Calado (I/GB), Ferrari, 172
7. MacDowall/Rees/Stanaway (GB/BRA/NZ), Aston Martin, 171

GTE-Am class
1. Dalla Lana/Lamy/Lauda (CDN/P/A), Aston Martin, 170 laps
2. Bachler/Al Qubaisi/Mapelli (A/UAE/I), Porsche 911 RSR, 170
3. Long/Ried/Seefried (USA/D/D), Porsche 911 RSR, 170
4. Perrodo/Collard/Cressoni (F/F/I), Ferrari, 169
5. Bertolini/Shaytar/Basov (I/RUS/RUS), Ferrari, 169
6. Roda/Ruberti/Poulsen (I/I/DK), Chevrolet Corvette, 169
7. Castellacci/Goethe/Hall (I/D/GB), Aston Martin, 168

Points' standings GTE-Pro after 8 of 8 races
FIA World Endurance Cup for GT Manufacturers
1. Porsche, 290 points
2. Ferrari, 286
3. Aston Martin, 192

FIA World Endurance Cup for GT Drivers
1. Richard Lietz, Porsche, 145 points
2. Gianmaria Bruni, Toni Vilander, Ferrari, 131.5
3. Michael Christensen, Porsche, 127
4. Davide Rigon, James Calado, Ferrari, 123
5. Frédéric Makowiecki, Porsche, 118
6. Patrick Pilet, Porsche, 100

FIA Endurance Trophy for GTE-Pro Teams
1. Porsche Team Manthey, #91 Porsche, 154 points
2. AF Corse, #51 Ferrari, 149
3. AF Corse, #71 Ferrari, 137
4. Porsche Team Manthey, #92 Porsche, 118
5. Aston Martin Racing, #99 Aston Martin, 100
6. Aston Martin Racing, #95 Aston Martin, 95

The Sports Car World Championship WEC
Sports prototypes and GT vehicles contest the Sports Car World Championship WEC (World Endurance Championship) in four classes: LMP1 (eg. Porsche 919 Hybrid), LMP2, LMGTE-Pro (eg. 911 RSR) and LMGTE-Am (eg. 911 RSR, 2014 homologation). They all compete together in one race but are classified separately.


All reports on the previous season can be found in our archive.