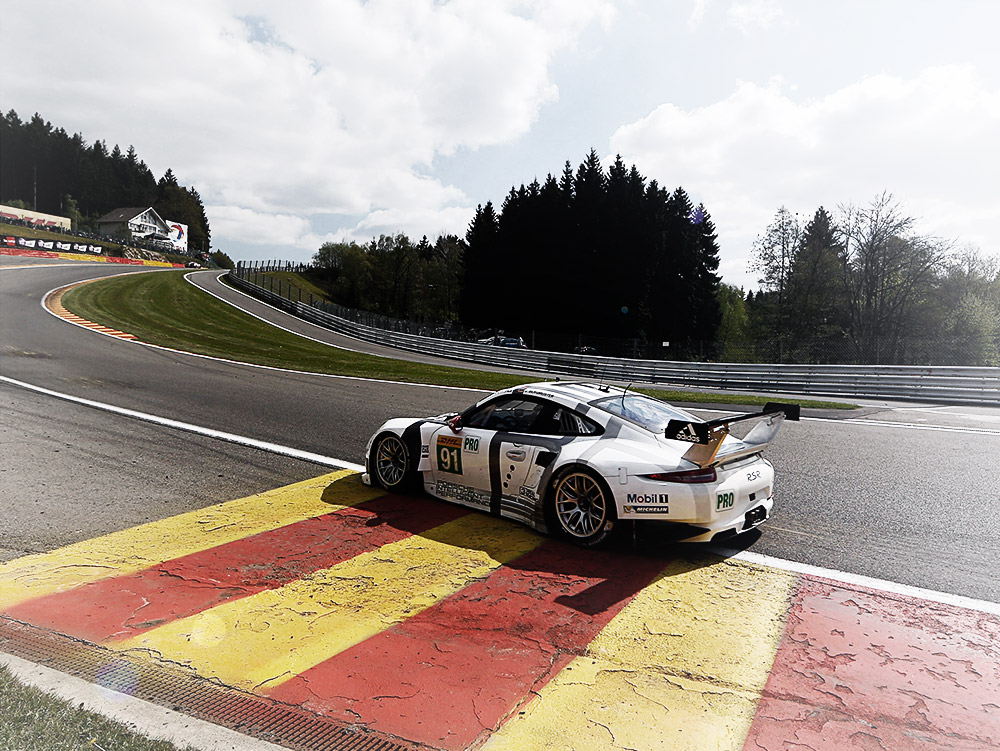 Race report
FIA World Endurance Championship, Sports Car World Endurance Championship, round 2 in Spa-Francorchamps/Belgium, GT, Race report
Porsche clinches second after remarkable charge
Stuttgart. After a successful start to the season with a double victory at Silverstone, Porsche scored second place in the GTE-Pro class at the six-hour race in Spa-Francorchamps, round two of the sports car World Endurance Championship (WEC). With the Porsche 911 RSR, which is based on the iconic 911 sports car, works drivers Joerg Bergmeister (Germany) and Patrick Pilet (France) repeated their result from the season-opener after a remarkable charge in the final phase of the race. Their factory pilot colleagues and Silverstone winners Marco Holzer (Germany) and Frédéric Makowiecki (France) brought the second 911 RSR fielded by Porsche Team Manthey over the finish line in sixth place.

At the race on the storied circuit in the Belgian Ardennes, generally regarded as the dress rehearsal for the 24 Hours of Le Mans, the 911 RSR sports cars competed with 25 kilograms of additional weight. During the preceding week, the WEC Endurance Committee had decided to increase in vehicle weight as part of the Balance of Performance regulations. The 470 hp GT racer from Weissach, which has already won the long distance classics at Daytona and Sebring this season, was unable to match the pace of the front-runners during the first half of the race. But in an impressive final stint, Patrick Pilet swept past two opponents, scoring second place with Joerg Bergmeister, just like at the season-opener at Silverstone. This result allows them to retain second place in the GT driver's classification heading to the season highlight at the Le Mans 24 Hours.

Hartmut Kristen, Porsche Head of Motorsport: "Patrick put in a brilliant drive during his last stint and used his fresh tyres to move up the field into second place. Although this race ended well for us, the process showed very clearly that we have been unduly penalised by the extra weight for Spa. When you take into account that several opponents could still turn best sector times towards the end of a double stint far faster than our cars, then you have to ask yourself if the mark has been overshot somewhat. At least this result is a small consolation for the team. Everyone worked flawlessly, and apart from second place, this is also worth a lot with a view to Le Mans."
Patrick Pilet (#91): "I had a great fight with the Ferrari in front of me during my last stint. I knew that he was out on worn tyres and I finally managed to overtake him. With more rubber on the track and sinking surface temperatures, our car performed far better than in the beginning."
Joerg Bergmeister (#91): "Our car became increasingly better over the course of the race. The track conditions improved significantly thanks to the rubber on the track and this very much suited us. I tried everything to get past the Ferrari but it was extremely difficult. Particularly in the fast passages we lost a lot of downforce on the front axle and you can't overtake unless the driver in front makes a mistake. But this was not the case. Luckily Patrick finally managed it."
Marco Holzer (#92): "In terms of effort, my last stint was the toughest I've ever had to drive. Fred announced over the radio that the steering was becoming increasingly heavy. So we changed the seal in the pits, but in my first lap I had absolutely no power steering support anymore. The slower corners were the hardest because it took an incredible amount of physical power to turn the steering wheel."
Frédéric Makowiecki (#92): "Looking ahead to Le Mans it was important for us to reach the finish line well and gain vital experience. At times we tested a new strategy and drove double stints. In this case it proved to be the wrong decision, but it was definitely worth trying."

Round three of the sports car World Endurance Championship WEC is the legendary 24 Hours of Le Mans on 14/15 June.

Race result
GTE-Pro class
1. Bruni/Vilander (I/SF), Ferrari 458 Italia, 152 laps
2. Bergmeister/Pilet (D/F), Porsche 911 RSR, 151
3. Rigon/Calado (I/GB), Ferrari F458 Italia, 151
4. Turner/Mücke/Senna (GB/D/BRA), Aston Martin Vantage, 150
5. MacDowall/O'Young/Rees (GB/HK/BRA), Aston Martin Vantage, 150
6. Holzer/Makowiecki (D/F), Porsche 911 RSR, 148

GTE-Am class
1. Perez Companc/Cioci/Venturi (ARG/I/I), Ferrari F 458 Italia, 149 laps
2. Poulsen/Hansson/Stanaway (DK/DK/NZ), Aston Martin Vantage, 149
3. Dalla Lana/Lamy/Nygaard (CDN/P/DK), Aston Martin Vantage, 149
4. Ried/Bachler/Al Qubaisi (D/A/UAE), Porsche 911 RSR, 146
5. Mann/Giammaria/Case (USA/I/I), Ferrari F458 Italia, 145
6. Potolicchio/Roda/Ruberti (YV/I/I), Ferrari F458 Italia, 142

The Sports Car World Endurance Championship WEC
Sports prototypes and GT vehicles contest the sports car World Endurance Championship WEC in four classes: LMP1 (eg. Porsche 919 Hybrid), LMP2, LMGTE-Pro (eg. 911 RSR) and LMGTE-Am (eg. 911 RSR and 911 GT3 RSR). They all compete together in one race but are classified separately.


All reports on the previous season can be found in our archive.