Ceremonial Opening of the Porsche Centre on the 24th of August 2005Porsche Centre - Colombo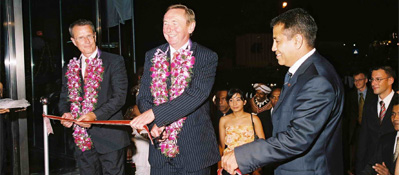 The Porsche Centre in Sri Lanka which conforms to the Corporate Identity of Porsche was ceremoniously declared open by Mr. Hans Riedel, Executive Vice President Sales and Marketing of Porsche AG, Mr. Christer Ekberg, Managing Director of Porsche Asia Pacific along with Mr. Arthur Senanayake, Chairman Eurocars (Pte) Ltd. A large gathering of about 750 Special Invitees attended the event.
The Spectacular Opening was joined with a huge fire works display with Traditional Sri Lankan Dancers and Drummers leading the Special Guest to light the Traditional Oil Lamp which in this occasion was substituted with Dancers holding lamps in there Palms to be lit.
As always, the Chief Guest along with the Chairman of Eurocars (Pte) Ltd delivered there short but eventfull speech which led to the Handing over of the Offical Opening gift for the Porsche Centre.
The Night was filled with a lot of glitter with the addition of a special fashion show conducted by leading models dressed in Porsche Design Drivers Slection attire and was held on the entire presentation area along with a specially constructed multi storey Ramp.
The visitors were treated to a wast array of Cocktails along with a traditional feast of Sri Lankan, Western and Eastern Cuisine.
The Night ended with a spectacular note way past mid night.

8/24/2005