10th Enrique Zobel Memorial Polo Cup
Zobel Polo Cup Hits a Perfect 10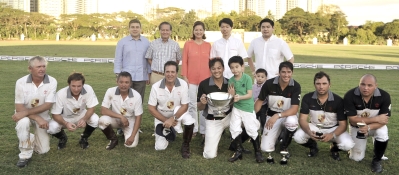 -
It's that time of the year, when Manila's social elites come together to relax, enjoy a good Polo match and experience up close the best offering of Porsche Philippines - all in one day. This most anticipated event is no other than, The 10th Annual Enrique Zobel Memorial Polo Cup, which was held last 3 February 2013 at Manila Polo Club, Makati. The latest Porsche models were put on display at the main façade of Manila Polo Club the entire week.
The game was opened by ceremonial parade of horses with Ms. Rocio Zobel and PGA Cars Director, Benedicto Coyiuto. This was followed by the Salute and Ceremonial Ball Thow-in with Zobel Foundation Chairperson Dee Zobel, Manila Polo Club President Roman Anthony Azanza, Jr. and PGA Cars Director Benedicto Coyiuto and Porsche Philippines Managing Director Roberto Coyiuto III. The High Goal Match, 6 Chukker game were played by the Porsche Blacks and Porsche Whites. Making up the Porsche White team were Vince Bitong, Iñigo Zobel, Santi Laborde and Mark Field. The Porsche Blacks on the other hand, fielded Mike Romero, Lucas Lujan, Anthony Garcia and Miguel Diaz. All the players were vigorous and dynamic on the field. Each player exemplified good sportsmanship, honor and immense passion for the sport as they scrambled and swung their mallets to get a shot at the ball. Finally, scoring the most goals at the Umpire's ending whistle was the Porsche Blacks.
The awards ceremony were officiated by Mrs. Dee Zobel, Ramon Azanza,Jr. and Benedicto Coyiuto and Roberto Coyiuto III. The trophies were handed to the winners, the Porsche Blacks, to the cheers and applause of friends, family and all other guests at the event.
The highlight of the day was when the Porsche Cayennes paraded on the polo field to end the game ceremonies. Spectators were delighted and charmed by the beauty of the premium models but their sound of applause became louder as the Porsche's latest model, Porsche Boxter S, slowly made its way to the field as the main highlight and was introduced by Porsche Asia Pacific Marketing Director Carl Isenbeck. Guests were then invited to view the cars up close and enjoy a sumptuous buffet reception right on the field in celebration of the successful and merry event.
After a decade, PGA Cars and the Enrique Zobel Foundation's partnership has once again been fortified with the presentation of the Zobel Memorial Polo Cup.
For more information, please contact Porsche Philippines at 7270381 to 85 or visit our showroom located at 201 EDSA Mandaluyong City.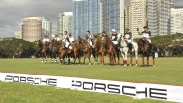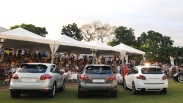 2/3/2013