Porsche Sports Car Club of the Philippines Partners with Porsche Centre PhilippinesPorsche Sports Car Club of the Philippines Holds its First Breakfast Drive for 2013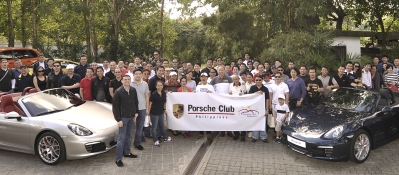 -
The Porsche Sports Car Club of the Philippines in partnership with Porsche Philippines held its first fun drive for the year, with over 60 Porsche Club members and enthusiasts gathering together for an early morning drive last 20 January 2013. Scores of various Porsche cars such as the 993 Turbo, the 911 Carrera S, the 911 GT3 RS, Boxsters, Caymans and Cayennes roared their engines from Petron Dasmariñas Village to the famed Antonio's Restaurant in Tagaytay for a sumptuous breakfast prepared by Chef Tony Boy Escalante. Porsche Philippines provided the event with its service mobile on standby to assist the members throughout the event in case of any service concerns.
Porsche Club members were given an update on the latest activities for the year as well as, exclusive offers for those who attended the event. Raffle prizes were also given away to the lucky members. The event was highlighted by the exclusive reveal of the new Porsche Boxster S where the members had an opportunity to experience the latest Porsche car model.
Porsche Sports Car Club of the Philippines, with the support of Porsche Philippines, aims to organize activities and venues where Porsche Club members can get together and have the ultimate Porsche experience.
For more information on the Porsche Sports Car Club of the Philippines, please contact 7270388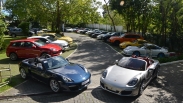 1/20/2013