With Porsche, workers shift to life's fast lane
Courtesy of Ms. Tina Arceo-Dumlao, Philippine Daily Inquirer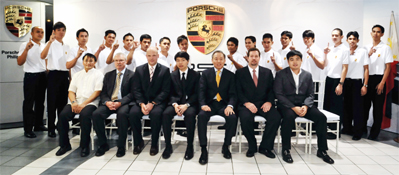 Early this year, 25 year-old Raymond de la Cruz will leave his home country for the first time for Dubai, United Arab Emirates as a certified Porsche Service Mechanic, where he will work as one of the service experts of the growing Porsche Centre there.

His extensive training in service mechatronics at the Porsche Training and Recruitment Center Asia (PTRCA), housed at the PGA Cars' Porsche showroom on Edsa, has enabled him to fulfill his promise to himself to provide his family a better life.

The training program at the first facility of its kind outside Porsche's headquarters in Germany was made possible by the strong partnership between Porsche and the Don Bosco Technical Institute – a leader in automotive training in the Philippines known to produce skilled and motivated graduates.

The center is the brainchild of exclusive Philippine Porsche importer PGA Cars chair Robert Coyiuto Jr., who decided to set up an institution that would ensure the continuing development of an elite corps of trained Porsche technicians, seeing how it was common for his employees to seek opportunities abroad.

Under the scholarship and training program that got off the ground in April 2008, around 30 students of the Don Bosco Manpower Skills Training Center, chosen for their high skills level in basic automotive repair, are taken in as scholars every year. Six months of specialized training ensue, with additional English and communication lessons to further prepare them for their future roles as Porsche technicians locally and abroad.

De la Cruz was inspired by the teachers' message that he would learn not just skills but values at the end of his course. After bringing a dead engine back to life for the first time, he was hooked. "I got a different feeling from getting an engine up and running. I never felt like that before. I was fulfilled and happy knowing I had accomplished something," says de la Cruz. "I have loved automotive repair ever since."

That passion, dedication and confidence in his abilities came across when he was interviewed for the PTRCA scholarship. Now, he and 15 others are proud holders of certificates as Porsche Service Mechatronics, making them eligible to work in Porsche Centres around the world.

Although initially hesitant, he and his classmates were encouraged by their Technical Training Manager, Thorsten Hagel, to experiment, learn and not be afraid to make mistakes.

"We were told that we already have the skills, that the engines are basically the same, but that the technologies are different. Those are what we had to learn and master during our theoretical and hands-on training at the Porsche Centre," says de la Cruz. Hagel, who also represents Porsche Asia Pacific Pte. Ltd., says he was optimistic that the Philippines would produce even more certified Porsche Service Mechatronics given the growing demand in emerging and growing markets.

"There will always be a need for qualified technical people," says Hagel, "And Filipinos particularly are known for being adaptive, and used to working abroad. The facility with English is another benefit." As for de la Cruz, an exciting time awaits for him in Dubai, and his parents could not be prouder of him. With Porsche's help, his dream of being able to support his parents well into their old age looks as if it's finally coming true.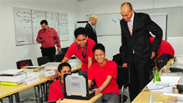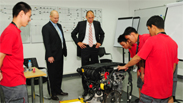 3/1/2010