The new Porsche Cayenne models unveiled at Porsche Centre PhilippinesCayenne Launch Philippines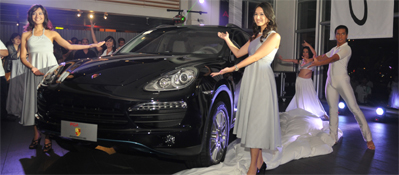 The all new, more dynamic and more efficient Porsche Cayenne models made their highly anticipated Philippine debut on Thursday evening, 3 June 2010. Held at the Porsche Centre Philippines showroom, the stylish, well-executed event successfully won over all who attended.

More than 300 valued customers, guests, media and friends came to grace the exclusive launch. Upon arrival, they were warmly greeted and welcomed by staff from PGA Cars, the official Porsche importer in the Philippines. Heading the welcome party were PGA Cars Chairman, Robert Coyiuto Jr., Porsche Philippines Head, Roberto Coyiuto III, PGA Cars Director, Benedicto Coyiuto, Corporate Affairs Director, Amado Del Rosario and Vice-President for Sales, Edwin Chua.
 
Stylish models were also on hand to welcome and escort the guests. With the soothing sounds from harpist Noelle Cassandra filling the air, the elegantly designed showroom was abuzz as guests mingled and leisurely enjoyed the open bar and delectable food.

The evening's program started with a welcome address from PGA Cars Chief Operations Advisor, Ross Smith followed by Porsche Asia Pacific Sales Executive, Marcus Pachmann, highlighting the remarkable features and the concept behind the launch of the new Porsche Cayenne.

Complete with lighting effects and interactive audio-visuals, the entire event was as fresh and dynamic as the new Porsche Cayenne vehicles.

As dancers twirled and captivated in a creatively choreographed presentation, the new Cayenne S and Cayenne Turbo were finally revealed, much to the delight of the guests. Of course, the event was not complete without guests having the chance to personally experience the new Cayenne models firsthand.

The rest of the night was capped off with another treat for the senses: performances from renowned violinist Jay Cayuca, harpist Noelle Cassandra and the angelic voices of the classical-singing trio, the Opera Belles. Indeed, the overall ambience of sophistication and lightness were perfectly in sync with the all new Porsche Cayenne's theme of straight "To the point".

The new Porsche Cayenne models point the way towards the future – featuring increased fuel efficiency and significant reductions in weight. Like every Porsche, the new Cayenne has been developed according to the principle of Porsche Intelligent Performance: more power on less fuel, greater efficiency and lower CO2 emissions.

As a result, the all new Cayenne offers even more driving pleasure both on-road and off-road, combined with greater everyday driving qualities, enhanced comfort and supreme elegance. With an even sportier, streamlined design and more spacious interior, the new Cayenne is more Porsche than ever before.

For more information on the all new Porsche Cayenne models as well as other Porsche models available in the Philippines, please contact Porsche Centre Philippines at 724.0948 or visit its showroom at 201 EDSA, Mandaluyong City.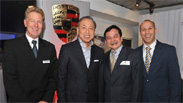 6/10/2010