Porsche Centre Philippines Presents the New Gran TurismoThe Panamera has arrived.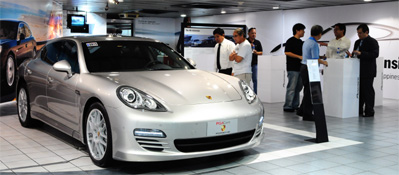 The highly anticipated Philippine premiere of the Porsche Panamera has arrived. Porsche Centre Philippines has made available for viewing the four-seater Gran Turismo in its three variants - the Panamera S, Panamera 4S and Panamera Turbo in a series of private viewing events at the Porsche Centre in Manila.

The Philippine Premiere kicks-off with a series of private viewing sessions for exclusive clients, guests, lifestyle and motoring press. Heralded "Four, Uncompromised. The New Porsche Panamera", the event features the latest addition to the Porsche model line-up in an elite "White World" concept. Designed to ensure the utmost in the Porsche experience, the event features impeccable aesthetics, allowing guests to feel the fourth dimension definition in every aspect of the premiere.

Events have also been organised after the premiere to feature the new Panamera in a series of displays in high-end shopping malls. Additionally, test run activities will be held in conjunction with the launch to highlight the Panamera's aesthetic and technological innovations, through first-hand experience of the vehicle's product features and powerful performance.

Dr. Ing. h.c. F. Porsche AG presented the four-seater Gran Turismo to the international press and public for the first time at the Shanghai Auto Show in China in April this year. This was already a clear signal of the importance of the Asian markets and the company's full confidence in their future economic potential.

The Panamera will thrill aficionados of exclusive sports cars all over the world, states Porsche Philippines Head Mr. Roberto Coyiuto III, adding that with the launch, Porsche Centre Philippines is sending a powerful message and demonstrating its strong commitment to the Philippine market. "This is a clear signal that we have full confidence in the Philippines' future potential", Coyiuto said.

Porsche's Gran Turismo sets new standards in its market segment in terms of performance, driving dynamics and efficiency, benefiting from Porsche's traditional core competences and years of experience in motorsport, since efficient and powerful engines, lightweight technologies, and optimised aerodynamics are crucial to success also on the race track. Mr. Coyiuto added, "Our engineers, technicians, and designers have invested all their know-how, years of experience, a wealth of ideas, and their full passion for sports cars in this four-seater Gran Turismo."

For further information regarding this event, kindly contact Marketing Manager Beth Pimentel at +632 727 0381 ext. 252.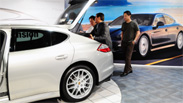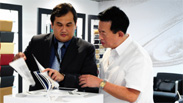 9/23/2009