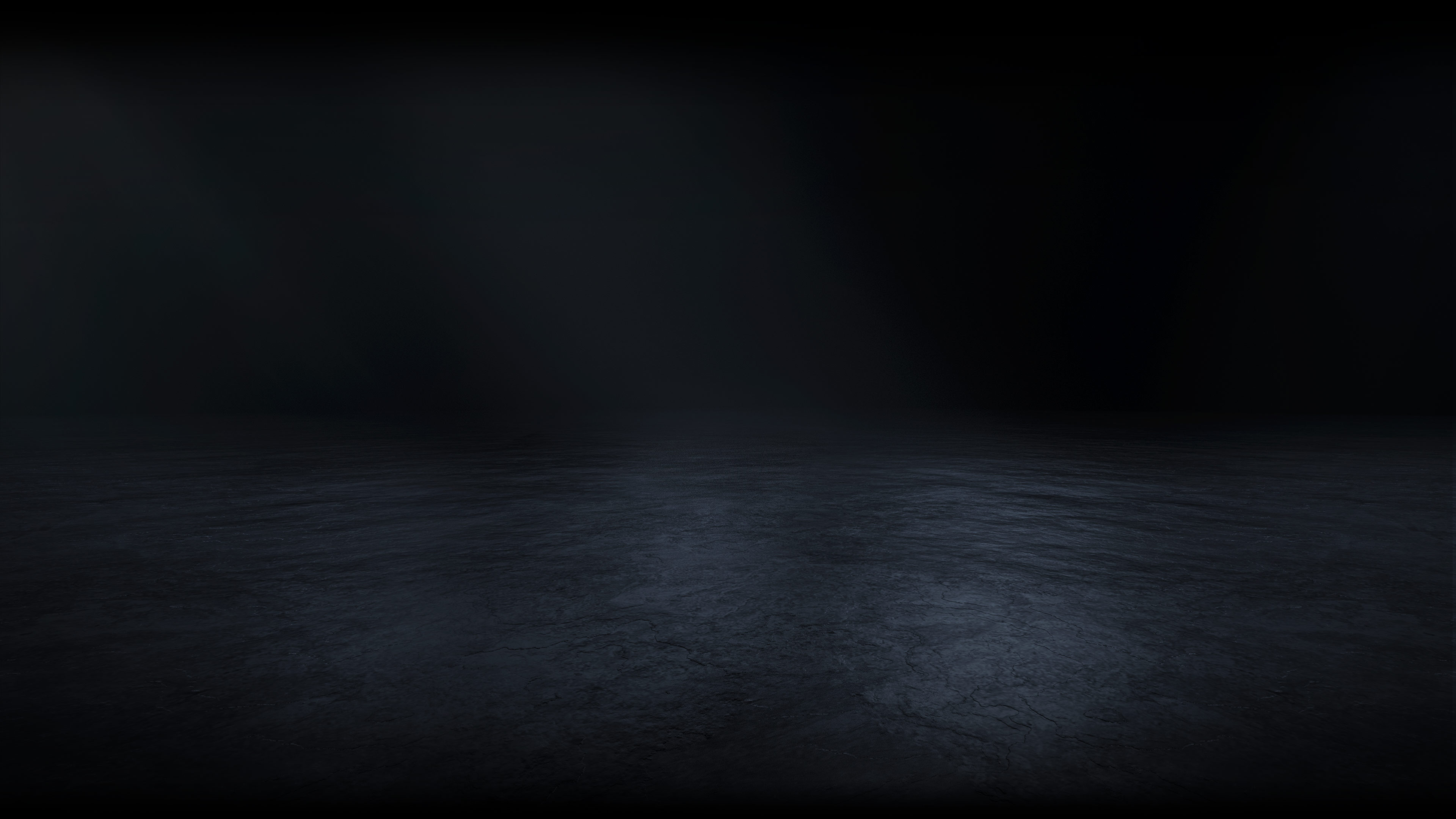 911 Sport Classic
From NZ$ 513,000.00 incl. 15% GST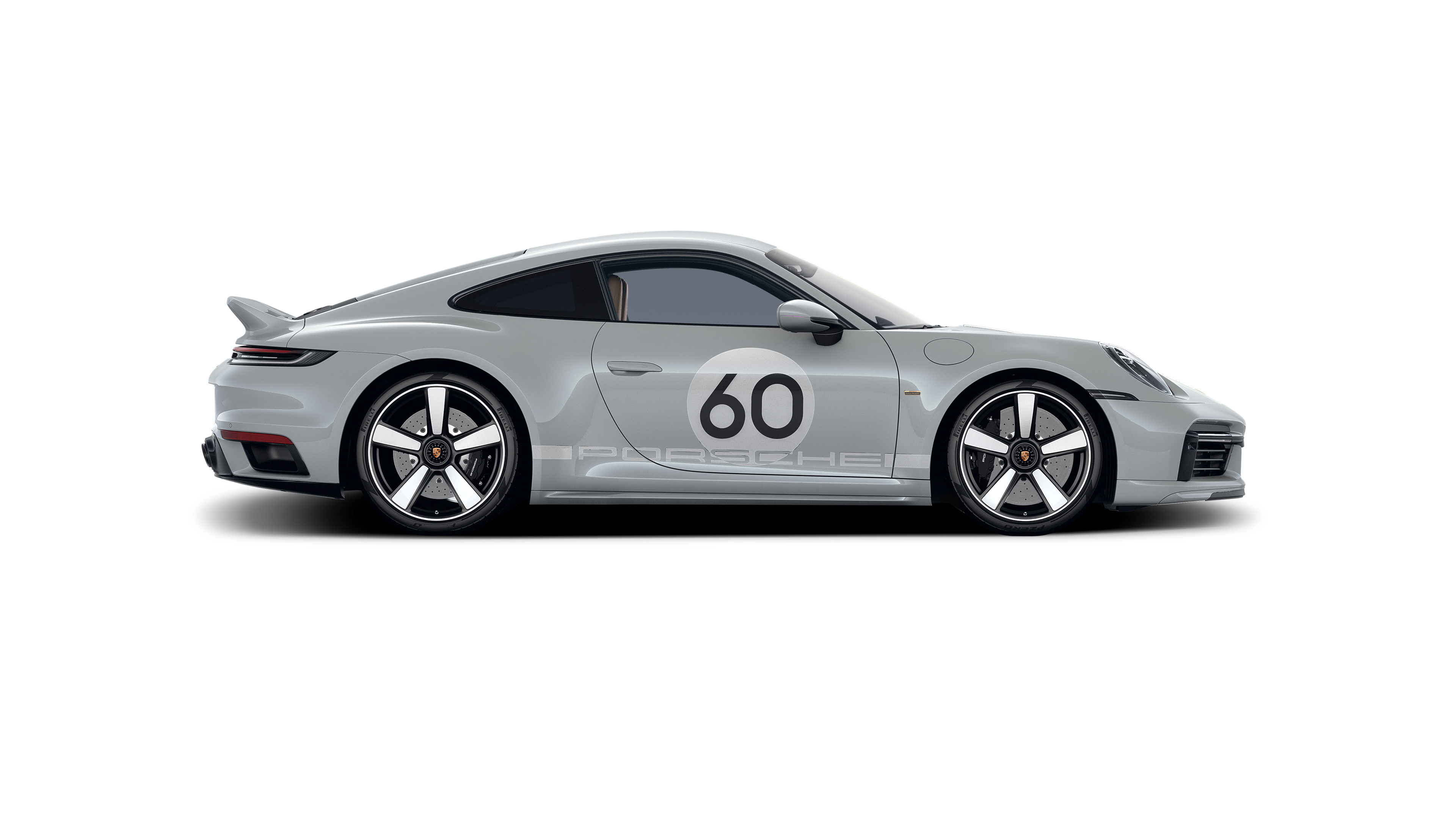 405 kW/550 PS
Power (kW)/Power (PS)
4.1 s
Acceleration 0 - 100 km/h
Back to beginning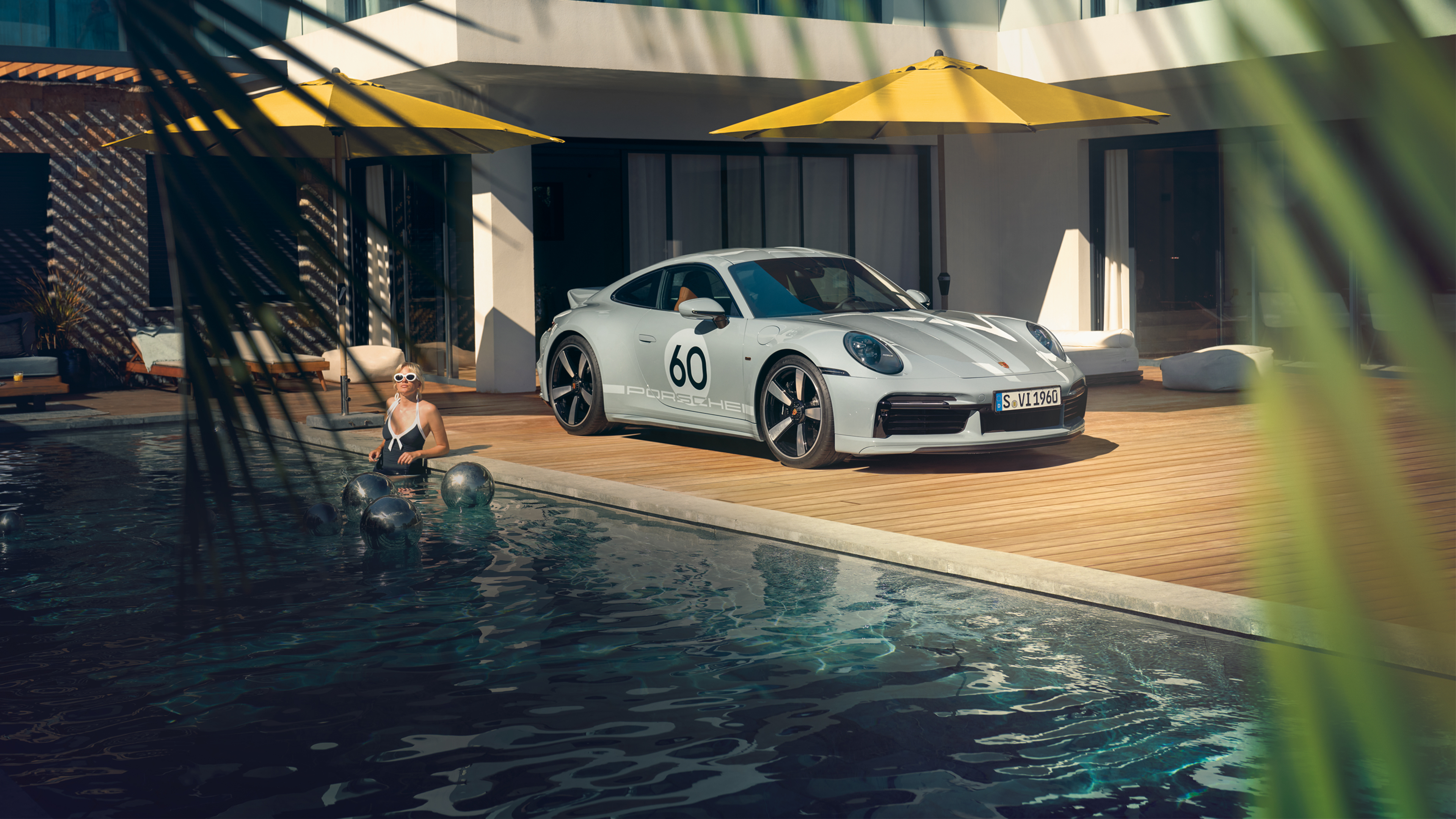 The era of freedom.
Welcome to the sixties. A truly dynamic decade. When the Côte d'Azur became the jet set catwalk. When London was swinging. As a cool icon, the 911 Sport Classic is reminiscent of those years – and of its legendary predecessors: the original 911 and the 911 Carrera RS 2.7.
Be carried away to the Côte d'Azur and rediscover the flair of bygone times with the 911 Sport Classic.
911 Sport Classic
911 Sport Classic
911 Sport Classic
911 Sport Classic
911 Sport Classic
911 Sport Classic
911 Sport Classic
911 Sport Classic
911 Sport Classic
911 Sport Classic
911 Sport Classic
911 Sport Classic
911 Sport Classic
911 Sport Classic
911 Sport Classic
911 Sport Classic
911 Sport Classic
911 Sport Classic
911 Sport Classic
911 Sport Classic
911 Sport Classic
911 Sport Classic
911 Sport Classic
911 Sport Classic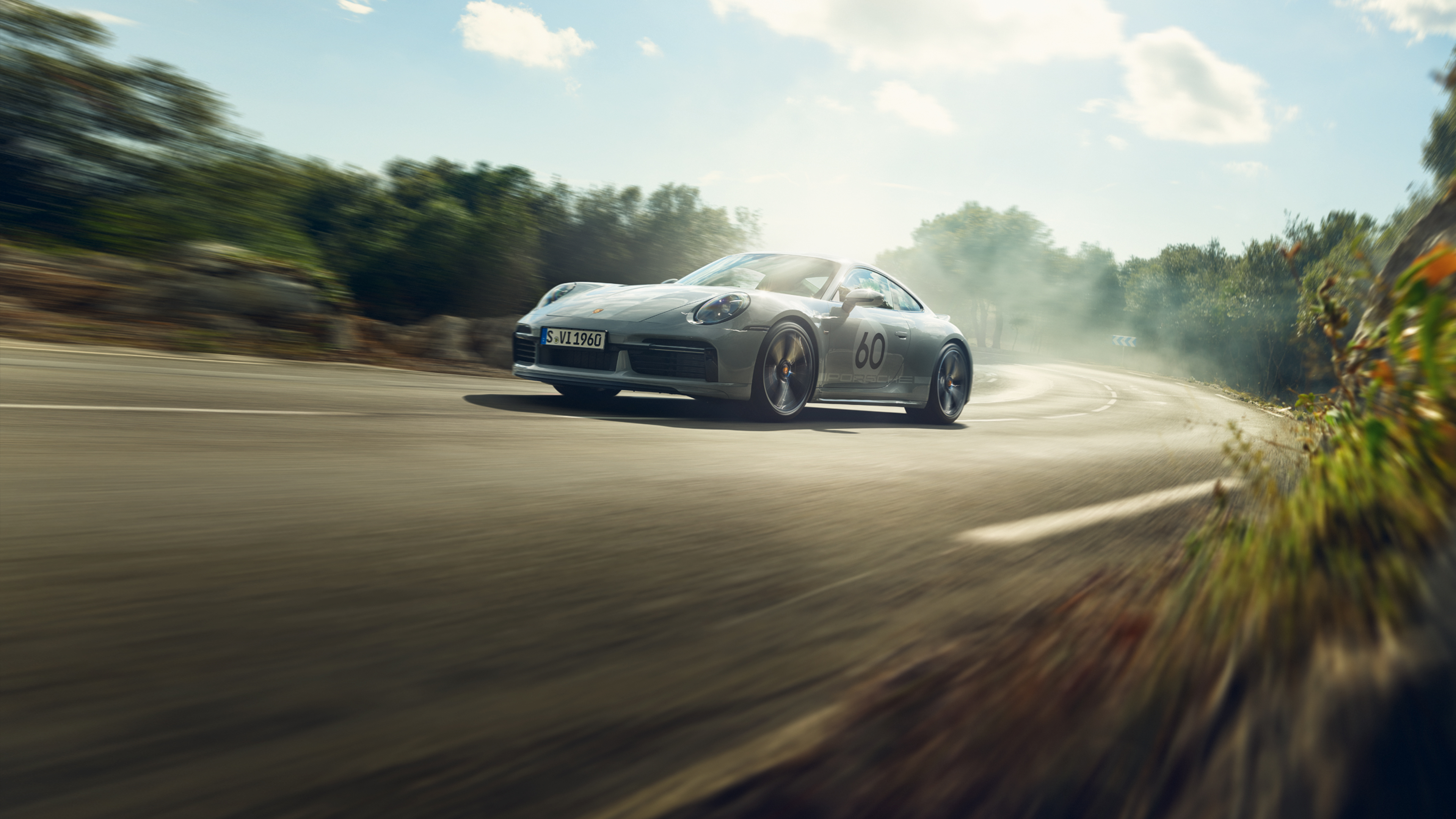 Wild at heart.
550 PS, rear-wheel drive, manual transmission. This triad is sure to appeal to any Porsche fan. Because the unusual combination makes the 911 Sport Classic with a 3.7-litre bi-turbo boxer engine the current most powerful manual 911 model.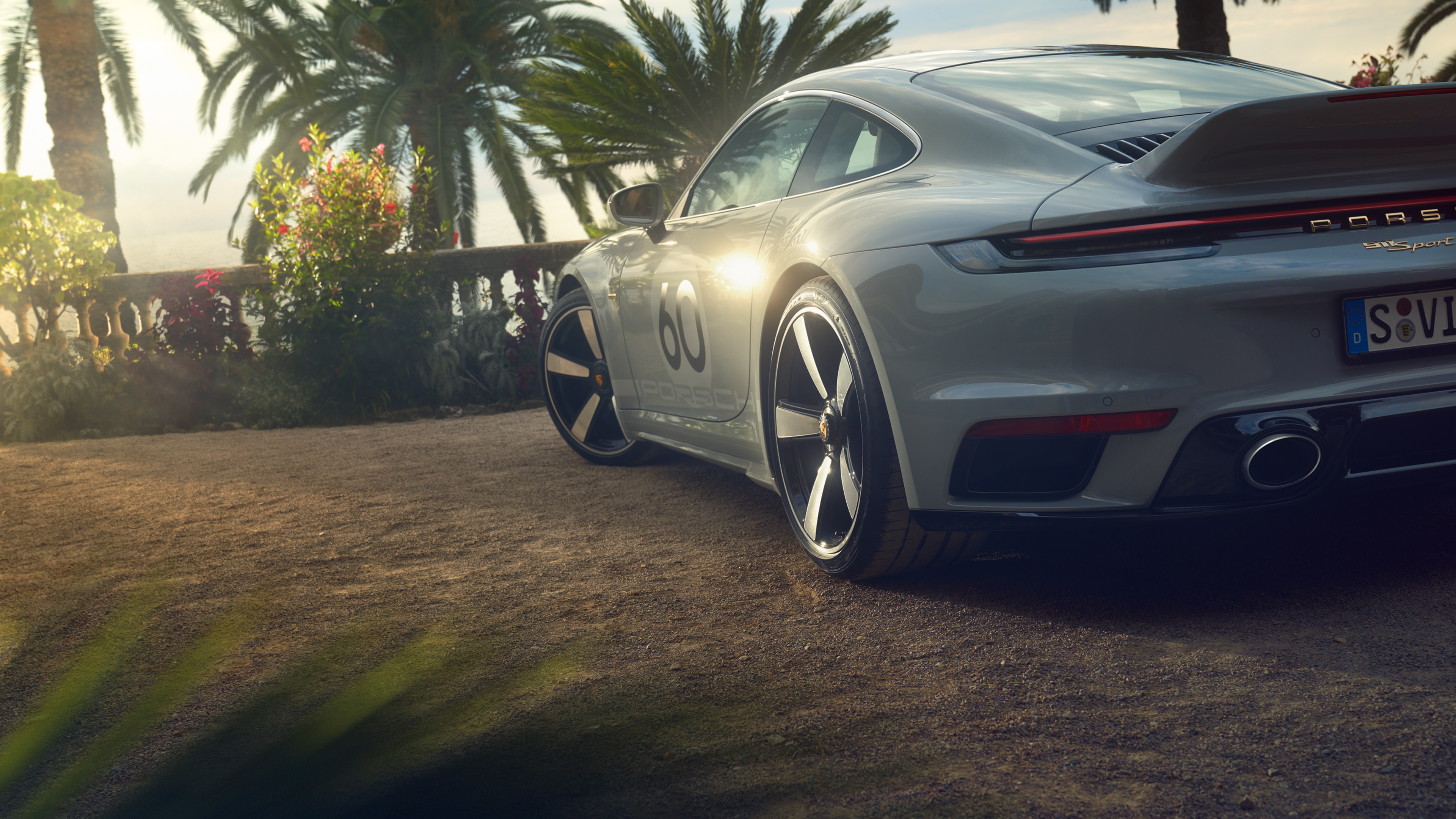 Sporty design.
A very special aesthetic highlight is provided by the wide body in 911 Turbo look with clearly flared rear bodywork, but without the typical Turboside air intakes. This unique appearance sets it apart from all other 911 models.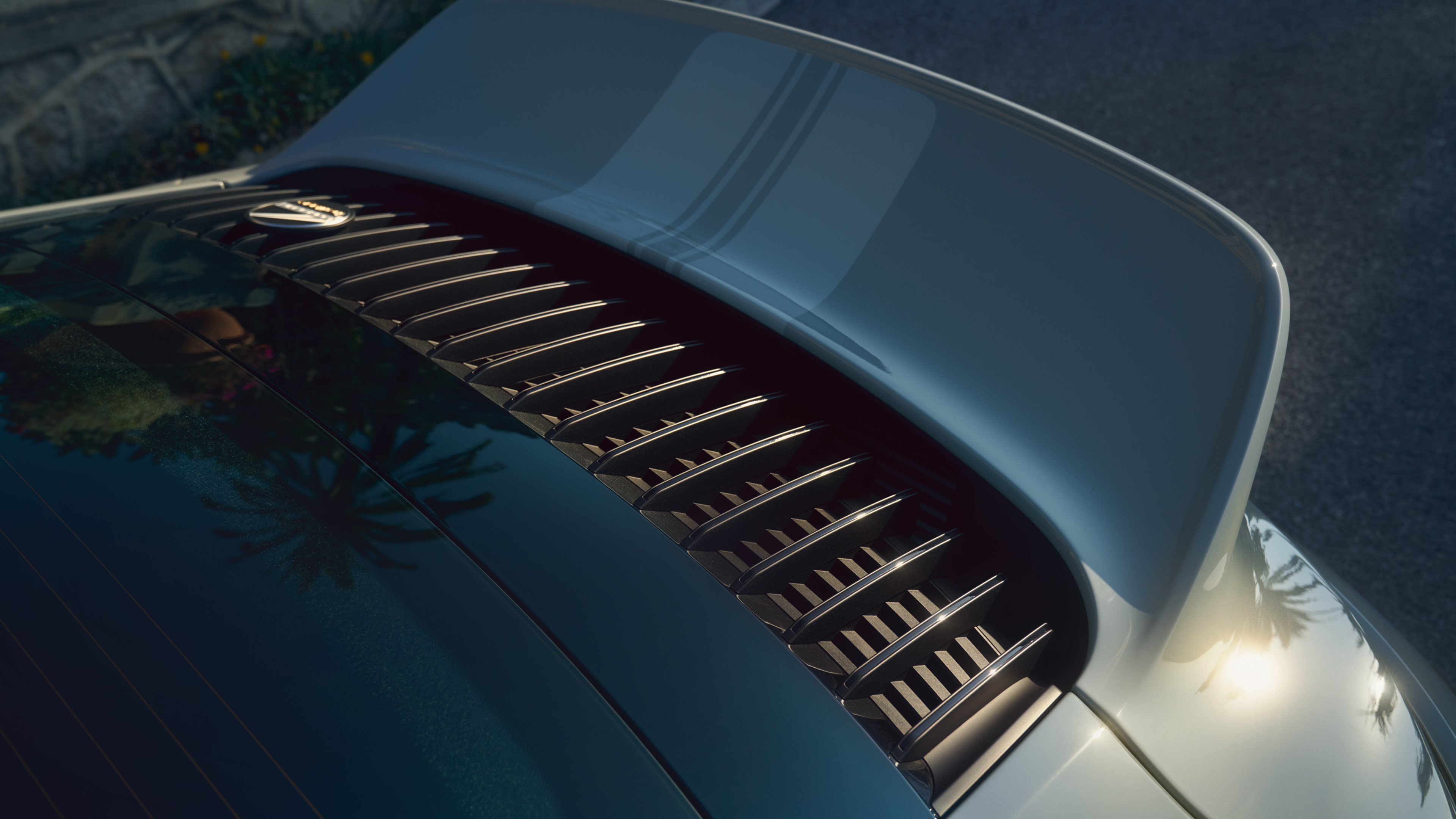 Like then. But now.
Both the drive and the distinctive rear are guaranteed to cause a sensation. And rightly so. Because the spoiler is based on the original 'ducktail' of the 911 Carrera RS 2.7. Made from ultra-light carbon and painted light sport grey with double stripes, the result is an unmistakable look that sets the heart of any Porsche enthusiast racing.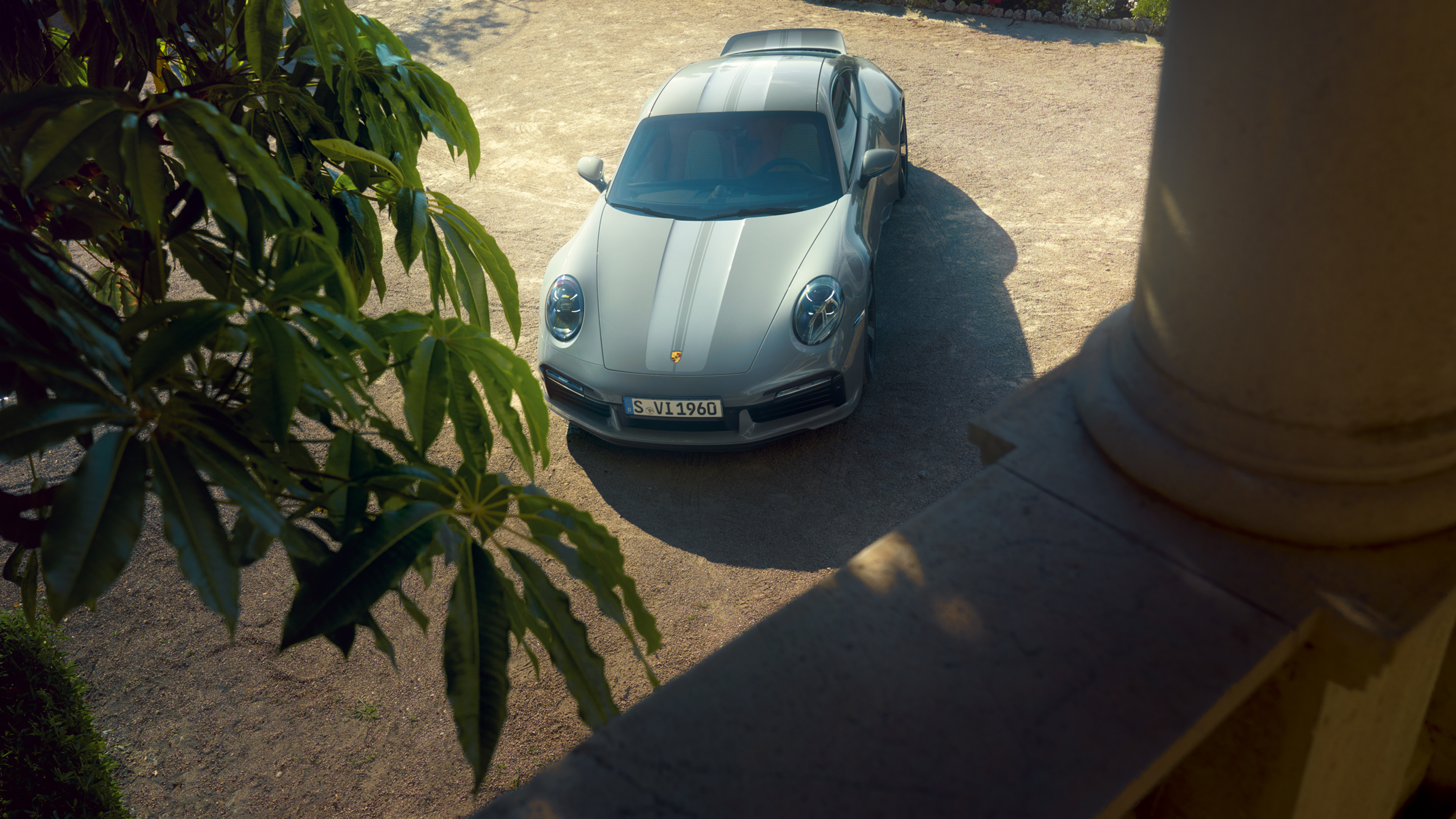 Love of detail.
It is the details that make a work of art. It is no different with the 911 Sport Classic. The beading of the bonnet and the roof are perfectly adapted to the hand-painted double stripes. Just as the rear spoiler, both components are made of carbon.
Exterior highlights.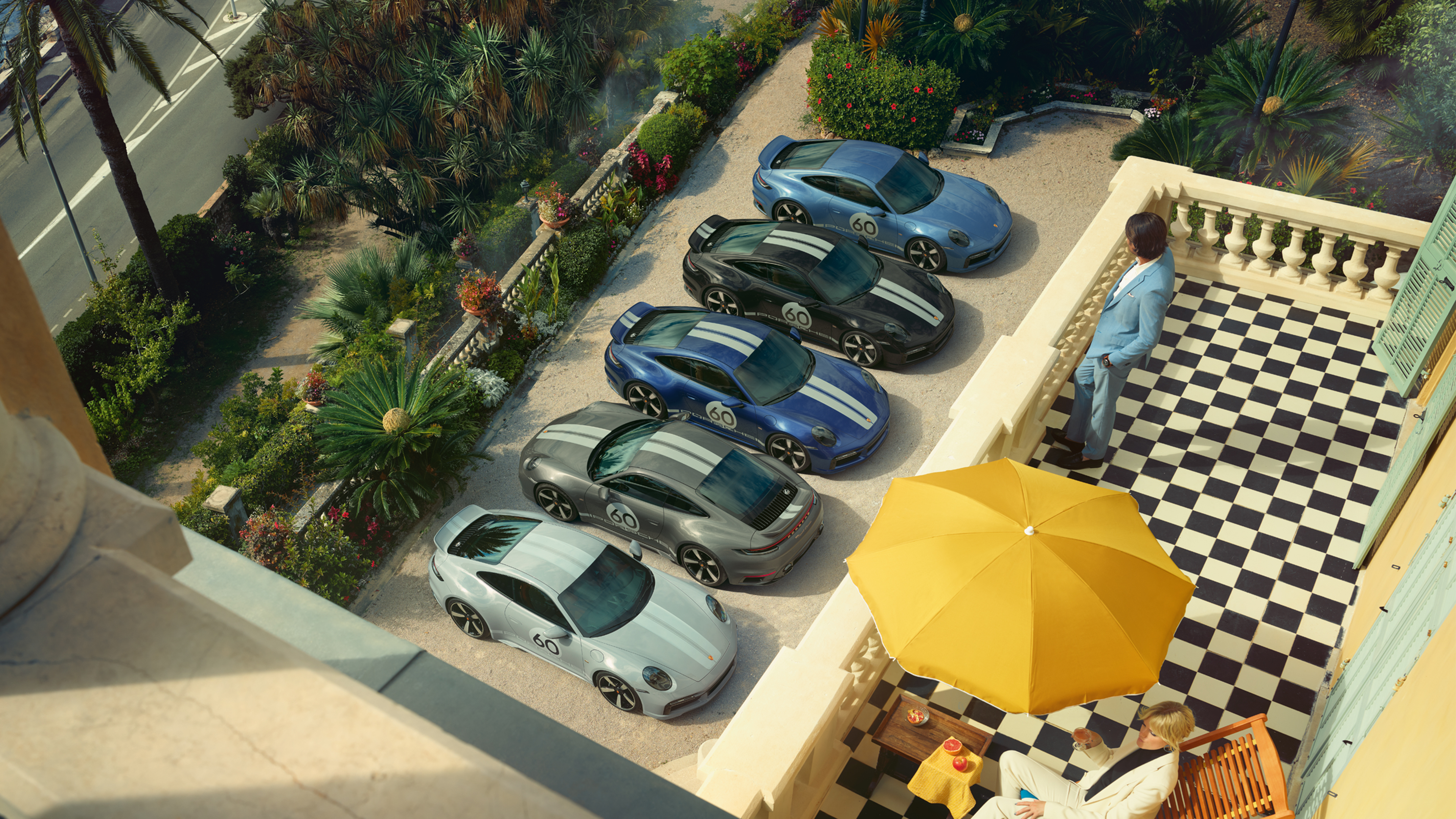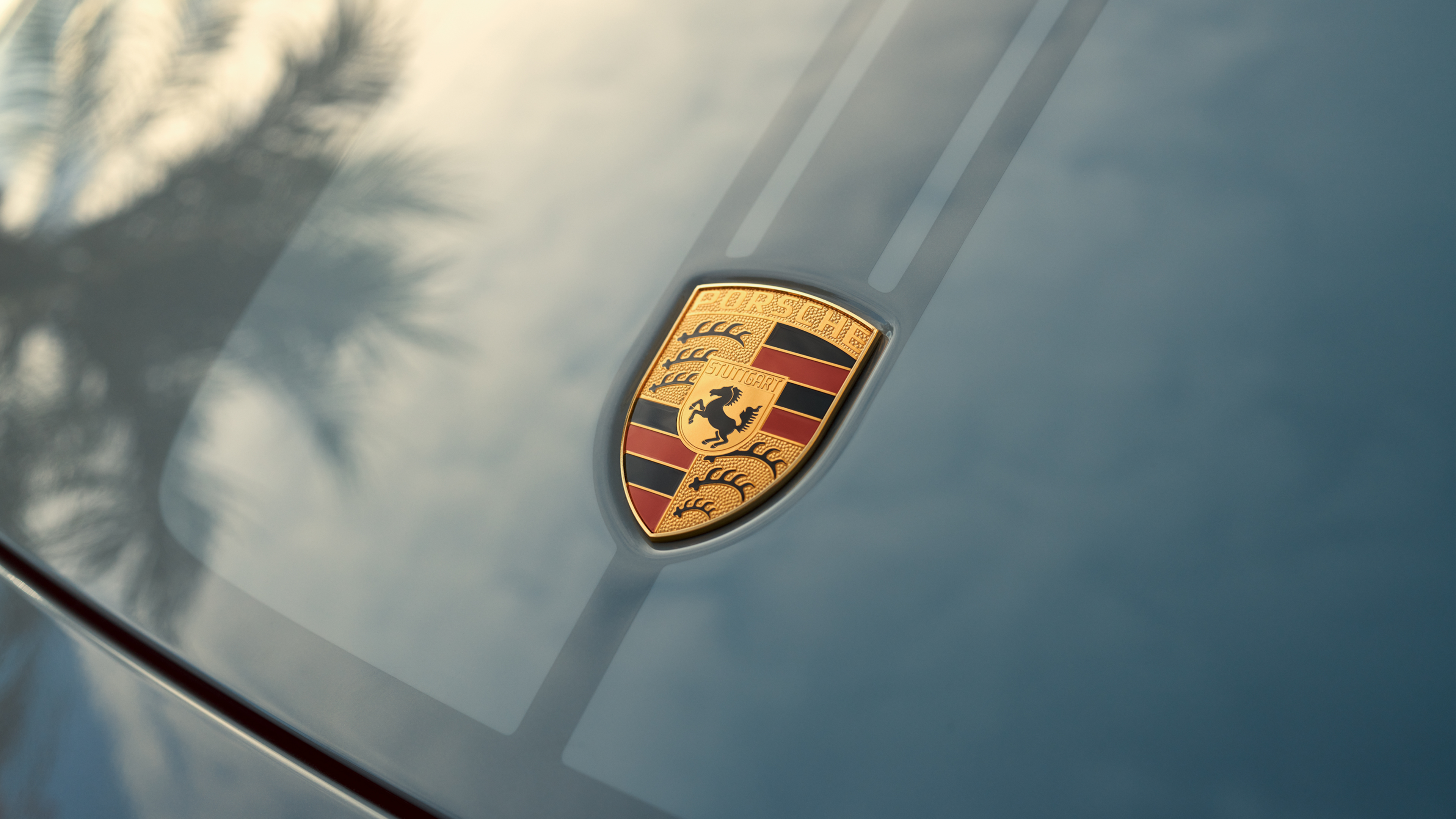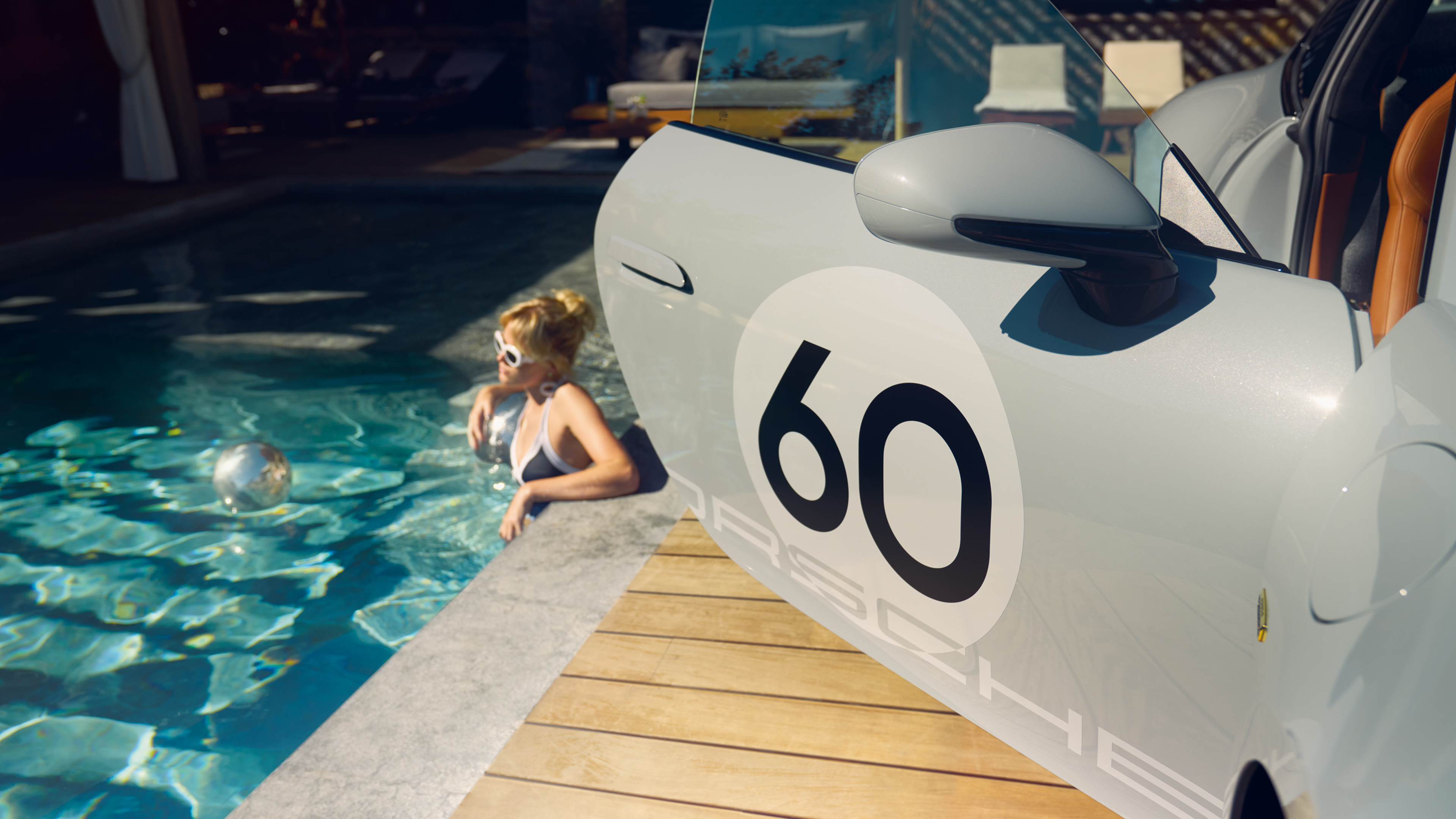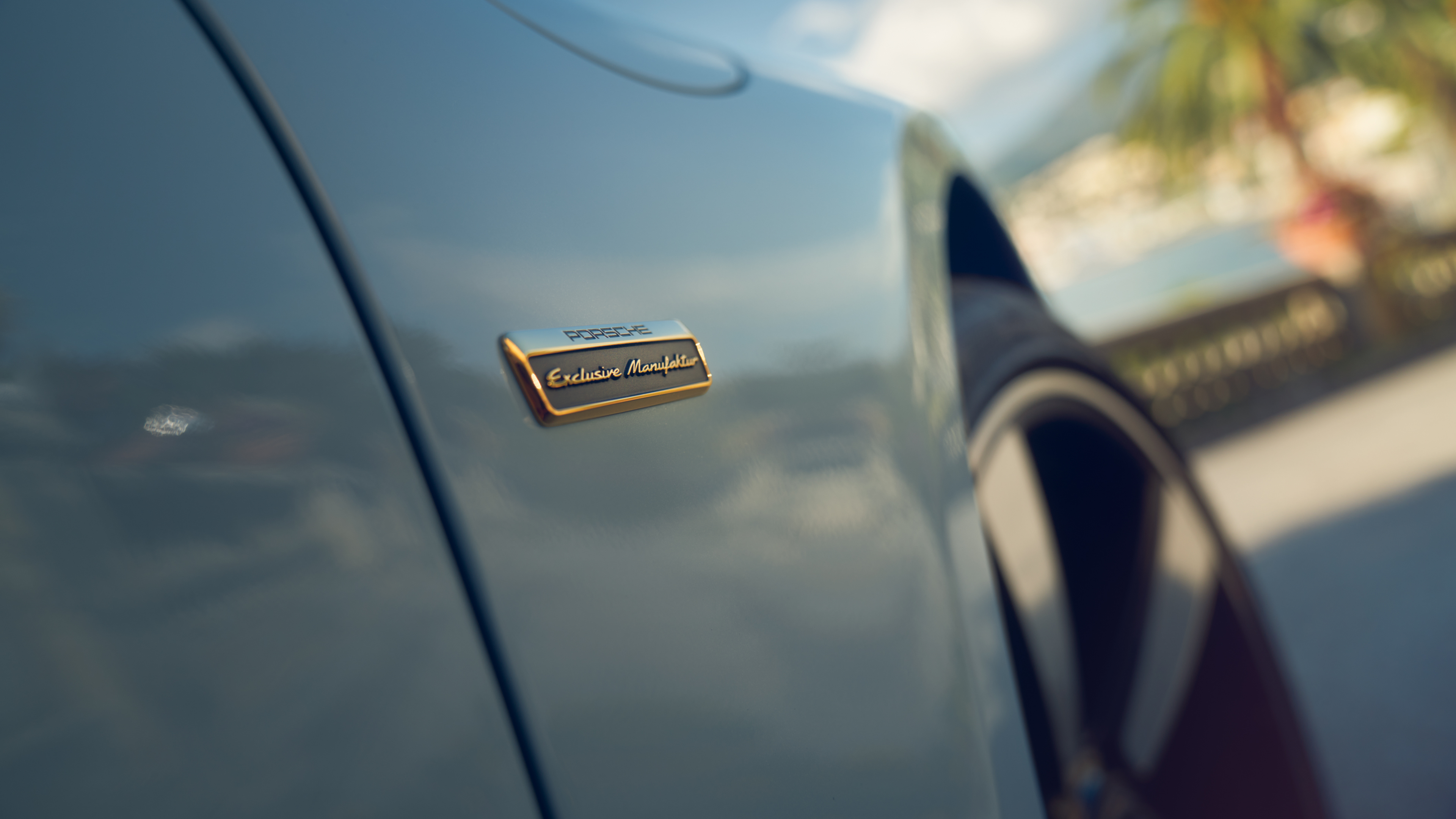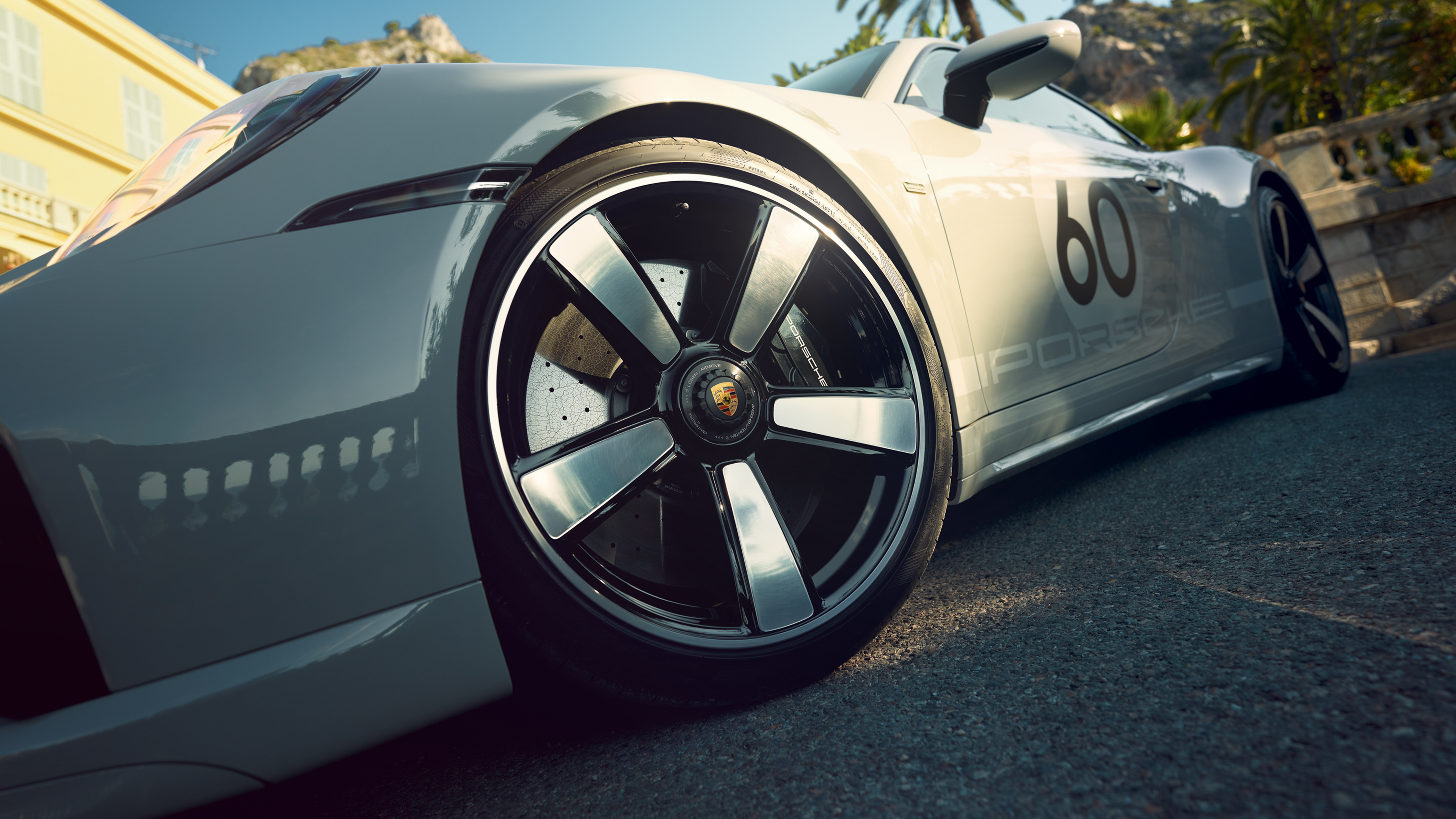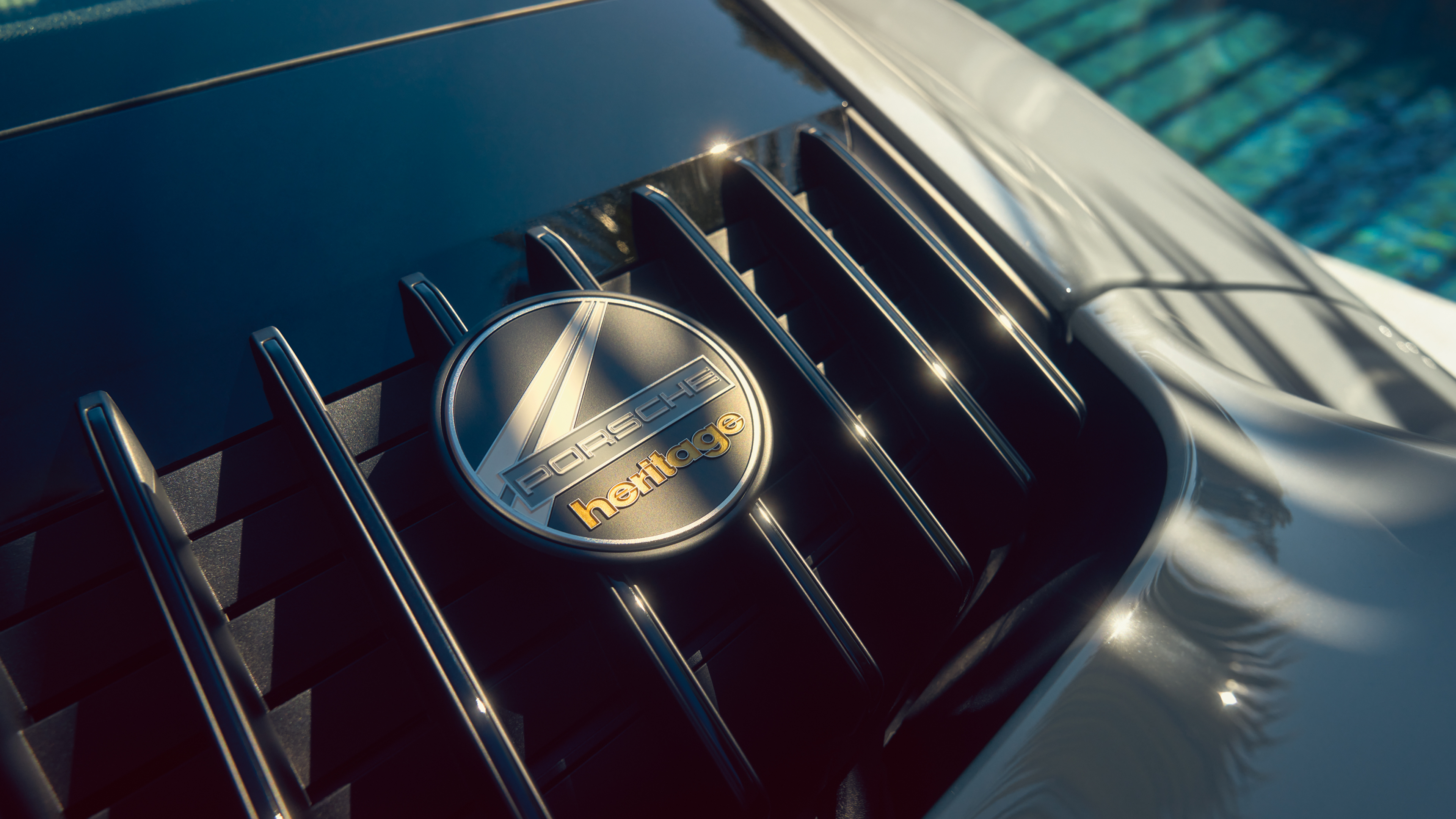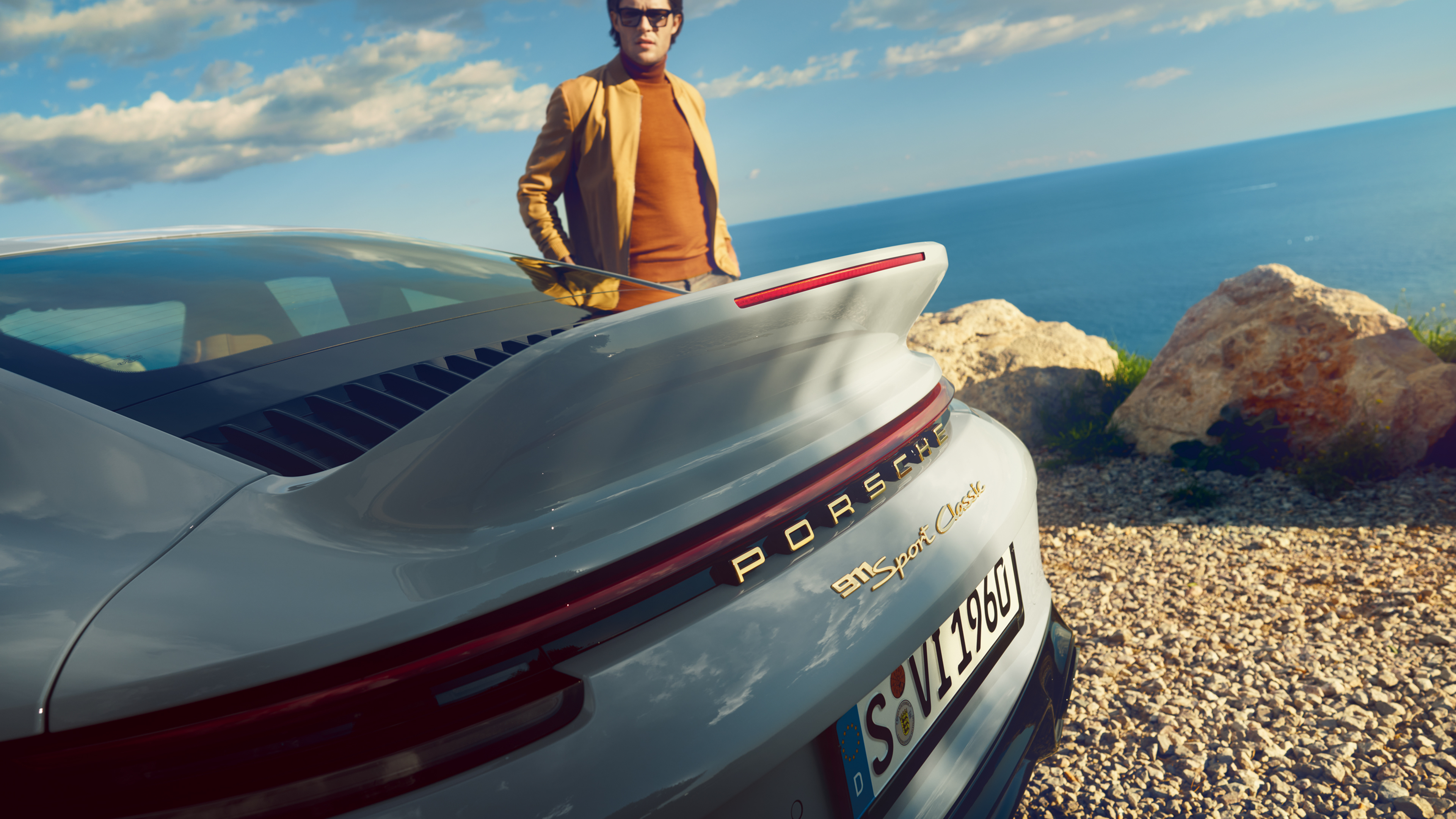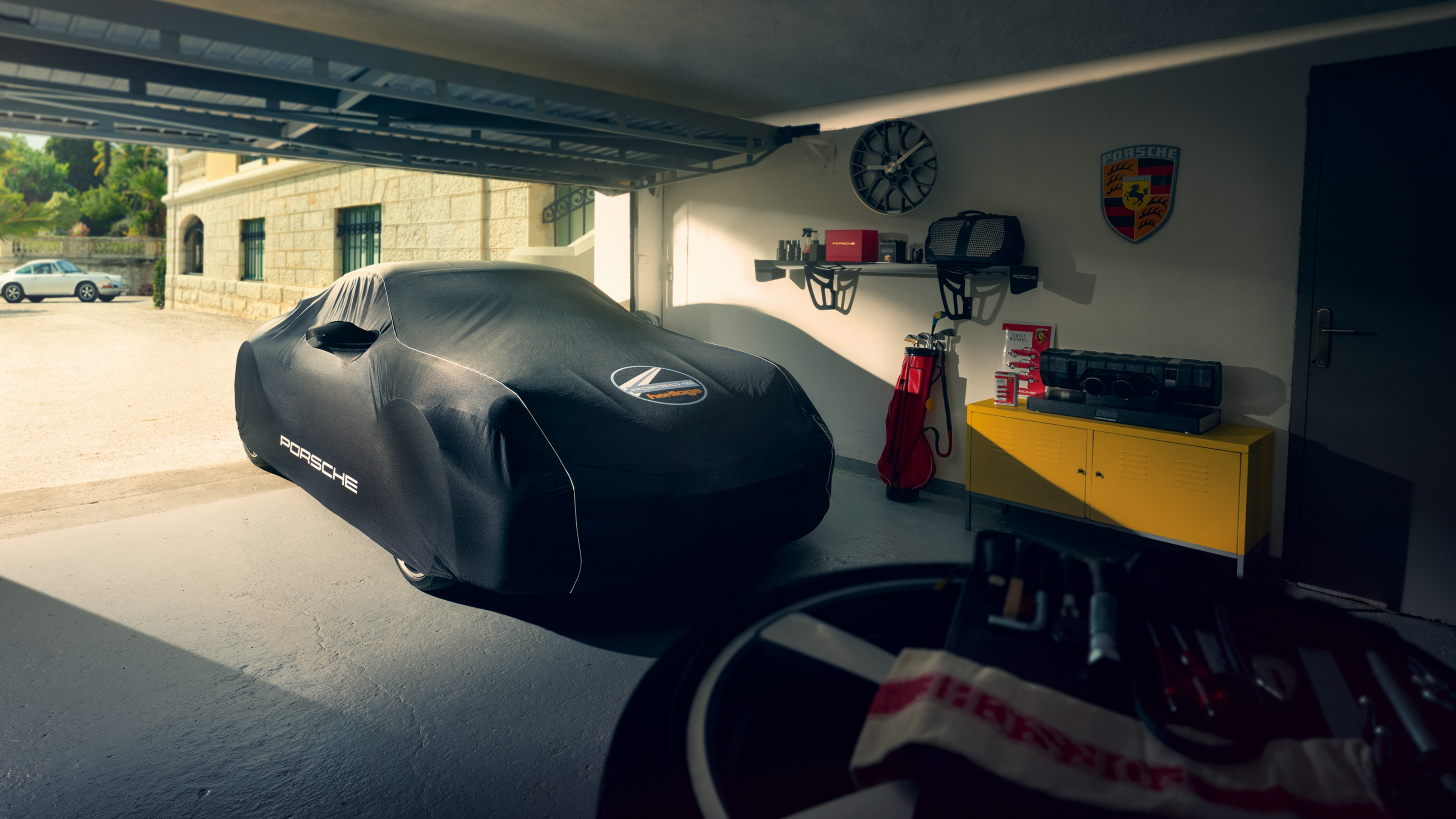 Exterior colours.
For the traditional appearance, 4 exterior colours are availablethat look particularly striking with the hand-painted double stripes in Light Sports Grey: Sports Grey Metallic, Agate Grey Metallic, Gentian Blue Metallic and Black. Paint to Sample complement the colour palette.
1963 Crest.
Each area has its own identifying feature. The historic Porsche crest from 1963 shines, among other things, with golden "PORSCHE" lettering and orange stripes. So the 911 Sport Classic always brings a piece of the past along with it on the road into the future.
Lollipop and lettering.
Nostalgia at its most beautiful: the individually selectable starting number in a circular design represents the golden era of racing par excellence. Lollipop and "PORSCHE" lettering are colour-coordinated with the double stripes and come in the same sports grey.
Porsche Exclusive Manufaktur.
No stranger to true connoisseurs: the gold-coloured Porsche Exclusive Manufaktur plaque affixed to the front fenders highlights the model's noble origins and indicates that the finishing touches were added by master craftsmen.
Sport Classic wheels.
A child of the late 60s, already a legend by the early 70s: the first light-alloy forged wheel for cars, the Fuchs rim®, was the inspiration for the 20/21-inch Sport Classic wheels painted in black (high-gloss). Central lock and historic Porsche crest on the wheel hub cover.
Heritage Design plaque.
First-class quality deserves recognition. That is why owners of the 356 were awarded a plaque after they had covered 100,000 kilometres. Today, the seal, which is based on the original, decorates the engine cover slats of all Porsche Heritage models.
Gold-coloured logos.
A brilliant finish in many respects: the rear features exclusive, gold-coloured lettering that ties in with early Porsche history . Both the "PORSCHE" lettering and the model designation are covered with a touch of the precious metal.
Indoor car cover.
If you love your sports car, you wish to protect it. The black car cover for the garage hugs the shape of the 911 Sport Classic precisely and protects it from dust and excessive light. A Heritage Badge indicates that there is a rare collector's item underneath.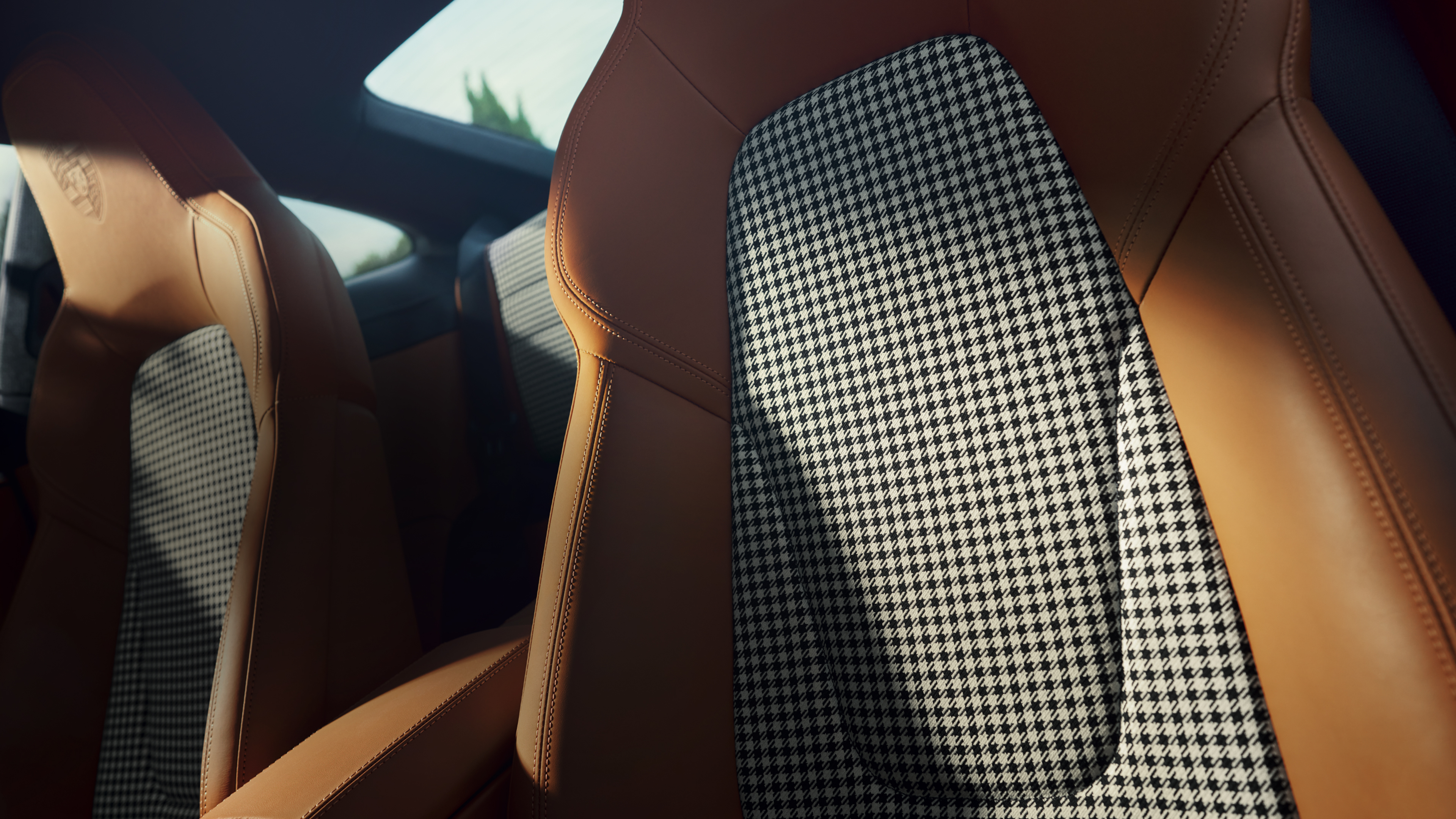 Haute Couture.
A fabric of which dreams are made: Pepita, the black and white diamond pattern with slanting stripes, was first found in 1965 in the original 911 model. Officially. Because trendsetters could already add it to the 356 as a special request. Just as back then, this timeless design is reserved for the seat centres and door panels.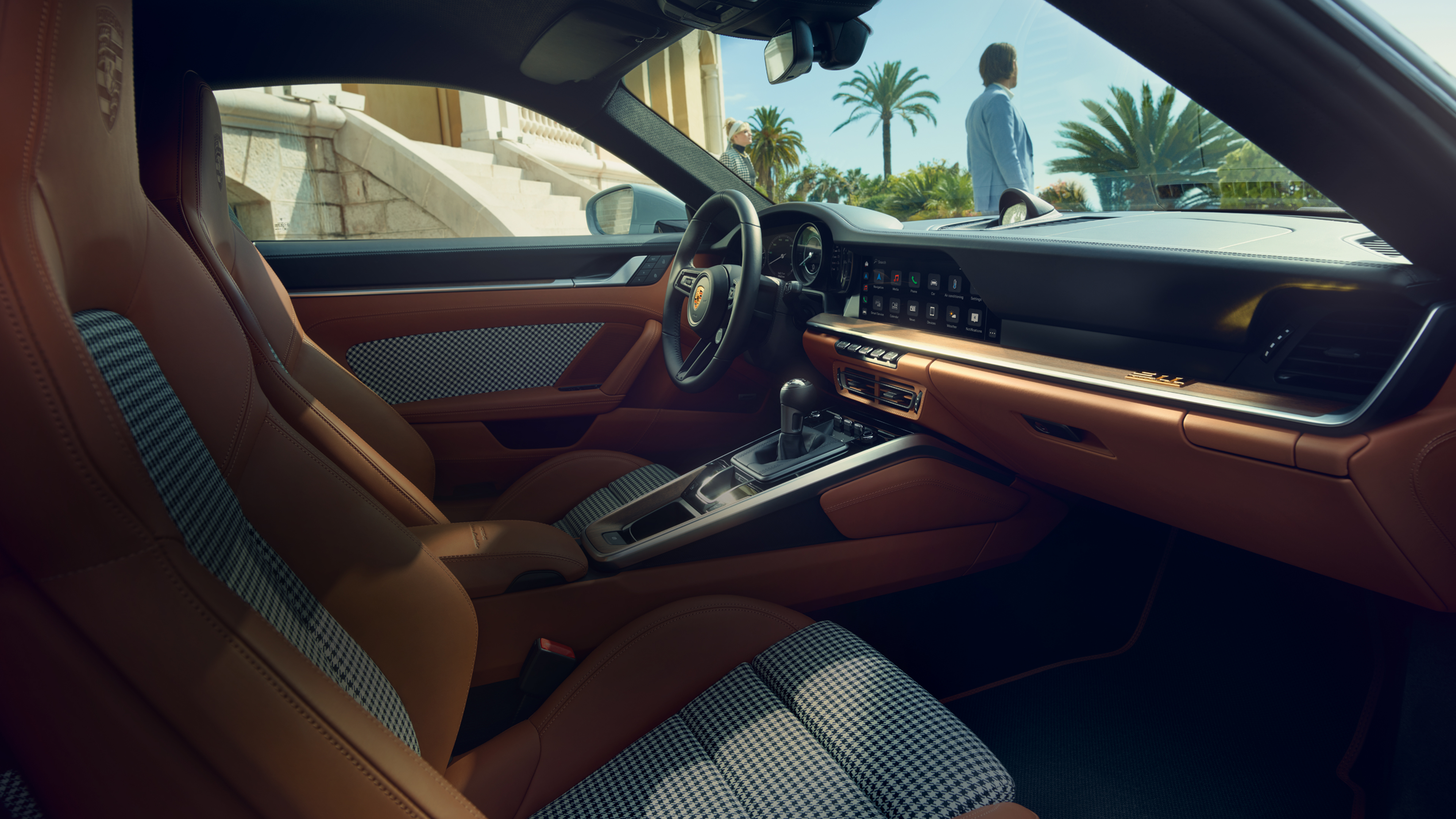 Finest materials.
The two-tone interior made of black nappa leather and extremely fine semi-aniline leather in classic cognac leaves nothing to be desired. With the special tanning, the noble rawhide retains its natural, soft appearance. And it fits perfectly with the open-pored wood of the Paldao interior package. Alternative: leather upholstery in black and the leather interior package.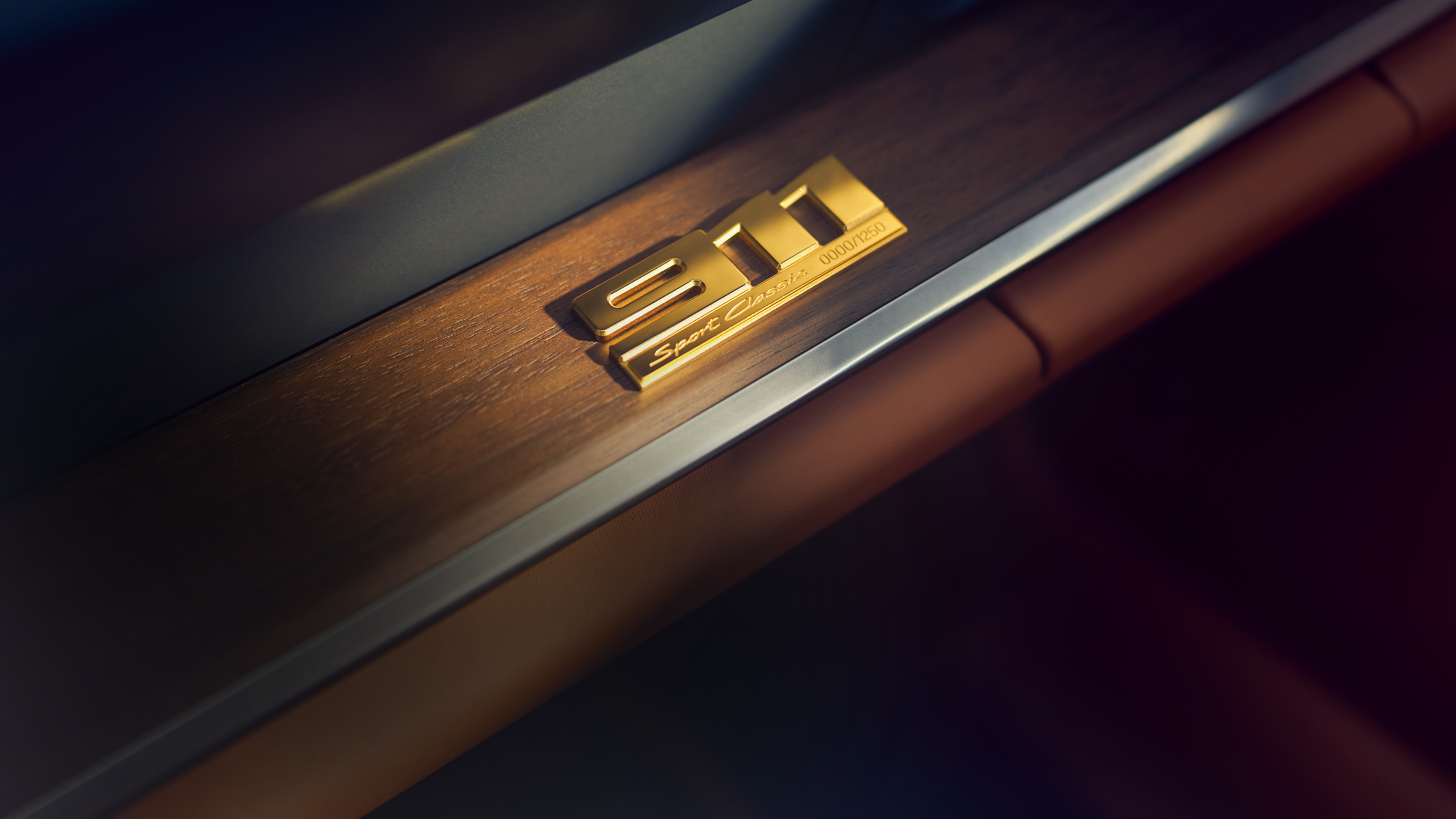 Only 1,250 models.
The gold-coloured limited edition plaque with "911" lettering, model designation and personal limited edition number is prominently located on the decorative trim of the dashboard. It makes each of the 1,250 vehicles unique - and a rare collector's item.
Interior highlights.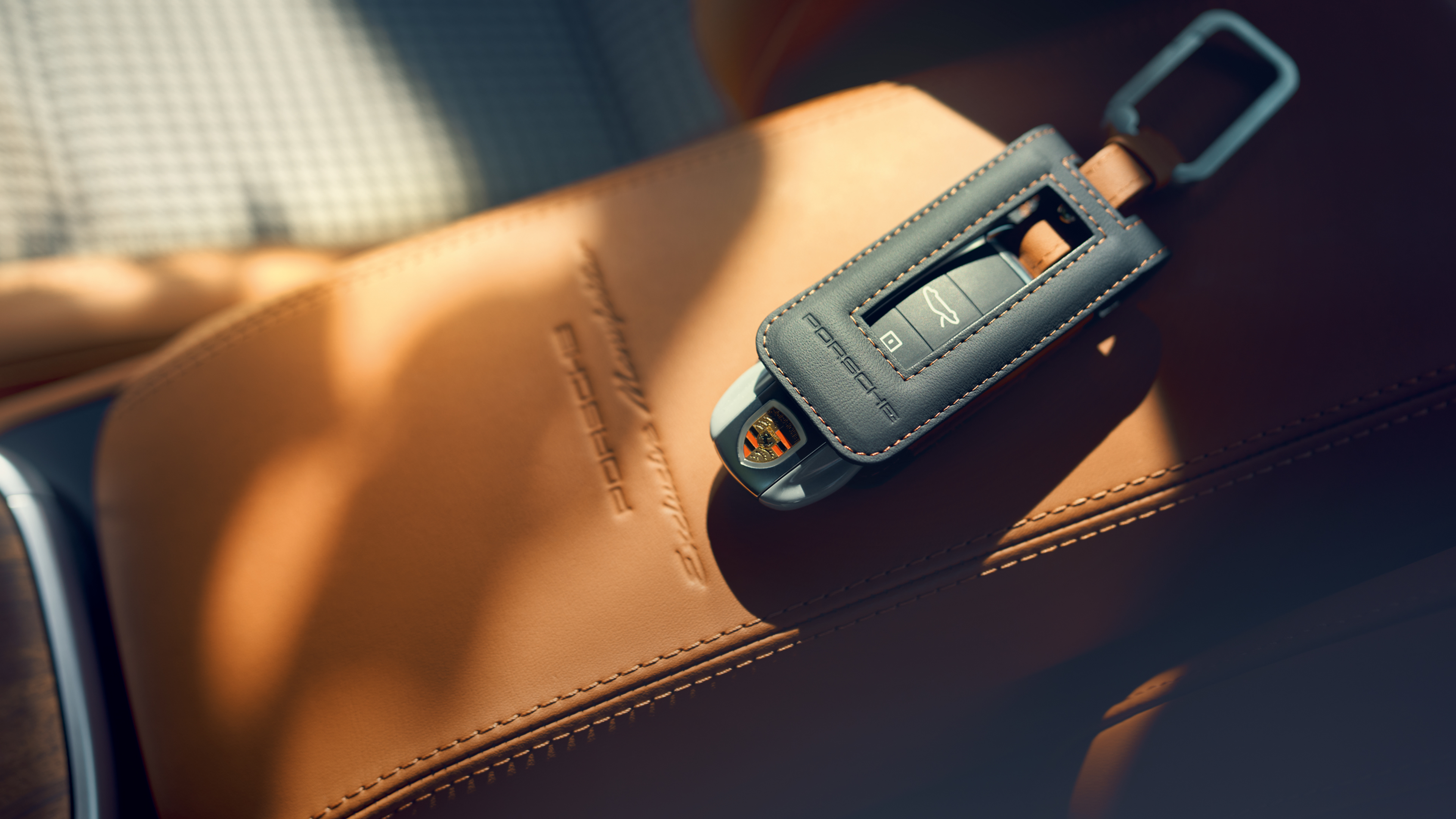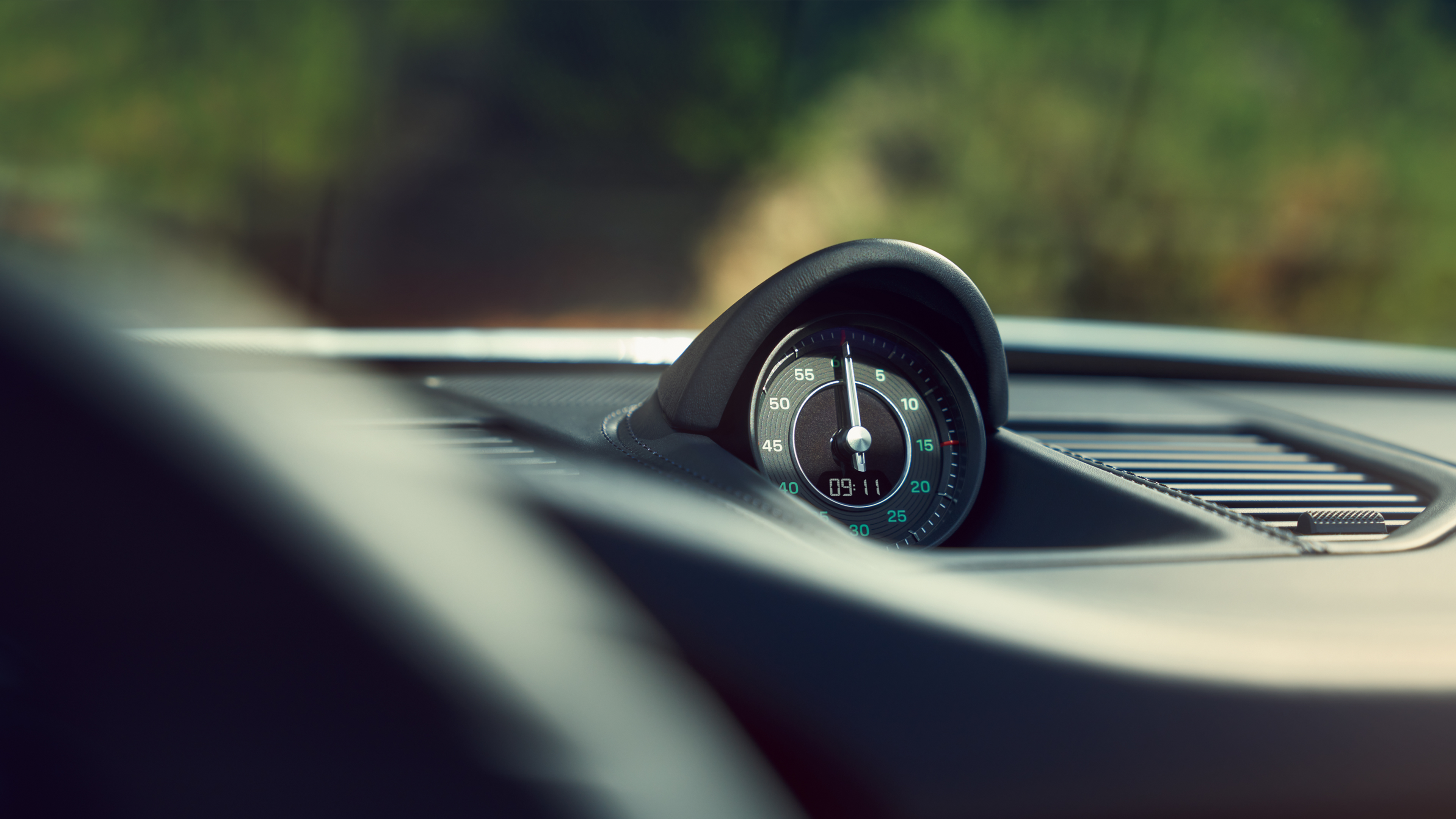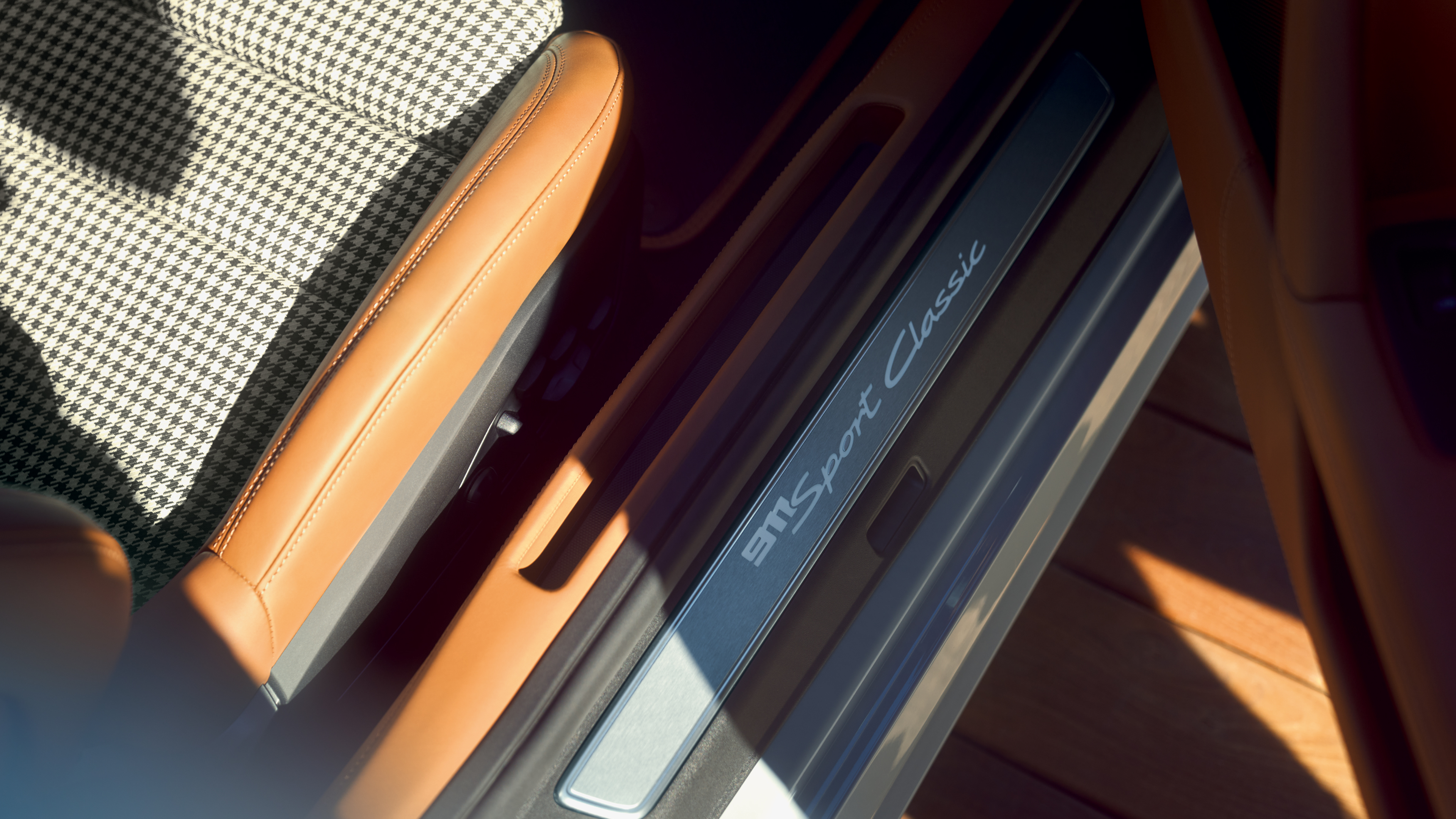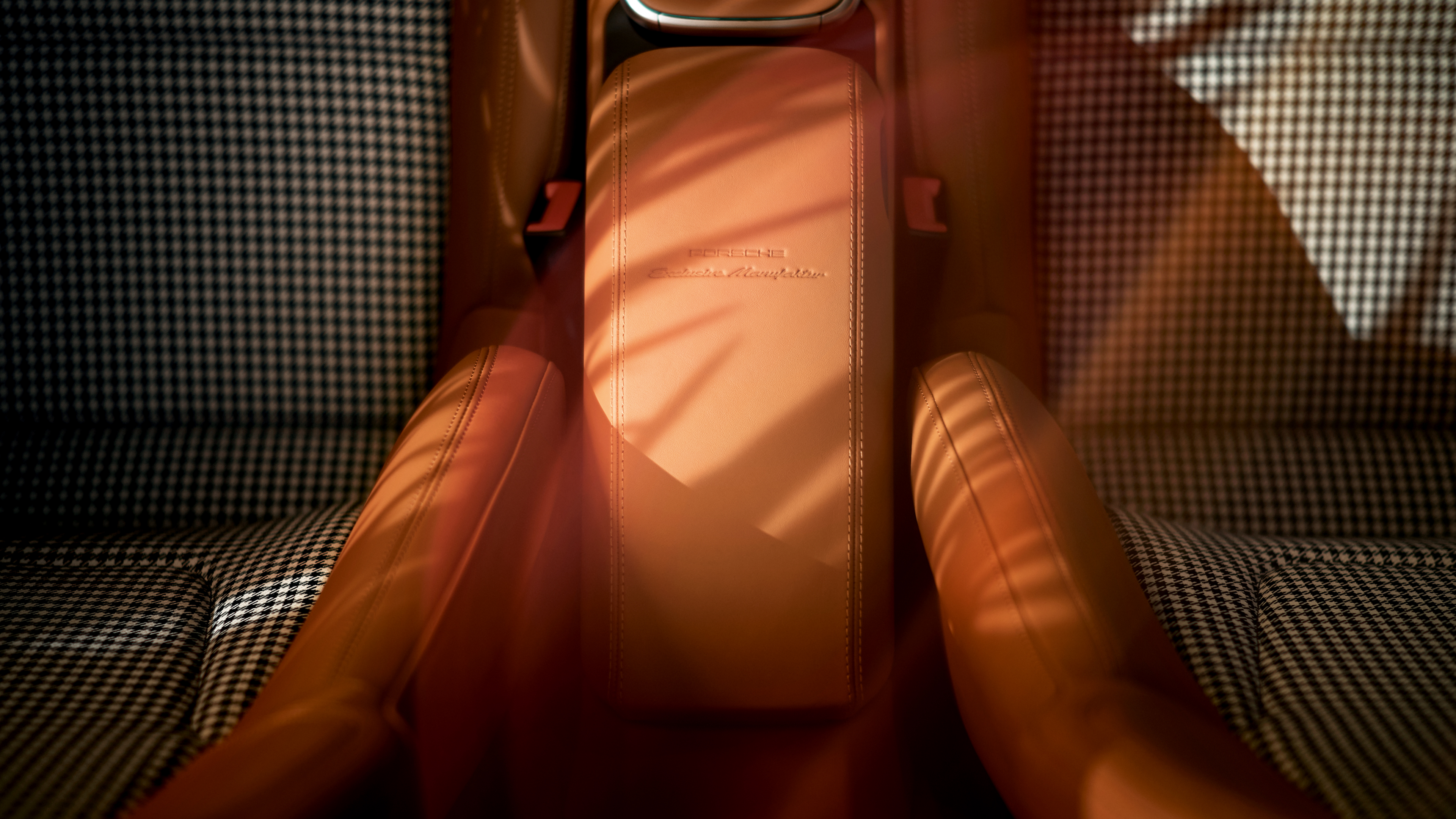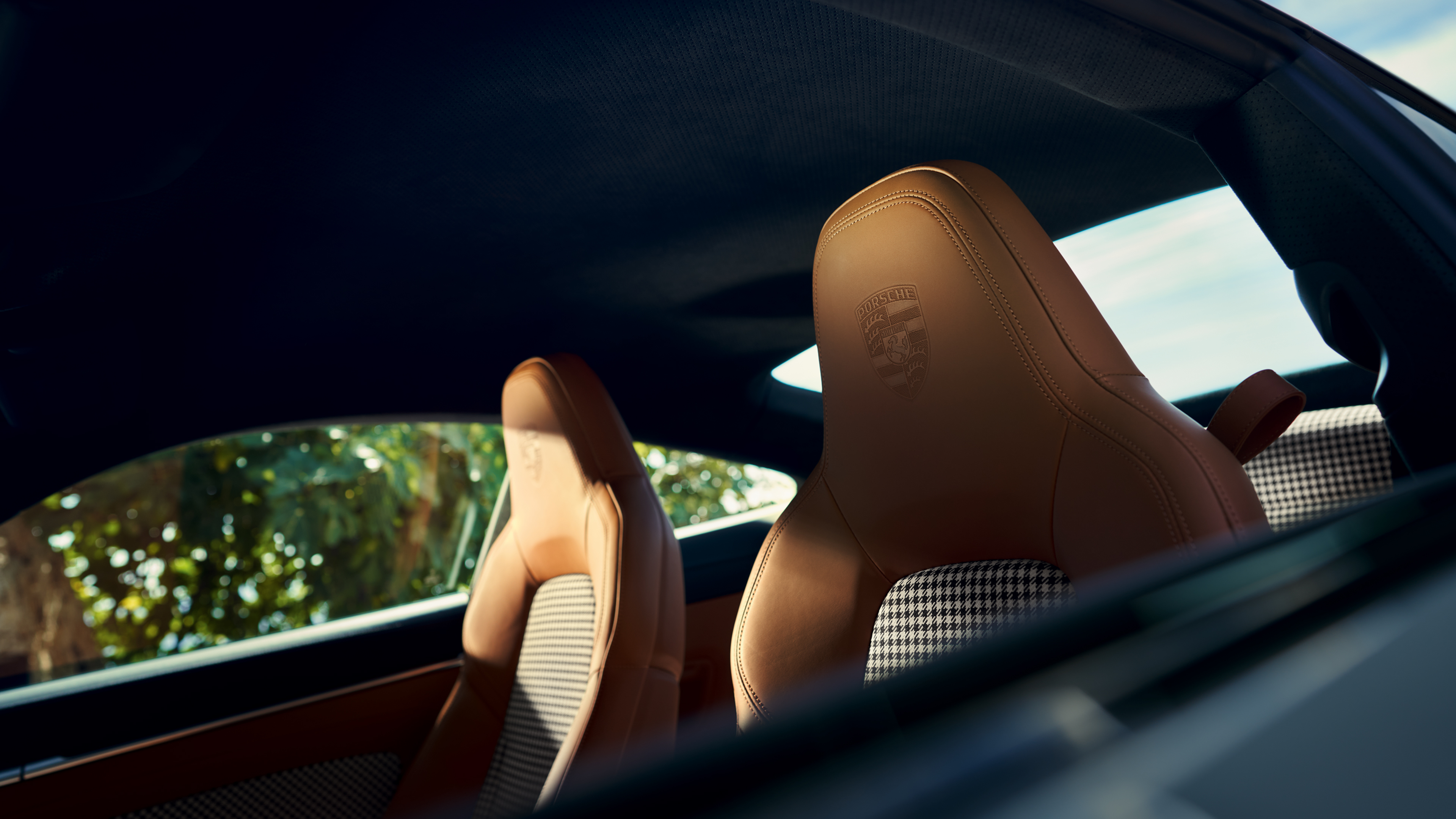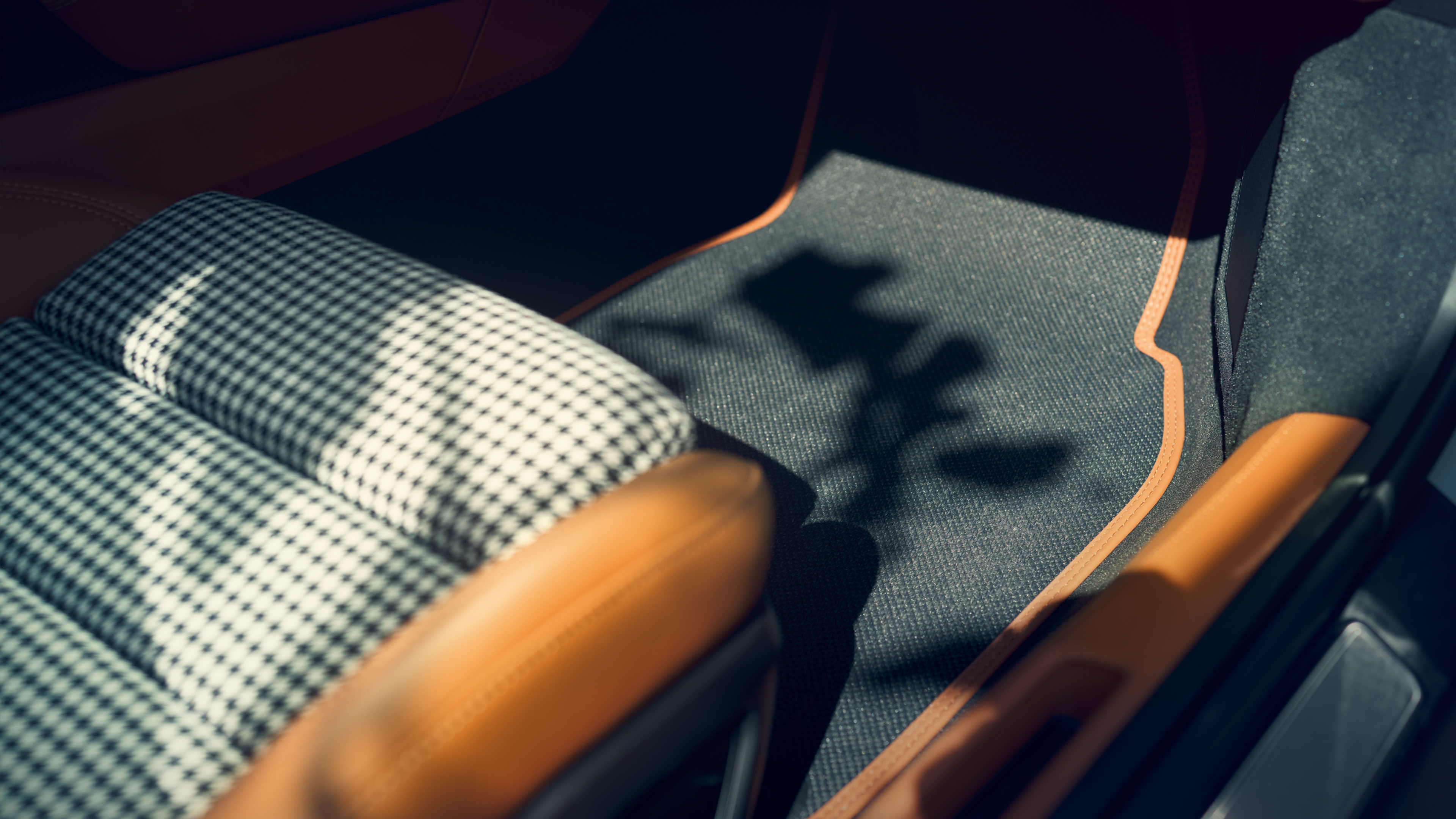 Historic crest.
History as far as the eye can see. The crest that adorned the first 911 is repeated on the sports steering wheel, the headrests, the painted vehicle key and the key pouch. Incidentally, the latter is made of the same nappa leather as the interior.
Instrument cluster.
The focal point of the instrument cluster is the analogue rev counter with a traditional layout and needle. To the left and right of this, the other dials are shown on high-resolution 7-inch displays - in homage to the legendary 356 with white hands and green numerals.
Sport Chrono stopwatch.
Stop time and go back in time. Both are easy for the Sport Chrono stopwatch in Heritage design. While it measures the turns, its dial with green numerals and white scale lines transports the viewer back into the past.
Door sill guards with "911 Sport Classic" lettering.
The door sill in Light Silver marks the entry into the exclusive world of the 911 Sport Classic. The illuminated lettering also sets it in scene perfectly for night-time drivers.
Exclusive Manufaktur embossed detail.
Signets embossed in fine leather are always an expression of subtle elegance. Especially when it comes to the lettering "PORSCHE Exclusive Manufaktur". The embossing on the lid of the storage compartment reflects genuine craftsmanship and refers to the origin from Stuttgart-Zuffenhausen.
Perforated roof lining.
A cover under which you will wish to spend time. The roof and the A/B/C pillars are covered with RaceTex material. Its perforated surface exudes the spirit of the 60s and 70s and conveys an airy feeling.
Floor mats.
The floor mats in Heritage design elegantly draw attention to the footwell with their contemporary weave and fine leather edge.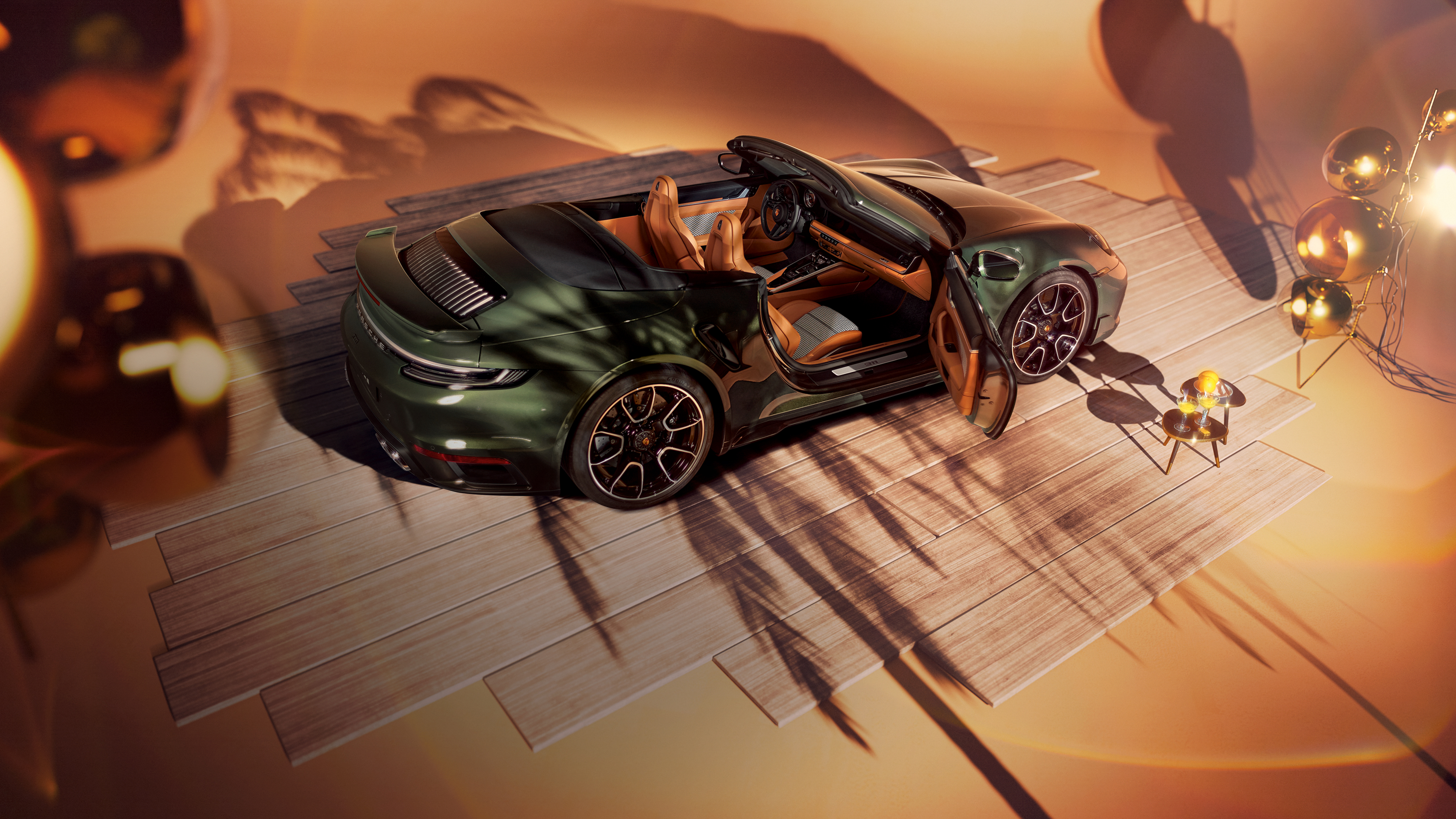 Timeless just as the 911.
Have you opted for a different 911 model, but would also like to take yourself back to the golden jet set era? The Classic Heritage Design Package combines several interior highlights of the 911 Sport Classic – from the two-tone leather upholstery and Pepita, to the classic rev counter – and adds a touch of the 60s and early 70s to other body shapes too.
Configure 911 Sport Classic model.
Selected
911 Sport Classic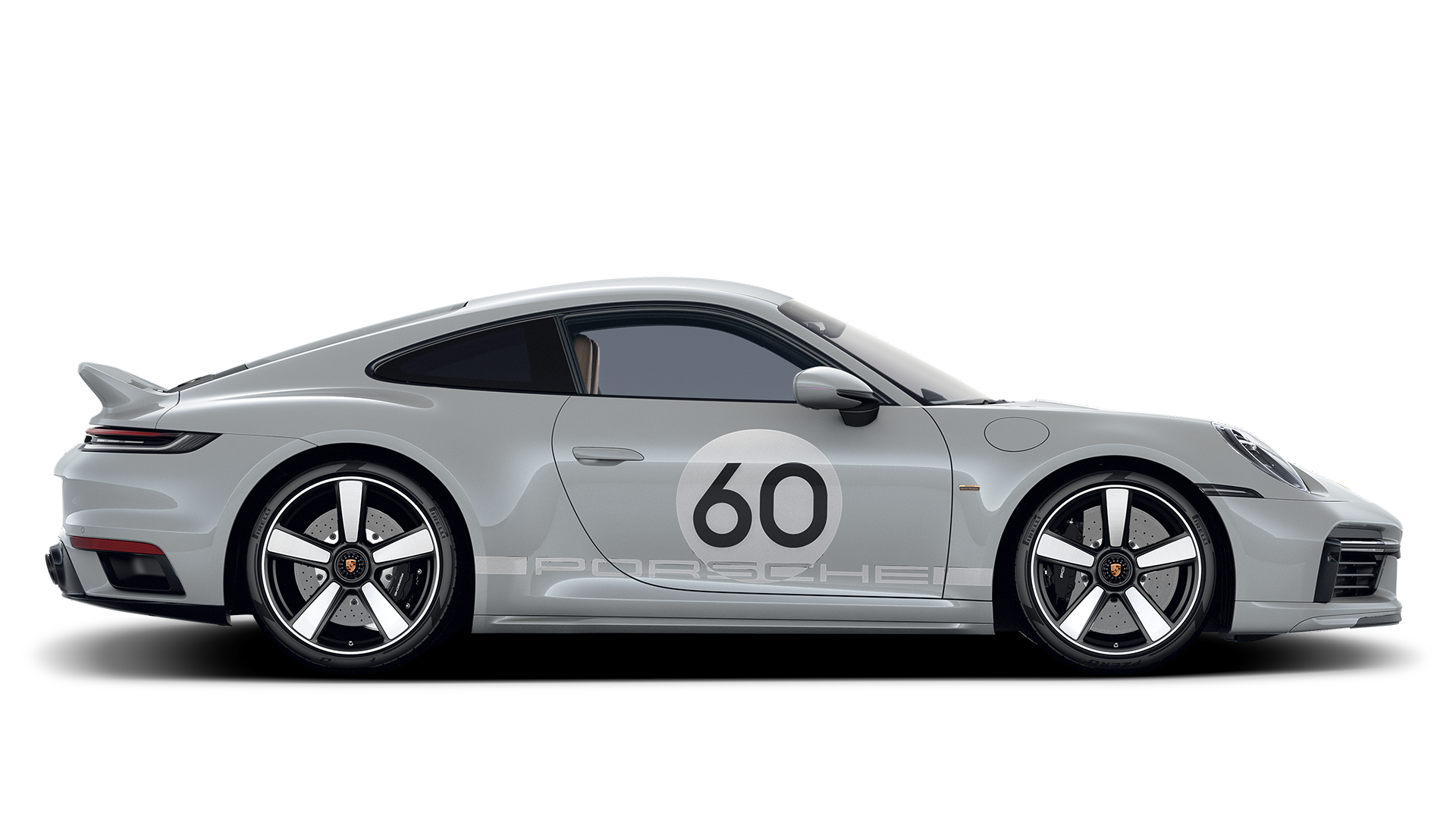 From NZ$ 513,000.00 incl. 15% GST
405 kW/550 PS
Power (kW)/Power (PS)
4.1 s
Acceleration 0 - 100 km/h
911 Sport Classic
From NZ$ 513,000.00 incl. 15% GST
Price
405 kW/550 PS
Power (kW)/Power (PS)
4.1 s
Acceleration 0 - 100 km/h
Technical Specs
| | |
| --- | --- |
| Number of cylinders | 6 |
| Fuel grade | 98 |
| Bore | 102.0 mm |
| Stroke | 76.4 mm |
| Displacement | 3,745 cm³ |
| Power (kW) | 405 kW |
| Power (PS) | 550 PS |
| RPM point maximum power | 6,750 1/min |
| Maximum engine speed | 7,200 1/min |
| Max. torque | 600 Nm |
| RPM range maximum torque | 2,000 - 6,000 1/min |
| Max. output per liter (kW/l) | 107.00 kW/l |
| Max. output per liter (PS/l) | 146.00 PS/l |
| | |
| --- | --- |
| Top speed | 315 km/h |
| Acceleration 0 - 100 km/h | 4.1 s |
| Acceleration 0 - 160 km/h | 7.9 s |
| Acceleration 0 - 200 km/h | 12.0 s |
| Flexibility (80-120 km/h) (50-75 mph) in 5th gear | 4.5 s |
| 1/4 mile | 12.0 s |
| | |
| --- | --- |
| Length | 4,535 mm |
| Width | 1,900 mm |
| Width (with mirrors) | 2,024 mm |
| Wheelbase | 2,450 mm |
| Unladen weight (DIN) | 1,570 kg |
| Permissible gross weight | 1,955 kg |
| Maximum load | 385 kg |
| | |
| --- | --- |
| Luggage compartment volume, front | 132 l |
| Open luggage compartment volume (behind front seats) | 264 l |
| | |
| --- | --- |
| Warranty period | 3 years |
| Main service interval | 1 year / 15,000km |
| Paint warranty period | 3 years |
| Rust warranty | 12 years |
Standard features
6-cylinder boxer engine with VTG twin turbo, maximum power output: 405 kW (550 PS), maximum torque: 600 Nm
Aluminium block and cylinder heads
Water-cooling with thermal management
4 valves per-cylinder
2 turbochargers with variable turbine geometry (VTG), 2 intercoolers
Direct fuel injection (DFI)
VarioCam Plus variable valve timing and lift
Integrated dry-sump lubrication with an on-demand controlled oil pump
Two 3-way catalytic converters and on-board diagnostics for monitoring emission control system
Stationary management with HOLD function
Expansion intake manifold
7-speed manual transmission
Rear wheel drive
McPherson front axle with anti-roll bar
Electromechanical power steering with variable steering ratio and steering pulse generator
Porsche Active Suspension Management (PASM) sports suspension including lowering of the body by 10mm
Rear-axle steering
Lifting system front axle. Hydraulic function for raising the front axle by approx. 40 mm at the push of a button including automatic lift function at locally-programmable points
Porsche Dynamic Chassis Control (PDCC)
Porsche Ceramic Composite Brake (PCCB) with 10-piston Aluminium monobloc fixed brake calipers at front and 4-piston Aluminium monobloc fixed brake calipers at rear, Ceramic composite brake discs with diameter 420 mm at front and 390 mm at rear, internally vented and cross-drilled
Brake calipers, Black
Electrically operated parking brake
Electromechanical power brake
Auto start/stop function
Sport Chrono package incl. mode switch, Porsche Track Precision App, Porsche Active Driveline Mounts, Rev-match function and tyre temperature display
Selection of driving modes Normal, SPORT, SPORT PLUS, Individual and WET mode
Automatic throttle-blipping for downshifts which is automatically activated in SPORT, SPORT PLUS and WET mode and can be activated and deactivated via Porsche Communication Management System
Porsche Torque Vectoring (PTV) including mechanically locking rear differential
Sports exhaust system with modified silencer and two oval tailpipe trims in Black (high-gloss)
Lightweight insulation package
Lightweight starter battery LiFePO4
Indoor-car-cover in Heritage Design 'Classic'
Leather interior Heritage Design Classic: Black or two-tone Black and Classic Cognac in sami-aniline
20-inch Sport Classic wheels painted in Black (high-gloss) with 9.5J x 20-inch and 255/35 ZR 20 tyres at front
21-inch Sport Classic wheels painted in Black (high-gloss) with 12J x 21-inch and 315/30 ZR 21 tyres at rear
Alloy wheels with central locking, in two-tone look (Black with brightly polished wheel centre)
Seat centres front and seat centres rear upholstered with Pepita fabric in Black and White
Door panels upholstered with Pepita fabric in Black and White
Wheel centre set painted in satin Black with historic Porsche crest
Tyre Pressure Monitoring (TPM)
Tyre temperature display
Tyre sealant and electric air compressor
2+2-seater coupé with wide 911 Turbo body and rear engine
Wider bodyshell in the rear without side air intakes
Intelligent lightweight construction in Aluminium and steel composite
Front air intake slats painted in Black (high-gloss)
Front spoiler lip fixed and partly finished in exterior colour
Front bonnet in Carbon Fibre with paint finish in exterior colour and contoured design with specific beading
Historic Porsche crest on the front bonnet
Design trim 'Sport Classic Double Stripes' on bonnet, roof and rear spoiler painted in Light Sport Grey
Roof in Carbon Fibre with paint finish in exterior colour and contoured design with specific beading
PORSCHE 'Exclusive Manufaktur' Badge in Gold colour on left and right fenders
Side window trim strips in Black (high-gloss)
Exterior mirror lower trims painted in exterior colour including mirror bases painted in Black (high-gloss)
Retractable door handles
SportDesign side skirts painted in exterior colour
Motorsport graphic Heritage Design with Decal set in Light Sport Grey on sides. Personal start number can be ordered separately
Fixed rear spoiler in Carbon Fibre 'Duck Tail' with paint finish in exterior colour
Model designation '911 Sport Classic' in Gold colour on rear trim
'PORSCHE' logo in Gold colour integrated in taillight strip
Rear lid grille with vertical slats with trim strips in Black (high-gloss)
Heritage Design Badge 'Classic' on inlays on the rear lid
Air intakes and outtakes painted in Black (high-gloss)
SportDesign rear apron painted in Black (high-gloss)
Exclusive Design fuel filler cap with 'PORSCHE' logo in Aluminium look and securing tether
Tinted LED main headlights with matrix beam technology including Porsche Dynamic Light System Plus (PDLS Plus) with camera-based detection of vehicles ahead and oncoming traffic, and intelligent dimming of individual segments of the permanent main-beam cone as well as segment-specific dimming of reflective traffic signs to avoid driver dazzle
Daytime running light trims in Black (matt) with 4-point LED spotlights, decorative ring in Dark Chrome and reflective ambient speed lines
Dual front light units incl. position lights and dircetion indicators as well as side indicators lights all build on LED technology
Automatically dimming interior and exterior mirrors with integrated rain sensor
Windscreen with Grey top tint
Reading lights, orientation, ignition lock, luggage compartment, footwell, glove compartment and door lightning with LED technology
Taillight strip including integrated parking lights and rear fog light
Three-dimensional taillights with brake light, reversing light and direction indicator as well as integral third brake light with LED technology
Exterior mirrors on door waist rails, electrically adjustable and heatable, aspherical on driver's side
Windscreen washer system with aero wiper blades and washer jets
Illuminated vanity mirrors in sun visors (driver and passenger sides)
Electrically folding exterior mirrors incl. courtesy lighting
2-zone automatic climate control with separate temperature settings for driver and front passenger, automatic air-recirculation mode including air quality sensor
Particle/pollen filter with active Carbon filter
Green-tinted thermally insulated glass
Electric window lifts with one-touch operation and door seal protection
Heated rear screen
Adaptive Sports seats Plus (18-way) featuring electric adjustment of all seat functions incl. seat side bolsters. Includes electric adjustment of backrest angle, seat height, fore/aft position, squab angle and length of the seat cushion, seat and side bolsters as well as lumbar support
Memory function for both exterior mirrors, steering column and seat position (driver's side) as well as other personalised in-car settings
Full-size airbags (two-stage) for driver and front passenger
Porsche Side Impact Protection (POSIP), comprising side impact protection elements in the doors, thorax airbag integrated into the side bolster of each front seat, head airbag for driver and front passenger in each door panel
Engine immobiliser with remote central locking and alarm system with ultrasonic sound-based interior surveillance
3-point automatic seat belts, front and rear, with seat-mounted buckles
Mounting points on passenger seat for ISOFIX child seat mounting system
Instrument cluster in Heritage Design with central rev counter and two 7-inch TFT displays, 10.9-inch center display. Historically-inspired design in the style of the Porsche 356 with Green numbers and White pointers and '911 Sport Classic' logo
Rev counter with digital display for selected gear and vehicle speed.
Sport Chrono clock with Green numbers and White pointers
GT sports steering wheel with multifunction, mode switch and historic Porsche crest
Steering wheel heating
Door release levers, dashboard and door panel trim strips, and centre console trim are finished in Lightsilver
2 x USB-C ports in center console main storage compartment, 12-volt socket in passenger footwell
Floor mats with specific fabric in a four-part set with the carpet in Black and leather edging in trim colour and double decorative seam (tone-in-tone)
Luggage compartment at front
Ascending centre console with storage compartment
Glove compartment (lockable) and storage compartment in each door
Clothes hooks on seat backrests
Two individual cupholders (1x as inlet in the center console and 1x passenger side)
Leather (two-tone) Heritage Design Classic in Black and Classic Cognac (semi-aniline)
Upper section of the dashboard including the instrument panel cover, steering wheel rim, airbag module in the steering wheel, top door panel and top side panel at the rear in smooth-finish leather in Black
Bottom section of the dashboard including the glove compartment lid, door handles, door panel armrest, centre console storage compartment lid, side panel on the centre console, side panel at the rear, side bolsters at the front, headrests at the front, side bolsters at the rear, centre tunnel at the rear in semi-aniline leather in Classic Coganc
Historic Porsche crest embossed on headrests
Dashboard and door trim package in leather includes dashboard end trims, dashboard upper section centre trim incl. cover Sport Chrono stopwatch, door release levers, door panel lower trims and rear side lower parts in smooth-finish leather
'PORSCHE Exclusive Manufaktur' logo on storage compartment lid
Sun visors in leather
Air vents in leather with slats in leather
Steering column casing in leather
Interior mirror panel in leather
Fuse box cover in leather
Cupholder trim in leather
Vehicle key painted in exterior colour with key pouch in leather
Onboard folder in leather in interior colour and magnetic catch. With decorative stitching and embossed 'PORSCHE Exclusive Manufaktur' logo
Porsche WET Mode
Warn and Brake Assist including pedestrian protection
Keyless Go
Comfort Access (Porsche Entry)
Lane Change Assist
ParkAssist including Surround View
Cruise control
Power steering plus
Door sill guards in brushed Aluminium with model designation '911 Sport Classic', illuminated
Porsche Communication Management (PCM) including Online Navigation, mobile phone preparation, audio interfaces and voice control
Smartphone integration* allows a connection from a smartphone to the Porsche and get some of the apps directly on the Porsche Communication Management (PCM) screen. Both Apple CarPlay® (wireless available) and Android Auto™ (wired only) are supported. Voice recognition lets you use apps conveniently while driving, minimising distractions and allowing you to concentrate fully on the road.
*Please note that software updates and/or updates to the operating system of your mobile device (such as Apple iOS updates or Android updates) may affect the functionality of the Smartphone integration. Therefore, before carrying out the software update and/or the operating system update, please make sure that your mobile end device is subsequently compatible with the software used in the vehicle. Otherwise, you may no longer be able to use Apple CarPlay and Android Auto in the vehicle.
Porsche Connect includes online navigation (see Porsche Communication Management), music streaming and online radio, Remote Services and a wide range of other Porsche Connect Services**
**The availability of Porsche Connect services is dependent on the availability of wireless network coverage which may not be available in all areas, and may be subject to eventual technology sunset or deactivation, thus nullifying services. The vehicle equipment necessary to use Porsche Connect is only available factory-installed, and cannot be retrofitted. Some functions may require separate subscriptions, or data charges may apply.
**Porsche Connect includes a free subscription period of 36 months. An integrated LTE-enabled SIM card with data allowance for use of selected Porsche Connect services will be included. For further information on free subscription periods, follow-on costs and availability of individual services consult your official Porsche Centre.
LTE communication module with embedded SIM card and internet access
BOSE® Surround Sound-System with 12 loudspeakers incl. subwoofer, 12 amplifier channels and with a total output of 570 watts as well as AudioPilot® Noise Compenstion Technology and SoundTrue Enhancement Technology
Digital Radio
Interior package in Paldao Dark open-porous wood on the dashboard trim strips with decorative inlays, door panel trim strips with decorative inlays and centre console trim with decorative inlays
911' badge in Gold colour with individual limitation number 'x.xxx / 1.250' on the dashboard trim.
Standard exterior solid colours: Black
Standard exterior Metallic paints: Sport Grey Metallic, Agate Grey Metallic, Gentian Blue Metallic
| | |
| --- | --- |
| Manual | From NZ$ 513,000.00 incl. 15% GST |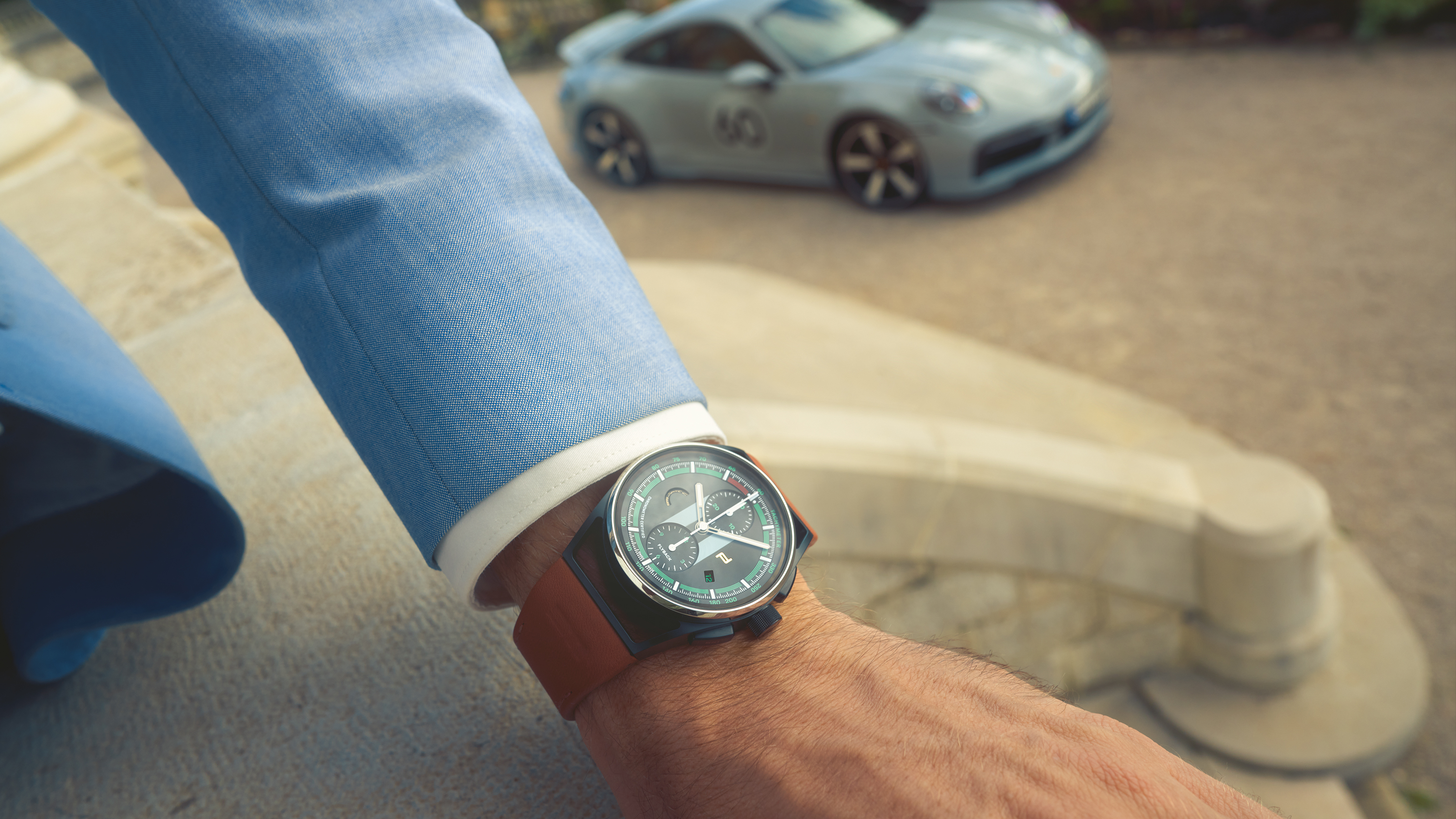 Time flies.
Do not keep your love for the 60s and 70s just in your heart, but wear it on your wrist. The Chronograph Heritage Edition cites design features of the 911 Sport Classic and is made exclusively for the owners of the sports car. Made to order and strictly limited.
History up close.
Immerse yourself in the sophisticated jet set era, the first moon landing and free love. The Coffee Table Book takes you back to the era where one innovation follows the next – in life and on the racetrack. Always to the forefront even back then: the Porsche 911.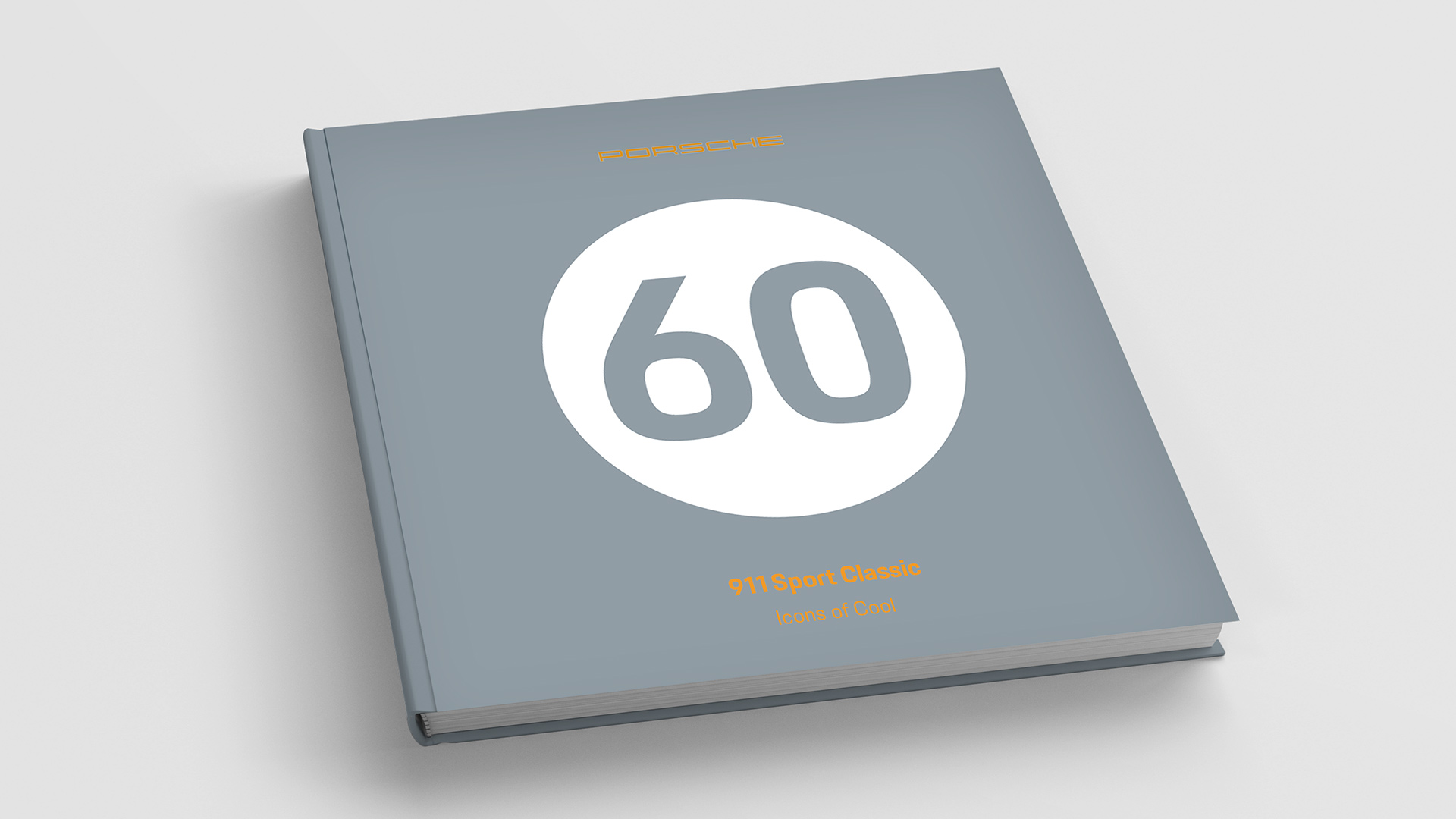 Heritage design.
Limited-edition collector models and optional packages. Inspired by the spirit of the 50s, 60s, 70s and 80s, they are bringing the lifestyle of bygone times back onto the road. And honouring iconic Porsche classics with numerous design highlights.

Personalisation & finishing.
At Porsche Exclusive Manufaktur, we offer you a range of personalisation options for the exterior and interior of your car. For your own very personal vehicle.

Contact.
Contact a Porsche Centre, request the information material or register for exclusive Porsche news.