Porsche 911 with all-wheel drive (type 997)
Like the 964, 993 and 996, the 997-series 911 is also available with all-wheel drive in the form of the Carrera 4 and Carrera 4S. A new addition is the Carrera 4 GTS, which delivers more power. In this series, the 911 Targa is only available with all-wheel drive as the Targa 4 and 4S – a novelty in the 911 series.
Due to the wider track of the all-wheel drive, the body is a slight 44 mm broader than the all-wheel drive models. Since the 2008 model improvements, the Carrera 4 models are also instantly recognisable by their continuous Red reflector strip between the tail lights.
Model overview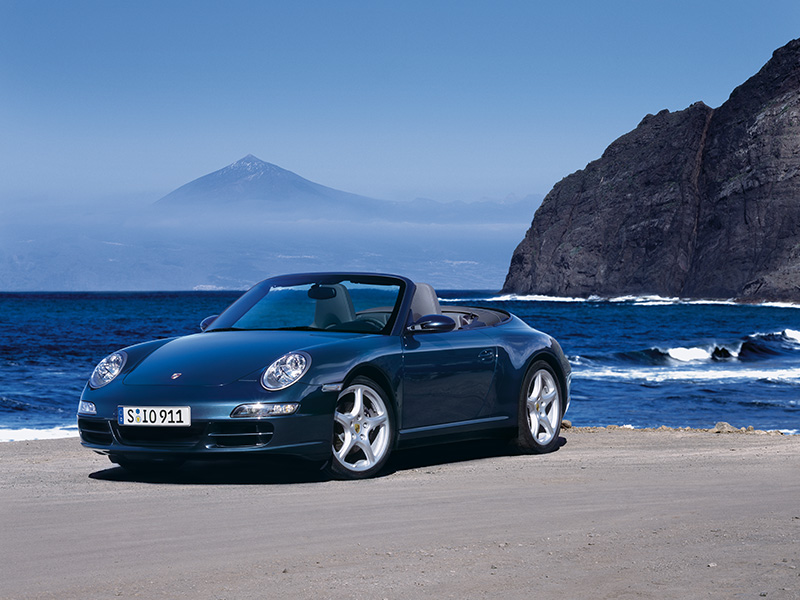 911 Carrera 4 Coupé, 911 Carrera 4 Cabriolet (2006-2008)
Permanent all-wheel drive // Black brake callipers, optional: Porsche ceramic brakes (Yellow fixed callipers) // 6-speed manual transmission or optional Tiptronic S // PCM with 5.8-inch screen // Porsche Active Suspension Management (PASM) available as an option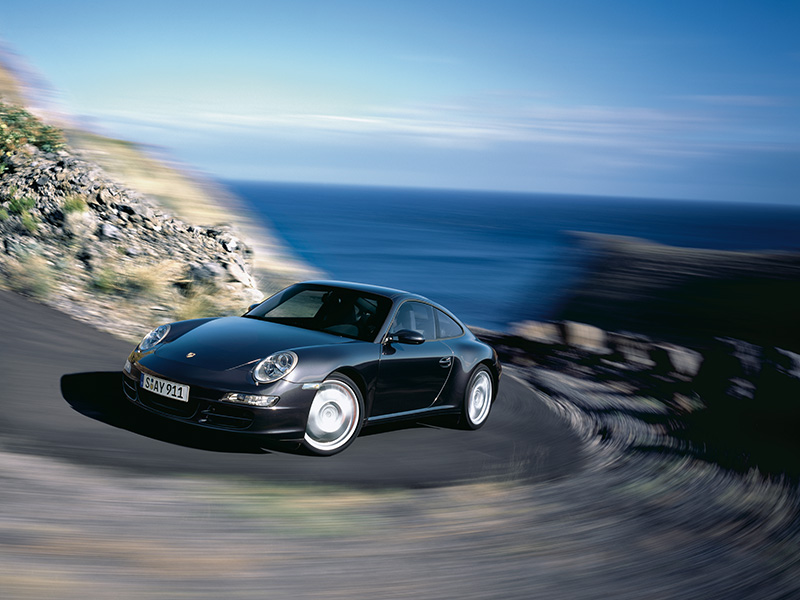 911 Carrera 4S Coupé, 911 Carrera 4S Cabriolet (2006-2008)
Permanent all-wheel drive // Red brake callipers, internally ventilated, perforated 330-mm brake discs // Round 4-pipe exhaust silencers // Porsche Active Suspension Management (PASM) as standard // Frames of the air vents, decorative trims on dashboards and gearshift lever and shift pattern on the gearshift knob in aluminium look // Aluminium-coloured dials or available in Black (no extra cost) // Sports steering wheel with round baffle plate and recessed grips as standard, optional multifunction steering wheel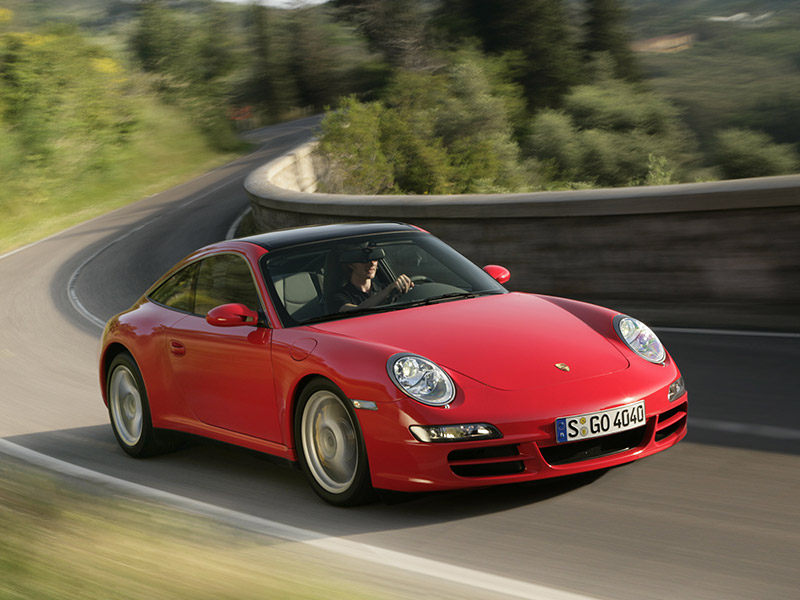 911 Targa 4 (2006-2008)
Exclusively with permanent all-wheel drive // Electric Targa glass roof with ultraviolet filter, 1.9 kg lighter than the 996 // Tapered rear side windows // Anodised and polished aluminium trim strips from the A-pillar to the rear side windows // 239 kW (325 PS)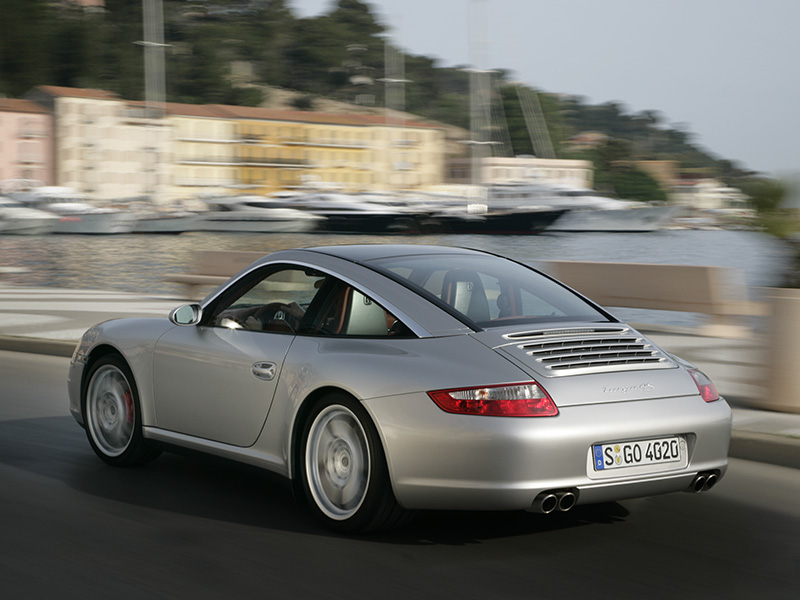 911 Targa 4S (2006-2008)
Exclusively with permanent all-wheel drive // 261 kW (355 PS) // Red brake callipers, internally ventilated and perforated 330 mm brake discs // PASM chassis with active dampers as standard // Bi-Xenon headlights with dynamic headlight range control // Optionally with Tiptronic S or 6-speed manual transmission // Electric Targa glass roof with ultraviolet filter, 1.9 kg lighter than the 996 // Tapered rear side windows // Anodised and polished aluminium trim strips from the A-pillar to the rear side windows
911 Carrera 4S Coupé, 911 Carrera 4S Cabriolet (2009-2013)
Permanent all-wheel drive // Continuous Red reflector strip between the tail lights (from MY 2008) // Red brake callipers, internally ventilated, perforated 330-mm brake discs // 4-pipe exhaust silencers // Porsche Active Suspension Management (PASM) as standard // Frames of the air vents, decorative trims on dashboards and gearshift lever and shift pattern on the gearshift knob in aluminium look // Aluminium-coloured dials or available in Black (no extra cost) // Sports steering wheel with round baffle plate and recessed grips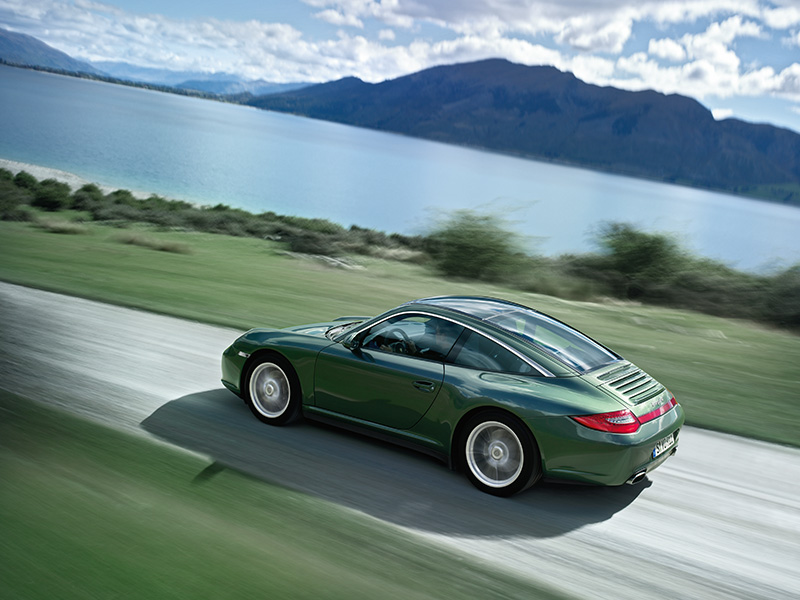 911 Targa 4 (2009-2011)
Exclusively with permanent all-wheel drive // New engine generation with direct fuel injection and 254 kW (345 PS) // Electric Targa glass roof with ultraviolet filter, 1.9 kg lighter than on the 996 // Tapered rear side windows // Continuous Red reflector strip between the tail lights (from MY 2008) // Anodised and polished aluminium trim strips from the A-pillar to the rear side windows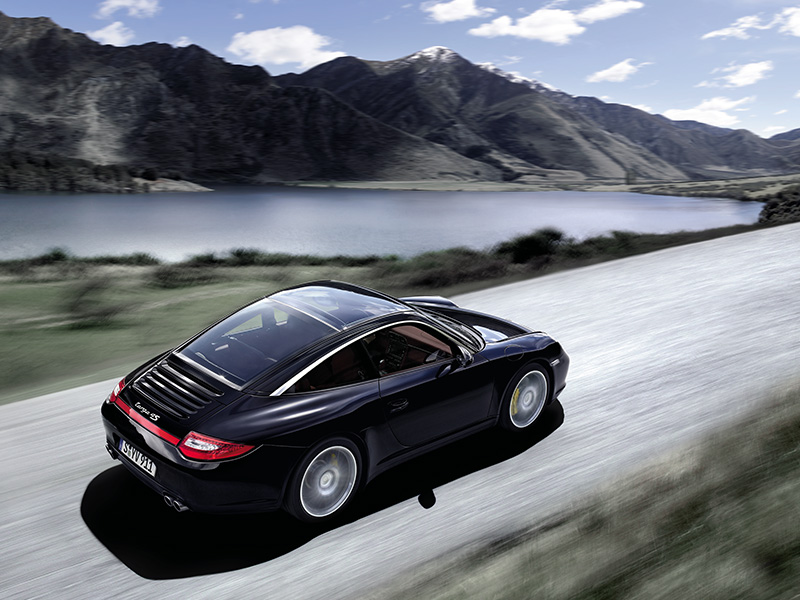 911 Targa 4S (2009-2013)
Exclusively with permanent all-wheel drive // New generation of engines with direct fuel injection and 283 kW (385 PS) // PASM chassis with active dampers as standard // Red brake callipers, internally ventilated, perforated 330 mm brake discs // Electric Targa glass roof with ultraviolet filter, 1.9 kg lighter than the 996 // Tapered rear side windows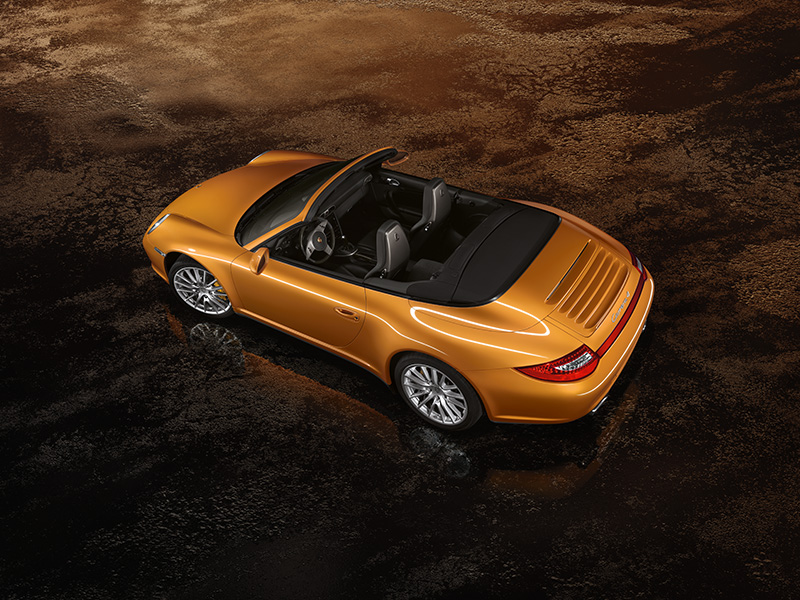 911 Carrera 4 Coupé, 911 Carrera 4 Cabriolet (2009-2011)
Permanent all-wheel drive // Black brake callipers, optional: Porsche ceramic brakes (Yellow fixed callipers) // New engines with direct fuel injection // Tiptronic S replaced by Porsche Doppelkupplung (PDK) // Larger external air intakes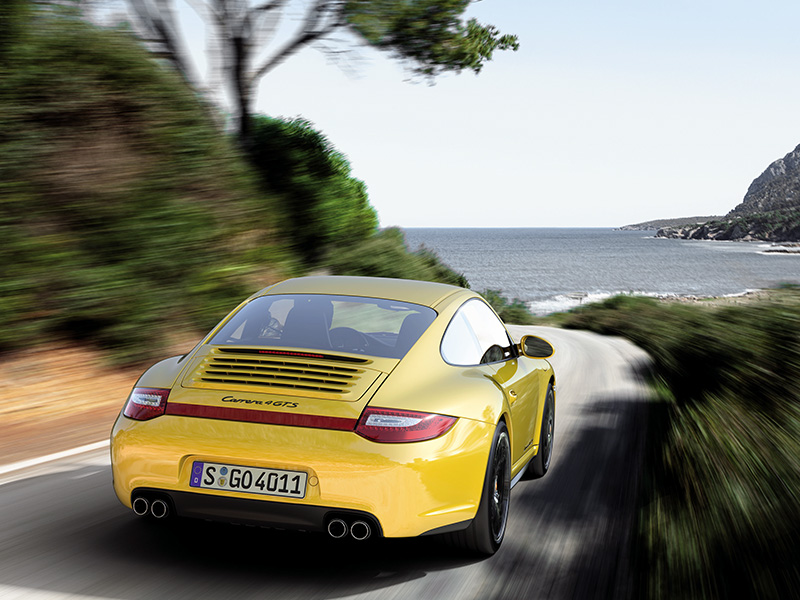 911 Carrera 4 GTS Coupé, 911 Carrera 4 GTS Cabriolet (2012)
Permanent all-wheel drive // Continuous Red reflector strip between the tail lights // Black front spoiler lip as typical motorsport feature // 300 kW (408 PS) from 3.8-litre displacement // Modified cooling air intakes in the front apron // Modified side skirts in Black: together with the front spoiler lip and the panels on the lower rear apron, it creates a low visual focal point for the body // 19-inch RS Spyder wheels as standard