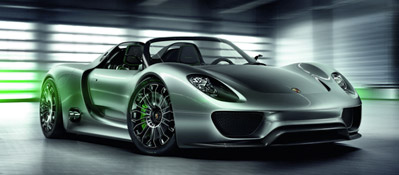 If you're curious and would like to know more about our Porsche magazine, you'll find selected articles here for you to read as a sample.
We hope you enjoy reading them – and if you want to read more, you can apply for subscription to 'Christophorus' online now.
Model Advances
Porsche is celebrating eleven model premieres this spring. Christophorus provides an overview of the vehicle premieres.
Download PDF/ 116 KB
918 Spyder
It sounds so easy and promises so much: Powerful driving pleasure on even less fuel. But there is a lot more to Porsche's hybrid breakthrough and its three spectacular hybrid sports cars than catchwords. The absolute highlight in the "Porsche Intelligent Performance" strategy is the high-performance mid-engine 918 Spyder.
Download PDF/ 192 KB
The new Cayenne generation
More value at the wheel: The new Cayenne generation means more than a fresh face. A generational shift in this dynamic SUV series introduces new technology that increases the efficiency of all the models celebrating their world premiere in Geneva.
Download PDF/ 148 KB
Cayenne S Hybrid
The Cayenne S Hybrid is the first Porsche that can "sail." That does not mean its new drive system is in line for a nautical patent, but rather that it runs on the power of two hearts.
Download PDF/ 118 KB
911 GT3 R Hybrid
Once again a 911 is ahead of its time. Porsche presents the 911 GT3 R Hybrid — a type of laboratory in a racing car that will subject hybrid technology to the toughest of conditions. The ultimate test will occur May 15 and 16, when the 911 Hybrid will compete in the 24-hour race on the Nürburgring.
Download PDF/ 172 KB
911 Turbo S Coupé and Cabriolet
The demands for power, dynamics, and efficiency could hardly be high enough for Porsche's engineers as they developed the 911 Turbo S Coupé and the 911 Turbo S Cabriolet models. The heart of these top S models from Zuffenhausen is a six-cylinder boxer engine with two exhaust-gas turbochargers and a performance level now up to 530 horsepower.
Download PDF/ 103 KB
Panamera and Panamera 4
The new members of the Panamera series are efficient and nimble on their feet, and at the same time provide outstanding performance and a high level of comfort for four people. One year after the premiere of the eight-cylinder model, the new series is adding two new six-cylinder models: the Panamera and the Panamera 4.
Download PDF/ 79 KB
All Ears!
Dieter Burmester makes extraordinary audio systems. Their music provides absolute listening pleasure in the Panamera and now in the new Cayenne as well. A song of praise for pure tonal quality.
Download PDF/ 175 KB
Ke Nako – It's High Time!
The world is turning its attention to South Africa. Before the opening whistle blows for the Soccer World Cup, Christophorus went on a photo safari of this fascinating rainbow land.
Download PDF/ 743 KB