Product features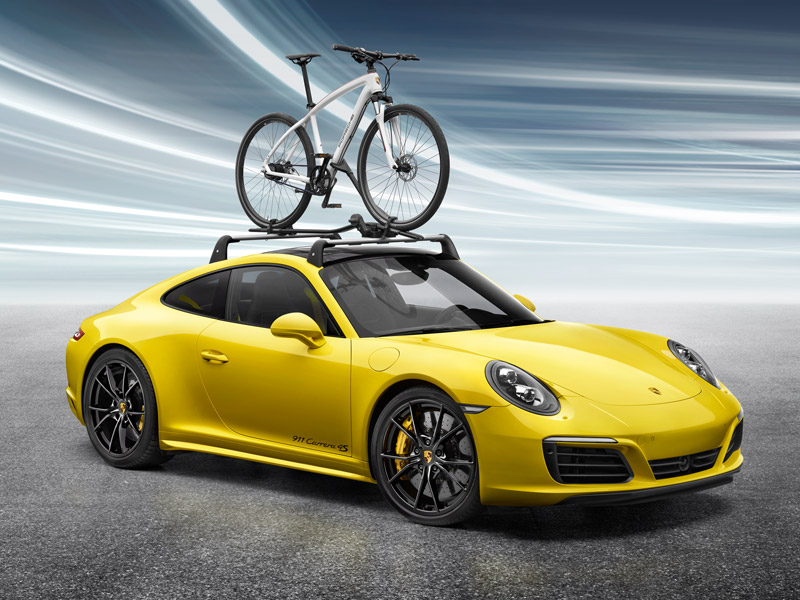 Lockable carrier suitable for all standard bikes up to a maximum frame-tube diameter of 100mm. Note: not suitable for bikes with carbon frame.
Up to three bike carriers can be mounted on the roof transport system.
The frame holder and wheel track in a distinctive Porsche design hold the bike securely in the correct position.
The extension on the bottom section of the frame holder claw prevents the bike from tipping. The wheels are secured in cleverly designed wheel mounts by quick-release rim straps.
Quick and easy mounting
Ready to fit. No tool required for fitting.
The bike carrier can be quickly and easily swapped from one side of the car to the other without the use of tools.
The bike can be locked to the bike carrier and the bike carrier to the roof transport system (locks are included)
Note:
A roof transport system is required for mounting a bike carrier.

Max. number of bikes per carrier:
1
Max. number of bike carriers per vehicle:
3
Dimensions (length/width/height):
1440 mm x 350 mm x (100 mm-690 mm)
Compatible with round frame sizes:
22–80 mm
Compatible with maximum oval frame sizes:
22 x 100 mm
Availability:
Please use the Porsche Tequipment Finder to discover the Porsche models for which a bike carrier is available.
Bike carrier
Bike carrier
Bike carrier
Bike carrier
Bike carrier
Bike carrier
Bike carrier
Bike carrier