Slowing down extremely fast
Original Porsche Brakes are precisely adapted to the engine output and suspension of the respective model. And that, in turn, guarantees uncompromising safety and absolute performance. Each and every part is tested under the most extreme conditions. For the accustomed high material quality and low susceptibility to wear. For the long life of a Porsche.
Did you know, for example, that roughly 70% of all Porsche vehicles ever built are still on the road today? That's due in no small part to the brakes. Just like the unmistakable feel of a race car.
If you step on the brake pedal of a Porsche, you feel it instantaneously: that one-of-a-kind agility that translates every negative acceleration into the ultimate in driving pleasure. This braking experience is naturally no accident. It is the result of over 60 years of motorsport experience and continuous development.
Learn more about what makes Porsche brakes so unique here.
Original Porsche Brakes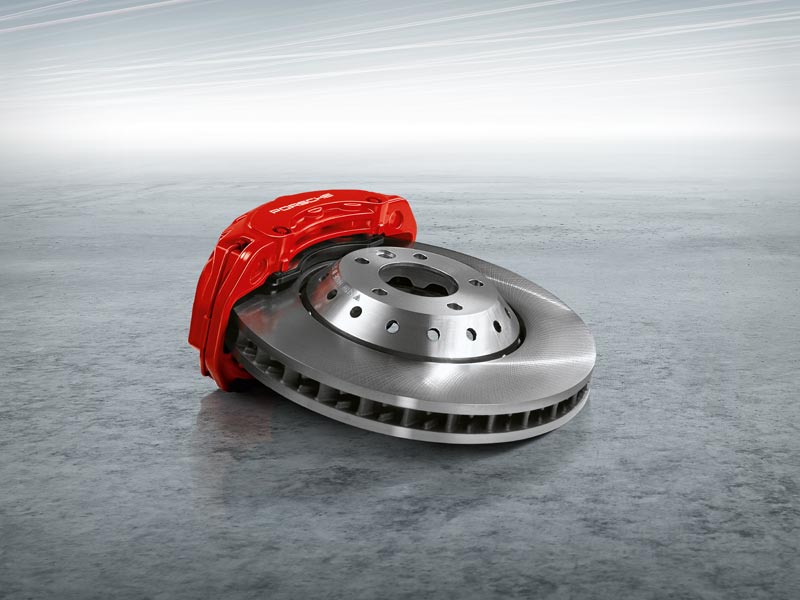 Top performance comes standard
Thanks to the technology transfer from the motorsport milieu, Porsche Original Brakes achieve a constant braking effect even under high loads. The cross-drilled and internally vented brake discs provide improved wet braking and optimal cooling. The brake calipers, whether in anodized black 4-piston or red 6-piston aluminum variants, feature an enclosed monobloc design. The advantages: high rigidity and pressure point responsiveness, low weight and tight pedal travel.
Porsche Surface Coated Brakes (PSCB)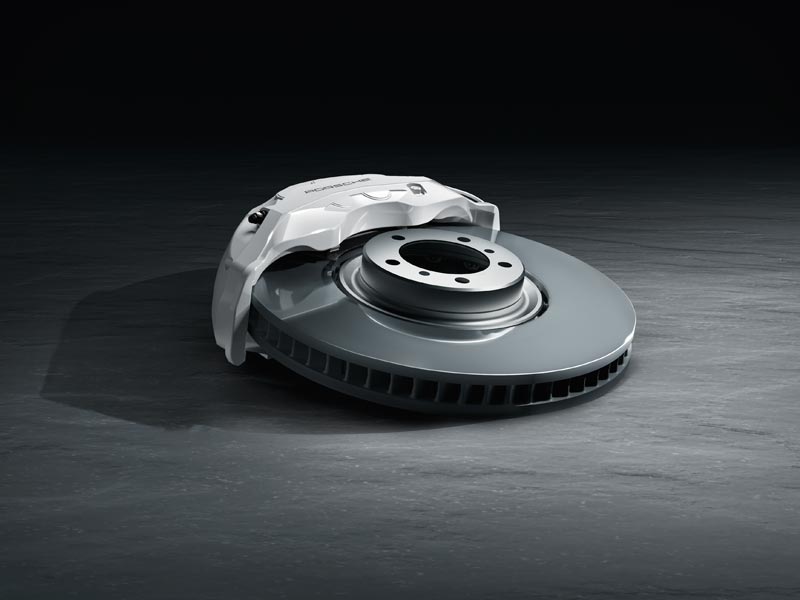 Pioneering work that shines
With the innovative Porsche Surface Coated Brake, the conventional gray cast iron disc features a tungsten-carbide coating. The effect is not limited to greater wear resistance: This exclusive finish also improves the frictional coefficient and thus the brake's responsiveness. Brake dust is reduced and the service life of the gray cast iron brakes is prolonged by 20 - 30%. Nice visuals too: The brake calipers are painted white and the disc surface develops a mirror surface after bedding-in. The PSCB is only available in combination with 20-inch wheels or larger.
Porsche Ceramic Composite Brakes (PCCB)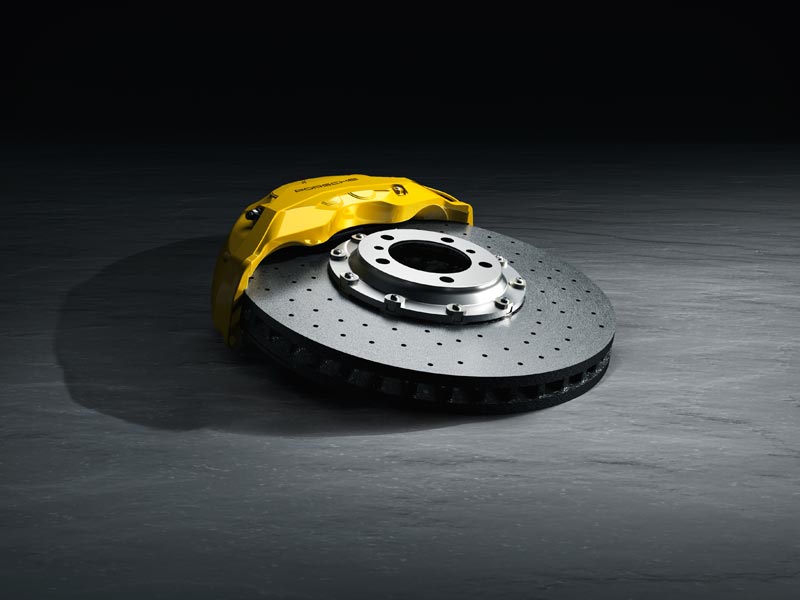 Uncompromising top-shelf performance
The Porsche Ceramic Composite Brake with yellow-coated aluminum fixed calipers is the ultimate upgrade for your Porsche. The cross-drilled brake discs are larger here and provide considerably greater power. The exceptionally short braking distance and maximum safety while braking from high speeds enable greater control in extreme driving situations. Another advantage: The ceramic brakes are 50% lighter than gray cast iron discs. This produces better grip, greater driving and ride comfort and more agility.