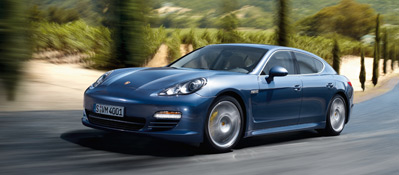 If you're curious and would like to know more about our Porsche magazine, you'll find selected articles here for you to read as a sample.
We hope you enjoy reading them – and if you want to read more, you can apply for subscription to 'Christophorus' online now.
His Life's Work
On September 19, one of the greatest automotive visionaries would have celebrated his hundredth birthday: Ferry Porsche. He turned his father's design office into a world-famous company that is still marked by his values and ideas.
Download PDF/ 768 KB
Sportiness at Your Command
The technology under its hood can hold its own on the racetrack: the Panamera has demonstrated this in no uncertain terms on the Porsche test course in Weissach.
Download PDF/ 274 KB
Going for Broke
An unprecedented series of victories began 40 years ago. Porsche won its first Manufacturers' World Championship with the model 908—thanks to racing engineer Peter Falk and driver Jo Siffert.
Download PDF/ 311 KB
Born to be mild
The other life starts when a man changes his suit for a leather jacket in the evening. Everything changes—his walk, his gestures, his body language, even the tenor of his voice. It's all about being cool.
Download PDF/ 353 KB
News:
Mighty and Thrifty, 911 Engine Wins Award
Customers Give Porsche Good Grades
Download PDF/ 121 KB