Porsche Club Malaysia's exclusive preview of the new CayennePorsche Club Malaysia – Special Feature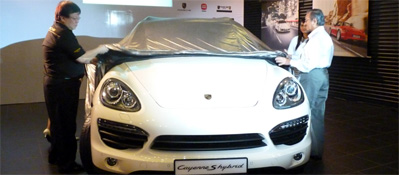 Porsche Club Malaysia members were invited to a sneak preview of the all new Cayenne models in Porsche Centre Glenmarie on 25 July 2010, a week before the official Malaysian launch. The arrangement was done in order to accommodate members who were participating in the Koh Samui mini drive of the year from 28 July – 1 August 2010, who would not be around to witness the official launch of the new Cayenne.

PCM Patron and former prime minister, Tun Dr Mahathir Mohamed made a surprise appearance at the event and had the honour of unveiling the latest technological breakthrough from Porsche, the Cayenne S Hybrid. In fact, the first generation Cayenne was also launched by Tun Dr Mahathir, who is widely known for his exceptional handling capabilities of the Cayenne.

Over one hundred PCM members and guests attended the preview, which also saw the CEO of Sime Darby Auto Performance, the official Porsche importer in Malaysia, Mr. Arnt Bayer present to give a short overview and introduction to the new Cayenne models.

Members were pleasantly surprised by the affordability and overall enhanced capabilities of the new Cayenne. Cementing the Cayenne's strong position in the luxury SUV segment, the new models are lighter, faster, and more fuel efficient than their predecessors. Outwardly, the Cayenne now looks sleeker and more aerodynamic, moving seamlessly closer to sportscar design than ever before.

Available in 5 variants, the Cayenne is priced at RM 550,000, the Cayenne Diesel at RM 560,000, the Cayenne S Hybrid at RM 720,000 and the Cayenne Turbo at RM 920,000. As the evening drew to a close, more than ten PCM members were already in talks with Mr. Bayer regarding pricing and special packages – no doubt a precursor to the future
success of the new Cayenne.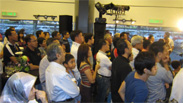 7/31/2010