Supercars Golf Tournament 2010
A Prestigious Annual Event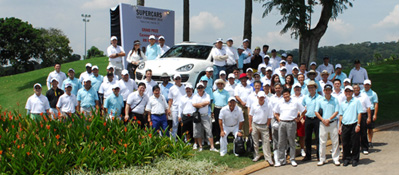 Over 80 participants gathered for the Supercars Golf Tournament 2010 on 18 November 2010 – a prestigious, annual event for owners from various car clubs. Held at the Kuala Lumpur Golf and Country Club (KLGCC), Porsche Club Malaysia (PCM) had a strong presence at the event, with over 50 members turning up to participate in the team event.

Headed by golf director Dato' Derrick Lim, golf captain Dato' Peppe Foo and golf vice-captain Dato' Wenddi Anne Chong, the PCM golf team came in second overall in the team event. Even better news was the addition of ten new members to PCM on the event day itself.

Other event highlights included the hole in one prize of a brand new Porsche Cayenne S Hybrid, which unfortunately no one managed to win. Additionally, a Porsche GT3 R Hybrid, featuring a 4.0-litre petrol
engine, and two electric motors was also on display. As 1 of only 2 models currently produced, it was certainly a rare treat for all.

11/23/2010