Midterm Drive of the Year (DOTY) to Koh SamuiPorsche Club Malaysia – Special Feature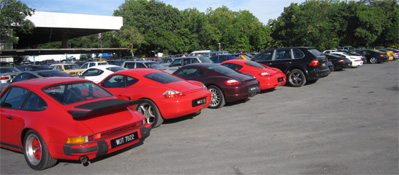 From 28 July – 1 August 2010, 33 Porsche Club members participated in a drive to a brand new destination, Koh Samui. Traditionally a year-end event, the midterm DOTY was added to the PCM event calendar to cater to the increasing number of Porsche enthusiasts. Never before had there been so many Porsches on a DOTY, which was warmly received and supported by both new participants and members alike.

Prior to the event, a comprehensive predeparture checklist was sent out to ensure that all participants were adequately prepared for the long drive ahead. This included the use of walkie-talkies, general checks and proper servicing of cars, as well as a general briefing on the drive procedure.

Organised by Mr. Chris Tan, PCM's Drive director and Frankie Yong, the Deputy Drive director, the event started bright and early from the Grand Continental Hotel at Alor Setar. Upon collecting their tour packs with maps, trip itinerary and instructions, participants departed for the Thai border, before heading to Surathani to rest for the night.

The following day it was off to Domsak, to catch a ferry to Koh Samui. Upon arriving at the hotel, guests were free to rest and relax before a sumptuous dinner of soft shell crabs. A specially arranged morning golf session at the famous Santiburi Golf Resort was first on the next day's agenda, followed by lunch, courtesy of Porsche Club Thailand's recommendation.

As Sunday, the last day of the drive rolled around, participants boarded the ferry from Domsakback to Kuala Lumpur, abuzz from stories and adventures experienced over the past few days.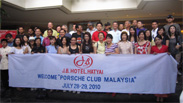 8/10/2010