A great start to the New Year: The launch of the new 911 Turbo in Malaysia911 Turbo Launch
On the morning of 23 January 2010, more than 50 distinguished guests and members of the media gathered at Porsche Centre Glenmarie for a remarkable event – the launch of the new generation 911 Turbo.

Dato' Mokhzani Mahathir opened the event with a speech echoing the positive sentiments regarding the new 7th generation 911 Turbo and its overall enhanced performance and efficiency. A short video presentation was screened afterwards, following which both Dato Mokhzani and Mr. Allan Pillai jointly unveiled the new 911 Turbo, as all who were present eagerly anticipated getting a first glimpse of the car.

Of course, the event was not complete without guests having the chance to 'take the drivers' seat', as they then had an up close look and feel of the 911 Turbo model themselves.

To further display the sheer power and efficiency of the 911 Turbo, Mr. Christoph Choi, Motorsport Manager, Porsche Asia Pacific held an interactive presentation with the media and guests to highlight the super sportscar's remarkable performance figures.

As music played softly in the background and guests mingled over light refreshments, the event ended on a high note with the bright, lively atmosphere of the showroom abuzz with enthusiasm over the new 911 Turbo.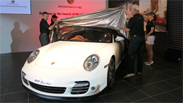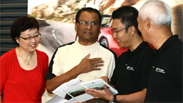 2/1/2010