Debut dari the new Boxster dan Boxster S di Porsche Centre JakartaThe new Boxster & Boxster S, Lebih ringan dan lebih berotot, sangat khas dan sangat hemat bahan baka
Jakarta. PT. Eurokars Artha Utama, importer Porsche resmi di Indonesia, meluncurkan the Boxster and Boxster S pada tanggal 21 Juni di Porsche Centre Jakarta, Indonesia diantara para undangan dan rekan media.
Boxster baru jelas memperjelaskan diri dari generasi sebelumnya dalam hal penampilannya; perubahan yang komprehensif telah dibuat untuk menghasilkan siluet yang jauh lebih elegan dan penampilan yang sporty. Namun, semangat Boxster tetap utuh dengan peningkatan performa dan efisiensi yang lebih besar. Perubahan mendasar pada sasis juga secara signifikan meningkatkan dinamika mobil sport mengemudi, sudah jauh dan paling terbaik di kelasnya.
"Boxster adalah model yang sangat penting untuk Porsche dan sudah memberikan perubahan yang sangat signifikan kepada perusahaan sejak diperkenalkan pertama kalinya pada tahun 1993 dengan membuka merek untuk kelompok pelanggan yang lebih luas. Dengan Boxster baru, Porsche kembali mentargetkan untuk merangsang kebebasan jiwa untuk para penggemar Porsche di Indonesia. Dengan penggunaan mid –engine, Boxster menjanjikan pengemudian yang lincah dan menyenangkan,"ucap bapak Herbert Kwee, CEO dari PT. Eurokars Artha Utama.

Informasi mengenai Boxster baru
Konsep atap terbuka dengan dua tempat duduk sekarang memiliki tubuh baru yang ringan sekali dan sasis yang telah dirubah. Berat jauh lebih rendah, wheelbase menjadi lebih panjang, trek yang lebih luas dan roda yang lebih besar secara signifikan meningkatkan dinamika mengemudi mobil sport the mid-engine, didukung oleh steering elektro-mekanis listrik baru. Bahan bakar Boxster baru juga mencapai 15 persen lebih efisien. Tergantung pada model, mereka bertahan dengan signifikan kurang dari delapan liter bahan bakar per 100 kilometer.
Perubahan gaya yang fundamental disampaikan dengan overhang yang lebih pendek dengan penutup angin yang bisa bergeser, siluet yang lebih datar dan sisi yang ekspresif. Para penumpang tertutup oleh kap yang sepenuhnya didesain ulang, sepenuhnya listrik, yang sekarang dengan tutup kompartemen konversi atas. Konsep interior menawarkan penumpang ruang yang lebih besar dan mencerminkan garis besar Porsche baru dengan konsol tengah yang berasal dengan Carrera GT, memastikan lebih lanjut ergonomi ditingkatkan di semua model.
Generasi mobil sport baru membuat debutnya di pasangan klasik Porsche Boxster dan Boxster S. Kedua model yang didukung oleh enam mesin datar dengan injeksi bensin langsung, dimana efisiensi lebih ditingkatkan oleh pemulihan sistem kelistrikan, manajemen termal dan fungsi start/stop. Unit model dasar daya baru memberikan 265 hp (195 kW) dari perpindahan 2,7 liter - sepuluh hp lebih dari pendahulunya. Mesin 3.4 liter dari S Boxster sekarang memberikan 315 hp (232 kW), yaitu lima hp lebih dari sebelumnya.
Kedua model juga menampilkan tujuh kecepatan Porsche Doppelkupplungsgetriebe (PDK) sebagai pilihan standar. PDK akan memungkinkan kedua mobil sport untuk mencapai konsumsi bahan bakar terbaik mereka dan kinerja percepatan. Konsumsi bahan bakar Porsche Boxster dengan PDK adalah 7,7 km l/100 dan 8,0 km l/100 untuk Boxster S. Dengan perubahan gigi tanpa gangguan terhadap aliran listrik, Boxster sprint dari nol sampai 100 km / jam dalam 5,7 detik, sedangkan Boxster S dalam 5,0 detik
Untuk meningkatkan dinamika berkendara lebih lanjut, Porsche menawarkan Paket Sport Chrono sebagai sebuah pilihan ekstra untuk Boxster, menampilkan transmisi tinggi yang dinamis untuk pertama kalinya. Juga baru di Boxster adalah Torsi vectoring Porsche (PTV) dengan kunci as roda diferensial mekanik belakang.
*****
Informasi mengenai PT. Eurokars Artha Utama
Eurokars Group of Companies
PT. Eurokars Artha Utama adalah distributor tunggal resmi Porsche di Indonesia dari tahun 2002. Berdiri lebih dari 10 tahun, dibawah manajemen Eurokars Group of Companies
Eurokars Group of Companies identik dengan merek premium di Indonesia dan Singapura, dan sudah mengalami pertumbuhan yang sangat signifikan dalam kurung waktu 27 tahun terakhir. Eurokars Group of Companies membuat catatan sukses yang sempurna, membawa keunikan tersendiri di setiap brand yang dibawahinya.

Porsche Centre Indonesia PR
Public Relations and Media
Cynthia Ratna
Telepon: +62 8190809 6740
E-Mail: cynthia@eurokars.co.id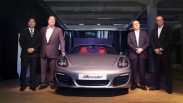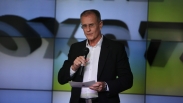 6/21/2012