Trend penjualan yang positif di wilayah Asia Pasifik Penjualan Porsche di Asia Pasifik alami pertumbuhan 11%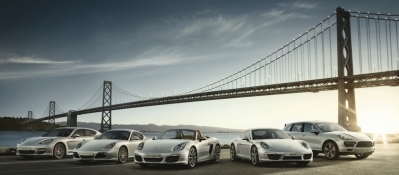 Indonesia. Porsche Asia Pasifik barusaha menutup semester pertama tahun ini dengan trend penjualan yang positif dan meningkat, yaitu dengan total penjualan 2.238 kendaraan dalam periode Januari hingga Juni 2012. Angka ini merupakan peningkatan sebesar 11 persen bila dibandingkan dengan periode yang sama tahun lalu.
Christer Ekberg, Managing Director Porsche Asia Pasifik, mengatakan bahwa hasil positif ini dapat dicapai terutama karena diperkenalkannya generasi ketujuh 911 dan tingginya tingkat permintaan atas Cayenne dan Panamera. Ia juga menambahkan: "Boxster baru akan tiba pada pertengahan tahun ini di wilayah kami dan tanggapan pasar sejauh ini baik sekali. Media dan pelanggan memberikan umpan balik yang positif terutama berkenaan dengan desain dan mengatakan bahwa Boxster baru ini seperti adik kecil Carrera GT. Kami yakin bahwa Boxster baru ini juga akan memberikan kontribusi lebih lagi kepada kesuksesan Porsche tahun ini."
Penjualan dari generasi ketujuh 911 saja sudah meningkat sebesar 60% bila dibandingkan dengan periode yang sama tahun sebelumnya, dengan total penjualan sebanyak 329 unit. Porsche senang sekali dengan kinerja penjualan Cayenna sebanyak 1.291 kendaraan (+17%). 530 unit Panamera diantarkan kepada pelanggan, dimana penjualan Boxster dan Cayman mencatat penurunan sebesar 44% karena sudah memasuki akhir siklus dari generasi sebelumnya, dan model Boxster baru sudah mulai akan diantarkan.

Informasi mengenai Porsche Asia Pacific Pte Ltd
Porsche Asia Pacific Pte Ltd memulai operasinya pada 1 Oktober 2001 dan didirikan agar Porsche dapat lebih dekat dengan pasar Asia Pasifik yang semakin menjadi penting, serta untuk mendukung para importer dan para dealer kami. Porsche Asia Pacific mendukung operasi yang ada di 12 negara, antara lain: Brunei, French Polynesia, Indonesia, Malaysia, Kaledonia Baru, Filipina, Singapura, Korea Selatan, Sri Lanka, Taiwan, Thailand dan Vietnam.

Informasi mengenai PT. Eurokars Artha Utama
Eurokars Group of Companies
PT. Eurokars Artha Utama adalah distributor tunggal resmi Porsche di Indonesia dari tahun 2002. Berdiri lebih dari 10 tahun, dibawah manajemen Eurokars Group of Companies
Eurokars Group of Companies identik dengan merek premium di Indonesia dan Singapura, dan sudah mengalami pertumbuhan yang sangat signifikan dalam kurung waktu 27 tahun terakhir. Eurokars Group of Companies membuat catatan sukses yang sempurna, membawa keunikan tersendiri di setiap brand yang dibawahinya.

Porsche Centre Indonesia PR
Public Relations and Media
Cynthia Ratna
Telepon: +62 8190809 6740
E-Mail: cynthia@eurokars.co.id

7/18/2012