Sporty Gran Turismo menangkan penghargaan dari para pembaca Porsche Panamera GTS adalah "Auto Bild Sportscar" Tahun ini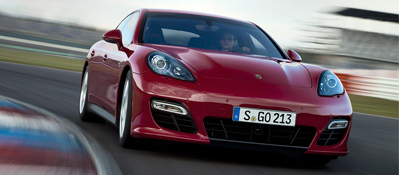 Stuttgart. Porsche Panamera GTS adalah mobil sport empat pintu. Mobil ini diberikan penghargaan "Auto Bild Sportscar of the Year 2012" di dalam kategori "Series Sedan". Di dalam dunia Porsche, GTS merupakan singkatan dari Gran Turismo Sport dan telah menjadi simbol dari performa handal Porsche sejak 904 Carrera GTS yang legendaris pada tahun 1963. Panamera GTS dimotori oleh mesin V8 yang dinamis dengan pemindahan 4,8 liter, sehingga menghasilkan daya sebesar 430 hp (316 kW). Tenaga putaran maksimum kendaraan ini adalah 520 Nm. Sistem exhaust sport series Panamera GTS terdengar sangat emosional. Bodi kendaraan direndahkan hingga sepuluh milimeter, dan sporty chassis dengan suspensi udara adaptif dikombinasikan dengan Porsche Active Suspension Management (PASM) membuat kendaraan ini sangat sesuai untuk arena balap – tanpa membatasi kesesuaian kendaraan untuk digunakan sehari – hari.
Penghargaan dari pembaca ini adalah penghargaan kesebelas yang diberikan oleh majalah khusus Auto Bild Sporscars. Terdapat sekitar 72.500 pembaca yang berpartisipasi dalam tahun ini. Mayoritas pembaca memilih Porsche Panamera GTS dengan kekuatan 430 hp untuk kategori "Series Sedan". Dr. Stefan Utsch, Project Manager Sales untuk seri Panamera menerima penghargaan yang diberikan oleh Editor Auto Bild Sportscars, Ben Arnold, pada malam hari ini.

Porsche Centre Indonesia PR
Public Relations and Media
Cynthia Ratna
Phone: +62 8190809 6740
E-mail: cynthia@porsche.co.id
12/17/2012