Strong Season Finale for Team JebsenTeam Jebsen, Roundup – Rounds 10 & 11, Porsche Carrera Cup Asia, November 9-11, 2012, Shanghai International Circuit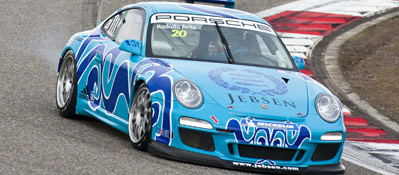 Team Jebsen closed their 2012 Porsche Carrera Cup Asia season in Shanghai at the weekend on a high note after a strong performance by Rodolfo Avila saw the team improve their position and finish third in the final championship standings.
In 11 races over six race meetings, Team Jebsen collected an impressive five podium finishes amongst the most competitive international field of sportscar drivers ever assembled in Asia.  
Starting from pole position for the penultimate round of the season, Avila made a brilliant getaway and immediately set about managing the race and his tyre wear. Having built a gap from the chasing pack, a racing incident saw the Safety Car called out, closing up the field behind Avila.
When the Safety Car pulled off, Avila again got away well but the car behind had better race pace. A small gap gave his rival a window to grab the lead.  Although unable to retake the lead, Avila held firm to take 2nd place on the winners' podium.
The reverse grid for the final race of the year meant Team Jebsen lined up on the fourth row for what was to be a dramatic season finale. The Safety Car was called out almost immediately after an opening lap incident and as racing resumed on Lap 6, Avila was locked in wheel-to-wheel battle for fourth. As Avila snatched 3rd, the pair came together and, while he was able to continue, significant damage had been done to the car. Avila persevered and, despite having to forfeit a position, managed to bring the car home.
The strong points haul from a drama-filled weekend saw Team Jebsen move up the leaderboard to finish the 11-race season in third place overall.
Quotes from Team Jebsen
Rodolfo Avila
"It was a tough weekend in many respects but ultimately we overcame the challenges and came away with a good result. Each driver was going all out for glory in the last meeting of the year, so the competition was even more intense. The weather conditions on Friday and Saturday were an added element, but pole position was fantastic. We were lucky on Sunday that we were able to finish at all after contact in the race. But in the end, we were able to get what we wanted from the weekend, scoring enough points to move ourselves up into 3rd position overall in the championship.
"Team Jebsen has worked relentlessly this year and, while we have had our fair share of bad luck, the key thing is that we have bounced back every time."
Porsche Carrera Cup Asia 2012 Provisional Calendar
| Date | Circuit, Country | Event | Rounds |
| --- | --- | --- | --- |
| March 24-25 | Zhuhai Int. Circuit, China | Test Days | - |
| April 13-15 | Shanghai Int. Circuit, China | Formula 1 Support Race | Rounds 1&2 |
| June 1-3 | Zhuhai Int. Circuit, China | China Touring Car Championship | Rounds 3&4 |
| July 6-8 | Ordos Int. Circuit, China | China Touring Car Championship | Rounds 5&6 |
| August 30 – September 1 | Sepang Int. Circuit, Malaysia | Malaysia Merdeka End. Support Race | Rounds 7&8 |
| September 21-23 | Marina Bay Circuit, Singapore | Formula 1 Support Race | Round 9 |
| November 9-11 | Shanghai Int. Circuit, China | Shanghai Sportscar Festival | Rounds 10&11 |
About Rodolfo Avila Car No: 20
Avila began his career in karts, attending the Macau Karting School at 14, and winning the Macau Karting International A (Group B) a year later. In 2002, he graduated to single seater racing, becoming the youngest driver ever to compete at the Macau Grand Prix, racing in the Formula Renault event.
He took the Asian Formula Renault Challenge championship title the following year, making his Formula 3 Grand Prix debut at Macau in 2004. His career continued its extraordinary ascent, with Rookie honours in the Asian Formula 3 Championship in 2005, finishing 5th overall. A season in the prestigious British Formula 3 Championship saw him end the year 4th in the National Class for newcomers.
Avila made the switch to sportscar racing in 2008, when he became the youngest ever Asian Supercar Challenge Champion. He made his Porsche Carrera Cup Asia debut in 2009, taking pole position and a podium finish in his very first race. In 2011, Avila was just two points away from winning the Porsche Carrera Cup Asia title.
About Team Jebsen
For Team Jebsen, 2012 marks the eighth full season in the series, having taken the championship title in 2006 and 2008.
Team Jebsen is backed by the Jebsen Group. Established in 1895 in Hong Kong, the Group has since expanded its activities into a comprehensive business network throughout China, Taiwan and South Korea. Today, the Jebsen Group is structured around four strategic business units targeting the consumer, industrial, beverage and luxury sectors.
Jebsen is a name synonymous with Porsche in the region, having first brought the marque to Hong Kong in 1955. Since then, the Jebsen Group has become the largest and longest-established Porsche dealer group in Asia. In addition to Porsche Centre Hong Kong, the group operates Porsche Centres in Macau, Beijing, Shanghai, Hangzhou, Guangzhou and Shenzhen.
11/14/2012